Lilly King: Dominant In The 100 Breaststroke, A Work In Progress In The 200, & Outspoken As Ever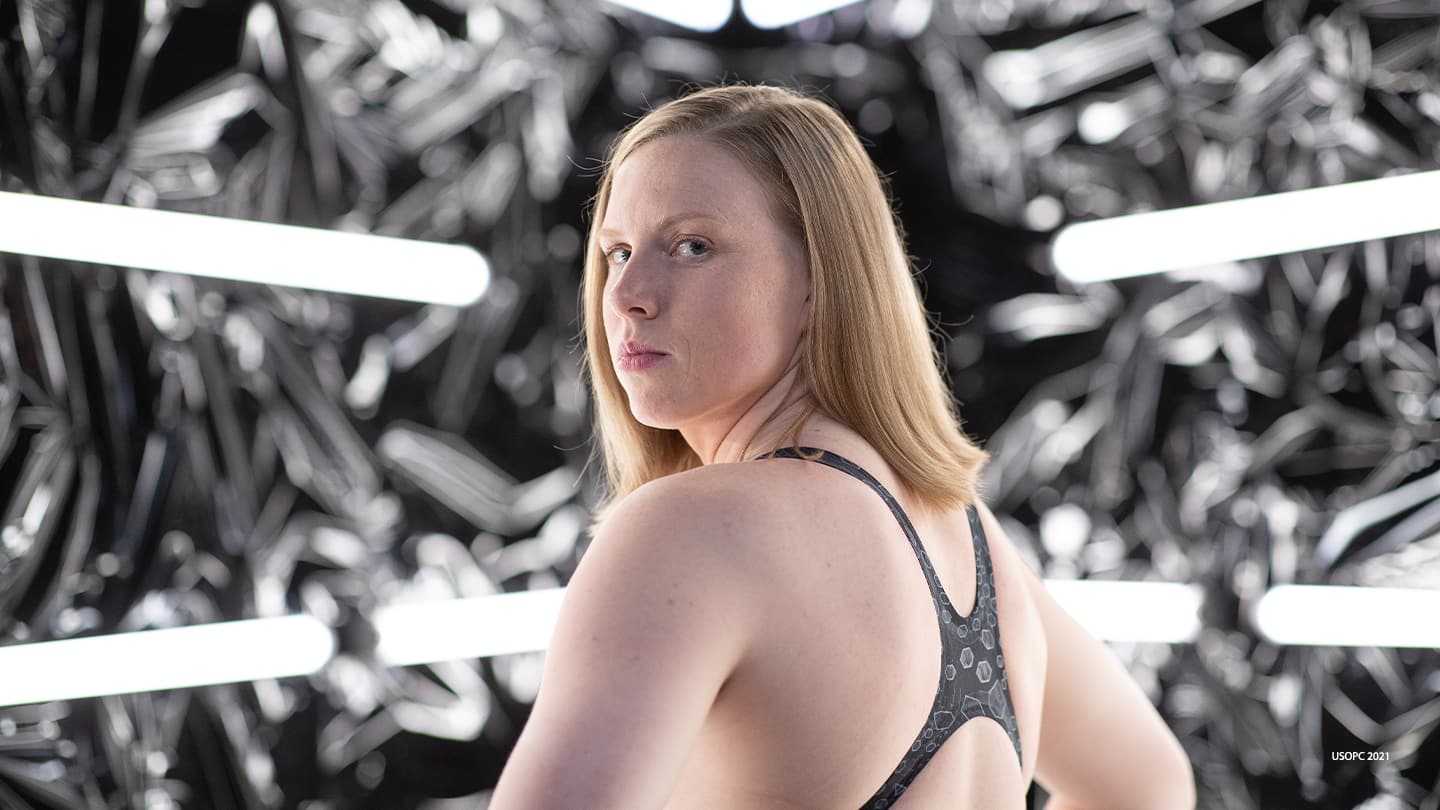 Swimmer Lilly King poses for a portrait during the Team USA Tokyo 2020 Olympics shoot on Nov. 20, 2019 in West Hollywood, Calif.
Before the 2016 U.S. Olympic Trials for Swimming, few outside the swimming world had heard of Lilly King. Having just finished her freshman year at Indiana University, the 19-year-old had never competed in an international meet until she went to Rio.
But the brash breaststroker made her presence known, both at Trials, then at the Olympic Games Rio 2016. King won her first Olympic gold medal in the 100-meter breaststroke, breaking the Olympic record in the process. She followed up with another gold in the 4 x 100 medley relay.


Since then, King has won two world titles in the 100 breaststroke and set the world record in 2017.


So U.S. Olympic Trials for the Tokyo Games will be almost a formality for King—at least in the 100 breaststroke. She has held the fastest time in the world for the past three years in the 100 breaststroke. The last time she lost the event was at 2015 Nationals, when King—then a recent high school graduate—finished second to Rio bronze medalist Katie Meili.


As King recently told Swimming World Magazine, "I'm going to say I'm the best. I haven't lost a 100 breaststroke (long course) in five years. I don't think I need to defend myself on that one."


The 200-meter breaststroke is another story for King, now a 24-year-old veteran. The distance has not come as easily to her as the 100—or even the 50 in which she also holds two long-course world titles.


At 2016 Olympic Trials, King won the 200 in 2:24.08, beating among others 2015 world silver medalist Micah Lawrence. But in Rio, King faded to seventh in her semifinal heat and did not advance to the final. The 200 breaststroke was one of only two women's swimming races in Rio where American women did not win at least one Olympic medal.


Since then, King has improved in the 200. But her coach at Indiana, Ray Looze, has called her 200 breaststroke "a work in progress."


At the 2017 world championships, she finished fourth in 2:22.11, just missing a medal. A year later, she won a silver medal at the Pan Pacific Championships in the 200 in 2:22.12.


Then in the lead up to the 2019 world championships, King swam 2:21.39—her best time in the event to date. But she was disqualified at 2019 world championships for an illegal one-handed touch on one of her turns during prelims. King believes it was retribution for her continued outspokenness about competitors who have been caught using performance enhancing drugs.


Lately, King has found motivation by training with her teammates. After taking time off swimming following a disappointing 2016 Olympic Trials, Annie Lazor moved to Indiana in 2018 to train with the Hoosier post grad program, which includes King and Cody Miller, 2016 Olympic breaststroke bronze medalist. Since joining the group, Lazor has won the short-course world title in the 200 breaststroke and 2019 Pan Am Games gold medals in both the 100 and 200. Her best time in the 200 (2:20.77) was second in the world in 2019.


Before the pandemic lockdown in 2020, Lazor swam the fastest 200 breaststroke in the world and held it throughout the year. King was over one second behind her.


"I have my number one competitor in the 200 breaststroke training next to me every single day, so it's definitely very motivating," King said during a Team USA Tokyo Media Summit in April.


"Five years ago I made the [U.S. Olympic] team going 2:24 and that might not even make the A final this time around at Trials," she added with a laugh. "So it's definitely a very motivating and potentially stressful group of girls to be competing against because they're all so strong, especially in the 200."


But King is already in a better place than she was five years ago. Her fastest time in the 200 breaststroke this year is already two seconds faster than it was going to Rio, and she currently sits a tenth-of-a-second ahead of Lazor in the 200 breaststroke world rankings.


King has also excelled in the 200 breaststroke, short course, in the International Swimming League races. As a member of the Cali Condors, she won all but one 200 breaststroke races and was undefeated in the 100.


Once she gets to Tokyo, King is looking forward to being an Olympic veteran this time around.


"2016 was my first national team and I just didn't really know what was going on," she said. "I was just kind of overwhelmed with all of it. So [this time] I'm excited to just hang out in the village and see everything and get to experience the Games as more of a professional."


But she will continue to be feisty and outspoken. It's who she is.


"My mom likes to joke around that I am the fourth generation of very strong females, so I think it just comes from my family and how we act and that we don't really care what other people think about us, and we're going to do what we set our minds to and that's just how I am," she said during the Media Summit.


"It's shocking," she continued, "but I enjoy being myself. … I've kind of always been like that, so might as well stick with it."
An award-winning freelance writer based in Vermont, Peggy Shinn has covered five Olympic Games. She has contributed to TeamUSA.org since its inception in 2008.