Olympian Caeleb Dressel, 21-Year-Old Bobby Finke Make Their Splash At Olympic Trials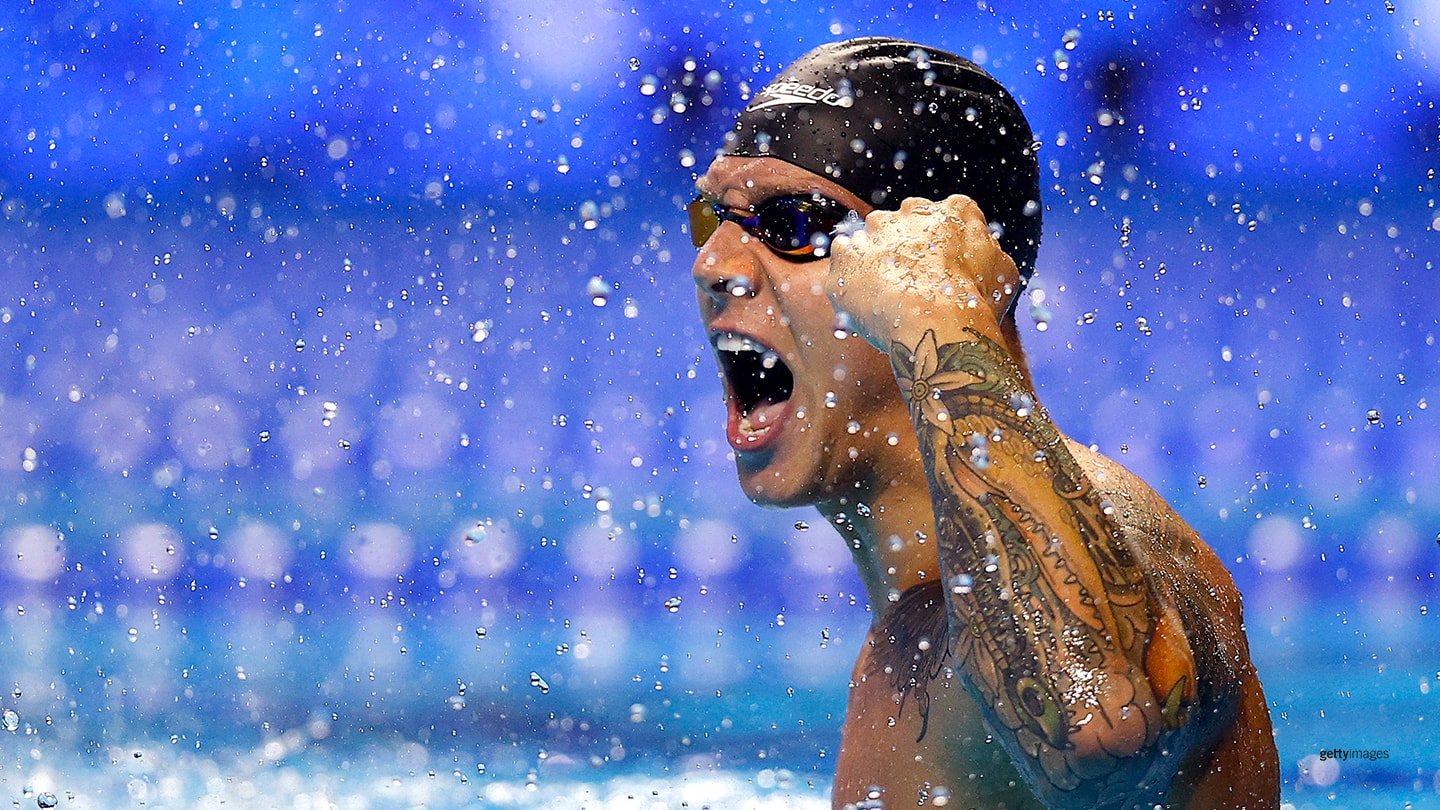 Caeleb Dressel reacts after competing in the Men's 100m freestyle final at the 2021 U.S. Olympic Team Swimming Trials on June 17, 2021 in Omaha, Neb.
OMAHA, Neb. – The weight has finally been lifted from Caeleb Dressel's shoulders.

The two-time Olympic gold medalist won the men's 100-meter freestyle final at the 2021 U.S. Olympic Team Trials – Swimming in the CHI Health Center tonight.

Dressel, 24, controlled the entire 100 immediately off the blocks, punching his ticket to the Olympic Games Tokyo 2020. He finished the race in 47.39, his best time this week.

A competitive field throughout the week of competition caused difficulty for Dressel at the start of the preliminaries, having concluded the first heat in fifth. He never looked back after that.

"I'm certainly happy with that [final's result]," Dressel said. "I thought that was one of the most technically correct 100 freestyles I've swum. It's not always about time, so I'm really happy about my approach to that."

Indiana University's Zach Apple, who finished second overall in 47.72, trailed the Olympian closely throughout yesterday's semifinal and today's final. Apple was one-hundredth of a second off (47.78) from tying Dressel's time (47.77) for first in the semifinal and less than half a second behind in the final.

Apple, Black Pieroni and Brooks Curry will be joining Dressel as U.S. Olympic teammates for Tokyo 2020. The swimmers qualified to make the 4x100-meter relay team, having finished in the top four of the 100 free. Apple also earned the chance at an individual qualification by finishing second in 100 free at Trials.

Securing his first spot to Tokyo meant everything to Dressel. He was spotted hyping up the crowd immediately out of the pool and attributed that to months of pressure.

"This meet was prolonged a year; it was more than 'I won a 100 free,'" Dressel said. "There was a lot of emotion in this – all the struggles through quarantine, finding pools to train at. All of that packed into one race. It wasn't just the 100 free for me, there was just a lot going on, a lot of outside pressure that I've gotten better and better at ignoring."

Dressel is no stranger to the ecstasy and accolades of hard work. He is most recently coming off a record eight medals won at the 2019 world championships – including six gold medals – and multiple records set in the International Swimming League (ISL).
While the Olympian is hoping to continue off that success, he is mostly excited to bond with his new teammates at the upcoming Team USA training camp in Hawaii.

"Whenever we are flying over to Hawaii, that's when we're becoming Team USA, and that's my favorite part about this meet," Dressel said. "You have people from different backgrounds, different ages, different club teams from all around America, and we're becoming one team. We're going to make the bond stronger in Hawaii and then once we go off to Tokyo, we'll get ready to take care of business as a team."

Dressel is relieved to have his first qualification finally come but quickly looks forward to competing in the 100-meter butterfly semifinals tomorrow and the 50-meter freestyle preliminaries on Saturday.

"I wish 100 free was a little bit earlier so I could kind of get that weight off the shoulders," Dressel said. "I'm fine with where we're at right now. I'm looking forward to 100 fly tomorrow and 50 free after that."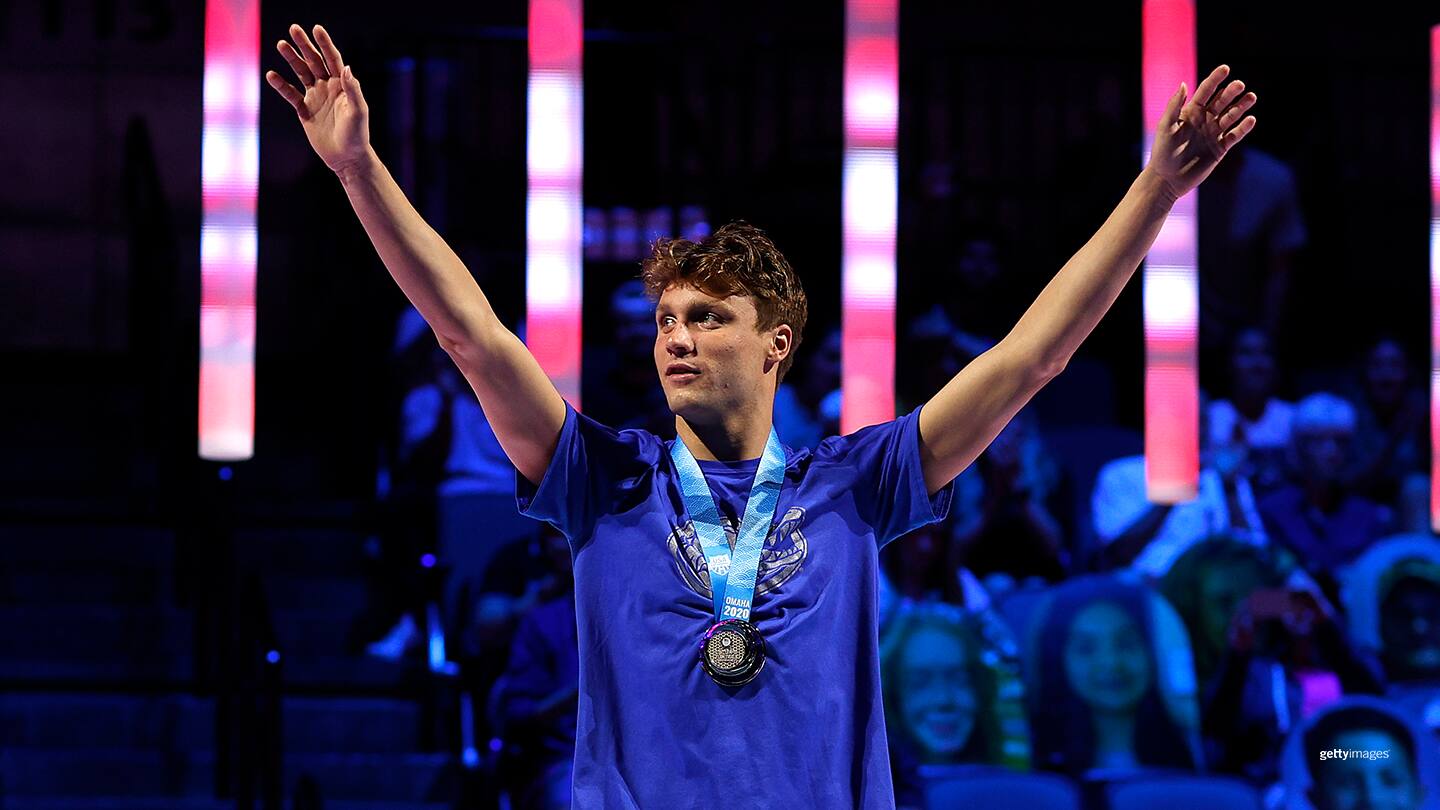 Bobby Finke Earns Olympic Berth His Second Try
Around
Bobby Finke made his mark in Omaha, concluding the men's 800-meter freestyle final with a first-place finish in 7:48.22.
The 21-year-old earned his spot on the U.S. Olympic Team in an event that will be returning to the Olympic Games for the first time since 1904.
"It just means a lot [to qualify for the Games]," Finke said. "I just have to give hats off to my coaches, my trainer, friends, family – it's all for them, I can't take the credit."
Michael Brinegar, 21, finished right behind Finke in 7:49.94, earning him the chance to take the second Olympic roster spot in the 800-meter freestyle.
This is Finke's second Olympic Trials appearance, having competed in 2016. Back then, a 16-year-old Finke competed in the men's 1,500-meter freestyle where he finished in seventh.
While the 800 freestyle is different in comparison to the longer 1,500, Finke believes there's no change in his training regime leading into Saturday's preliminaries.
"I've always done the 800 throughout the years [so] my training didn't really change," Finke said. "The 1,500 I still consider my best event, so I'm looking forward to that Saturday and potentially Sunday, but nothing really changed through training."
Due to more experience and not being in his first Trials final, Finke reaffirmed that he feels more comfortable at this year's events.
"I think in 2016, I was actually more stressed than I was here," Finke said. "That's because I made the final in the 1,500, and I didn't want to get last because I felt like I would be slowing down the meet but that didn't happen. I got seventh. So, I'm more relaxed here."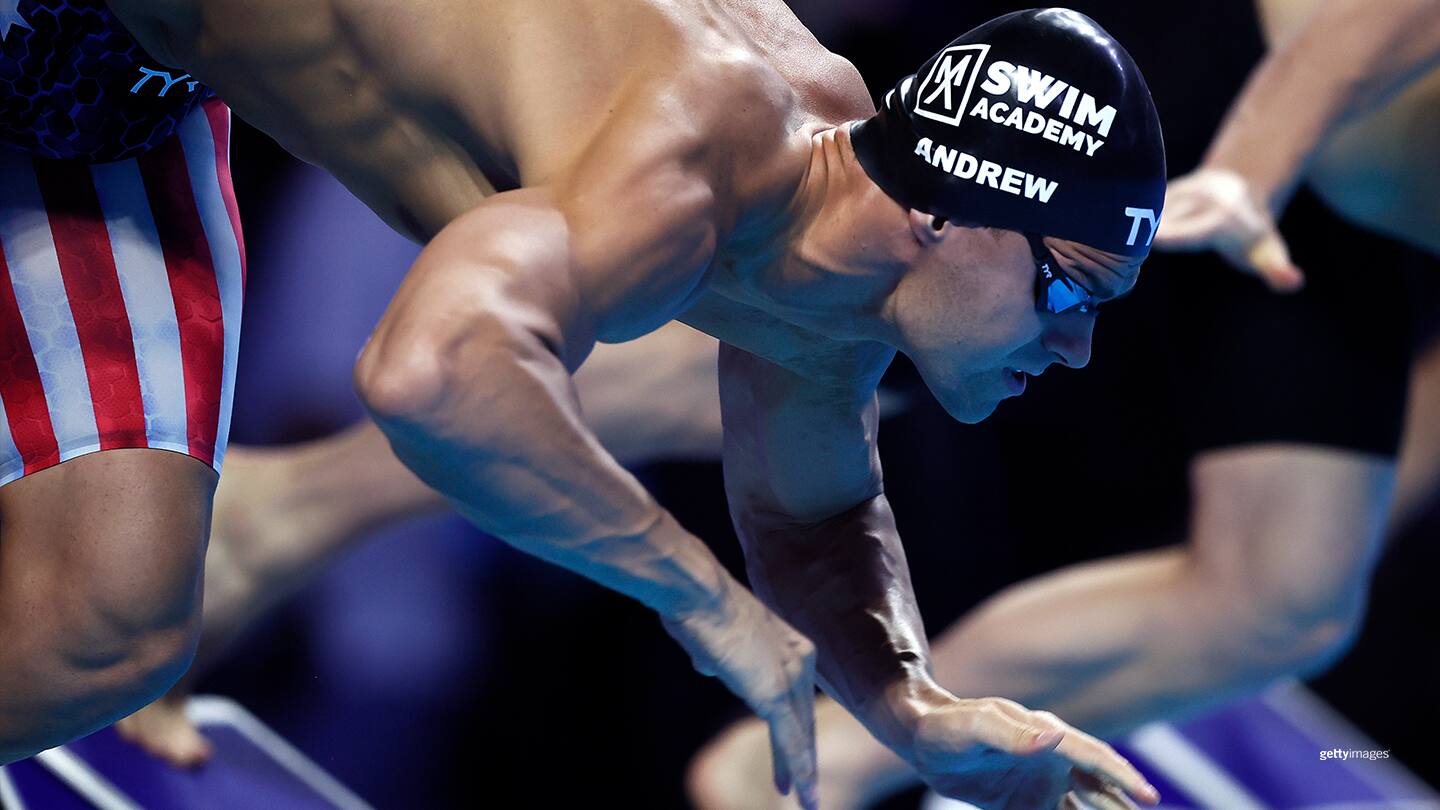 Natalie Hinds and Olivia Smoliga Tie for First in 100 Free; Ryan Murphy, Lilly King and Michael Andrew Lead
Semifinals
The women's 100-meter freestyle semifinals concluded with a two-way tie for first: Natalie Hinds and Olivia Smoliga both finished in 53.55.
Hinds noted how excited she was to move onto the finals against Smoliga, someone she's been training with every day.
"We really felt the energy of the crowd and being able to race next to Natalie [is amazing]," Hinds said. "I train with her every single day, it's just really exciting. It's a dogfight at practice, [so] there's no surprises [that she swam] like that here."
Two-time Olympic gold medalist Simone Manuel was eliminated from finals contention after concluding her semifinals heat in 54.17, placing her just outside the top eight. Manuel noted how overtraining syndrome (OTS) affected her mentally and physically leading up to Trials. She is still looking to qualify for Tokyo in the women's 50-meter freestyle.
The men's 200-meter backstroke semifinals concluded with three-time Olympic gold medalist Ryan Murphy finishing in first in 1:55.60, with Austin Katz following in 1:56.26.
Murphy, 25, won gold in both backstroke events – men's 100- and 200-meter backstroke – at the Olympic Games Rio 2016 and gold in the 4x100-meter medley relay.
He will be looking to qualify for his second-straight Games by starting stronger tomorrow.
"I'll be a little more excited [tomorrow], so I should be in front a little bit better," Murphy said. "I was just trying to race the field. And as much as anything else, I was kind of watching Destin [Lasco] and Daniel [Carr], trying to make sure that they were up in the front of the heat."
Lilly King and Michael Andrew continued to headline this week's events as they won their respective semifinal heats: the women's 200-meter breaststroke and men's 200-meter individual medley.
Both have already qualified for Tokyo but are looking to earn their second spot.
King, 24, qualified in the women's 100-meter breaststroke just two nights ago. She is the defending 100 breaststroke gold medalist from Rio 2016.
Indiana University's Annie Lazor finished in second in 2:22.80.
Andrew completed the 200 IM semifinal in 1:55.26. He was followed by Chase Kalisz, who finished in second at 1:57.19 and is already qualified for Tokyo in the 400 IM.
Andrew believes he will need to focus more on his technique heading into tomorrow's final.
"There are so many variables when it comes to swimming a perfect race," Andrew said. "Coming off of this morning, I think we were more focused on time than technique."
Justin Limoges is a 2020 sports communication graduate from Bradley University, originating from Newport, Vermont. He is a digital media assistant for TeamUSA.org.