Already A History Maker, Allyson Felix Is On Track For More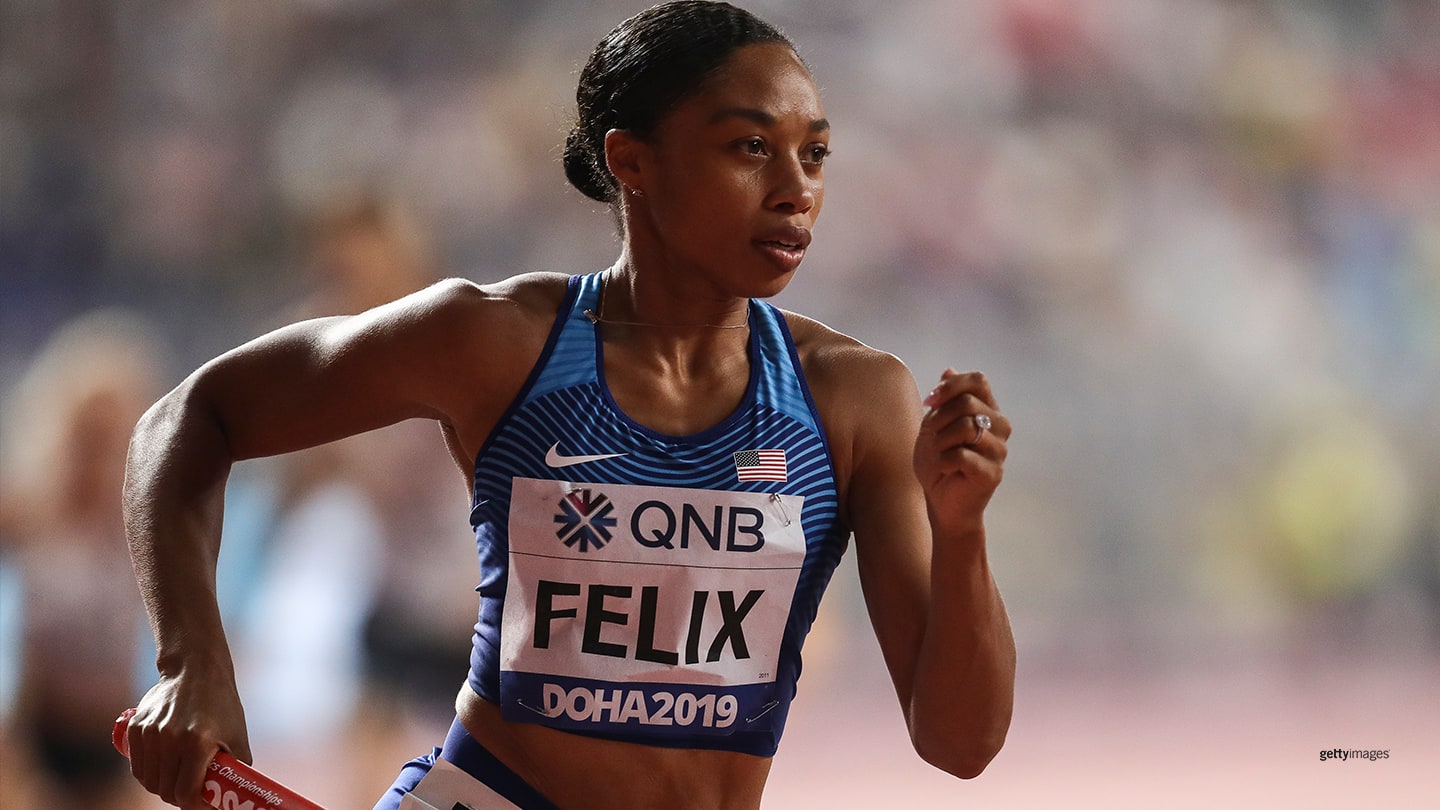 Allyson Felix competes in the 4x400 Metres Mixed Relay during day three of 17th IAAF World Athletics Championships Doha 2019 at Khalifa International Stadium on Sept. 29, 2019 in Doha, Qatar.
Every so often, an athlete transcends his or her accomplishments on the field of play and crosses over to a realm where even those who don't follow sports must take notice.

It happens when that athlete is not only the best of the best in the present moment but also in history.

Sprinter Allyson Felix already is that athlete, as the only female track and field athlete ever to win six Olympic gold medals and the only USA Track & Field athlete, male or female, to win 13 gold medals at the world championships.

This summer in Tokyo she could make history once again.

By competing in her fifth Olympic Games and adding two medals to the nine she already has, Felix would become the most decorated U.S. Olympic track and field athlete ever, man or woman.

And when you think for a second and see the names of some of the greatest Olympic track and field athletes in U.S. history flash by in your head — Jesse Owens, Carl Lewis, Jackie Joyner-Kersee, Florence Griffith Joyner — that possibility becomes even more awe-inspiring.

Already in possession of nine medals — six gold and three silver — she needs one more medal to tie Lewis' record and two more to break it.

As she wrote on Instagram back in November, "Break records, break barriers. It's a mood! #PowerOfShe #MondayMotivation"


Felix, 35, made her Olympic debut in 2004, winning silver in the 200-meter. Four years later, in Beijing, she won another silver medal in the 200 and added her first gold as a member of the 4x400 team. London saw her rack up an incredible three gold medals including one in a solo event, the 200, and two more in relays in the 4x100 and the 4x400. In Rio she won silver in the 400 and two more gold medals in the 4x100 and 4x400.
She's currently tied with Merlene Ottey, who represented both Jamaica and Slovenia, for the most Olympic track and field medals by a female athlete.
As renowned as Felix already is in her sport, her influence extends far beyond just the track.
Last fall, Felix was named to TIME magazine's list of 100 Most Influential People of 2020 for speaking out about pregnancy discrimination. Felix had asked for — and was denied — a contractual guarantee from Nike that she wouldn't be docked pay based on performance in the months after giving birth. As a result of Felix's public outing of the practice, Nike changed its policies to ensure its female athletes would receive the same pay for 18 months surrounding pregnancy that they received before.
Recently, Felix posted to her Instagram about her partnership with the CDC's Hear Her campaign, which is raising awareness of potentially life-threatening pregnancy-related complications. Felix, diagnosed with severe preeclampsia, underwent an emergency C-section at 32 weeks.
"My daughter Camryn is now a strong, healthy, and happy toddler thanks to the quick actions of my doctors, but had I known the urgent maternal warning signs, I could have recognized the symptoms and potentially caught it sooner," she wrote. "I want my story to help other women, encourage them to speak up when something doesn't feel right, and to get the care they need." ⠀
Felix also supports Better Starts For All, which seeks to increase medical care for pregnant women and new mothers in parts of the country where such services are currently limited:
And she's trying to help change the world for women and girls who are victims of sex trafficking and make it a safer place for all:
When Felix won her 12th and 13th gold medals at the world championships in Doha in the fall of 2019, breaking Usain Bolt's record of 11, it was just 10 months after she gave birth. She went into 2020 excited for an important year in pursuit of her dreams, preparing for Tokyo and her shot at another big slice of history.
When the Games were postponed because of COVID-19, Felix took to the pages of TIME to share her thoughts and a message of hope, not just for athletes but also for employees, business owners and everyone facing such great uncertainty.
"We are facing tremendous challenges and loss of an unthinkable proportion," she wrote. "But as a global community we have to commit to waking up tomorrow morning and finding a new way to relentlessly pursue our audacious dreams. … I am not sure what the future holds, but my goals have not changed. I still hope to experience the feeling of standing on that podium in 2021 and I hope my journey to try to get back there will inspire you to keep moving forward."
Karen Price is a reporter from Pittsburgh who has covered Olympic and Paralympic sports for various publications. She is a freelance contributor to TeamUSA.org on behalf of
Red Line Editorial, Inc.