Ariel Torres Kicking Down Barriers To Reach Tokyo Olympic Games In Karate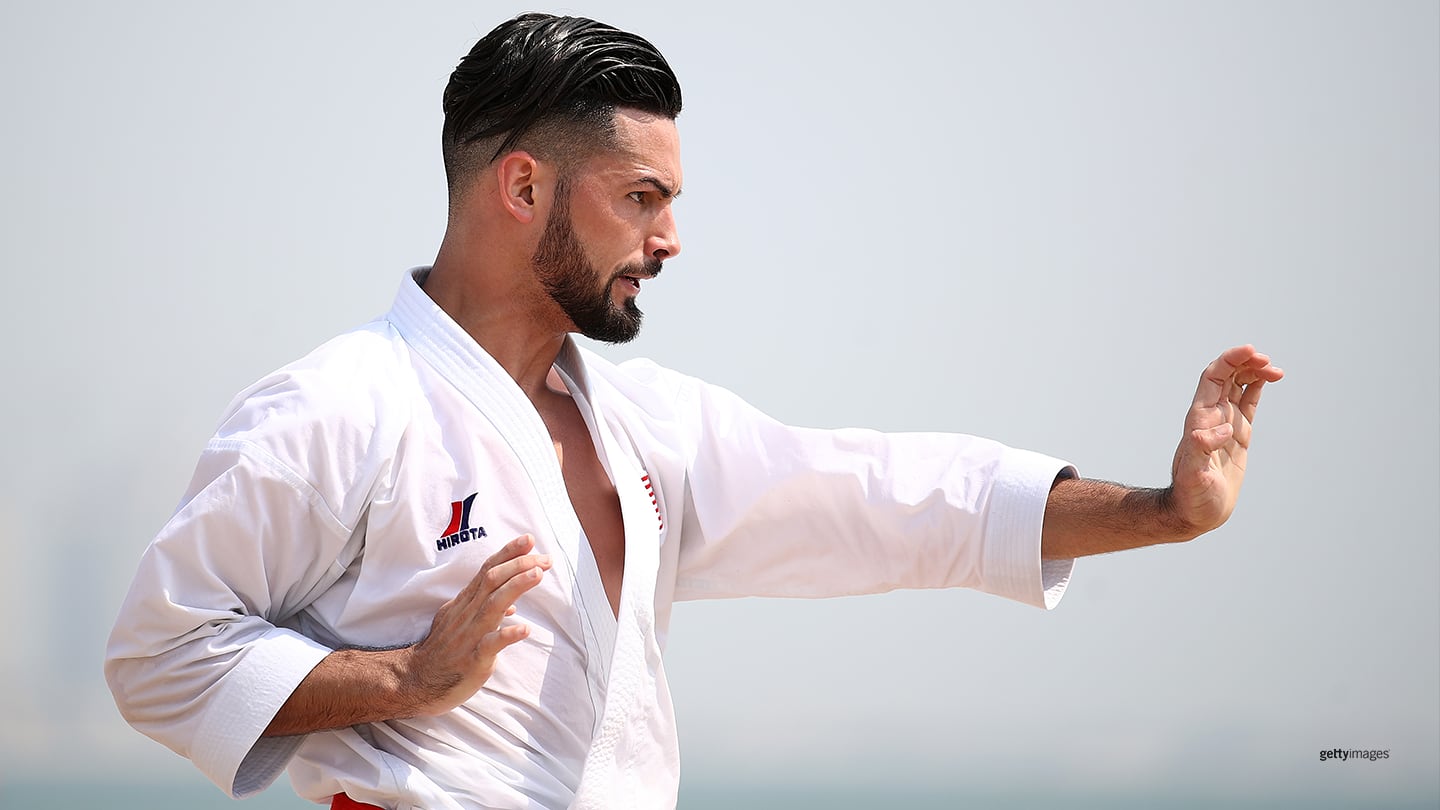 Ariel Torres in action during round 1 of the Men's Individual Kata at Katara Beach during the ANOC World Beach Games on Oct. 12 2019 in Doha, Qatar.
A red light meant "Go!" when Ariel Torres was growing up.

As soon as the traffic light changed, Torres, dressed in his "gi," would approach cars stopped on the street in Hialeah, Florida, while his father carried a "Donations for Karate Competition" sign.

"I would have a jar and people would just give a dollar, 25 cents, whatever they could," Torres recalled. "We did that for hours and hours a week, trying to accumulate the money to go to competitions. There were times we couldn't even eat because we were sending all the money towards karate, so it was hard."

His perseverance paid off. The former karate kid is now 23 years old and, if all goes as planned, he'll have a green light for Tokyo. Torres is ranked No. 10 in the world and is the top male Team USA contender in "kata," the karate discipline known as "forms." The other discipline is "kumite" or "fighting."

Karate is one of five sports added to the program for the Olympic Games Tokyo 2020. Because it did not make the cut for Paris 2024, Torres figures this will probably be his only chance to be an Olympian.

Earlier this month, he won his first Karate 1-Premier League medal – a bronze – in Istanbul. Although the pandemic has forced the cancellation or postponement of other events, a qualification competition is still scheduled for June in Paris. Torres can punch his ticket to the Games by placing on the podium.

"If it wasn't for the Olympics being postponed," he said, "I don't think I would be where I am today, honestly."

Torres said that the pandemic restrictions forcing him to stay close to home also gave him time to grow.

"Kata, the discipline I do, requires a huge maturity – not as a person, but in the technique," Torres said. "The more that technique matures, you figure out certain things about your own body, and in turn you mature as a person as well. It's actually like a whole life philosophy of karate."

Torres had the ideal training partner in Grace Lau, a world championships bronze medalist from Hong Kong ranked No. 4 in the world and already qualified for the Olympics.

He began paying more attention to nutrition, even learning to cook. Torres also started weight training for the first time, something he could never do pre-pandemic because of the hectic pace of back-to-back competitions.

"As your body grows, your technique will change and I couldn't take that step back in order to improve," he said.
Once he could finally devote the time to lifting weights, Torres said, "At first it was a little frustrating when my body was changing: 'Whoa, my karate really sucks right now, because I'm getting bigger.' But then it's like, 'OK, let me just keep pushing through it. I'm sure it'll get better at the end,' and little did I know – boom, boom – I improved. I got better, I got stronger."

Even his confidence grew. "Because I knew I did the work," Torres said. "I knew that I was perfectly prepared. I knew I had everything set the right way."

The bronze medal in Istanbul was a breakthrough. Although Torres had come close to Premier League medals before, he had always fallen short of the podium.

"This bronze medal is more valuable to me than my gold medal," Torres said of his first major title at the 2019 Senior Pan American championships, where he defeated 2010 and 2012 world champion Antonio Diaz of Venezuela.

"Everyone started to recognize me after that day," said Torres. "That was like, 'Yes! It's happening! Good!'"

He went from being ranked about No. 200 in 2017 to moving into the Top 10 in the world. Later in 2019, Torres won the silver medal at the Pan American Games in Lima, Peru, losing to Diaz, who is currently ranked No. 5.

Each country is allowed only one kata entrant at the Olympics, and there are currently four Japanese athletes and two Turkish athletes ranked above him in the Top 10.

Torres said the adrenaline rush is his favorite part of the sport.

"The nerves, it's a feeling you can't replicate, you can't relive anywhere," he said. "When you're on the mat, you feel the texture of the mat under your feet, and everyone's so quiet and you can start feeling your heart race a little faster. You can feel the pores on your arms opening to release all that sweat, all that stress. You take that deep breath. All the judges are looking at you. Everyone is just glaring at you, into your soul waiting to see what happens.

"You do that bow. It's a dark room and in that moment I feel like I'm unstoppable. All this weight is taken off, all the chains fall on the ground and I'm able to just let go. I'm able to be free and just destroy everything in front of me in a beautiful graceful way."

Well, there's actually nothing in front of him. Torres often has to explain kata to people, but he doesn't mind.

"I've gotten a lot of those, 'With kata you're just punching the air,'" he said. "Usually people think of the mixed martial arts competitions where they do the kata kind of like Bruce Lee – they just punch and kick air in random patterns, no set thing."

Torres said all athletes must first learn kata and then apply it in a fight. "it becomes second nature to you," he said. "When someone punches you in the face, you react without even noticing."
Torres is so passionate about his sport that he sometimes walks around the mall and in stores throwing punches and kicks.

"Oh, I get looks," he said. "My friends are a little embarrassed sometimes. I just think it's my brain is constantly thinking of karate. Even now I'm walking around my living room throwing punches, not kicks, because I have sandals on and I don't want to slip."

Kata, he said, is more powerful than kumite. "You can't fight to kill someone, because it's a sport," he said. "But you can do kata 100 percent of your physical ability, destroying everything in front of you because no one will get hurt. In kumite you're restricted. There are rules. You can't hurt someone. So in kata, the possibilities, I believe, are completely endless."

A different kind of endless possibilities brought the Torres family from Cuba to the United States when Ariel was 4. They first settled in Newark, New Jersey, coincidentally the home of Daniel LaRusso, the original Karate Kid. Torres, his sister – who is now a doctor – and their parents lived in a friend's basement.

"My dad worked as much as he could to make as much money as he could in one year," Torres said.

They then moved to the Miami area, where it was less expensive to live. When Torres was 6, a doctor said he was hyperactive and suggested his parents find a sport that would tire him out and at the same time teach him decision.

As luck would have it, a karate dojo was a 15-20 minute walk away. "It was such a miracle that it was very close because we didn't have a car," Torres said.

If a pool had been closer, would he have become a swimmer?

"My parents say all the time that any sport I would have ended up getting into, I would have been good at," Torres said. "Maybe. I found karate and I just fell in love with it."

He enjoyed learning the forms and patterns and teaching them to others. In exchange for rides home or free tuition, Torres taught kids' classes at his dojos and became a sensei. He has a 3rd degree black belt and currently teaches online classes to kids from all over the world.

"That 0.0000001 chance that I can do this for the rest of my life is what gave me hope," Torres said, "and before I knew it, it became a part of the Olympics and that became something that I'm striving for. I truly believe I can make it."

In kata, competitors are given two scores by judges: a technical score, which is worth 70 percent, and an athletic score worth 30 percent.
Choosing Kata Over
Kumite
Torres also loved the fighting component of karate, but kumite sometimes led to injury and his long recovery time was a problem.

In 2015, Torres qualified in both kata and kumite at the Junior Pan American Championships in Bolivia. Unfortunately, he hurt his foot on a kick in the kumite semifinals. "I couldn't balance," he said. "I couldn't fight any more."

Not only did Torres have to withdraw from the bronze-medal match, he also ruined his chances in the kata final. Torres lost a close decision, angering his sensei, Robert Young.

"He was like, 'Dude, see, I told you,'" Torres said. "'You don't need to fight. You don't need to prove anything.'"

After all, kata was not only his best chance at the Olympics, it was also his meal ticket. When Torres was 16, Young convinced him to enter martial arts competitions where he could win prize money and secure sponsorships.

"I was traveling all over Florida, going to all these little events, making $100 here, $1,000 over there," Torres said. "I was helping my parents pay for food, pay the rent. I bought my own little car and I was able to pay for all my karate trips."

Setting his sights on the Olympics, Torres had to build up points by competing in international competitions. Because he had only $4,000 in his bank account, he would book the cheapest flight, even if it took 48 hours to get to his destination. He brought ramen from home and found hotels within walking distance of the venues.

"Before I knew it, I only had like $40 and boom! I hit the Top 10 in the world," Torres said.

That meant the national federation would help pick up the tab. "You become a professional athlete, and all my worries were gone," Torres said.

He will appear later this year in a national Got Milk? ad campaign, which has been featuring Olympians. "They told me it's going to be on billboards – that's going to be so cool," Torres ssaid. "Definitely Got Milk? would not have happened a year ago."

Karate's Olympic debut coincides with renewed attention to the sport thanks to quarantine binge-watching of the series "Cobra Kai."

"I think it's so awesome," Torres said. "It's giving karate some positive feedback, and everyone is loving "Cobra Kai" although it is 10 percent accurate what really happens in a school."

Still, the TV show and the movie that inspired it have helped Torres explain what he does.

"In 'The Karate Kid,'" he said, "when the sensei had the kid paint the wall up and down, side to side with the paintbrush, that is a kata. And then when the sensei punched him in the face, he blocked. He was making him paint the wall, but it was the move of a kata."
Karen Rosen has covered every Summer and Winter Olympic Games since 1992 for newspapers, magazines and websites. Based in Atlanta, she has contributed to TeamUSA.org since 2009.