Winter Cup Performance Shows: Laurie Hernandez Has Still Got It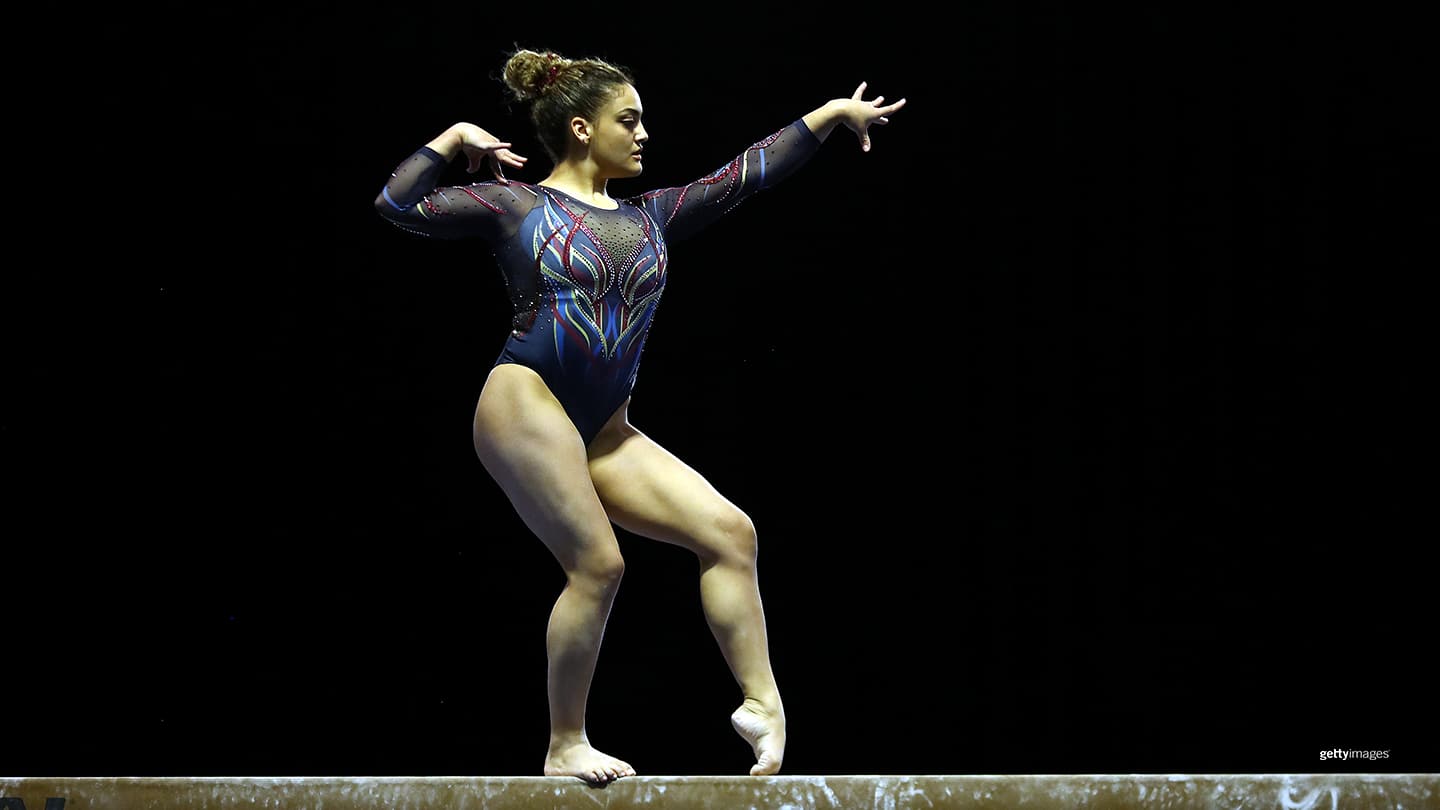 Laurie Hernandez competes on the balance beam during the Senior Women's 2021 Winter Cup at the Indiana Convention Center on Feb. 27, 2021 in Indianapolis, Indiana.
Laurie Hernandez was standing before the balance beam at last weekend's Winter Cup in Indianapolis when a shout pierced the nearly silent arena: "Come on Laurie, you got this!"

You got this: a familiar phrase for a gymnast back in a very familiar place. The 2016 Olympic gold and silver medalist famously mouthed the same words to herself before mounting the beam in Rio four and a half years ago, and later made it the title of her autobiography.

Hernandez was in Indianapolis partly to prove she's still got it. For many gymnasts, the four years between Olympic Games can seem like one long tryout for the team; Hernandez, who stepped away from the sport to take full advantage of all the opportunities afforded a person once you make it to the Games and win, didn't recommit fully to training until late 2018.

When she decided she was going to do it, she got serious, relocating from Connecticut to California to work with Jenny Zhang and Howie Liang at the Costa Mesa Gym Max club that produced 2012 Olympic gold medalist Kyla Ross. The time off was about more than the opportunity to host "American Ninja Warrior Junior" and promote her books, the autobiography and an accompanying children's book called "She's Got This." It also allowed her a much-needed break from a grueling training regimen.

Back to the beam. Hernandez took a moment to calm herself, placing a hand on her stomach, taking a deep breath, and mouthing some assuring words — unclear if it was still "You got this," or something new. Either way, then she was in it, jumping into her middle splits mount, standing on the beam and launching forward into a front pike. The routine, like the one she performed on floor exercise to music that included Hamilton's "The Room Where It Happens," was a hit, showcasing Hernandez's excellent technique. Perhaps more importantly, it showed that she can still keep a cool head and deliver a clutch routine when she needs to.

"I think the four and a half year gap between competing then versus now really made a big difference, but at the same time having time away from gymnastics to go and do my own thing and then come back, it was like coming back as a new person but with old skills in my body," she said. "It felt like I had a one-up on myself."

If Hernandez learned the importance of doing her own thing the hard way, the result is a heightened self-awareness about what is good for her at this time, something she shares with her new coach. When Hernandez was having a little trouble with her opening tumbling pass, a full-twisting double tuck on floor, Zhang told her to take it out of the routine, doing her other three passes and using an elementary layout as her last line. It meant the routine wouldn't score as well, but that was secondary to what Zhang wanted Hernandez to accomplish.

"She was like, hell-bent on making sure I enjoyed myself on my first meet back. So she pulled the full in, and was like, 'Dance your butt off and have a great time.' And I did. And she really values me enjoying the experience four and a half years later, which is great," Hernandez said. "There was no pressure from her. There was just pure joy and pure wanting me to do well."

The full in and the difficulty she plans to add in later in the season was missing, but as always, Hernandez's performances vibrated with the "human emoji" charisma that endeared her to the gymnastics community when she was a junior and then an appreciative worldwide audience that cheered her in Rio. In her return, Hernandez was so quiet and focused before she went that she surprised women's national team coordinator Tom Forster.

"When I watched her on floor I couldn't tell if she had anxiety, or it was her meet face, and I did talk to her and her coach afterward, and it was her meet face," Forster said. "She gets in this very kind of serious zone and just focuses, so it was good to learn her a little bit and to see how it is she thinks in a meet, so that was helpful for me. But you know, she relaxed and really enjoyed it, so I'm really glad she took advantage of this opportunity."

Hernandez called it "terrifying" to compete again after so long, but embraced the experience and the nerves that came with it.

"I was really nervous and then I felt really excited, almost like calm and composed on the equipment, which is not something I felt when I was 16," she remarked. "Maybe when I was 16 I'd go to compete and feel nervous and be like, 'I'm not nervous, I'm fine' because I equated nerves with me not being prepared, which of course I've learned now is not true at all. You get nervous either way, because you care, not because you're not ready. So it's all just a big mindset change; now I kind of invite it. The nerves are what make you great."

And if the scores were not quite what Hernandez earned while flying to the junior U.S. title in 2015 and finishing second at the 2016 U.S. Olympic Team Trials, give her time. She's got this still.
Blythe Lawrence has covered two Olympic Games and is a freelance contributor to TeamUSA.org on behalf of
Red Line Editorial, Inc.
Follow her on Twitter @rockergymnastix.