It's All-Stars Galore On The 12-Player U.S. Olympic Men's Basketball Team
Ever since the Dream Team concept came into existence for the 1992 Olympic Games, the U.S. has always had the most star-studded men's basketball roster at the Summer Games.


That is no exception for this year's Tokyo Olympics as there are NBA All-Stars everywhere you look on the 12-player roster, which was selected from a 57-player pool. However, only three player have Olympic experience, led by Kevin Durant going to his third Games.


As the team pursues a fourth straight gold medal, coach Gregg Popovich will have less than three weeks of training camp and exhibition games in Las Vegas to get the team playing as a cohesive unit.


Here is a little more regarding the 12 athletes who will represent Team USA in men's basketball in Tokyo:
Bam Adebayo, 6-9,
forward-center
Bam Adebayo, 6-9,
forward-center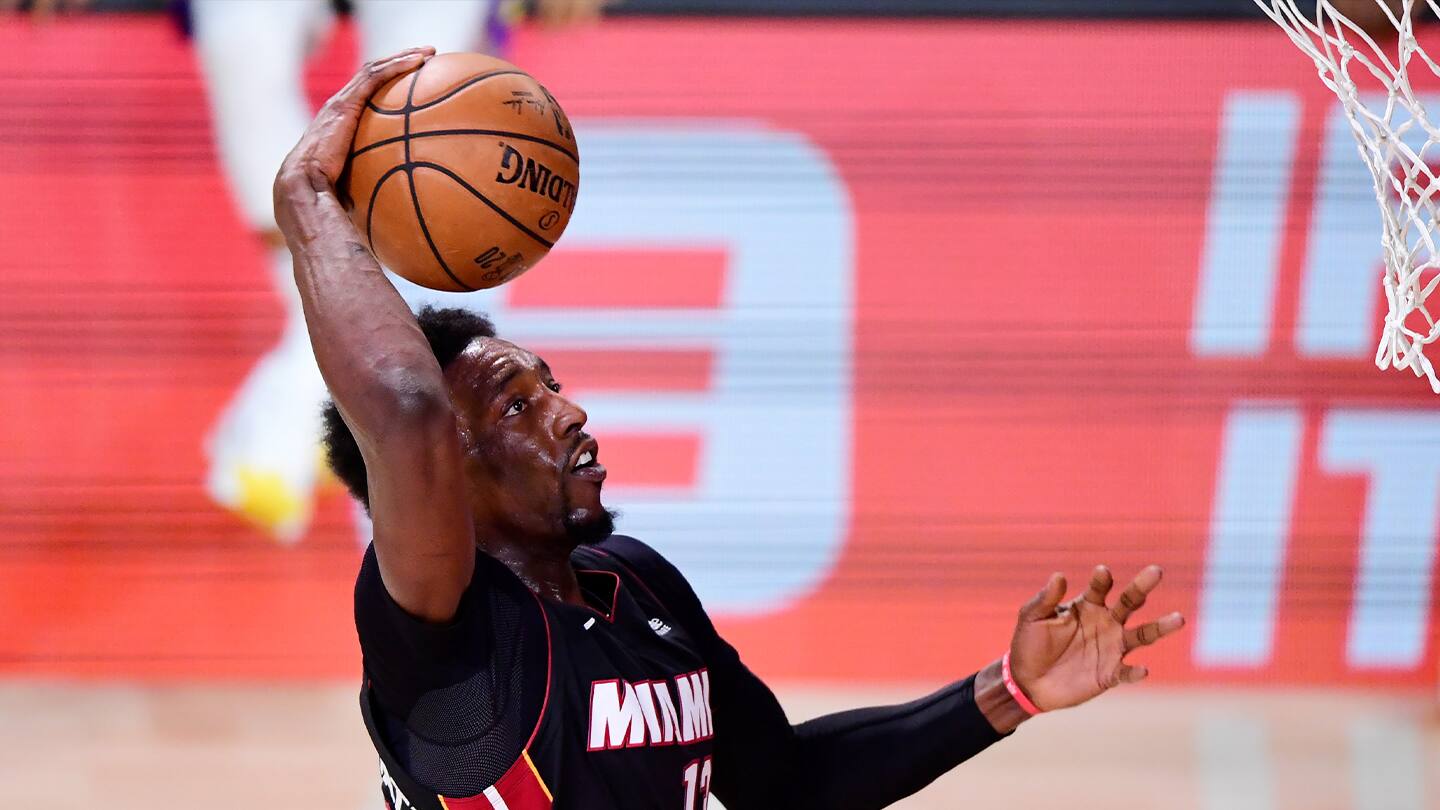 Bam Adebayo dunks the ball during the third quarter against the Los Angeles Lakers at Advent Health Arena at the ESPN Wide World Of Sports Complex on Oct. 11, 2020 in Lake Buena Vista, Fla.
The 23-year-old (he turns 24 on July 18) averaged a career-best 18.7 points and 5.4 assists to go along with 9.0 rebounds per game in his fourth season with the Miami Heat, playing and starting 64 of 72 games.


Adebayo, the 14th overall pick out of Kentucky in 2017, was a finalist for the 2019 FIBA World Cup team before being cut. Each of the last two seasons, he was a second-team All-Defensive team pick and was an All-Star in the 2019-20 season, when he helped the Heat reach the NBA Finals.


His full name is Edrice Femi Adebayo and earned the nickname Bam after flipping over a table while watching "The Flintstones" cartoon, a la Bamm-Bamm Rubble.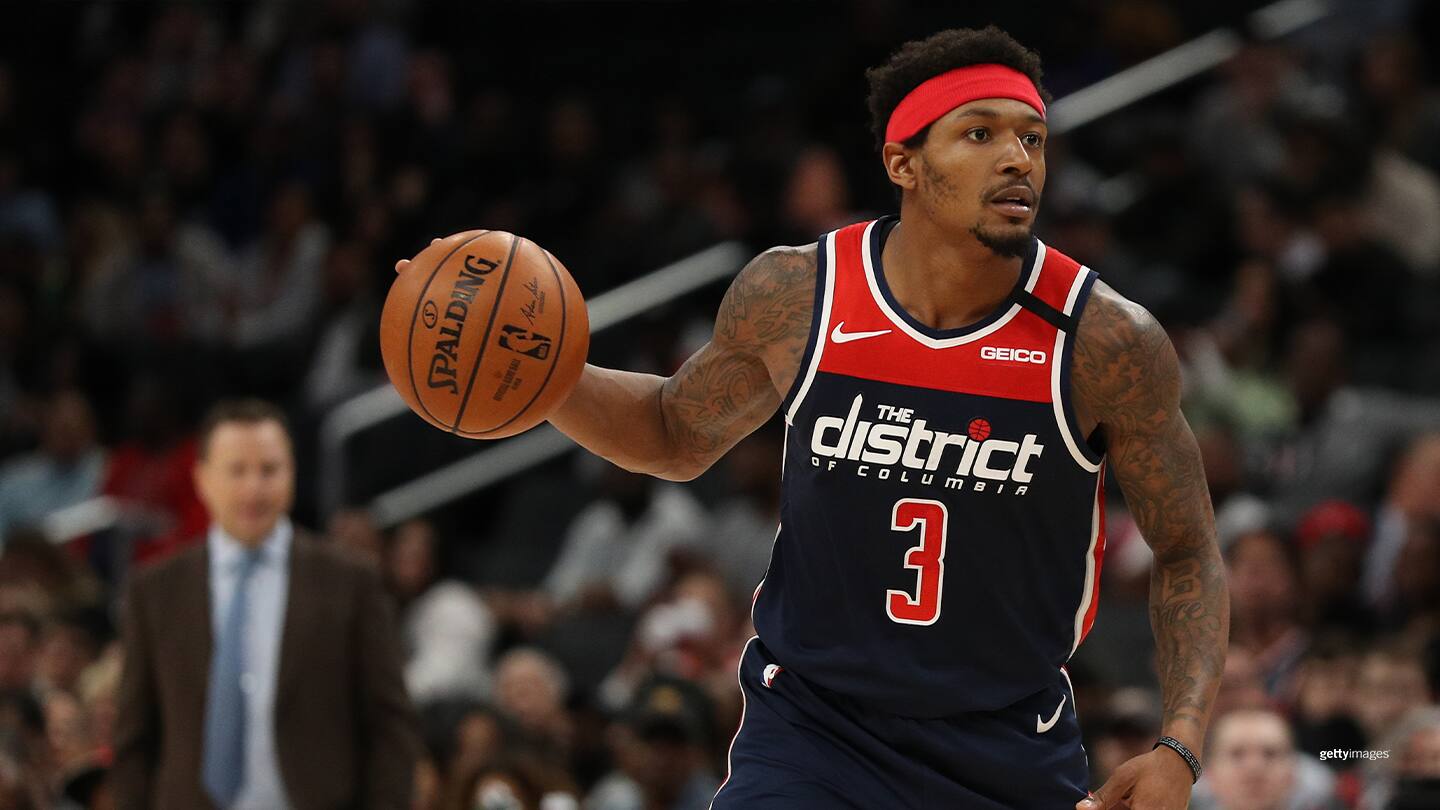 Bradley Beal plays against the New York Knicks at Capital One Arena on March 10, 2020 in Washington, DC.
In his ninth NBA season — all with the Washington Wizards — Beal was edged out on the final day of the regular season for the NBA scoring title. He averaged a career-best 31.3 points, just behind the 32.0 by Golden State's Stephen Curry. It marked back-to-back seasons Beal put up more than 30 points per game after going for 30.5 the previous year.

A three-time All-Star, Beal shot a career-best 48.5 percent from the field, but a career-worst 34.9 percent from 3-point range. He has won two other gold medals with USA Basketball on the youth level.

Beal, the No. 3 overall pick in the 2012 draft out of Florida whose 28th birthday is today (June 28), averaged 32.5 points for Chaminade College Prep High School in Creve Coeur, Missouri, as a senior in 2009-10. Everyone in his family has a name that starts with B: mom Besta, dad Bobby and brothers Brandon, Bruce and twins Byron and Bryon.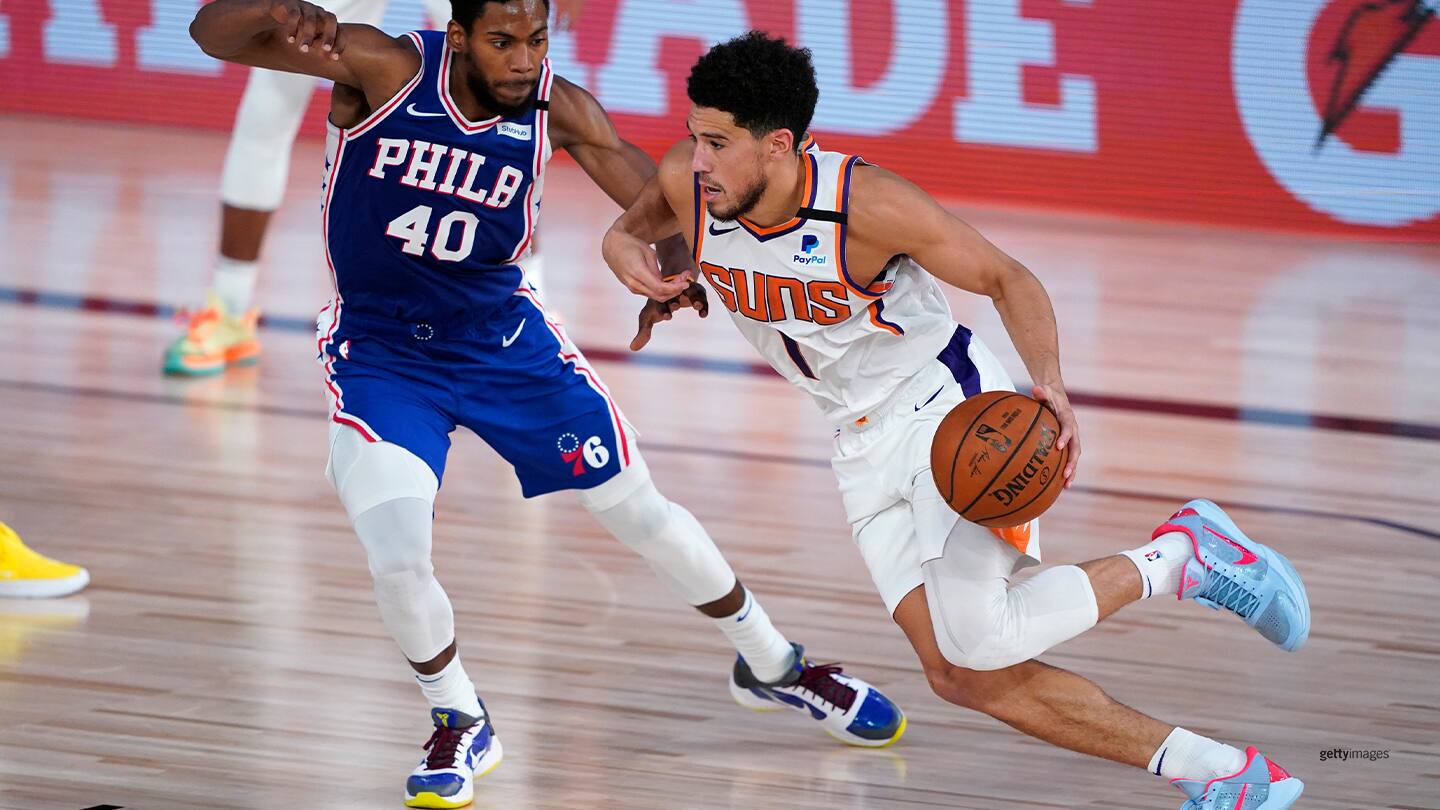 Devin Booker drives to the basket during the first half of a NBA basketball game at Visa Athletic Center at ESPN Wide World Of Sports Complex on Aug. 11, 2020 in Lake Buena Vista, Fla.
The 24-year-old rising young gun of the Phoenix Suns has averaged more than 22 points in the last five seasons of his six-year NBA career, including 25.6 this season and sparking a deep playoff run. He joined LeBron James and Oscar Robertson as the only players in NBA history to have back-to-back seasons of averaging at least 26 points and 6 assists before the age of 24 when he did it in 2018-19 (26.6, 6.8) and 2019-20 (26.6, 6.5).

An All-Star the last two seasons, Booker in 2017 became the youngest player to score 60 points in a game when he erupted for 70 against the Boston Celtics at age 20. Only six players in NBA history have scored 70 or more points in a game (Wilt Chamberlain did it six times).

Booker, the 13th overall pick in 2015 out of Kentucky, this season became the fifth-youngest player to reach 9,000 career points. His father, Melvin, played two NBA seasons with three teams.
Kevin Durant, 6-10,
forward
Kevin Durant, 6-10,
forward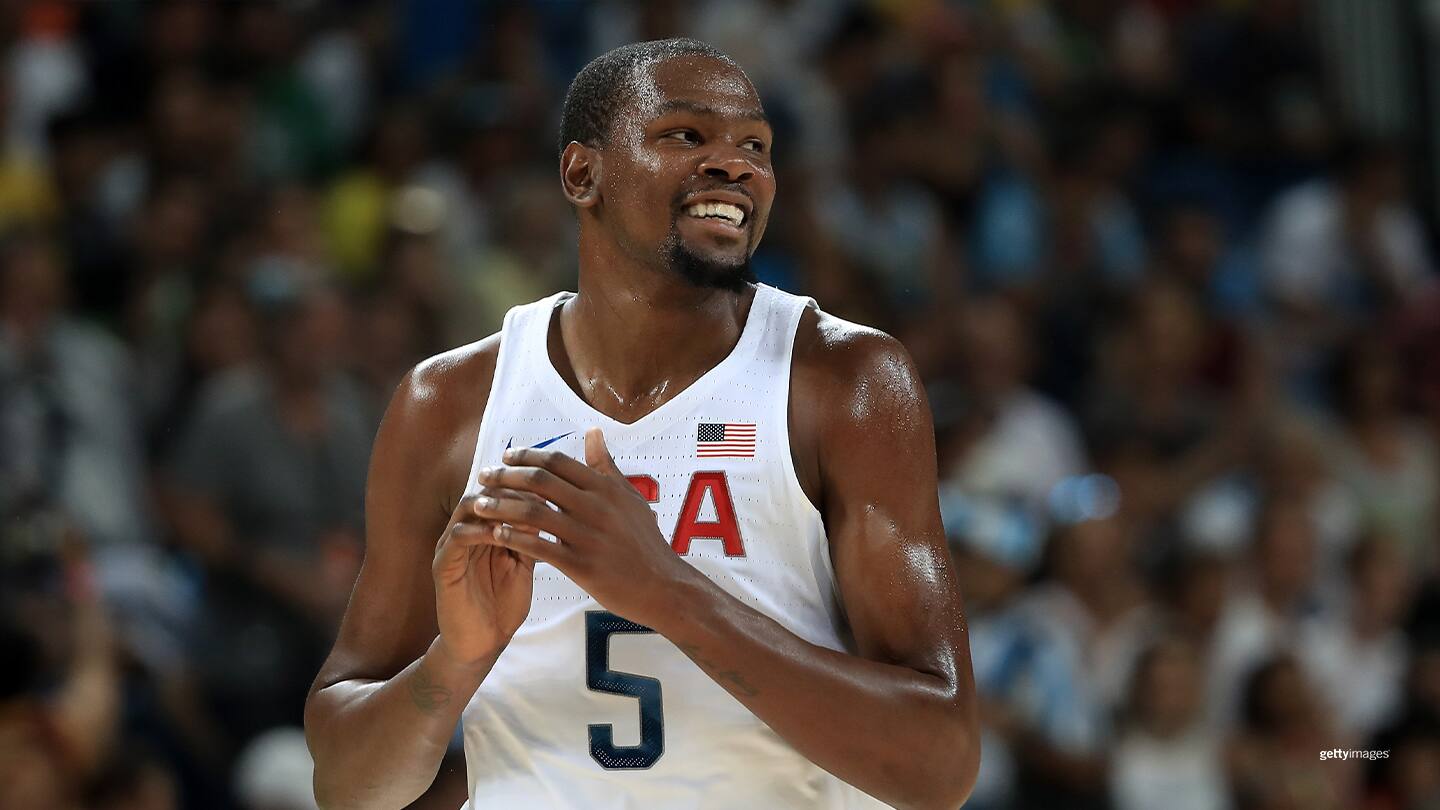 Kevin Durant reacts while taking on Argentina during the Olympic Games Rio 2016 at Carioca Arena 1 on Aug. 17, 2016 in Rio de Janeiro, Brazil.
A member of the teams that won gold medals in London and Rio, the 32-year-old could become the second man to win three Olympic golds (Carmelo Anthony is the other). Durant, the tallest U.S. player, also won a gold at the 2010 World Cup and is 39-0 with the U.S. in FIBA competitions.

One of the most lethal shooters in the NBA, Durant has made 49.4 percent of his shots and 38.4 from 3-point range during his 13 seasons. After missing the 2019-20 season due to an Achilles' injury, Durant played just 35 of 72 games this season and averaged 26.9 points, 7.1 rebounds and 5.6 assists for the Brooklyn Nets.

The 11-time All-Star was named NBA MVP for the 2013-14 season with the Oklahoma City Thunder and won back-to-back NBA Finals MVPs in 2017 and 2018 with the Warriors while winning championships. Durant, the No. 2 overall pick by the Seattle SuperSonics in 2007, has won five scoring titles and his 27.0 points per game ranks fifth in NBA history.
Jerami Grant, 6-8,
forward
Jerami Grant, 6-8,
forward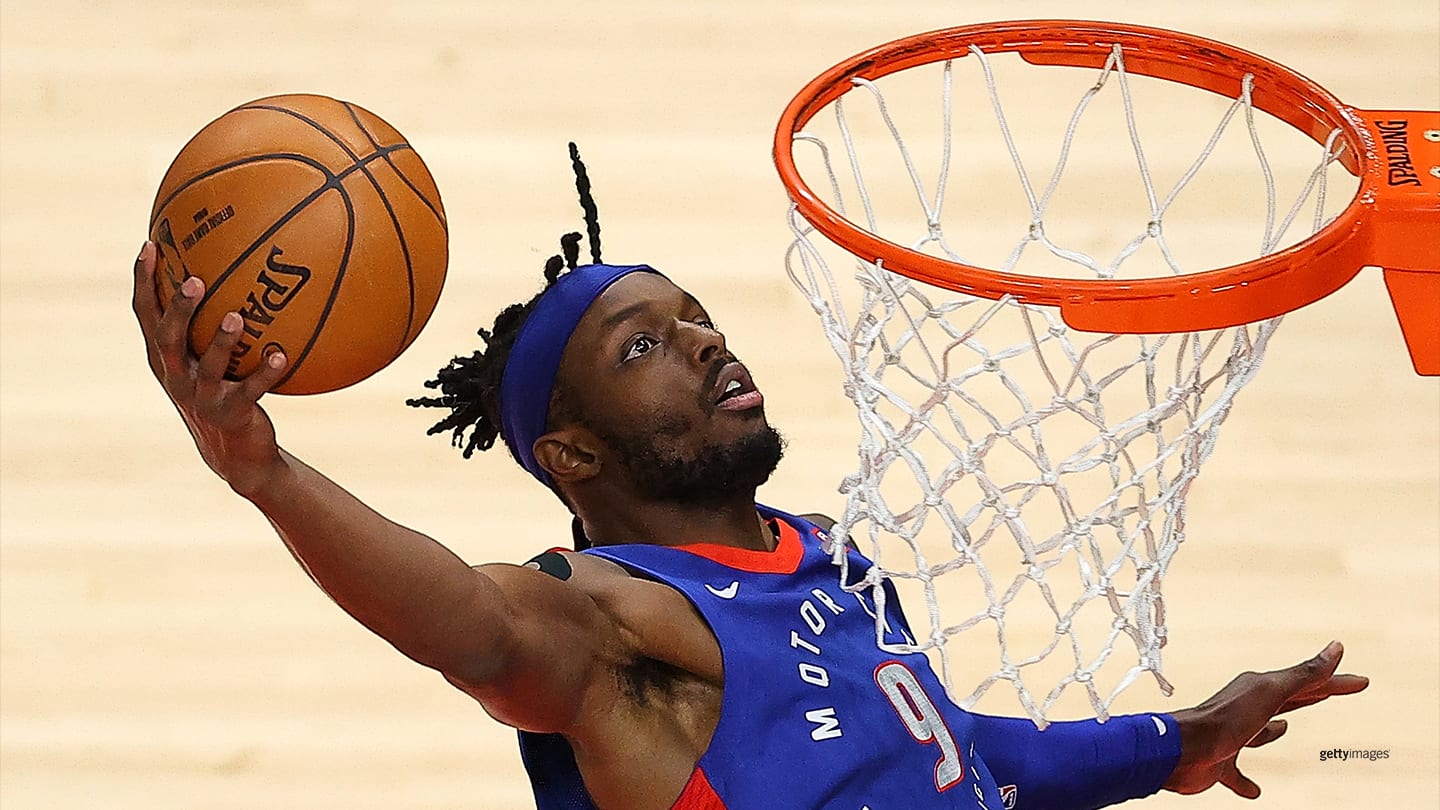 Jerami Grant dunks an alley-oop against the Atlanta Hawks at State Farm Arena on Jan. 20, 2021 in Atlanta, Ga.

In his seventh season, the 27-year-old had a breakout performance in his first year with the Detroit Pistons. Grant averaged a career-best 22.3 points and 33.9 minutes and matched his career high with 4.0 rebounds while starting all 54 games he played in. His previous career-best scoring output was 13.6 in 2018-19 with the Thunder.

Grant, who won a gold medal at the 2012 FIBA Americas U18 Championship, was a second-round pick by the Philadelphia 76ers in 2014 out of Syracuse. In the 2018-19 season, he became the seventh forward since 2014 with 3,000 points and 400 blocks.

His father, Harvey, and uncle, Horace, both played in the NBA for more than 10 years and are identical twins. Jerami's full name is Houston Jerami Grant and he has three brothers — Harvey Jerai, Holdyn Jerian and Harrison Jaelin — who all go by their J name.
Draymond Green, 6-6,
forward
Draymond Green, 6-6,
forward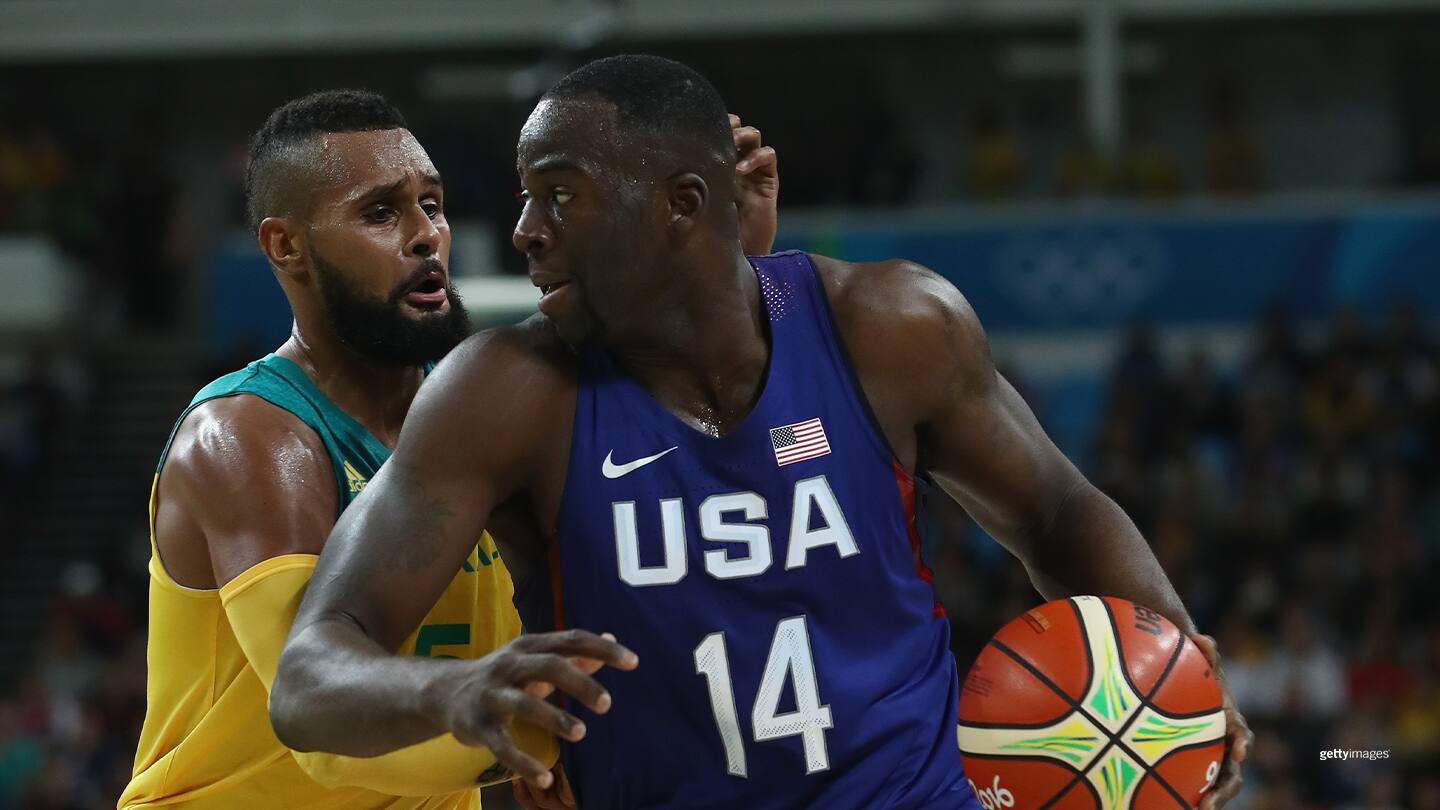 Draymond Green handles the ball during the Olympic Games Rio 2016 at Carioca Arena 1 on Aug. 10, 2016 in Rio de Janeiro, Brazil.
One of the best defensive players in the NBA, the 31-year-old was also a member of the 2016 Rio gold-medal team. He has played his entire eight-year career with the Warriors after being a second-round pick out of Michigan State in 2012.

Green averaged 7.0 points, 6.3 rebounds, 8.9 assists and 1.7 steals per game this season. He tied for third in the NBA in assists and steals per game. He was the Defensive Player of the Year in 2017 and has been an All-Defensive first- or second-team selection in five of the six seasons he has been a full-time starter, including four times on the top unit.

A three-time All-Star, Green is the Warriors' career leader with 30 regular-season triple-doubles (he has 11 in the postseason, tied for fourth in NBA history). He became the first player in NBA history to notch a triple-double without points being part of the equation as he had 11 rebounds, 10 assists and a franchise-record 10 steals Feb. 10, 2017, vs. Memphis. That also made him just the second player in history to have at least 10 rebounds, 10 assists and 10 steals in a game (Alvin Robertson had a quadruple-double in 1986).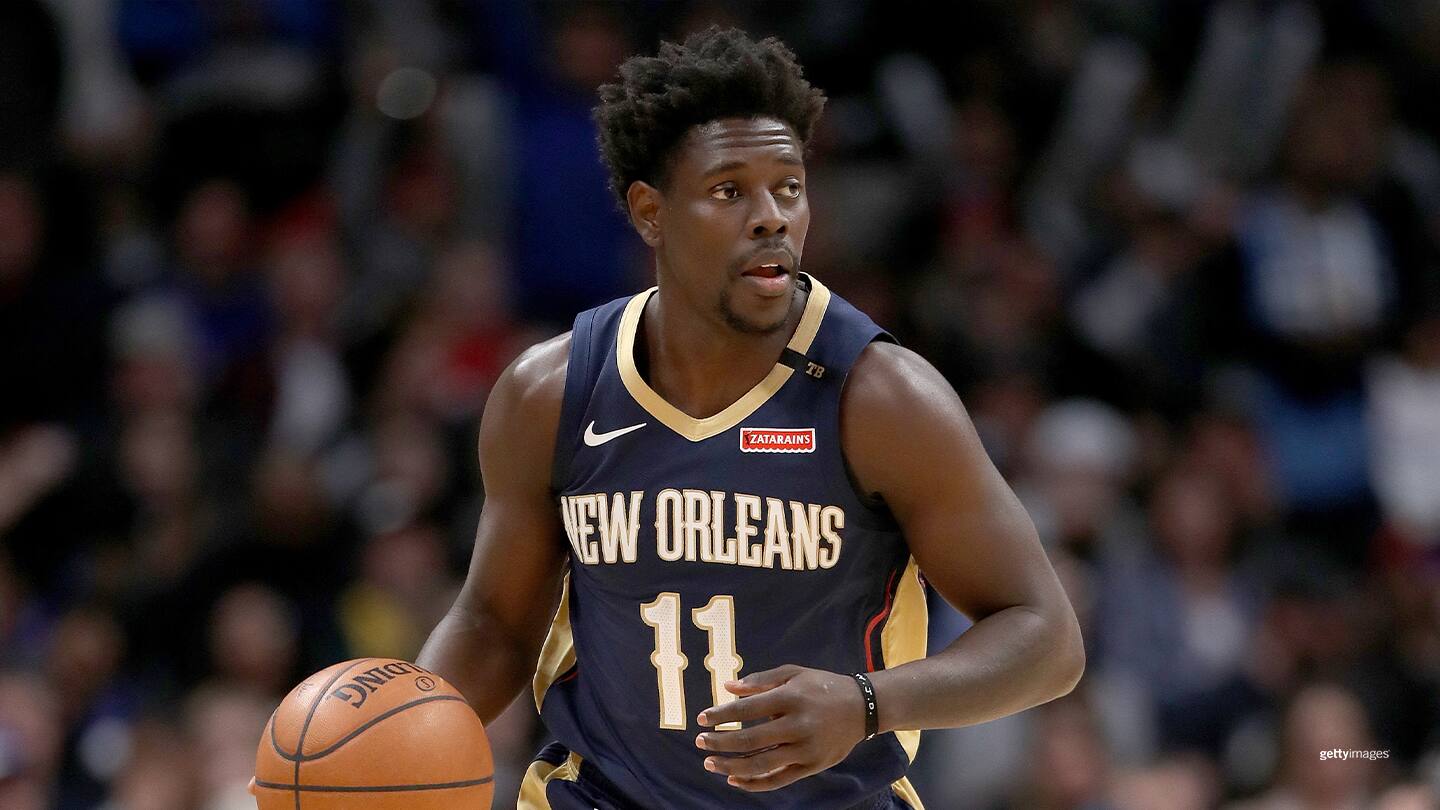 Jrue Holiday plays the Denver Nuggets at the Pepsi Center on March 02, 2019 in Denver, Colo.
The 31-year-old, who averaged 17.7 points, 6.1 assists and matched his career high with 1.6 steals in his first season with the Milwaukee Bucks, has a wealth of USA Basketball experience but this will be his first international tournament.

Holiday, the 17th overall pick in 2009 by the Philadelphia 76ers out of UCLA, is a two-time All-Defensive first-teamer (2018, 2021) and a second-teamer in 2019. He earned his lone All-Star nod in 2013 when he became the youngest player (22) in Sixers history to be honored.

This season, Holiday won the Joe Dumars Trophy, which goes to the player who displays ideal sportsmanship on the court. Last season, he won the Twyman-Stokes Teammate of the Year Award. His two brothers, Justin and Aaron, have also played in the NBA. Holiday was the Gatorade National Player of the Year in 2008 while at Campbell Hall School in Studio City, California.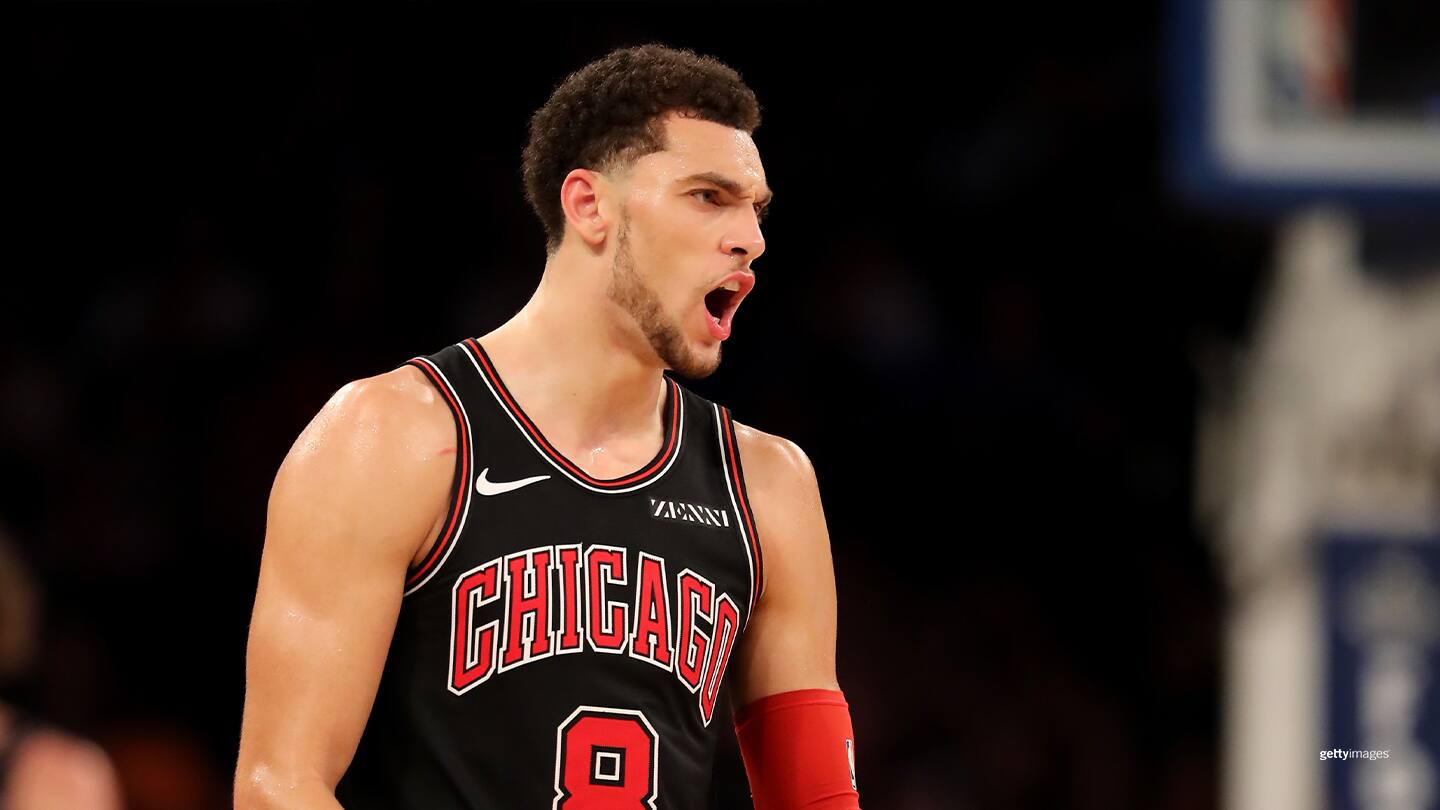 Zach LaVine celebrates in the second overtime period against the New York Knicks at Madison Square Garden on Nov. 5, 2018 in New York City.
An All-Star for the first time this season, the 26-year-old has nonetheless stood out during the weekend's festivities. LaVine became the fourth player to win the Slam Dunk Contest back-to-back (2015, 2016), participated in the 3-Point Contest (2020) and was MVP of the Rising Stars Challenge in 2016.

LaVine, the 13th overall pick by the Minnesota Timberwolves in 2014 out of UCLA, averaged 27.4 points, 5.0 rebounds and 4.9 assists — all career bests — in his fourth season with the Chicago Bulls. He set the Bulls single-season record with 184 3-pointers in the 2019-20 season and shot a 50.7 percent overall and 41.9 from long range, both career highs.

He wanted to follow the path of his father, Paul, who played three games at linebacker in the NFL with the Seattle Seahawks and one season with the USFL's Portland Breakers, but changed to hoops after seeing Michael Jordan in "Space Jam."
Damian Lillard, 6-2,
guard
Damian Lillard, 6-2,
guard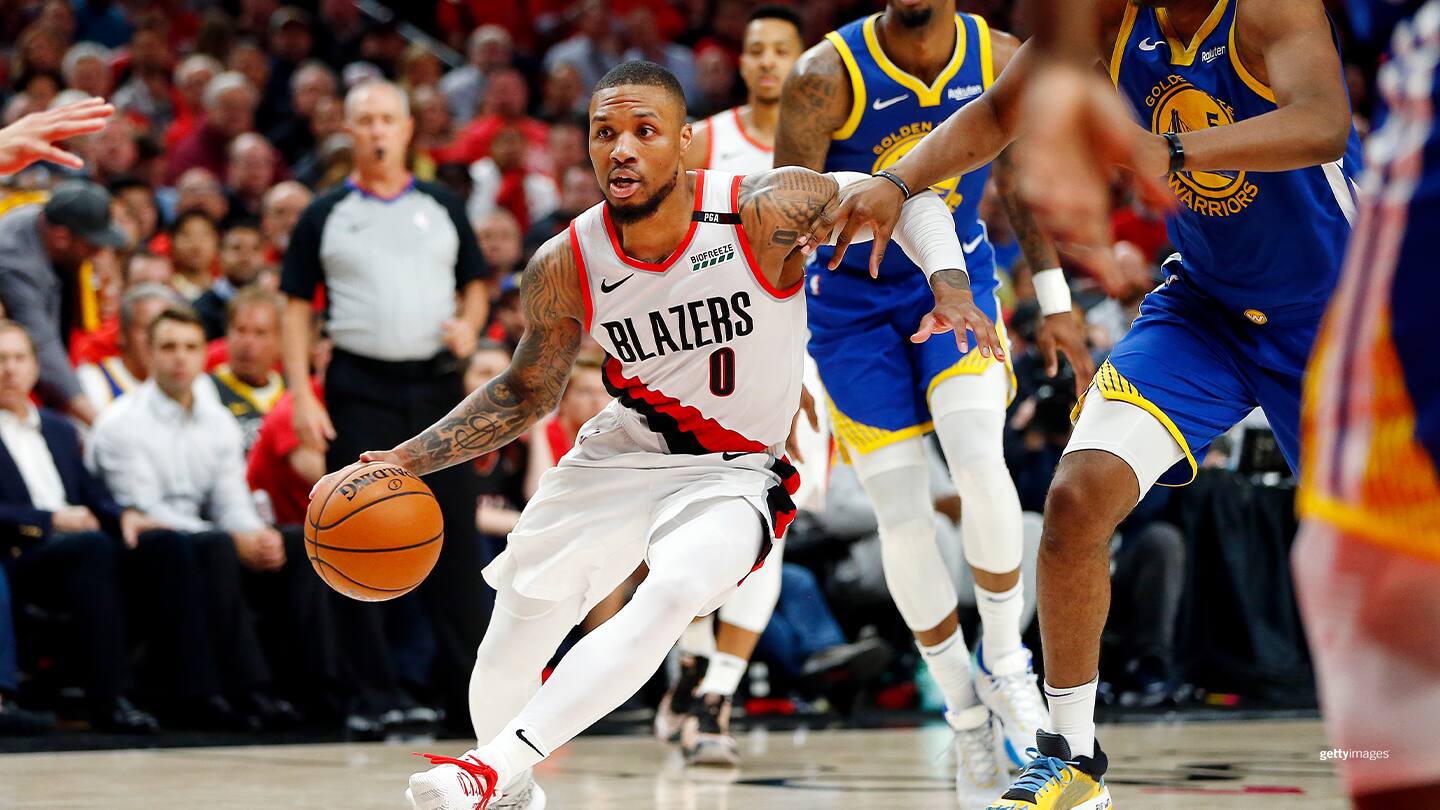 Damian Lillard handles the ball during the second half against the Golden State Warriors at Moda Center on May 20, 2019 in Portland, Ore.
The six-time All-Star, who turns 31 on July 15, has averaged at least 25 points per game the last six seasons, including 28.8 this season with the Portland Trail Blazers. He also averaged 7.5 assists, the second-highest mark of his career, and 4.2 rebounds.

Picked sixth overall by the Blazers in 2012 out of Weber State, Lillard became the second player in NBA history to have 1,500 points and 400 assists in his first nine seasons. Oscar Robertson is the other. Lillard also became the second player to score at least 60 points three times in a season in 2019-20, joining Wilt Chamberlain.

He had a remarkable performance in this year's playoffs, going off for 55 points, including a postseason-record 12 3-pointers (one at the end of regular, another to force the second OT), and 10 assists in a double-overtime loss to the Denver Nuggets. Lillard became the first rookie to lead the NBA in minutes played since Elvin Hayes in 1968-69. He is also an accomplished rapper who has released multiple albums under the moniker Dame D.O.L.L.A.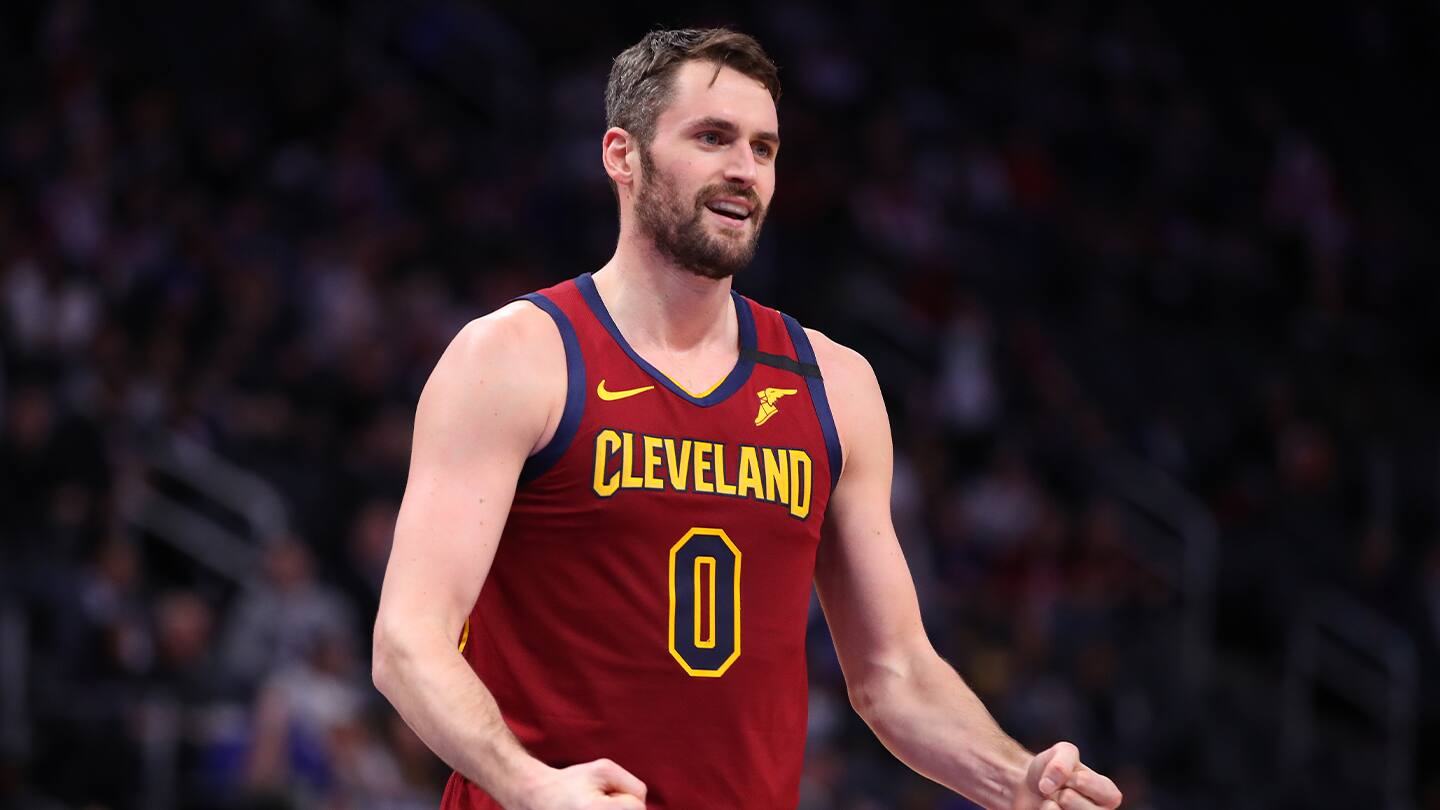 Kevin Love reacts to a first half basket while playing the Detroit Pistons at Little Caesars Arena on Jan. 27, 2020 in Detroit, Mich.

The 32-year-old is making his second Olympic appearance after winning a gold medal in 2012 at London (he was a finalist in 2016, but did not make the team). He played (and started) in just 25 games this season, averaging 12.2 points and 7.4 rebounds for the Cleveland Cavaliers, his seventh with the team.


Drafted fifth overall by the Timberwolves in 2008, Love is a five-time All-Star who this season became the fifth player in NBA history with at least 13,000 points, 8,000 rebounds and 1,000 assists.


Love was the 2007 Gatorade National Male Athlete of the Year and finished his career at Lake Oswego High School as Oregon's career scoring leader (2,628 points). His father, Stan, was a first-round draft pick and played four seasons in the NBA, while uncle Mike Love is the lead singer for the Beach Boys.
Khris Middleton, 6-7,
forward
Khris Middleton, 6-7,
forward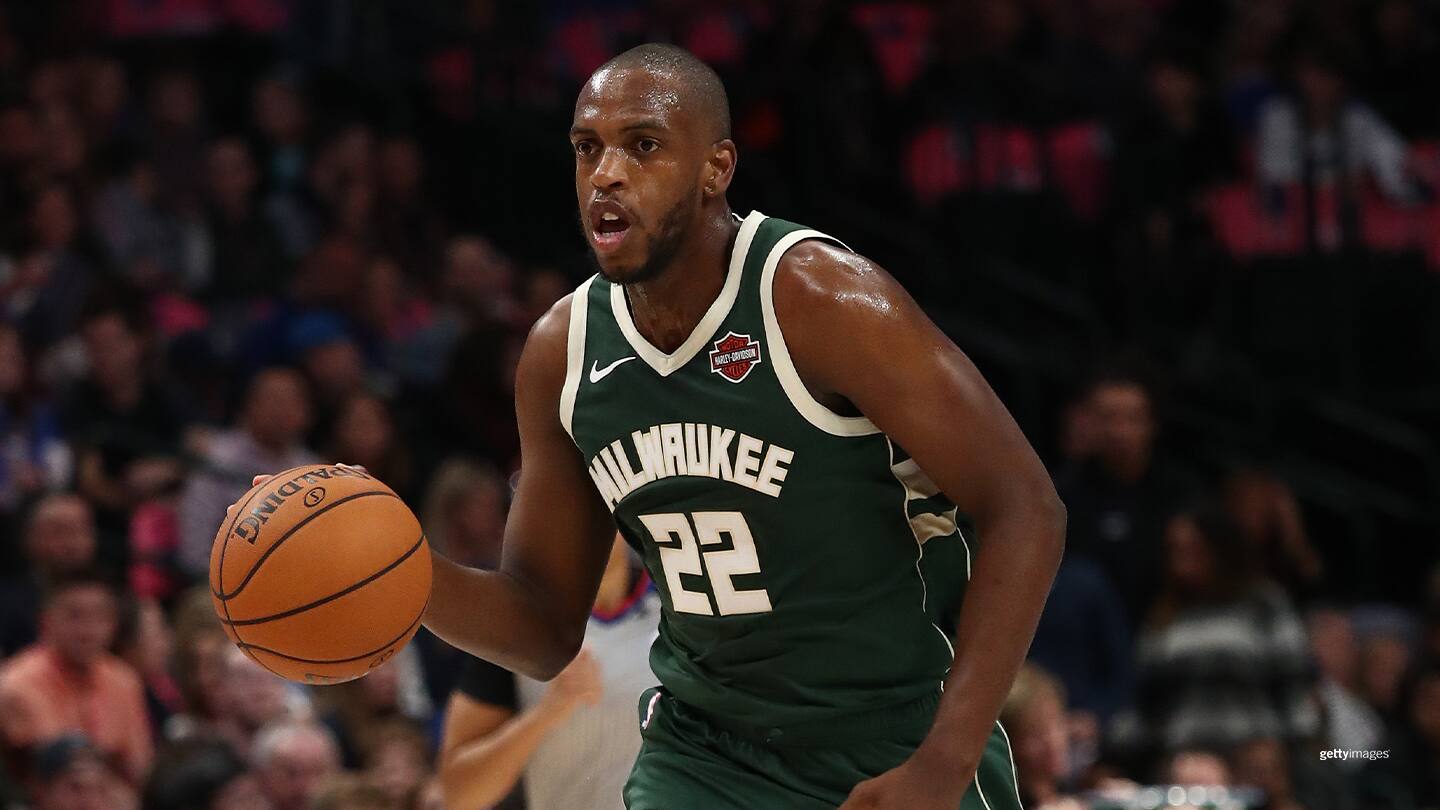 Khris Middleton handles the ball during a preseason game at American Airlines Center on Oct. 11, 2019 in Dallas, Texas.
A two-time All-Star, the 29-year-old averaged 20.4 points, 6.0 rebounds and 5.4 assists this season with the Bucks, who are in the Eastern Conference finals for the second time in three years. He shot 47.6 percent from the field, the second-best mark of his nine-year career, and 41.4 percent on 3-pointers, matching his second-highest rate.


Middleton, one of two members of the U.S. Olympic team who played in the 2019 World Cup, was a second-round selection by the Pistons in the 2012 draft out of Texas A&M. He scored a career-high 51 points two days after the Jan. 26, 2020, helicopter crash that killed Kobe Bryant, his daughter Gianna and seven others. He dedicated his performance to Bryant.


He was a two-time state player of the year at Porter-Gaud School in Charleston, South Carolina, and his cousin Josh Powell played seven seasons in the NBA.
Jayson Tatum, 6-8,
forward
Jayson Tatum, 6-8,
forward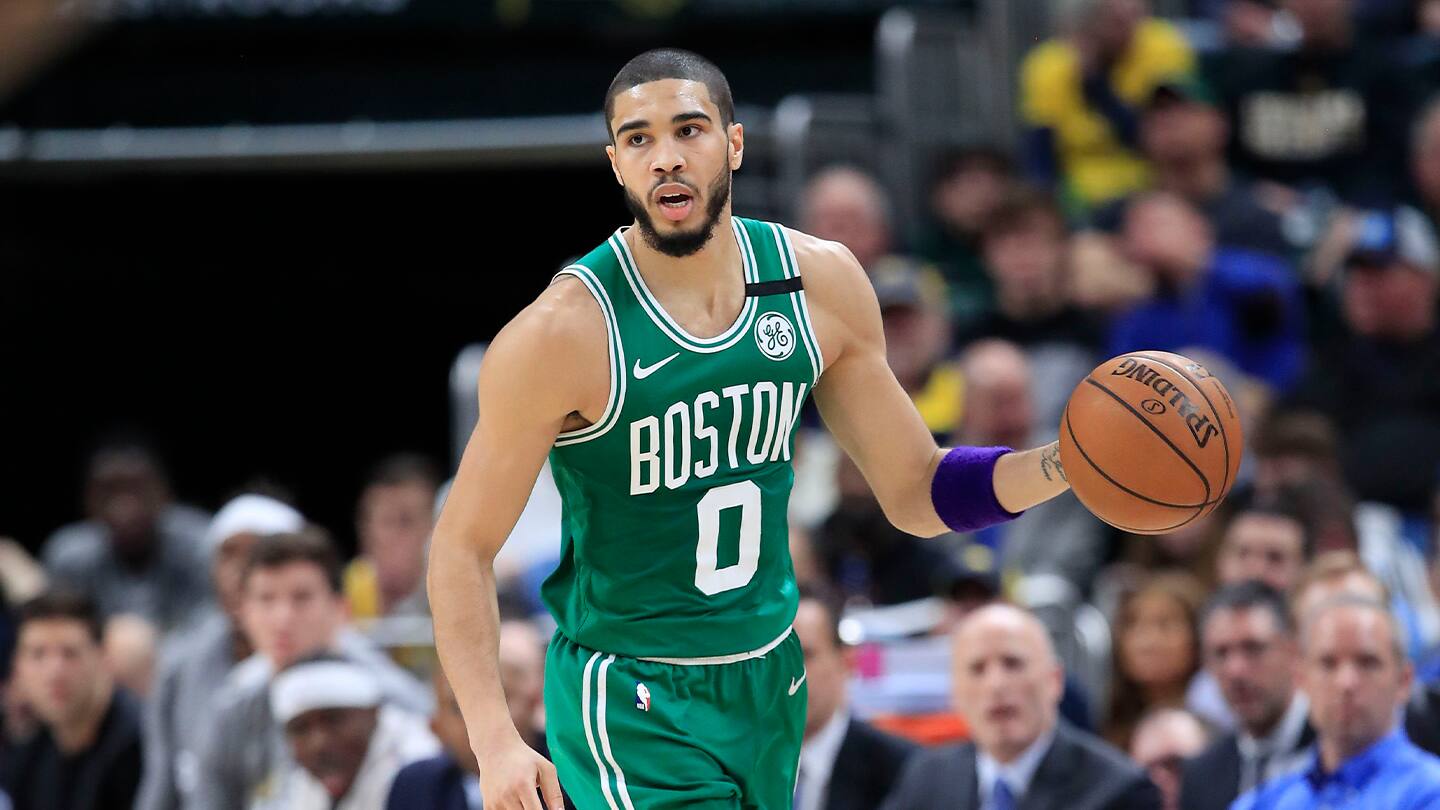 Jayson Tatum dribbles the ball against the Indiana Pacers at Bankers Life Fieldhouse on March 10, 2020 in Indianapolis, Ind.
An All-Star each of the last two seasons, the 23-year-old will be seeking his fourth gold medal with USA Basketball after winning three at the youth level. He also played in the 2019 World Cup.

The third overall pick by the Boston Celtics in 2017 out of Duke, Tatum averaged career bests of 26.4 points, 7.4 rebounds and 4.3 assists this season. He set a Celtics record by scoring 60 points in a game this season, becoming the second-youngest player in NBA history to do so — behind Olympic teammate Devin Booker. In the playoffs, Tatum scored 50 points during the first round against Brooklyn, becoming the sixth player in Celtics history to hit the mark in the postseason.

Tatum became the youngest player in NBA history to score at least 20 points in four straight playoff games during the 2018 playoffs at 20 years, 61 days, surpassing Bryant's mark of 20 years, 272 days. He added a fifth straight game of at least 20 points, surpassing Larry Bird's Celtics rookie record. Tatum finished the playoffs with 10 games of 20 or more points, tying Kareem Abdul-Jabbar's rookie record.
Steve Drumwright is a journalist based in Murrieta, California. He is a freelance contributor to USAB.com on behalf of
Red Line Editorial, Inc.