U.S. Men's And Women's Basketball Teams Close Pre-Olympic Exhibitions With Wins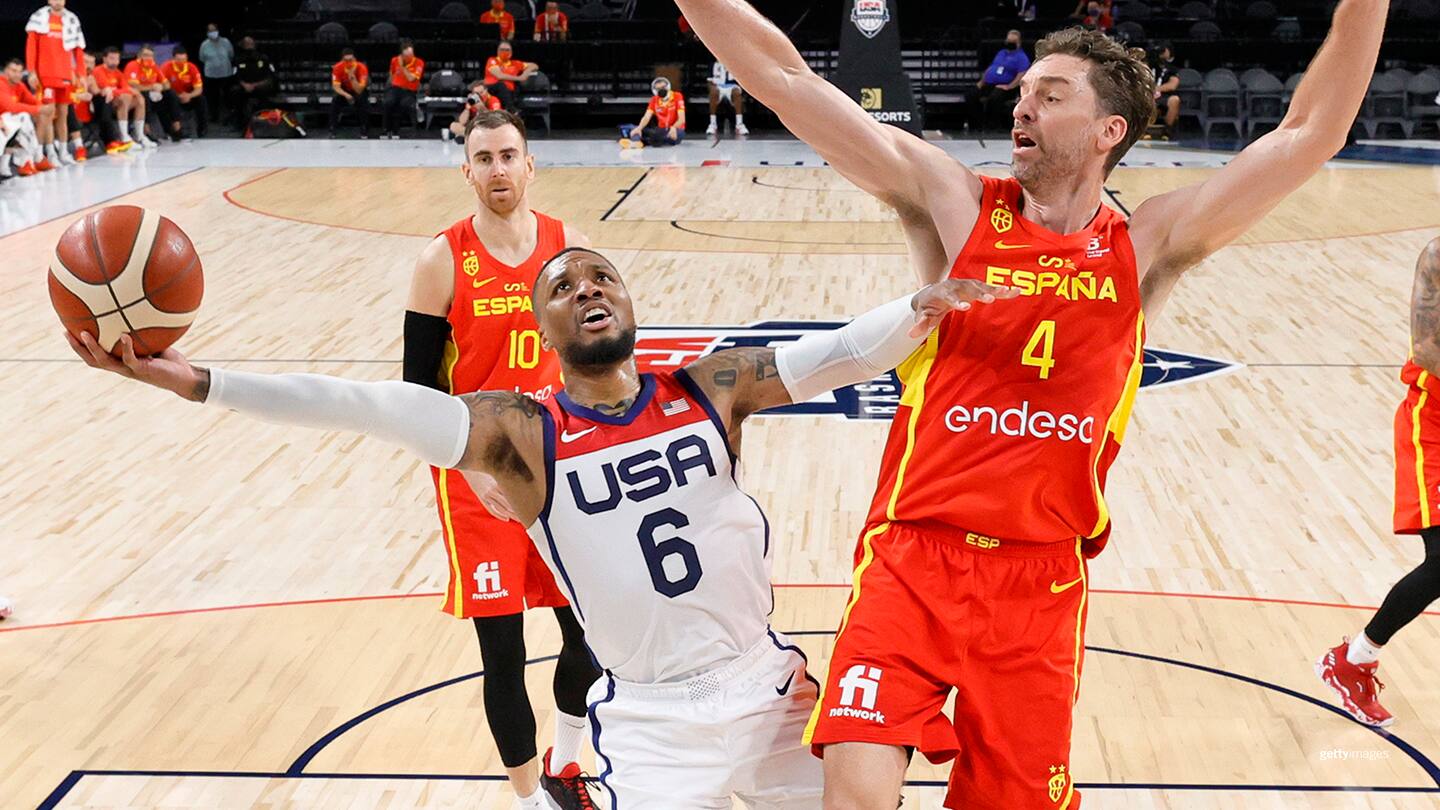 Damian Lillard during an exhibition game against Spain on July 18, 2021 in Las Vegas.
LAS VEGAS — It will be a happy flight to Tokyo on Monday for the U.S. men's and women's basketball teams.

Both teams wrapped up pre-Olympic competition Sunday with wins at the Michelob ULTRA Arena at Mandalay Bay. The men rallied past Spain to finish 2-2, while the women rolled past Nigeria 93-62 and went 1-2.

After an uneven and sometimes tumultuous week in Las Vegas, the teams know the task in Tokyo is to bring home the gold — it would be the seventh straight for the women and the fourth in a row for the men.


U.S. Men 83, Spain 76
Keldon Johnson, elevated along with JaVale McGee from the USA Select Team to the Olympic team due to an injury to Kevin Love and with Bradley Beal in COVID-19 protocols, came off the bench to score 10 third-quarter points and fueled an 11-0 run as the Americans won their second straight.

Damian Lillard had 19 points, Johnson 15, Kevin Durant 14 and Zach LaVine 13 for the Americans. Ricky Rubio paced Spain with 23 points.

The U.S. found its groove in the second half. After trailing 46-42 with 5:44 left, a Lillard 3-pointer put the U.S on top for the first time since it was 9-7 in the first quarter. Spain turned it over on the next possession and Lillard found Johnson streaking to the hoop for a thunderous slam.

The U.S. opens Olympic play July 25 at 8 a.m. EDT against France in Group A action at Saitama Super Arena in Greater Tokyo. Iran and the Czech Republic are also in Group A.


U.S. Women 93, Nigeria 62
Five players scored in double figures as the U.S. rebounded from back-to-back losses by using a 14-0 run early in the first quarter to dispatch Nigeria.

A'ja Wilson had 16 points and 10 rebounds for the Americans, while Breanna Stewart had 14 points, Brittney Griner 12 and Jewell Loyd and Sylvia Fowles 10 each. Atonye Nyingifa led Nigeria with nine points. The Americans also held a 45-24 advantage on the boards and shot 53.8 percent (35 of 65), including making nine of 16 3-pointers.

It was the 200th exhibition win against just 18 losses (.917 winning percentage) for the women's national team program.

The U.S. has a rematch with Nigeria in the Olympic opener July 27 at 12:40 a.m. ET in Group B at Saitama Super Arena in Greater Tokyo. Japan and France are the other teams in Group B.
Steve Drumwright is a journalist based in Murrieta, California. He is a freelance contributor to TeamUSA.org on behalf of
Red Line Editorial, Inc.