U.S. Men's Basketball Gets Back On Track With 108-80 Win Over No. 4 Argentina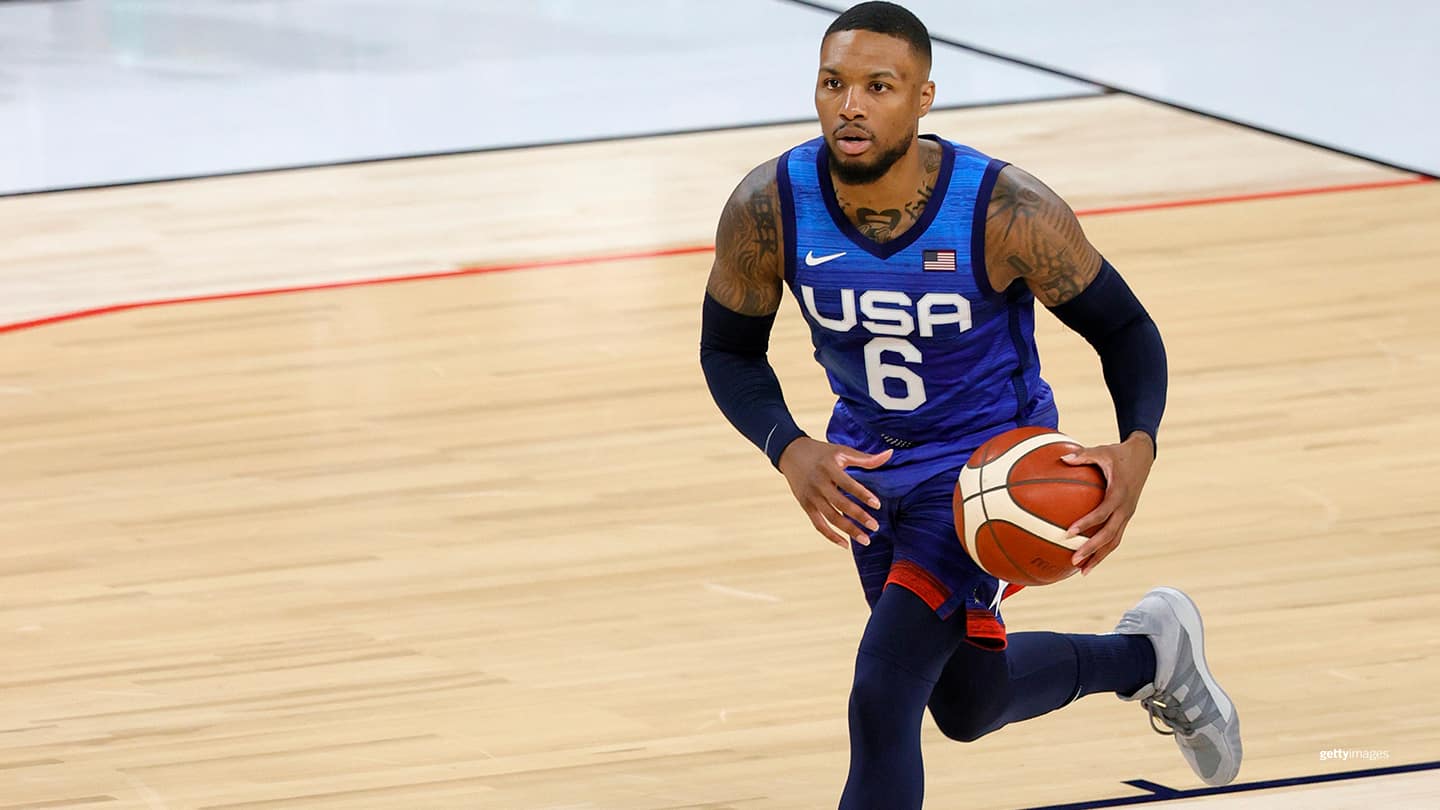 Damian Lillard competes during an exhibition game at Michelob Ultra Arena ahead of the Olympic Games Tokyo 2020 on July 12, 2021 in Las Vegas, Nev.
LAS VEGAS — U.S. men's basketball team coach Gregg Popovich said the Olympians lost their legs and wore down in a second straight exhibition loss Monday. Less than 24 hours later, the Americans regained their footing on the road to Tokyo.

Behind a blistering first quarter and 17 points apiece from Kevin Durant and Bradley Beal, the top-ranked U.S. bounced back from two tough setbacks and beat Argentina 108-80 Tuesday at Michelob ULTRA Arena at Mandalay Bay.

Zach LaVine added 15 points and Damian Lillard 13 for the Americans, who lost 90-87 to 22nd-ranked Nigeria on Saturday and 91-83 to third-ranked Australia on Monday as part of a five-game exhibition series before the Olympic Games. Luis Scola, a 41-year-old former NBA player, had 16 points for Argentina.

Argentina, FIBA's No. 4 team that has three NBA players and another playing college in the U.S. (Francisco Caffaro at Virginia), is the only team besides the U.S. to win an Olympic gold medal since NBA players became part of the equation in 1992, taking the top podium position in 2004.

For both teams, it was their third game in four days, a daunting schedule even by NBA standards. But the Americans came out blazing and had their best offensive quarter thus far, shooting 68.4 percent (13 of 19) and making six 3-pointers en route to a 33-19 advantage. Beal had 10 points and he and Durant each made a pair of 3-pointers.

While cooling off a bit, the U.S. extended its lead to 58-42 at halftime, capped by Durant's fourth 3-pointer of the opening 20 minutes at the buzzer. Another good quarter in the third put the Americans up 81-62 and made sure there wouldn't be a historic third straight exhibition loss.

The U.S. will have two days off before the fourth exhibition game, a Friday rematch against Australia. That will be part of a men's and women's doubleheader, with the women tipping off at 2:30 p.m. and the men at 6 p.m.
Steve Drumwright is a journalist based in Murrieta, California. He is a freelance contributor to USAB.com on behalf of
Red Line Editorial, Inc.