U.S. Men's Basketball Falls To Australia, Drops To 0-2 In Pre-Olympic Exhibitions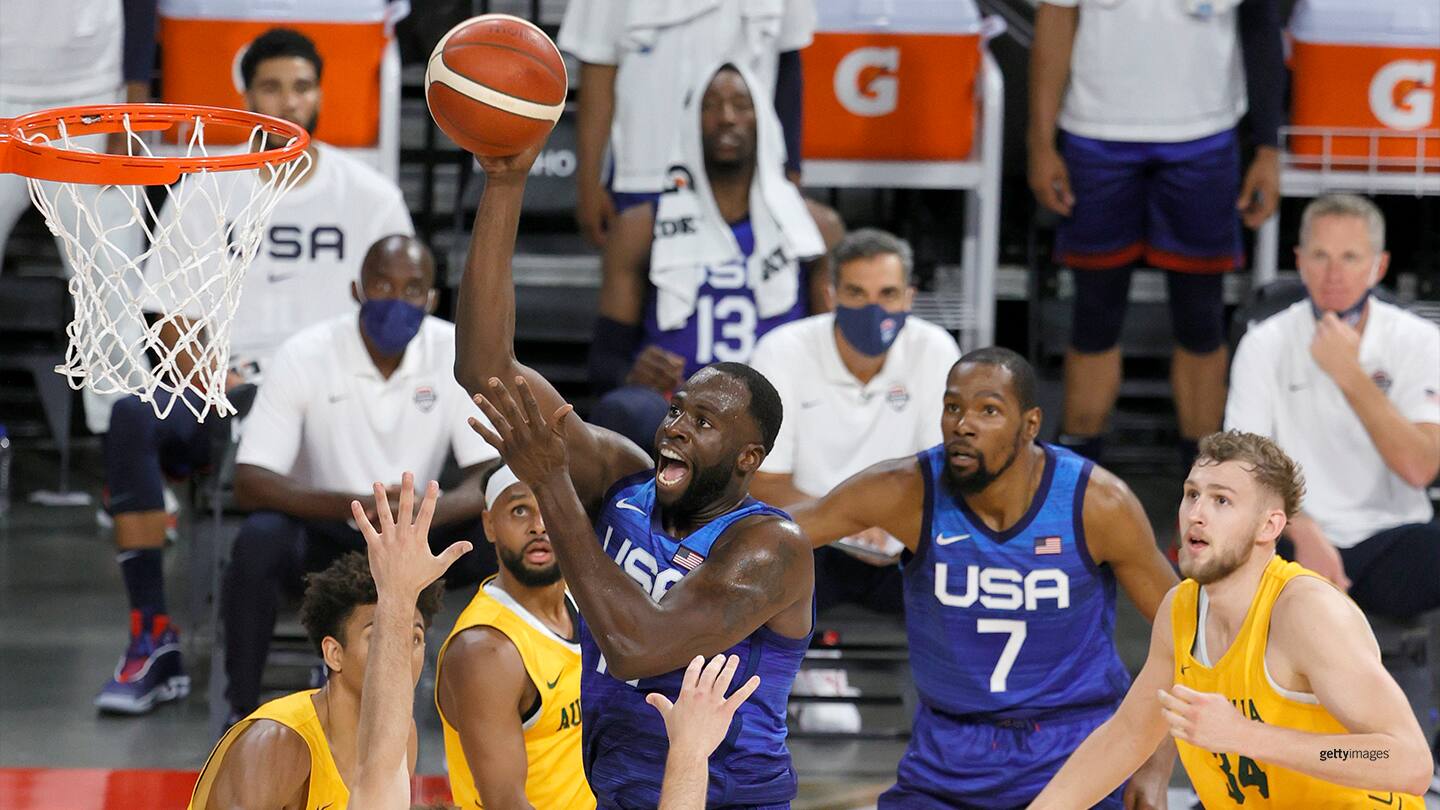 Draymond Green shoots against the Australia Boomers during an exhibition game at Michelob Ultra Arena ahead of the Tokyo Olympic Games on July 12, 2021 in Las Vegas, Nev.
Coming off a shocking loss to Nigeria two days prior, the U.S. men's basketball team is now 0-2 in pre-Olympic exhibitions after falling 91-83 to Australia Monday at Mandalay Bay's Michelob ULTRA Arena.

The loss dropped the Americans' record in exhibitions to 54-4 since 1992.

Point guard Damian Lillard led the U.S. with 22 points, including 16 in the first half, while Kevin Durant scored 17. Team USA remains without three players — Devin Booker of the Phoenix Suns, Khris Middleton and Jrue Holiday of the Milwaukee Bucks — who are still playing in the NBA Finals.

Australia, which has seven NBA players on its current 14-man roster, was led by Patty Mills' 22 points.

The U.S. will get a rematch with the Aussies as part of a men's and women's doubleheader Friday. Team USA, the three-time defending Olympic champions, opens play at the Tokyo Olympics on July 25 against France.

As coach Gregg Popovich looks for the right combos for Tokyo, the U.S. started Bradley Beal, Lillard, Durant, Jerami Grant and Draymond Green vs. Australia. Green and Grant came off the bench against Nigeria as Bam Adebayo and Jayson Tatum started.

Lillard came out scorching in the first quarter, hitting 4-of-5 shots and all three of his 3-pointers for 11 points as the U.S. grabbed a 27-24 edge. Overall in the opening 10 minutes, the Americans shot 55 percent (11 of 20).

Australia wasn't as physical with the U.S. as Nigeria was, and that helped the Americans in the rebounding department. The U.S. held a 15-13 advantage on the boards at halftime, which helped offset Australia's 51.6 percent shooting (16 of 31).

But Australia pulled out in front in the third quarter thanks to 60 percent shooting (12 of 20) for a 69-64 lead, while the U.S. shot 42.8 percent (6 of 14). The Aussies also flipped the rebounding advantage in their favor 22-20 for the game.

Australia knocked off the U.S. 98-94 in Melbourne before the FIBA World Cup, part of qualification for the Tokyo Olympics.

The U.S. is right back in action Tuesday against Argentina, FIBA's fourth-ranked team that lost to Nigeria 94-71 on Monday. The U.S.-Argentina game tips off at 6 p.m. ET on NBCSN.
Steve Drumwright is a journalist based in Murrieta, California. He is a freelance contributor to USAB.com on behalf of
Red Line Editorial, Inc.