Led By Kevin Durant, U.S. Men's Basketball Team Routs France To Win Fourth-Straight Olympic Gold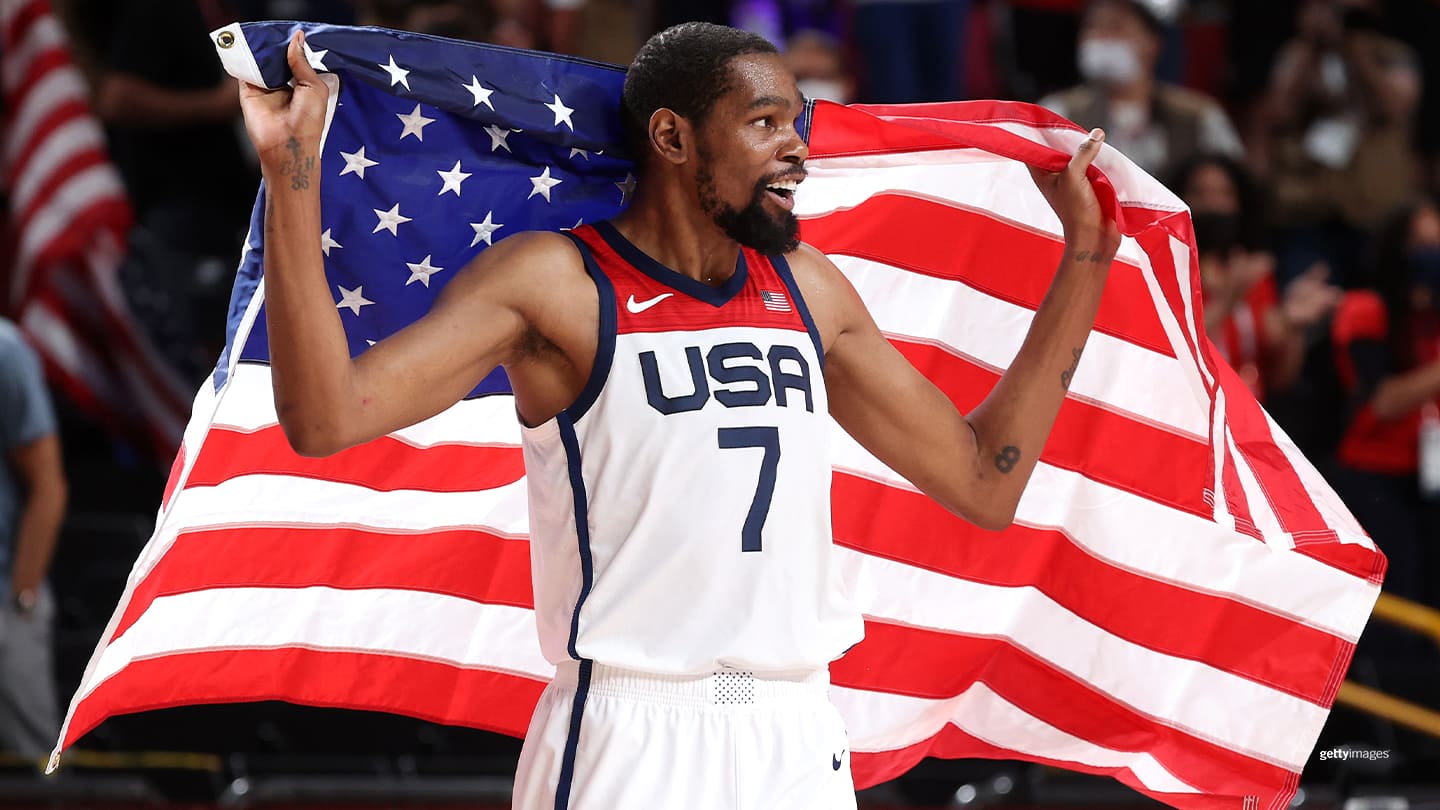 Kevin Durant celebrates Team USA's victory in the men's final basketball match during the Olympic Games Tokyo 2020 on Aug. 7, 2021 in Saitama, Japan.
TOKYO – The U.S. men's basketball team are golden again.

Despite a rocky start to their bid for Olympic gold, the U.S. battled back to beat France 87-82 in the finals to claim their fourth-straight Olympic gold.

In the Olympic opener, the U.S. men fell to France 83-76. NBA stars Nicolas Batum, Evan Fournier and Rudy Gobert of France made an inspiring comeback late in the game to top Team USA.

"A lot of people back home doubted us," said veteran forward Kevin Durant. "A lot of people said it was going to be tough for us to win…but we came together and finished it off."

Following their loss to France, the U.S. won four straight games against Iran (120-66), Czech Republic (119-84), Spain (95-81) and Australia (97-78) to earn themselves a spot in the gold medal game.

"When you're a part of a team that's evolving by the second, it's just amazing to see," said Durant. "So, each game we continued to grow, the coaches started to have more confidence in us, the players started to have more confidence in their roles – it's just that journey that was so important."

And today, the U.S was out for revenge.

"This one feels good because we went through a lot. We had a lot of first-time guys on the team. [It was a] new experience for everyone on the team - COVID, the kind of bubble we were in, no fans, no one expecting us to lose."

In the battle for gold, Team USA faced an undefeated French team.

The game got off to a slow start for Team USA, who found themselves in early shooting trouble. Team USA battled back to take a four-point lead, 22-18, over rival France to end the first quarter and then continued to lead 44-39 at halftime.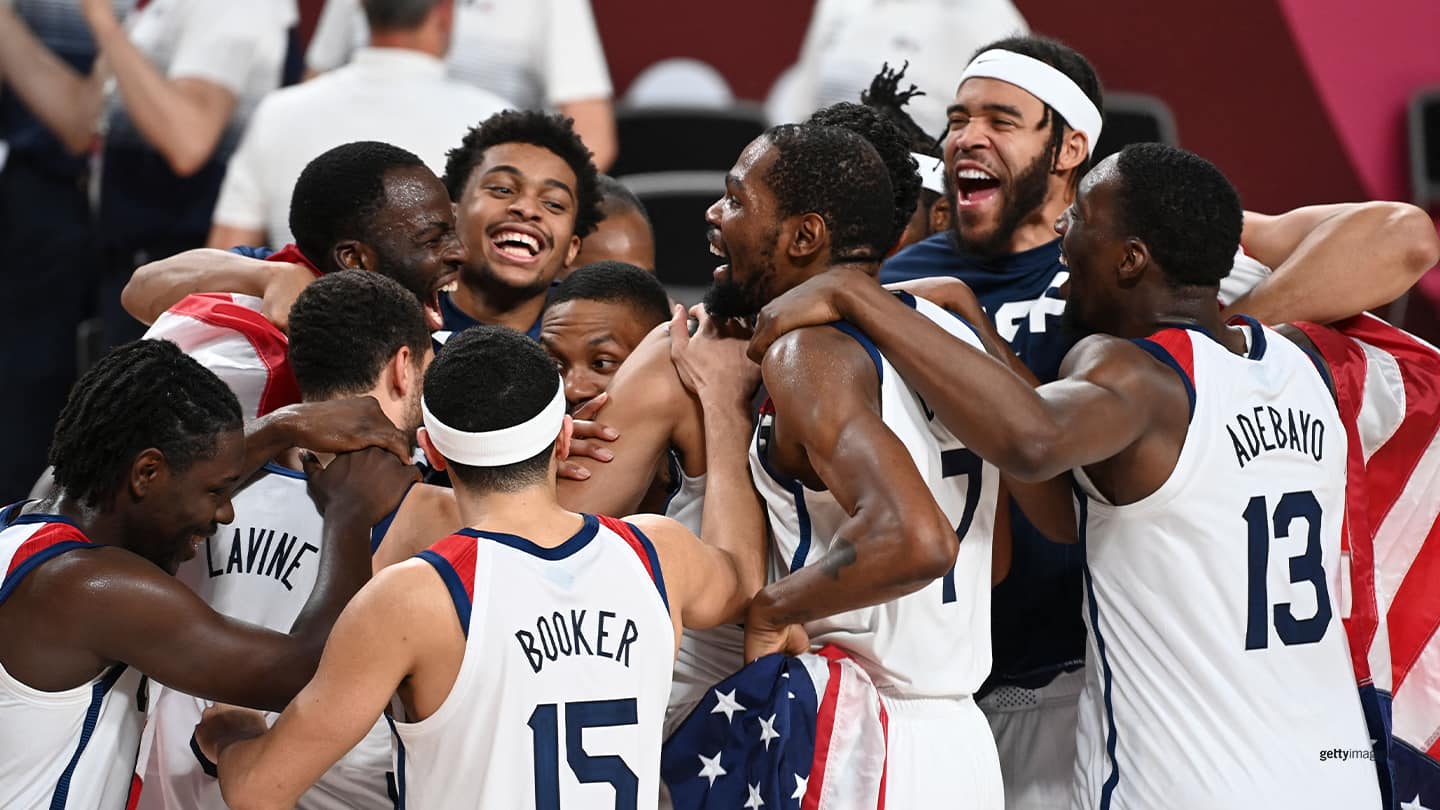 Team USA's players celebrate their victory in the men's final basketball match during the Olympic Games Tokyo 2020 on Aug. 6, 2021 in Saitama, Japan
In the first half, Kevin Durant led the team with 21 points. Olympic rookie Jayson Tatum was the second-leading scorer with 11 points and four rebounds.

Durant, who is the team captain and the U.S. all-time leading Olympic scorer, has carried Team USA to many of its victories throughout the tournament. Durant has now appeared in 22 Olympic games and has score double digits in all 22 appearances of his Olympic career.

"KD - he's not special because he's so talented," said head coach Gregg Popovich. "The way he works on his game is more impressive. The relationships he builds with teammates. The respect her garners. The joy he has in playing; it's like osmosis. It goes into all the other players and allows you to build a comradery."

To no one's surprise, Durant continued to dominate in the second half and was the game's leading scorer – ending the game with 29 points, 6 rebounds and 3 assists. Tatum ended the game with 19 points and seven rebounds.

Damian Lillard and Jrue Holliday each added 11 points, and Holliday had seven defensive rebounds to end the game.

"Yeah, I mean the first game was also a close one that was hard fought and played well," said Holliday. "I mean that [first game versus France] was the first one we played with a full roster. To meet them in the gold medal game was fitting for us."

NBA stars Fournier and Gobert led the French with 16 points each.

This is the U.S. men's national team fourth-straight Olympic gold and 16th gold in Olympic basketball history. The men have won gold at the last three Olympic Games (2016, 2012, 2008).

"I'm so proud of this team," said Durant. "The coaching staff prepared us so well every single day, even some days when we didn't feel like practicing, but it was worth it at the end…This group was special. I'm grateful to be a part of it. Grateful to bring the gold back home."

For veteran Durant, this is his third-straight gold medal. He was part of the gold-medal-winning squads in 2012 and 2016. For the only other veteran on the team, Draymond Green, this will be back-to-back golds. Green was part of the 2016 team in Rio.

"I love our country and this team is just amazing," said Durant. "It's just incredible."

Want to follow Team USA athletes during the Olympic Games Tokyo 2020? Visit TeamUSA.org/Tokyo2020 to view the medal table, results and competition schedule.
Kara Tanner is a sports journalist and creative based in Colorado Springs, Colorado. She is the head digital content manager and editor for
TeamUSA.org.