DeAnna Price Breaks 80-Meter Barrier to Hammer Into History at Olympic Track and Field Trials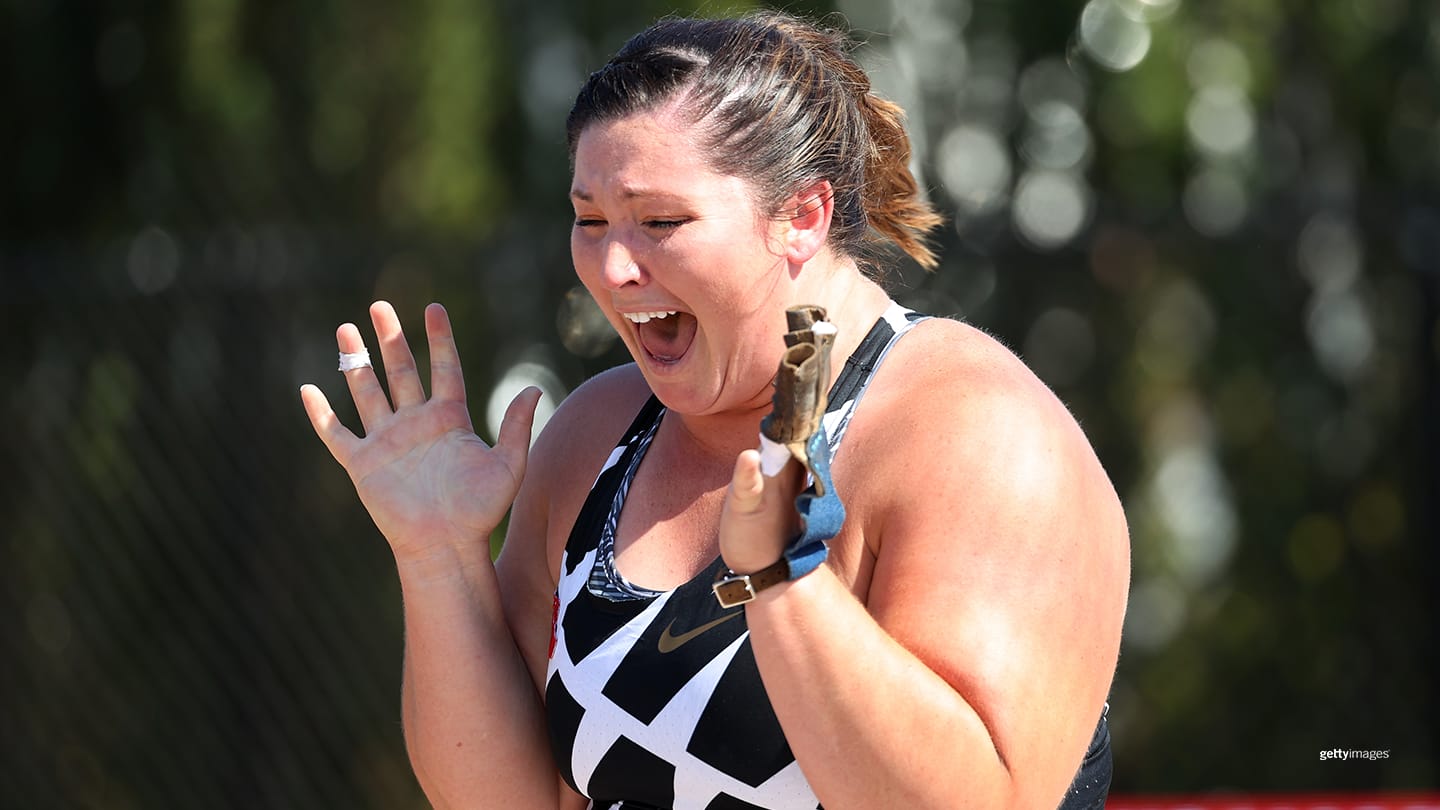 DeAnna Price reacts after throwing in the Women's Hammer Throw final at the 2020 U.S. Olympic Track & Field Team Trials on June 26, 2021 in Eugene, Oregon.
EUGENE, Oregon — DeAnna Price started her season by breaking her own American record in the hammer throw and felt like it would be smooth sailing into the U.S. Olympic Team Trials — Track & Field. Instead, it's been a harrowing journey to the top of the Hayward Field podium. Ultimately she came out on top, breaking the meet record twice and the American record twice to land on her second Olympic team.


All five of Price's legal throws would have won the competition, but her longest, an 80.31-meter (263 feet, 6 inches) heave in the fifth round, put her in rarefied air. The reigning world champion became just the second woman ever to throw the 4-kilogram (8.8-pound) ball-and-chain over 80 meters. Anita Włodarczyk of Poland holds the world record at 82.98 (272-3) and has 18 of history's 20 longest throws. Price now has the No. 7 performance.


Brooke Anderson (77.72/255-0) and Gwen Berry (73.50/241-2) joined Price on the medal stand and will make up the rest of the team for the Olympic Games Tokyo 2020. Price and Berry were teammates at the Olympic Games Rio 2016. Price finished eighth, while Berry did not qualify for the final.


After throwing at the USATF Grand Prix at Hayward in April, Price returned home to Carbondale, Illinois, and struggled with a mysterious illness — she says it wasn't Covid-19 — that wreaked havoc on her digestive system. Compounded by a recent diagnosis of celiac disease, she lost at 10 to 12 pounds and suffered from severe inflammation all over her body.
"I was miserable," she said. "Honestly there were points when I was looking at my husband [and asking], 'how am I going to make this team?'"


Physical therapy, massage therapy, a strict diet and encouragement from her husband and coach, J.C. Lambert, helped her get back on her feet.
"It took me a month and a half to two months to come out of whatever was shaking me," she said. "It's been challenging, but my body is finally feeling better."


That's an understatement. She opened the competition with a meet record 77.82, breaking the 77.10 she had hit in Thursday's qualifying round, followed up with another meet record (78.51) in the second round. In the third frame, she threw 79.98 (262-5) to topple the American record she had set back in April (78.60). After a foul came her 80-meter breakthrough in round five.


"I don't even know what my final mark was," Price said more than an hour later. "I only saw 8-0 [on the scoreboard]. I was like, 'I threw over 80 meters!' It's insane."
Her sixth throw was "only" 78.16, a mark that just one other American (Anderson) has ever reached.


Now that Price has broken through the 80-meter barrier, the world record is on her mind.
"It is on my white board. It is definitely in the sights," she said. "Today it didn't even feel like a really good throw, and that's where it kinda gets crazy when you know there's more in the tank."
Sisson Wins a Hot (Literally) 10K
Earlier in the day, the women's 10,000-meter run was conducted under brutally hot conditions — "Survival of the fittest, if you will," the stadium announcer declared — but Emily Sisson was undeterred. Setting the pace from the fifth of 25 laps, the Providence College alum dominated the race to win in 31 minutes, 3.82 seconds. The improved on the meet record (31:09.65) that Deena Kastor set back in 2004.

Karissa Schweizer (31:16.52) finished second and Alicia Monson (31:18.55) took third to join Sisson on the team for Tokyo. Schweizer had already finished as the runner-up in the 5000 earlier in the meet.

"It was hot. But we knew that it was going to hot," Sisson said with laugh of the 85-degree temperature when the race went off at 10am (moved up from an originally scheduled start in the evening when temperatures were forecasted to be in the triple digits). "I talked to my coach before hand and he said, 'Let's just play to your strengths, and your strength is your strength.'"

Once she took the lead she never surrendered it, steadily whittling down the field until only four laps remained, when she really cranked up the pace.
"It was hard, it didn't feel easy," she said. "But it was a good race. I'm happy with that."

Malone Spears Second Olympic Team
Less than a month after setting an American record in the women's javelin, Maggie Malone added the trials record, reaching 63.50 (208-4) in the fifth round. The previous record of 61.51 (201-9) belonged to Brittany Borman from 2012.

Kara Winger (61.47/201-1) finished second to qualify for her fourth Olympic team. Third-place finisher Avione Allgood-Whetstone (58.94/193-4) does not have the Olympic qualifying standard and must wait to see if her World Athletics ranking is high enough to score a quota spot for Tokyo.

Though happy to make another Olympic team, Malone was disappointed with her series, the result of a faulty approach on the runway.
"I do not understand how that was a meet record because I was all over the place, I was tense, and I was like, alright God, I'm gonna do this for you," she said.

Malone, who won the trials in 2016 but didn't advance to the final in Rio, smashed Winger's 11-year-old American record in May with a 66.82 (219-3). That puts her third on the 2021 world list and stamps her as a contender in Tokyo.

Five years ago she won the NCAA championship for Texas A&M back to back with the Olympic trials, but didn't qualify for the final in Rio.
"That was the first time I ever competed internationally. I had no idea what to expect," says Malone, who is now coached by Tom Pukstys, a two-time Olympian in the javelin. "This time I feel more confident in what I've done all season and I know if I execute as I have all season it's going to be a great outcome."

Nageotte Goes for World Record
Katie Nageotte also joined the meet record parade, clearing 4.95 (16-2 ¾) to take the women's pole vault. She later made three unsuccessful attempts at a world record 5.07 (16-7 ½), which would have improved by one centimeter the 2009 mark set by Russian Yelena Isinbaeva.

Morgann LeLeux (4.70/15-5) and Rio silver medalist Sandi Morris (4.60/15-1) grabbed the final two spots for Tokyo.

The heat likely zapped the energy out of the athletes.
"I wasn't expecting the bar that made it [on to the team] to go, 4.70," said Nageotte, who won U.S. indoor titles in 2018 and 2019. "I was definitely expecting to fight for longer."

Coming in with a goal of winning — not just making the team — helped Nageotte maintain intensity once she had a top three slot wrapped up.
"Once I was on the team and then we passed to 4.80 [15-9] it was like, let's have fun at this point. Let's show people what we've been working on," she said. "I know that I'm ready to jump a world record. I know that physically and mentally I'm ready to do that, and I wanted to do that. Toward the end, especially the last two attempts, I was just gassed. I think finally the emotion of it all, and the heat, everything caught up to me."
Rich Sands is a New York City-based freelance editor and writer and has been a correspondent for Track & Field News since 1995, covering the sport at the high school, college and professional levels. He was previously an editor at TV Guide Magazine, overseeing the magazine's Olympic coverage.