News
Foluke Akinradewo Gunderson
U.S. Women Remain Golden Three Years Running In Volleyball Nations League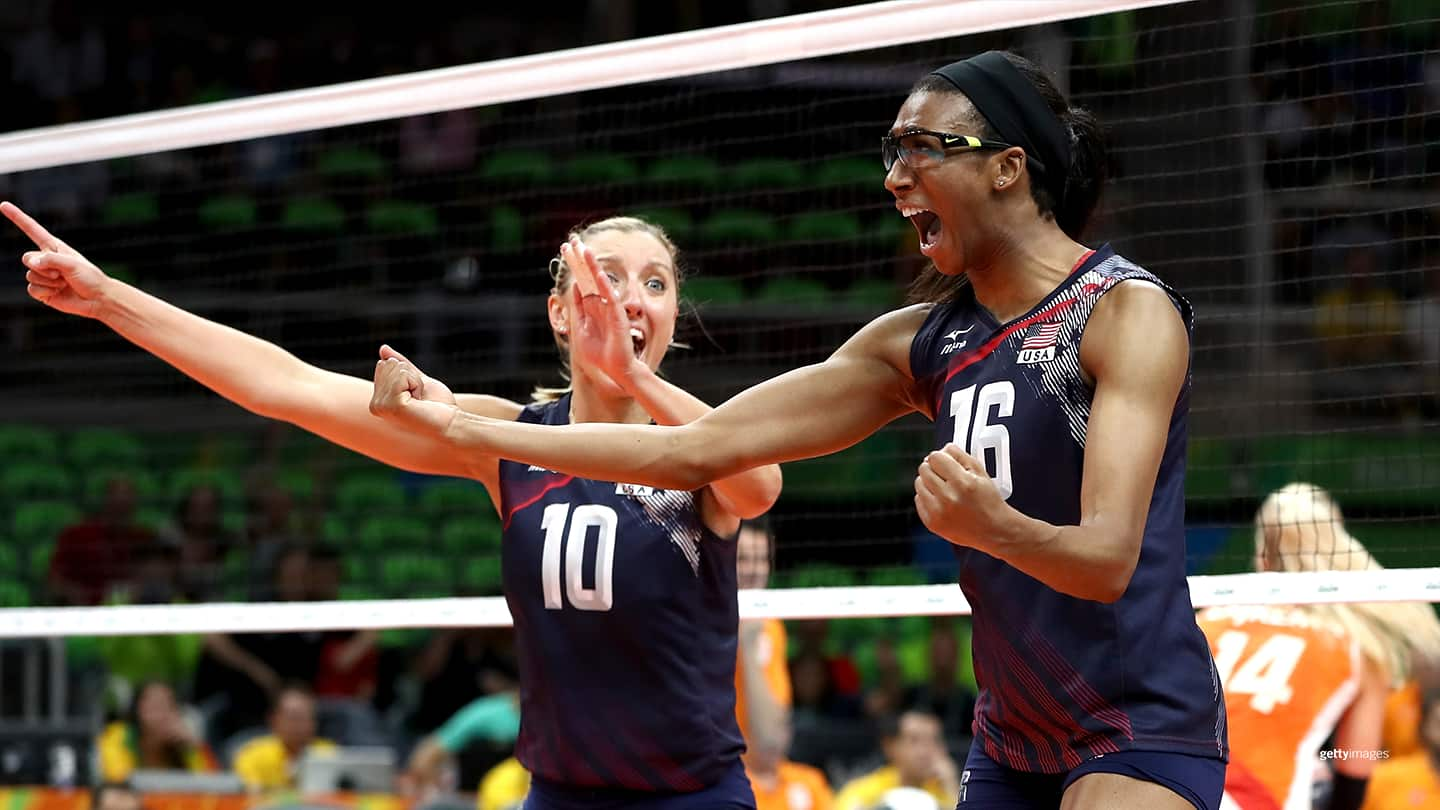 Jordan Larson-Burbach and Foluke Akinradewo celebrate during the Women's Bronze Medal Match at the Rio 2016 Olympic Games on August 20, 2016 in Rio de Janeiro, Brazil.
Good things don't always come easy, and the U.S. women's volleyball team was tested in the final for Volleyball Nations League tournament on Friday in Rimini, Italy.

Longtime rival Brazil took the first set in trying to end Team USA's run of dominance, but the U.S. wasn't fazed. Looking to remain the only team to win the VNL title since its inception in 2018, Team USA bounced back for a 3-1 (26-28, 25-23, 25-23, 25-21) victory and a third consecutive trophy.

The last time the tournament was held, in 2019, the U.S. beat Brazil in the final to hold onto its crown. The rematch two years later was yet another challenge in a long line of them between the two nations, but buoyed by the offensive firepower from Michelle Bartsch-Hackley and Jordan Thompson, the U.S. rose at every turn. Bartsch-Hackley led the team with 22 points while Thompson contributed 16. Annie Drews had 12 points, and captain and two-time Olympian and captain Jordan Larson had 11.

Since the six Olympic alternates left Rimini prior to the semifinal match against Turkey on Thursday, the U.S. roster has consisted of the 12 athletes who will take their shot at Olympic gold beginning next month in Tokyo.

The starters against Brazil were Thompson, Bartsch-Hackley, Larson, Jordyn Poulter, Foluke Akinradewo Gunderson, Haleigh Washington and Justine Wong Orantes.

Bartsch-Hackley was named tournament MVP for the second time, having also claimed that honor in 2018.

While it may not have been the ideal start, the U.S. came back after losing the first set to even it in the second before pulling ahead in the third. The Americans had one match left between them and the title — not to mention the opener of the Olympics — and they took care care of business.

The U.S. defeated Turkey in Thursday's semifinal, 25-21, 25-23, 25-20. The 2018 VNL final featured the U.S. versus Turkey, while the 2019 edition had the U.S. playing Brazil for gold. The U.S. won both years.

The next big tournament will be the Olympic Games Tokyo 2020. The U.S. won bronze in 2016 and silver in both 2012 and 2008.
Karen Price is a reporter from Pittsburgh who has covered Olympic and Paralympic sports for various publications. She is a freelance contributor to TeamUSA.org on behalf of
Red Line Editorial, Inc.