U.S. Women's Volleyball Team Closes Out Pool Play With Win Over Italy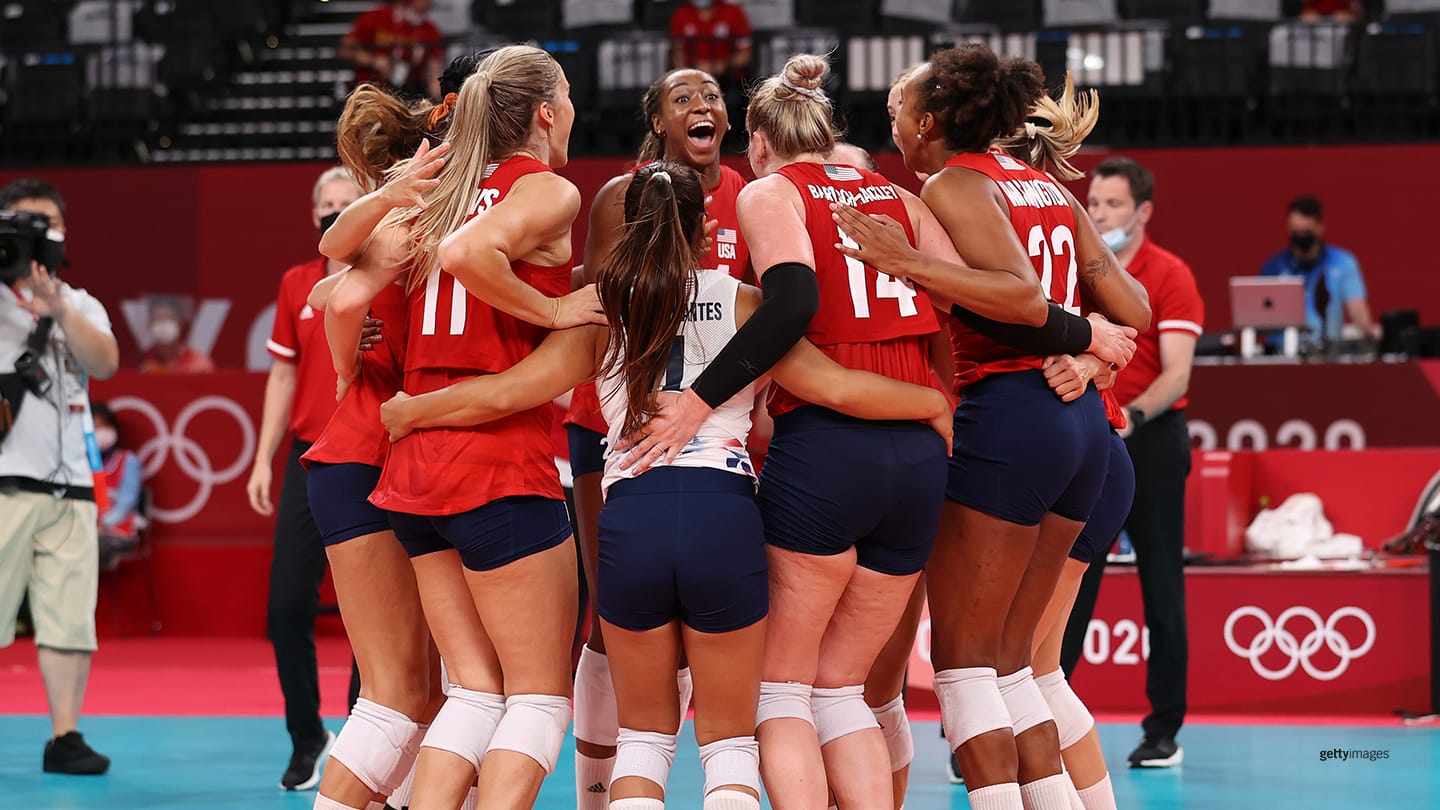 Team USA celebrates after defeating Team Italy during the Women's Preliminary - Pool B volleyball at the Olympic Games Tokyo 2020 on Aug. 2, 2021 in Tokyo.
With star opposite hitter Jordan Thompson sidelined and already having clinched a berth in the Olympic Games Tokyo 2020 quarterfinals, the U.S. women's national volleyball team had one mission Monday: Escape without another major injury.

It didn't happen, but that was the only piece of bad news.

Top setter Jordyn Poulter rolled her right ankle in the third set during the top-ranked Americans' 21-25, 25-16, 25-27, 25-16, 15-12 win over sixth-ranked Italy to conclude pool play at Ariake Arena in Tokyo. The U.S. finished 4-1 in Pool B, while Italy is 3-2. The Russian Olympic Committee was 3-1 entering its final group match.

The quarterfinals begin Wednesday and the Americans' opponent will be determined after the completion of Monday's pool play. The U.S., seeking its first gold, has won a medal in the last three Olympic Games, taking a bronze in 2016 at Rio and silvers in 2012 at London and 2008 at Beijing.

Without Thompson, who also injured her right ankle against the ROC on Saturday, the American attack was more balanced. Annie Drews, who started in Thompson's place, led the U.S. with 19 kills and three blocks. Michelle Bartsch-Hackley stepped up with 13 kills, two blocks and two aces.

U.S. coach Karch Kiraly has said Thompson is likely to be available for the quarterfinals. Poulter's status is unknown.

Entering Monday's match, the U.S. has lost three of the last five matches against Italy in either the Olympic Games or world championships, but both wins came at the Games — 2008 in Beijing and 2016 in Rio.

Both teams had a shot at winning Pool B, yet were coming off straight-sets losses in their previous match — the U.S. falling to the ROC and Italy tumbling against China.

It was a shaky start for the Americans as Italy used a 7-1 run to jump out in front 13-7 behind the strong play of Paola Ogechi Egonu (27 kills, one block). The U.S. climbed back into it, trailing, 19-17, before the Italians closed it out, 25-20. The 6-foot-4 Egonu is one of the top players in the world, having won MVP of the Women's CEV Champions League and the Italian League this year.

The second set was much different for the Americans, who showed more cohesion and outscored the Italians 7-2 to claim a 15-10 lead and then pulled away for a 25-16 win.

Poulter landed awkwardly and rolled her right ankle with the U.S. up 7-5 in the third set and was replaced by Micah Hancock. In potentially a crucial swing set, it was 15-15 when the U.S. rattled off six of the next seven points to go up 21-16. But Italy responded with a 6-1 burst of its own to tie it 22-22. The U.S. had two set points, which Italy negated before winning 27-25.

The decisive fifth set was 3-3 when the U.S. reeled off five of the next six points for an 8-4 lead. It was 9-7 before the U.S. took control by scoring the next four points and closing out the match, 15-12.

In its Olympic opener, the U.S. topped 19th-ranked Argentina 25-20, 25-19, 25-20 on July 25, with Thompson notching 18 kills and two blocks. Thompson put together an amazing performance against defending Olympic gold medalist China. She had 28 kills, four blocks and two aces for 34 points in a 29-27, 25-22, 25-21 triumph July 27 against the three-time gold medalists and third-ranked team in the world.

Against fourth-ranked Turkey on Thursday, the Americans improved to 3-0 in pool play with a hard-fought 25-19, 25-20, 17-25, 20-25, 15-12 victory. It was a more balanced attack for the U.S., with Thompson getting 15 kills, two blocks and one ace, while Jordan Larson had 12 kills, two blocks and an ace, and Haleigh Washington had seven kills, five blocks and one ace. Turkey has only one previous Olympic appearance at the Olympic Games London 2012.

But the U.S. ran into a buzzsaw in the ROC on Saturday, falling 25-20, 25-12, 25-19. Thompson sustained her injury on the third point of the second set.

Want to follow Team USA athletes during the Olympic Games Tokyo 2020? Visit TeamUSA.org/Tokyo2020 to view the medal table, results and competition schedule.
Steve Drumwright is a journalist based in Murrieta, California. He is a freelance contributor to TeamUSA.org on behalf of
Red Line Editorial, Inc.