U.S. Women's Volleyball Beats Serbia, Heads On To Gold-Medal Game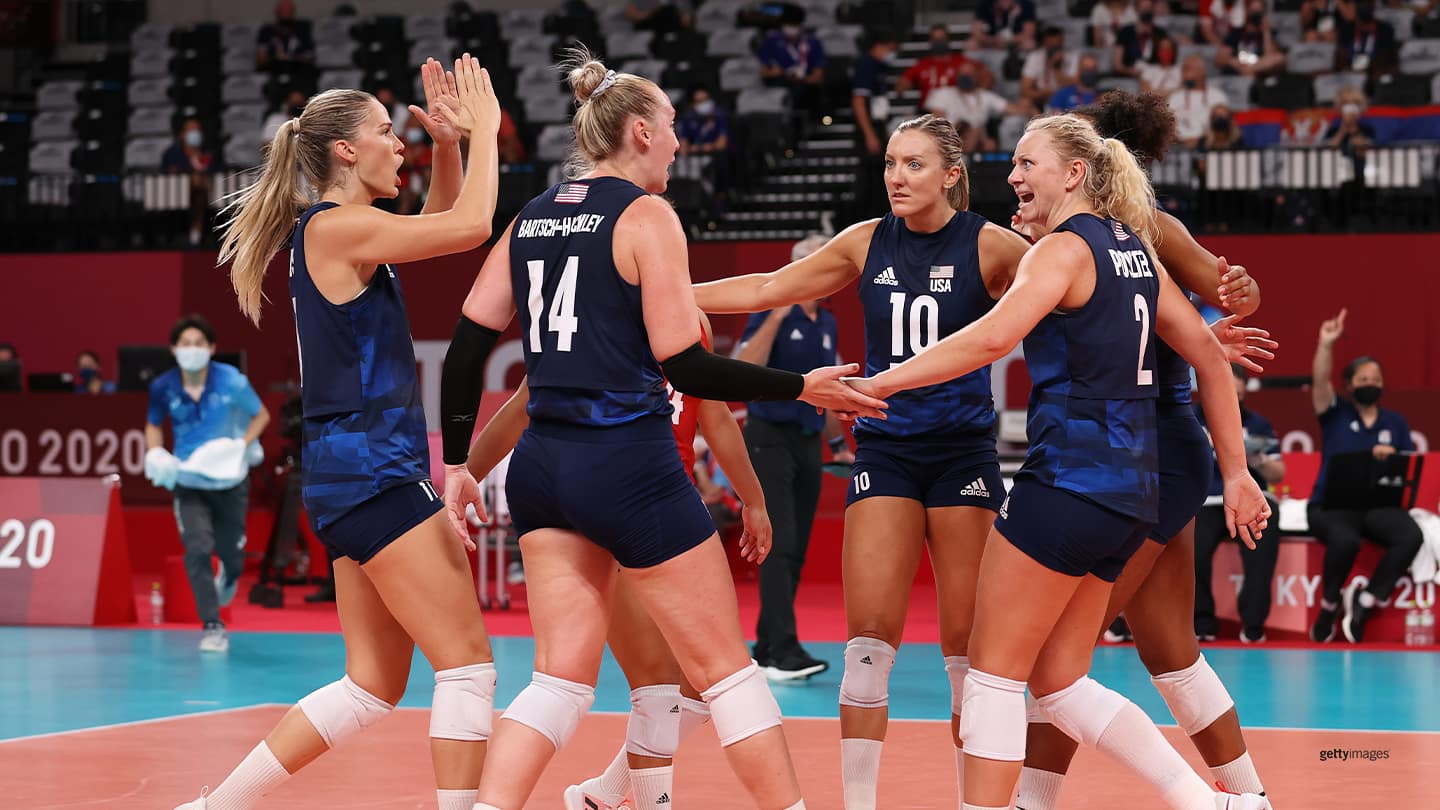 Team USA women's volleyball reacts while competing during the women's semifinals at the Olympic Games Tokyo 2020 at on Aug. 06, 2021 in Tokyo.
The saying goes that revenge is a dish best served cold.

Consider the U.S. women's volleyball team to be a very efficient group of chefs.

In a rematch of the 2016 Olympic semifinal, the Americans toppled Serbia 25-19, 25-15, 25-23 in Friday's semifinal at the Olympic Games Tokyo 2020. The U.S. will now be back at Ariake Arena try to win its first Olympic gold medal in the sport when it plays either Brazil or South Korea on Sunday at 12:30 a.m. ET.

"It's our whole pursuit," said Andrea Drews said, who had 17 points on 12 kills, two blocks and three aces against Serbia "We've been committed to the four-year and in this case five-year pro-cess. All eyes on gold. That goal has influenced every decision we've made. Every point scored has been a deposit toward that goal."

Jordan Larson added 15 points (11-2-2) for the U.S., which has won three silvers and two bronzes since women's volleyball was added to the Olympics in 1964.

Five years ago in Rio, the U.S. and Serbia played to five sets before the Serbs ultimately won. Serbia went on to win the silver medal, while Team USA took the bronze.
Entering Friday's match, the only sets Serbia dropped came in a 3-1 loss to Brazil in pool play, while the U.S. had two five-set wins in addition to a straight-sets loss to the Russian Olympic Committee.
Serbia, which also won the 2018 world championship, has been led by the tournament's most dominant player, Tijana Boskovic, who came into the meeting with 124 kills and was hitting .392 in six matches.
Boskovic wasn't necessarily neutralized, but the U.S. limited her damage. She finished with 19 points, including 16 kills.
"Our team executed the game plan to near-perfection," U.S. coach Karch Kiraly said. "Tijana Bos-kovic is one of the world's great, great players, one of the most lethal. She's been winning her at-tacks at an average of .380-.390 percentage-wise and we held her to .120. That's huge. We were hoping to keep her in the low .300s."
The U.S. has also been dealing with two key injuries: setter Jordyn Poulter returned after missing the quarterfinal match with a sprained right ankle, while opposite hitter Jordan Thompson, who missed the last two matches with a sprained right ankle, started on the bench.
"We talk about it a lot: We're 12 strong," Drews said. "When your number is called you do your job."
The Americans came out strong behind Drews and Foluke Akinradewo, combined with an excel-lent service game, to grab a 16-10 lead and pulled away for a 25-19 win in the first set.
It was more of the same as the U.S. kept Boskovic at bay and rolled to a 25-15 triumph to go up 2-0. In the third set, the U.S., perhaps feeling the nerves, had trouble putting away the Serbs before winning 25-23.
Attention now turns to the final, and potentially history.
"People say we're going to be under so much pressure because we've never won the gold medal," Larson said. "But we're under no pressure because we've never done it. Why not go out swing-ing?"
Want to follow Team USA athletes during the Olympic Games Tokyo 2020? Visit TeamUSA.org/Tokyo2020 to view the medal table, results and competition schedule.
Steve Drumwright is a journalist based in Murrieta, California. He is a freelance contributor to TeamUSA.org on behalf of
Red Line Editorial, Inc.