Steeplechaser Hilary Bor Proves 2016 Was No Fluke By Winning Olympic Track and Field Trials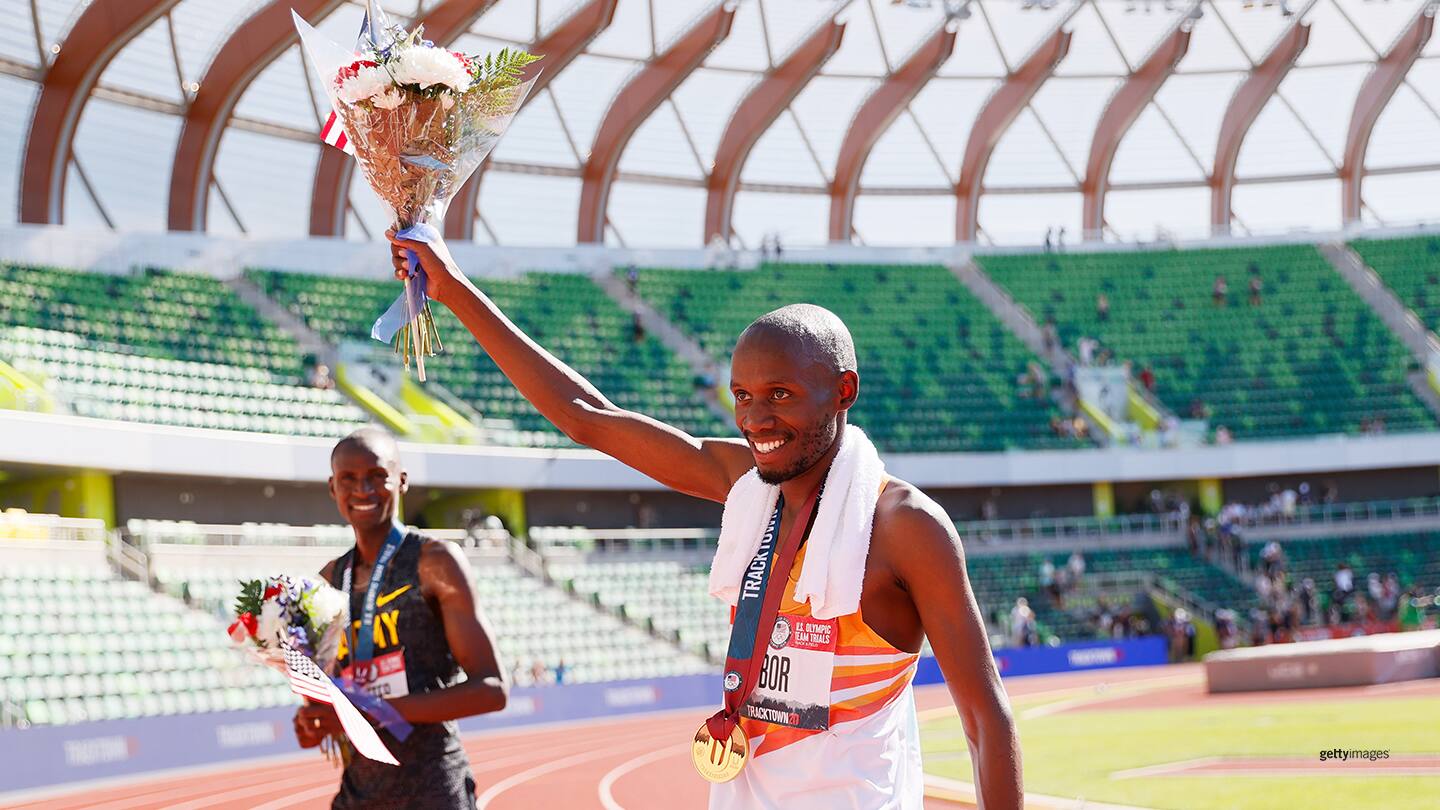 Hilary Bor and Benard Keter celebrate after the Men's 3000 Meters Steeplechase Final at the 2021 Track & Field U.S. Olympic Team Trials on June 25, 2021 in Eugene, Oregon.
EUGENE, Oregon — Hilary Bor played a patient game Friday at Hayward Field and worked his way on to his second straight Olympic team. The Iowa State grad, who was born and raised in Kenya but became a U.S. citizen in 2013, won convincingly in 8 minutes 21.34 seconds on a hot afternoon at the U.S. Olympic Team Trials — Track & Field.

Behind him, Benard Keter (8:21.81) and Mason Ferlic (8:22.05) finished second and third to complete the squad for the Olympic Games Tokyo 2020. Both will be making their Olympic debuts.

Thanks to temperatures in the low 90s, the race turned strategic. Two-time Olympian Donn Cabral set a cautious early pace before things got rolling. Bor never looked pressed as he pulled away from Keter over the final water jump to lock up the victory. Ferlic had to hold off a late challenge from Daniel Michalski to earn third place.

After college Bor joined the Army and was stationed in Fort Carson in Colorado Springs, Colorado, for four years, running in the mornings and working the rest of the day. Now he trains full time, alongside a group of other Kenyan-born Americans in Colorado Springs, including Keter and Paul Chelimo, silver medalist in the 5000 in 2016, and his brother Emmanuel Bor. Emmanuel finished 10th in the 10,000 meters at the trials last week and is running in Sunday's 5000 final as well, hoping to make it a family affair for Tokyo.

Bor first came to the States in 2007 for college. Adjusting to the cold weather was difficult, but after his time in Ames, Iowa, and more than a decade in Colorado, he's embraced it.
"I like winter now, it's now my favorite season," he said.
His college coach initially didn't want him to run the steeplechase because he's too short (he reluctantly shared with reporters that he's 5 feet, 6 inches tall), but he adapted to the challenging discipline quickly, winning a pair of Big 12 titles and qualifying for the NCAA finals four years in a row. He credits his youth participation in field events back in Kenya for his success with the event, track and field's answer to an obstacle course with a series of sturdy barriers and formidable water jumps to navigate during the seven and a half lap race.

"The reason why I have the best water jump is become of my history with the long jump and triple jump," he said with a laugh. "If you see, I can finish the race without touching the water, so having the background of doing the long jump and triple jump made me a really good steeplechaser."

Bor said he was planning to celebrate his victory by video chatting with his daughter Ashley, who is almost 4, and his 15-month old son Jaylen, who are back at home. Then it's time to turn his focus to Tokyo.
"We're going to go back and continue grinding [in Colorado Springs] until the Olympics," he said. "It's only four weeks away."


Olympic Rookies on the Rise
He heaped praise on Keter, who has improved significantly this year, cutting nearly 10 seconds off his personal best with an 8:20.40 clocking in May. Keter ran collegiately for Texas Tech and followed in Bor's footsteps as a Big 12 champion and NCAA finalist. He used the shutdown year of the pandemic to fine-tune his race.
"I'm a student of the sport, I watched [U.S. Olympic medalist] Evan Jager and [Kenyan Olympic and world champion] Ezekiel Kemboi," he said. "I've been studying how they run to be the best I can be."

Ferlic was elated to once again find success in Eugene. Since winning the 2016 NCAA title for Michigan he's struggled to regain that championship form.
"I won in Hayward in 2016 and you think it's all going to be ticker tape parades and gold medals after that," he said. "I had rough years. I had some pretty bad seasons as a pro. I couldn't string together a healthy season or a competitive season and lost that spark I had as a collegian at the top."

He found his groove again in 2021, lowering his personal bests in the 1500, mile, steeplechase and 5000.
"This year was the perfect timing, things culminated at the right time for me physically, emotionally," he said. "I just found my spot in the sport."
Rich Sands is a New York City-based freelance editor and writer and has been a correspondent for Track & Field News since 1995, covering the sport at the high school, college and professional levels. He was previously an editor at TV Guide Magazine, overseeing the magazine's Olympic coverage.