Clayton Murphy Wins Fast 800-Meter At Trials As Donavan Brazier Falls Back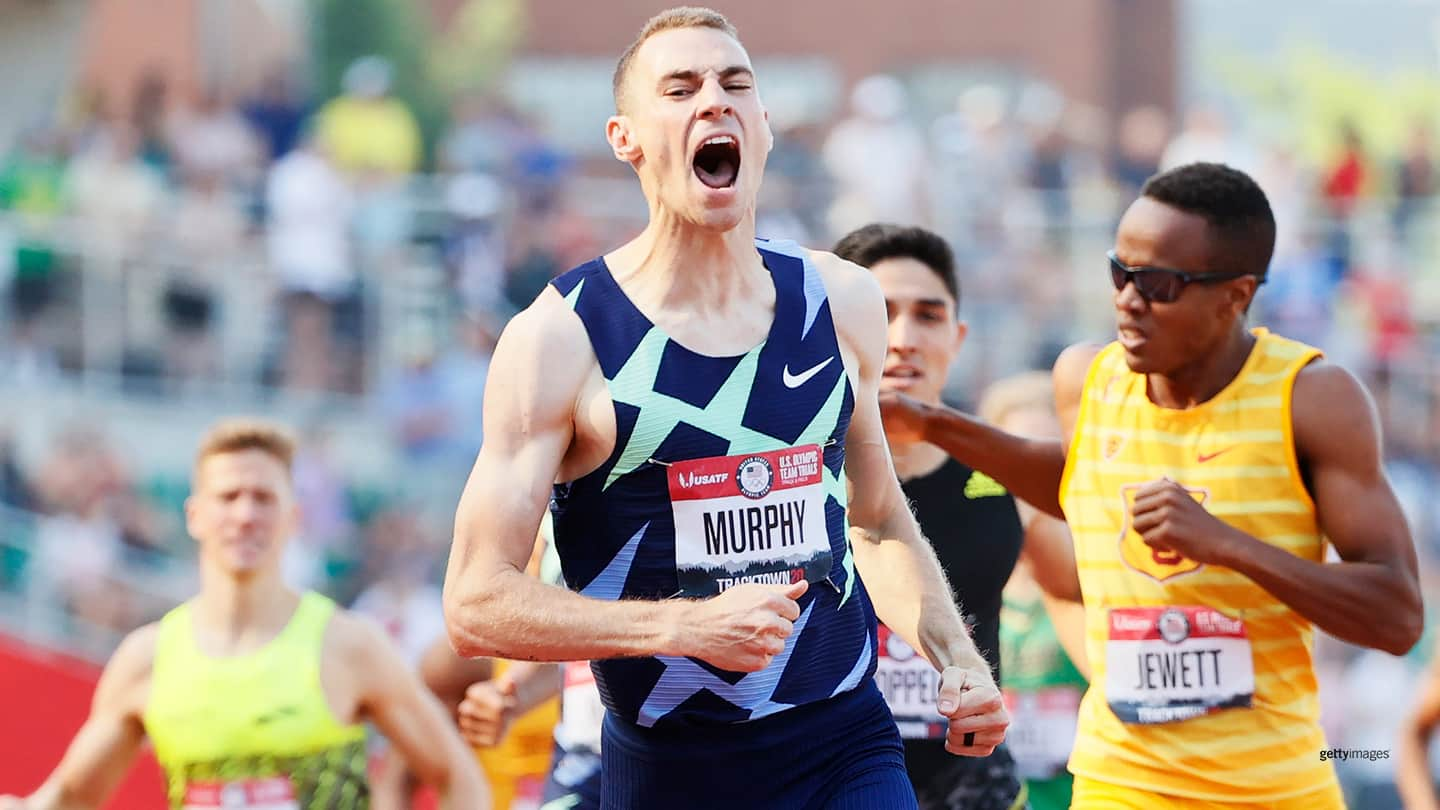 Clayton Murphy celebrates finishing first in the Men's 800 Meters Final at the 2020 U.S. Olympic Track & Field Team Trials at Hayward Field on June 21, 2021 in Eugene, Oregon.
EUGENE, Oregon – Clayton Murphy struck a pose with his arms crossed after the thrilling finish of the men's 800 meters Monday at the U.S. Olympic Team Trials – Track & Field.

Now that was racing, and Murphy said he borrowed the look from Max Verstappen, who sat on his car and crossed his arms after winning the French Grand Prix on Sunday.

Murphy, who won the bronze medal in the 800 at the Olympic Games Rio 2016, said his wife, sprinter Ariana Washington, caught him practicing his pose in the mirror before he went to the track.

"I think this might be my celebration if I win," Murphy told her. "I've got to win, but I think this might be it."

In the biggest upset of the meet so far, Donavan Brazier, the world champion and American record holder, modeled some unfamiliar body language after fading in the final 200 meters and finishing eighth, which took him out of the running for the Olympic team.

"I had my head down for a little bit," Brazier said. "I'm sad, very sad. There were just some people that were better than me today."

Murphy won the two-lap race with a world leading time of 1 minute, 43.17 seconds, overtaking Isaiah Jewett, the NCAA champion from the University of Southern California, who held on for second with a personal best of 1:43.85. The time moved Jewett into fifth place on the 2021 world list.

Despite a nagging quad injury, Bryce Hoppel surged to third in 1:44.14, the eighth-best time this season, edging Isaiah Harris (1:44.58) for the final Olympic spot. Brazier's time was 1:47.88.

"Everyone was a threat out there," said Hoppel. "The team could have been anyone."

However, Murphy, who also won the Olympic Trials in 2016, was feeling a bit overlooked going into the Trials.

As an Olympic bronze medalist, he said, "the bulls-eye gets bigger on your back," and he accepts that role, but when he read race previews, he noticed a lot of talk about a duel between Brazier and Hoppel.

"I was in that second tier group," Murphy said. "I liked that little chip on the shoulder, that doubt. I took it to heart. My team and I knew I wasn't that person."

Yet had anyone known what he was going through the past eight days, it would have been hard to like Murphy's chances.

He said he had not planned to reveal his difficulties, but changed his mind in his post-race interview. Murphy said the Thursday before he left his home in Ohio he had a "pretty serious hamstring strain."

"I've run about 13 miles today since I left, including racing, cooling down and warming up," Murphy said. "It's been a 'Let's get to the line and see what happens' every day."

He said the injury contributed to his patience through the rounds.

"It's been a lot of grit and determination the last eight days to get through what I've gotten through," Murphy said. "There hasn't been a lot of true 800 work, so I'm super excited about what I can do over the next six weeks sand actually train like an 800 runner."

In the final, Jewett took out the first lap in a blistering 50.60 seconds. "I want to live inside this animated world and I tried to make it as animated as I could," he said.

But he couldn't run away from the field forever. Murphy kept him within reach. At what point did the Olympian think he was going to win the race?

"Never," he said. "I had no idea what was behind me. I was trying to do the good old 'Look up at video board thing.' I did it once or twice and realized if I kept looking, I might fall on my face as heavy as my legs were the last 50 meters."

But no one had heavier legs than Brazier, who kept falling back on the straightaway while pushing and grimacing.

"I think I might have made a move a little too early," he said, "and paid the price the last 200."

Brazier didn't even get out of the heats in 2016 in a weaker field and said after the first round at these Trials that "I think 2016 me would be very proud right now."

But that feeling didn't last. He said he wasn't physically 100 percent at the meet, but it was "nothing I shouldn't be able to overcome" with his support staff.

"This is the first time I couldn't really bring it in," he said. "It just was really bad timing, I guess, right?"

But Brazier said he would rebound from this crushing disappointment. "I'm still going to feel like I'm the best 800 meter runner in the world when I go into meets," he said. "I'll come back from this. I've been down worse before."

Jewett said he was running to make his mother proud, as well as the brother who passed away this same weekend two years ago.

"I was nervous through my whole entire body," said Jewett, despite running on this same track a week earlier in winning the NCAA title.

Murphy, 26, who now considers himself one of the elder statesmen in the event, noticed this before the first round.

"I could see him being uneasy in the call room," Murphy said, "and I said, 'Hey, it's a little different to run with NCAA champ next to your name. You've still got to race the 800, you've still got to race the same guys, nothing changes.' And I could see him take that deep breath.

"I knew he was a tough runner. I knew he was talented. He laid it all out and it's super cool to see that. Obviously, I was the collegiate guy who did that in '16. Now it's cool to see him step up, and take up that collegiate role on the team and be the young gun."

Jewett said that after he set the fast pace, at about 600 meters, "I blanked out."

He said his coach, Quincy Watts, the 1992 Olympic gold medalist in the 400, told him, "When the pain comes, that's when you know greatness is about to occur. Whether you win or lose, you learn something very valuable when you push through that pain."

Jewett said it was a privilege to race against Brazier and "with so many amazing people." "I showed that I'm actually a person who can hang with everybody."

After running five 800s spanning the NCAA and the Trials, Jewett needs a break.

"My legs feel really good," he said. "Mentally I'm tired. I need to sleep and I have a 10-page essay due tonight. My teacher didn't give me an extension.

"Hopefully, if you're watching, professor, please give me an extension."
Karen Rosen has covered every Summer and Winter Olympic Games since 1992 for newspapers, magazines and websites. Based in Atlanta, she has contributed to TeamUSA.org since 2009.