On Adopted Home Course, Clara Brown Takes Her Shot At Para-Cycling Trials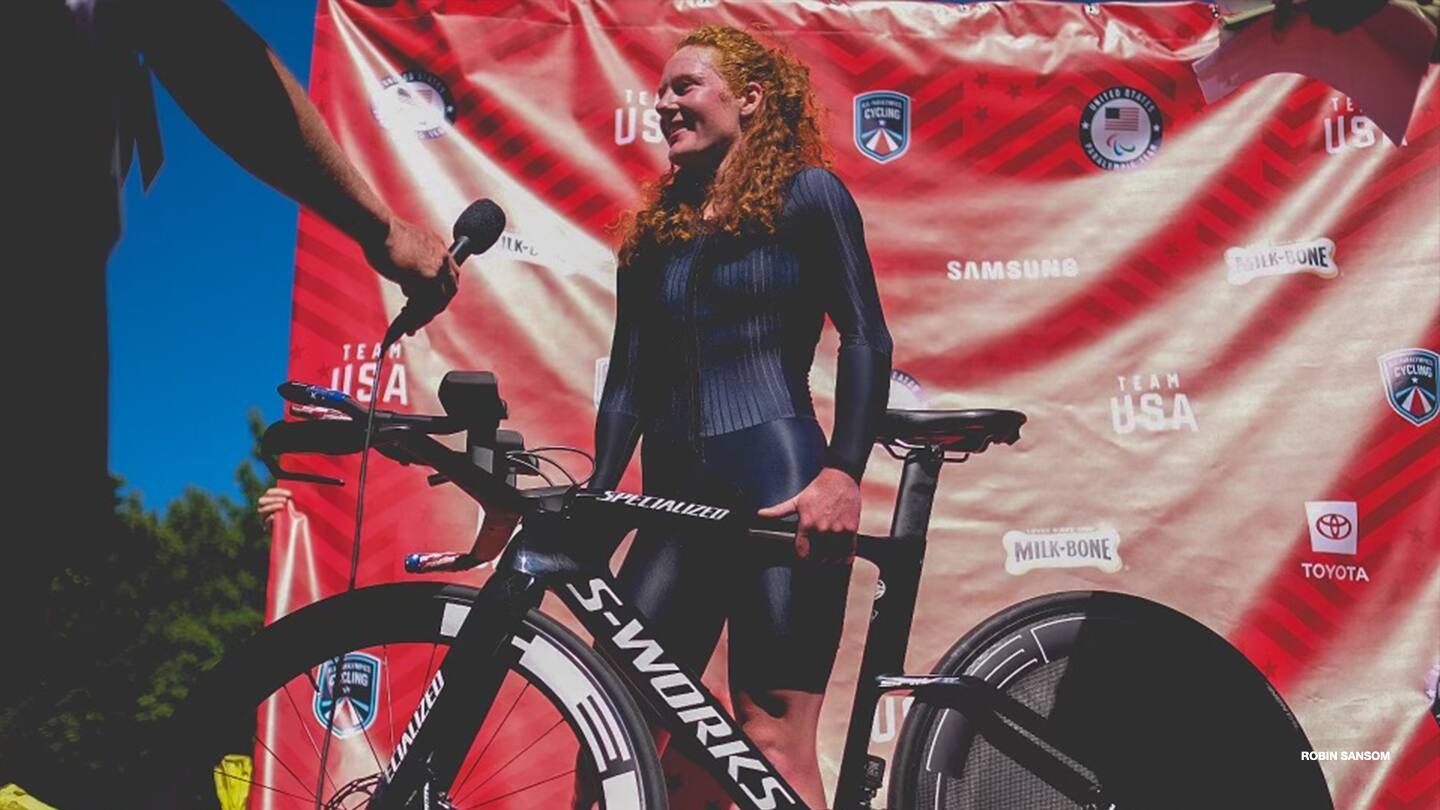 Clara Brown poses at the U.S. Paralympic Team Trials - Cycling on June 19, 2021 in Minneapolis, Minnesota.
MINNEAPOLIS — Clara Brown turned onto the West River Parkway, dropped down a steep hill and knew it was on.

"I remember like, even two minutes in and after I'd gone down the initial hill, like I got this, the legs are here today," she said, "and it was really cool to cross the finish line feeling the same."

Brown, competing in the WC1-3 class, blazed through the finish in 21 minutes 35.55 seconds, posting the fastest time among all women in the U.S. Paralympic Team Trials for Cycling, which took place in conjunction with the swimming and track field trials this weekend in Minneapolis.

Most importantly, Brown's time was under the standard for the Paralympic Games Tokyo 2020, and the third best among all women in comparison to the standard for their respective classifications, putting her in solid position to make the U.S. team when it's announced on Sunday.

"My legs were strong, I put out some of the best power I've had all year and, like I said, exceeded what I aimed to do," said Brown, who along with other C-class cyclists rides a standard bicycle. "So it felt great."

Brown, 25, is one of the brightest young stars in U.S. Para-cycling, having picked up the sport in college and emerged in recent years as a world-class rider both on the track and road. Already a two-time world champion on the track and a six-time medalist between both, she arrived in Minneapolis aiming to secure her first berth to the Paralympic Games, which begin in 66 days in Tokyo.

Under bright blue skies and with mid-morning temperatures in the low 70s, Brown was right at home throughout the 14.3 kilometer time trial — in part because she was essentially was at home.

A native of Falmouth, Maine, Brown has found a frequent training base in Minnesota, where her boyfriend Noah Middlestaet is from. Middlestaet, also a U.S. national team rider, is originally from St. Cloud and, competing in the MC3 class, finished second in percentage under the Tokyo standard among men's C-class cyclists on a 17K version of the course later in the day.

In addition to regular trips to Minneapolis to work with their former coach and now mentor, Chris Balser, the two have been "squatting" with Middlestaet's uncle for the past month in the nearby suburb of Bloomington, giving them an opportunity to acclimate to the West River Parkway course regularly, especially over the last several days.

"We've been here almost a month, my boyfriend and I, just riding the course here and training and acclimating to the heat, which gladly today was not super hot," Brown said.

Added Middlestaet: "If we didn't know the course that was on us."

Starting at Gold Medal Park in downtown Minneapolis, the course took cyclists down a steep hill to Bohemian Flats, a flat park abutting the Mississippi River below the University of Minnesota campus. After a steep climb up to the top of the river gorge, the riders made their way through a mostly flat section of leafy residential neighborhoods in south Minneapolis before turning around and heading back.

That meant a steep final climb awaited the cyclists before they reached the finish line back at Gold Medal Park.

Deep in her "pain cave," Brown charged up that hill and across the finish line to cheers from a crowd of onlookers who had gathered in the nearby park.

"My legs were strong," she said. "I put out some of the best power I've had all year and, like I said, exceeded what I aimed to do. So it felt great."

The question now is whether she'll secure her spot on Team USA when rosters are announced Sunday. Eight men and six women will make the Paralympic squad, though other results are also taken into account.

"Nothing's guaranteed until I see it in writing, but if I were to make the Japan team and go this summer and represent Team USA, it would mean so much," Brown said. "I mean, years of working toward this one goal and a lifetime of dreaming of going to the Olympic and now the Paralympic Games — just a different avenue I guess."

Growing up in Maine, Brown initially thought she might go to the Olympics. An active athlete, she was a competitive gymnast, runner and skier until age 12, when she sustained an incomplete spinal injury.

Eventually rediscovering competitive sport as the coxswain on her high school rowing team, Brown began Para-cycling while in college at University of Puget Sound in Washington and, upon graduating, attended a talent identification camp in 2018. By 2019 she was a world champion on the track and making big gains on the road.

In a trials field with several Paralympians and medalists from the 2016 Rio Games, Brown described herself the "new kid on the block." One of her top competitors this weekend, 2016 Paralympic gold and silver medalist Jamie Whitmore, described Brown as "the next generation."

Brown hopes that will be validated and she'll hear her name tomorrow. If not, though, she's already looking forward to the Paris Games in 2024, whether on the road, the track or both.

"I like to ride my bike," Brown said. "I don't really care about the discipline, I love being able to ride the track and the road and have the opportunity to be competitive on both."
Chrös McDougall has covered the Olympic and Paralympic Movement for TeamUSA.org since 2009 on behalf of
Red Line Editorial, Inc
. He is based in Minneapolis-St. Paul.