News
Annie Lazor
Abbey Weitzeil
Annie Lazor Lasers In On Tokyo in 200 Breaststroke, Abbey Weitzeil Leads Women's 100 Free Team For Tokyo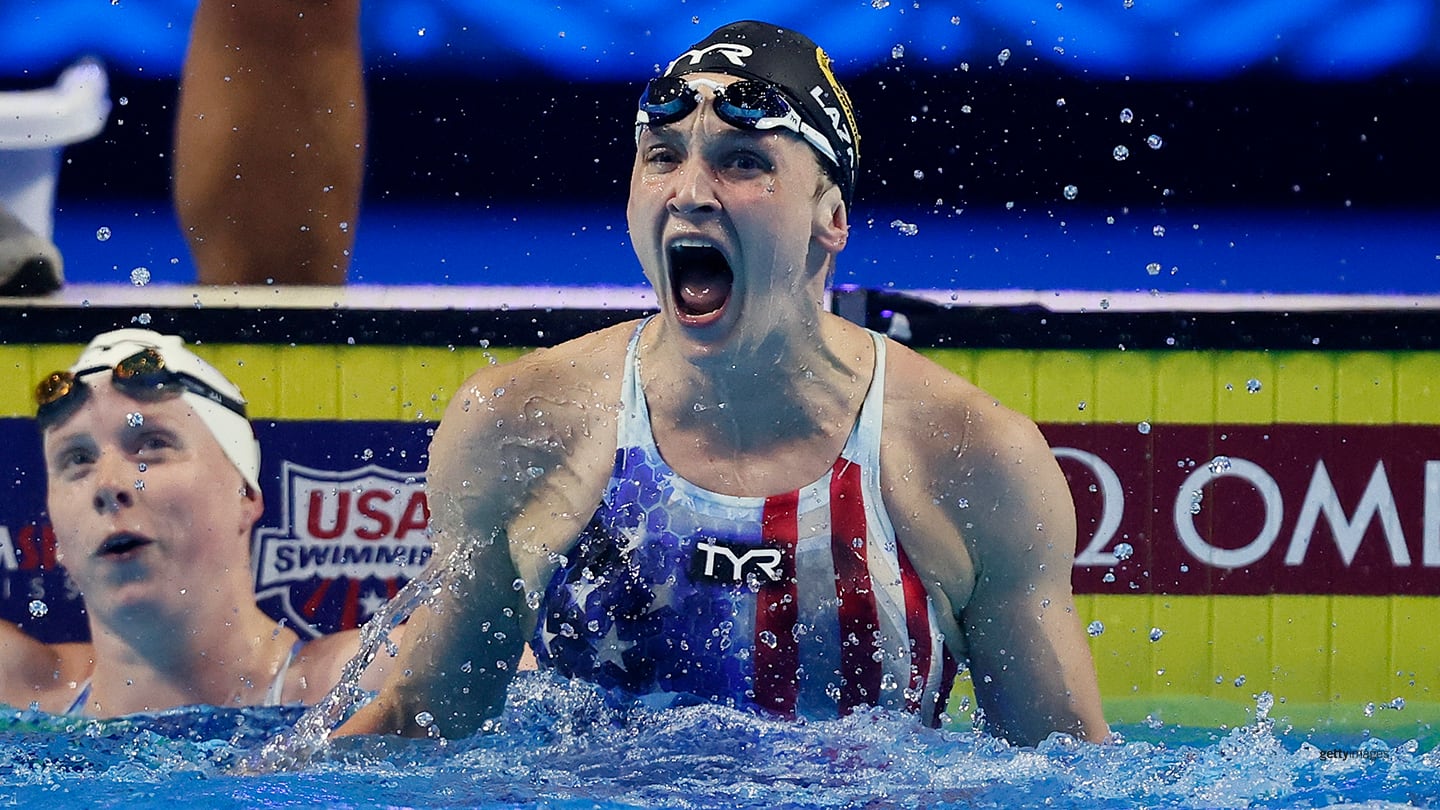 Lilly King and Annie Lazor react after competing in the Women's 200m breaststroke final at the 2021 U.S. Olympic Team Swimming Trials on June 18, 2021 in Omaha, Neb.
OMAHA, Neb. — For the past five years, Lilly King has been the queen of breaststroke. But the queen was dethroned in the 200-meter breaststroke at 2021 U.S. Olympic Team Trials — Swimming.

Annie Lazor — King's friend and training partner — qualified for her first Olympic team, winning the 200 breaststroke in 2:21.07. It was the third fastest time in the world this year and almost three-quarters of a second ahead of King, who finished second in the lane next to Lazor. It was Lazor's second time trying to qualify for an Olympic Games.

"I haven't even said that myself yet, sounds amazing," said Lazor, when asked what it feels like to call herself an Olympian. "I just wanted to do it for my family, wanted to give them something to get excited about. So to see them in the stands crying and to have Lilly be next to me, who's like my family, I can't put it into words right now. It's pretty surreal."

Lazor's road to Tokyo has not been easy. The 26-year-old from Michigan first tried to qualify for the Rio Games, but did not advance to the finals of the 100 breaststroke, then came in seventh in the 200 breaststroke. After that, she quit swimming, finished her degree at Auburn University, and took a job in the athletic department at the University of California-Berkeley, where she filmed the Cal swim team on an iPad every Wednesday.

She soon realized that she was not done swimming yet and did not want to look back in a decade with regrets. She tried out Indiana University's program — home to King — and "knew it would be a great fit." But before Lazor could join the program, coach Ray Looze asked King if it was okay with her.

"For her to accept a competitor into her training environment speaks the world about the kind of competitor that she is," said Lazor.

But at that time, the Olympic Games was not a goal. She simply wanted to see how good she could get.

Particularly strong in the 200 breaststroke, Lazor made the 2019 Pan American team, winning gold medals in the 100 and 200 breaststroke and the 4x100 medley relay. The Olympics were suddenly in the picture.

Then on April 25, 2021, Lazor's father, David, died suddenly. He was one of his daughter's biggest fans, supporting her Olympic dream.
"He lavished love on his daughter Annie and encouraged her big dreams," read David's obituary. "They traveled together to many swim meets where he was her ardent cheerleader — win or lose, he always let her know that she is so much more than her athletic accomplishments."

King drove to Michigan to be with the Lazor and her family and told Lazor's mom that she would do everything in her power to get her teammate to Tokyo.

"[Lilly] has been there for me in ways that I can't even begin to describe," said Lazor. "Words fall short to be quite honest with you. She is my family outside my family."

For the first few weeks, Lazor felt like she was "either choosing grief that day or swimming, there was no in between." Friends and teammates checked in on her, made meals, distracted her, and kept her pointed toward Tokyo.

"It's unbelievable the amount of love that you see from people who will literally drop anything for you in that time of despair," said Lazor, as she tried to thank everyone.

Olympic Trials was Lazor's first meet since her father's death. In the 100 breaststroke on Tuesday, she finished third — behind King, who has not lost the race since 2015. King wanted to celebrate making her second Olympic team but was also heartbroken that Lazor hadn't made it.

"Her confidence never faded in me," said Lazor of King. "I had a great race. I just got beaten by the two fastest times in the world, that's all that happened. So I didn't lose any confidence in what I was going to do in the 200, and neither did [Lilly], and to have one of the most confident swimmers in the world say that to you is pretty incredible."

From the start of the 200, King took the race out hard, with Lazor in fourth at the halfway mark. But then Lazor took off and gained almost a half second on King by the 150 mark.

"I turned at the last 50, the last wall, and I said, 'You have 50 meters until you're an Olympian, just put your head down and finish,'" said Lazor. "And that was it."

After the race, King seemed happier for her teammate than for her own second place, which gives her another try at the 200 in Tokyo.

"I would probably say that's the most excited I've been after one of those races, so it was just a really special moment for the two of us," said King. "I mean we've literally been through hell and back together, even for the last three, four years.

"Just seeing someone make their first Olympic team, who's been there every single day with you, training and fighting, and you know everything we've done together and seeing that pay off for her which is so, so awesome."

King qualified for the 200 breaststroke at the 2016 Olympic Games in Rio but did not advance to the 200 final. It was one of only two women's races in Rio where a Team USA swimmer did not win an Olympic medal.

Of note: Lazor's time at 2021 Olympic trials was three seconds faster than King's time at 2016 trials and would have won the silver medal in Rio.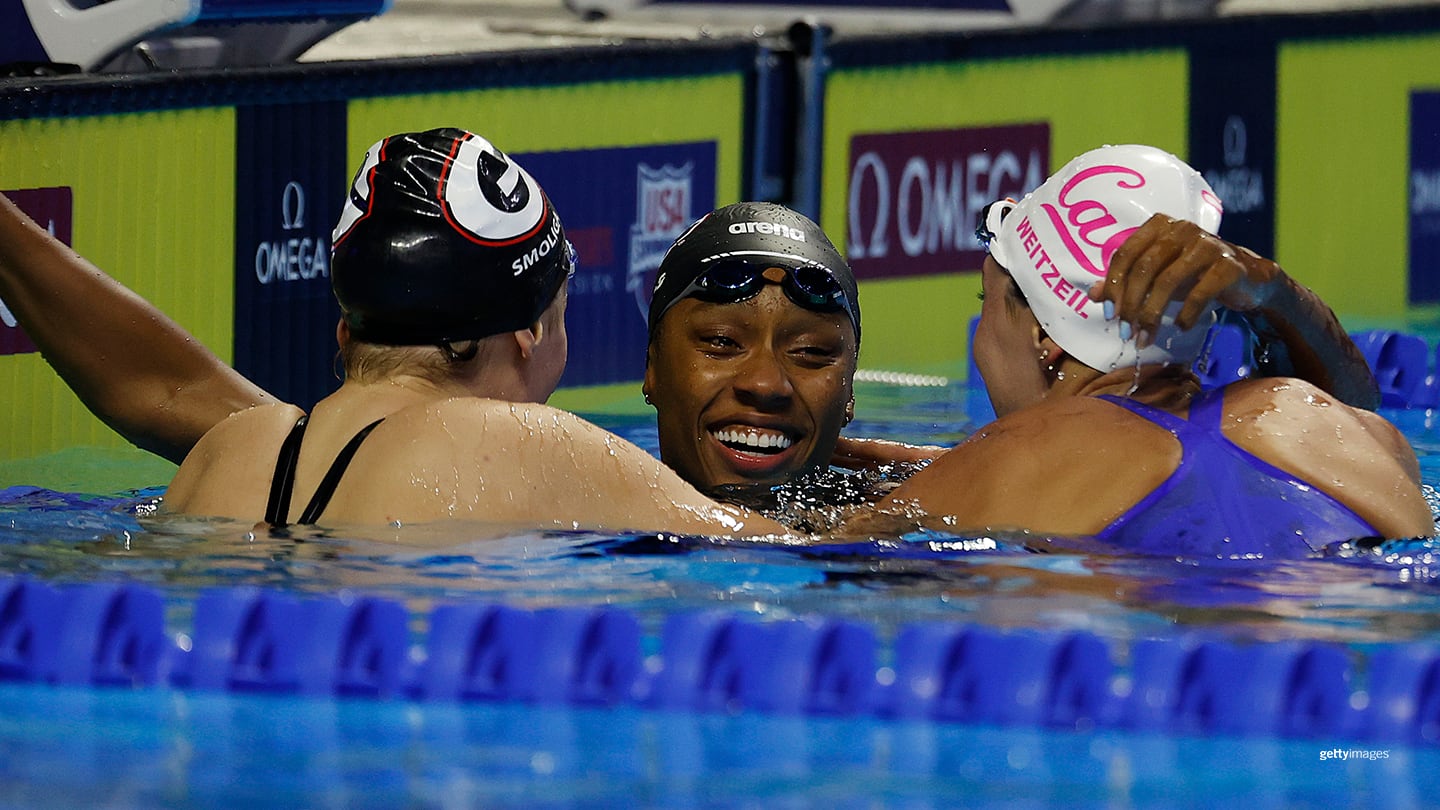 Weitzeil Leads Women's 100 Freestyle
Team
Five years ago, Abbey Weitzeil, then 19 and a recent high school graduate, won the 100-meter freestyle at Trials and earned a trip to her first Olympic Games.
Weitzeil, now 24 and a college graduate, repeated that feat at 2021 Olympic Trials, winning the 100 free in 53.53, just 0.06 seconds ahead of runner-up Erika Brown, a University of Tennessee graduate and 18-time SEC champion.
After she hit the wall, it did not occur to Weitzeil that she had qualified for her second Olympic team. She was thinking more about the 4x100 freestyle relay in Tokyo.
"When I touched the wall, I was like, 'Who else got in?!'" Weitzeil said, describing how she looked at the scoreboard.
Those teammates include Brown, 2016 Olympian Olivia Smoliga, and Natalie Hinds, who swam at the University of Florida, took a year off (working for Turner Broadcasting and designing the March Madness app), then returned to swimming in 2018 and joined the Athens Bulldog Swim Team with Smoliga.
"Everyone races in college," pointed out Weitzeil, "and then you come full circle and you race against each other at trials and then you're on the same team. There's nothing like being on Team USA together."
In Tokyo, the women's 4x100 freestyle relay is one of the first events. The U.S. women lost to Australia at the 2016 Games and will face an even tougher Australian team in Tokyo.
"U.S. Olympic Trials are special in the sense that they set us up really well for the Olympic Games with how tough it is to even make the team itself," said Smoliga, who competed in the 100 backstroke in Rio, finishing sixth, then won an Olympic gold medal as part of the medley relay. "I think we have a good relay up here."
Smoliga, 26, hoped to qualify in the 100 backstroke in 2021 but finished third, then was happy to finish third in the 100 freestyle and make the relay team.
Team USA's freestyle relay prospects in Tokyo were thrown akilter after reigning 100 freestyle Olympic champion Simone Manuel did not advance out of the semifinals. The American record holder in the 100 freestyle, Manuel anchored the 4x100 freestyle and medley relays in Rio — in addition to winning an Olympic gold medal in the 100 free.
In an emotional press conference after her semifinal last night, Manuel announced that she was diagnosed with overtraining syndrome, or OTS, in March. The weight of the past year — the pandemic, the Olympic postponement, and social unrest — had taken its toll on her mentally. She still has a chance to make the team in the 50 freestyle; she won a silver medal in that event in Rio.
"I don't want to speak for everyone," said Weitzeil, "but we have big shoes to fill, because Simone is such an amazing competitor and a part of Team USA."
The relay — and the 100 free — will be in good hands with Weitzeil. Before the pandemic shut down her senior year at the University of California-Berkeley, Weitzeil became the first woman to ever swim the 50-yard freestyle under 21 seconds.
"It was really awesome," she told Sports Illustrated. "That was a goal I had wanted for a little while so happy I was able to do it before NCAAs got canceled. That would have been terrible.
"For the longest time, I'm sure people never thought a woman would do (sub-21). It was cool to show that women are going faster and faster and faster."
During the pandemic, Weitzeil finished her college degree last year and graduated online.
Ever the team player, Weitzeil talked more about the U.S.'s relay prospects in Tokyo than her own.
"I'm confident in this relay, and I'm confident in Team USA," she said. "We have our work cut out for us, no doubt. The Australians, they're fast.
"But I've been on this relay, and it's tough, but it's fun. When you have your flag on your cap, there's something else that comes out of you."
An award-winning freelance writer based in Vermont, Peggy Shinn has covered five Olympic Games. She has contributed to TeamUSA.org since its inception in 2008.