Now An Olympic Veteran, Abbey Weitzeil Will Lead U.S. In 4x100 Freestyle Relay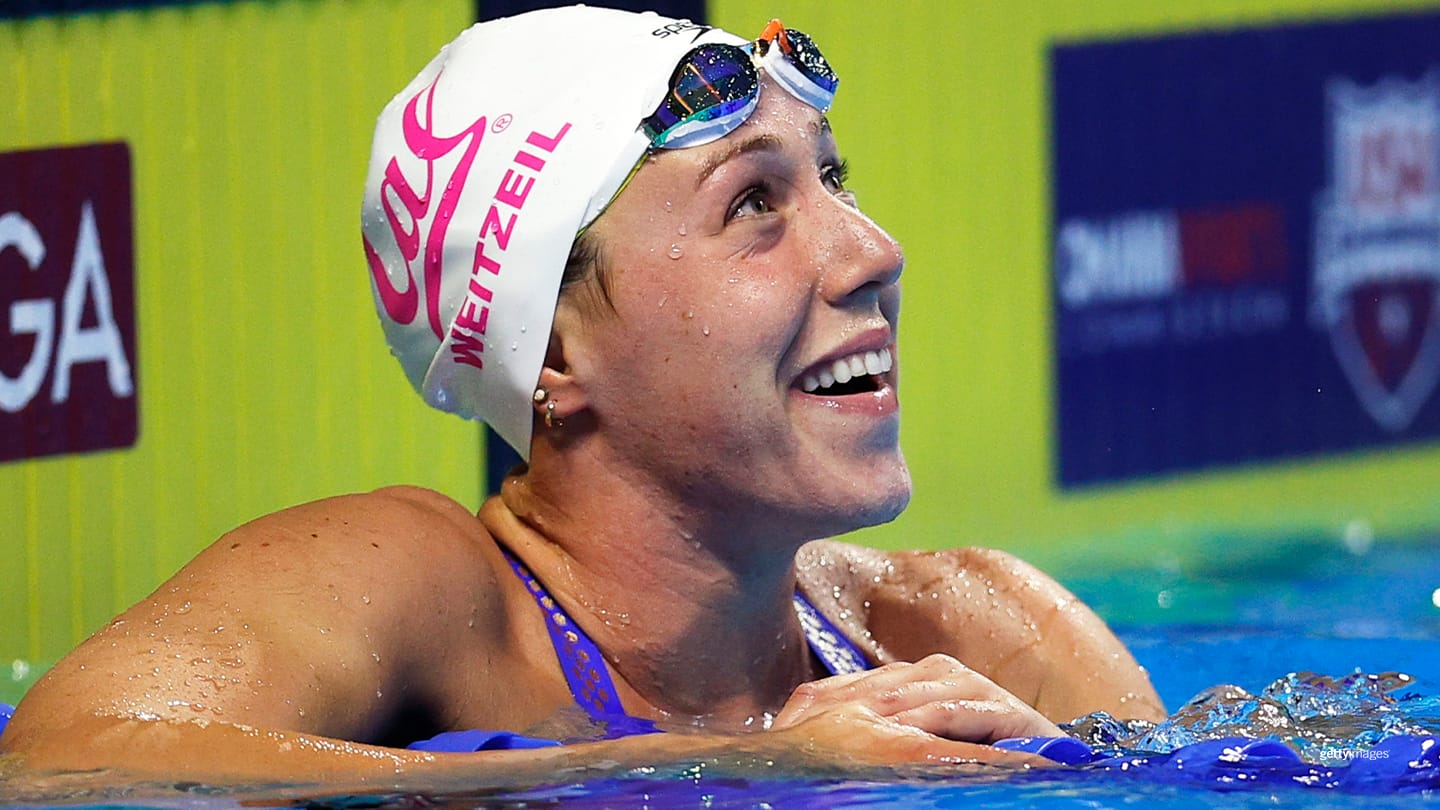 Abbey Weitzeil after competing at the 2021 U.S. Olympic Team Swimming Trials on June 19, 2021 in Omaha, Nebraska.
TOKYO — At the Olympic Games Rio 2016, Abbey Weitzeil was one of the few teenagers on the U.S. swimming team. A freestyle sprint specialist, she helped Team USA win silver in the 4x100 freestyle relay and gold in the 4x100 medley relay.

Now, with one Olympic Games and three world championships on her resume, the 24-year-old Californian is a team veteran, helping guide the 11 teenagers swimming on the team at the Olympic Games Tokyo 2020.

"It's weird," she said in an interview two days before the Tokyo Games officially begin. "I thought about that. I am a veteran on this team. It's pretty crazy to think because '16 doesn't feel like five years ago. It feels like last year. So it's crazy to think that five years have gone by, and there are people who are the age I was back then."

Much has changed for the freestyle specialist since the Rio Games. Back in 2016, she was a recent high school graduate and wunderkind freestyle sprint specialist. Now she is a college graduate, having earned her degree in public health from the University of California-Berkeley during a global pandemic. She graduated in an online ceremony in December 2020.

"I feel so much more mentally relaxed and prepared this year than I did in '16 simply just because I've gone through it, and I feel like I have gained a lot more experience since then," she said, pointing out that she has made every international team since 2014, competing in two Pan Pacific Championships, three world championships, and now two Olympic Games.

In Tokyo, as she did in 2016, Weitzeil will compete in the 50- and 100-meter freestyle races and is looking to do better in those races. In Rio, she finished seventh in the 100 free and twelfth in the 50 free.

But it's the relays where Weitzeil shines.

Her medals — one Pan Pac, two Olympic, and four world championship medals — have all come in relays. In the 4x100 freestyle relay finals at the 2016 Rio Olympic Games, Weitzeil swam the fastest leg for the U.S. team, which included Olympic legends Simone Manuel, Dana Vollmer, and Katie Ledecky.

From 2017-2019, she helped the Cal Bears to three runner-up finishes at the NCAA championships and anchored the Bears to many Pac-12 relay wins.

"Racing individually is so different than racing on a relay," she explained. "It's a lot more about your confidence in yourself rather than just relying on your teammates or doing it for your teammates that are up there with you. You get up for a relay and you're like, 'I can't mess this up, everyone here is rooting for me and needs me.'"

She thrives so much in a team environment that when she won the 100 freestyle at the 2021 U.S. Olympic Trials last month, she looked at the scoreboard not to see where she finished but to see who else had made the team with her.

"When I touched the wall, I was like, 'Who else got in?!'" Weitzeil said after her 100 freestyle win at trials.

Olympic rookies Erika Brown, Natalie Hinds, and Olivia Smoliga (2016 Olympian) will join Weitzeil in the 4x100 freestyle relay in Tokyo, with rookie Catie Deloof and four-time Olympian Allison Schmitt likely competing in the prelims.

The women's 4x100 freestyle relay is one of the first medal events on the Tokyo Olympic program Sunday morning Tokyo time (Saturday night U.S. time).

Team USA coaches have yet to release the relay participants for the 4x100 freestyle relay here in Tokyo. But U.S. women's coach Greg Meehan has seen Weitzeil sharpen her focus since trials in June.

"She's one that really embraces the biggest stage," he said, "and she's in a great place. I'm excited to see her get going."

Asked what her favorite relay leg is, Weitzeil paused, then confessed that she does not like leading off relays. She typically swims the second leg.

The U.S. women will face a tough freestyle relay squad from Australia, the two-time defending Olympic champions in the 4x100 free relay.

It's an event that the U.S. women once dominated at the Olympic Games. One of the original swimming races for women, first held in 1912, the 4x100 free relay has been won by U.S. women 14 times. But it's been 21 years since they last stood atop the Olympic podium, and Australia is looking stronger than ever. Three of their freestylers hold the fastest times in the 100 freestyle this year.

But the relay will be in good hands with Weitzeil. In December 2019, Weitzeil became the first woman to ever swim the 50-yard freestyle under 21 seconds.

"For the longest time, I'm sure people never thought a woman would do (sub-21)," she told Sports Illustrated. "It was cool to show that women are going faster and faster and faster."

"I'm confident in this relay, and I'm confident in Team USA," Weitzeil said at trials. "We have our work cut out for us, no doubt. The Australians, they're fast.

"But when you have your flag on your cap, there's something else that comes out of you."
Want to follow Team USA athletes during the Olympic Games Tokyo 2020? Visit TeamUSA.org/Tokyo2020 to view the medal table, results and competition schedule.
An award-winning freelance writer based in Vermont, Peggy Shinn has covered six Olympic Games. She has contributed to TeamUSA.org since its inception in 2008.