Discus Thrower David Blair Feeling As Strong As Ever Heading Into Paralympic Trials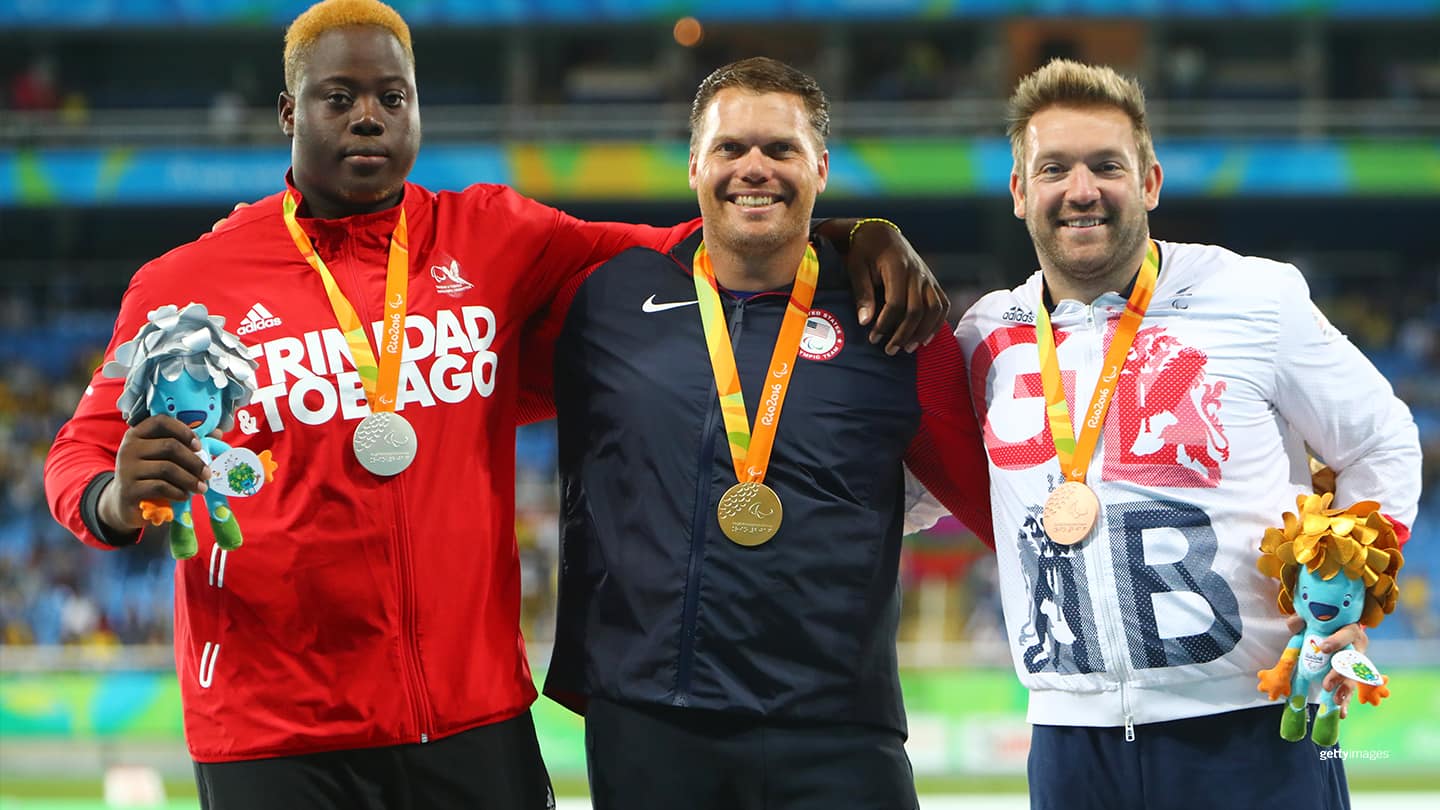 David Blair (center) poses on the podium at the medal ceremony for Men's Discus Throw - F44 during the Paralympic Games Rio 2016 at the Olympic Stadium on Sept. 16, 2016 in Rio de Janeiro, Brazil.
At the U.S. Paralympic Team Trials for Track and Field in Minneapolis this month, discus thrower David Blair will be competing among athletes half his age.

The gold medalist from the Paralympic Games Rio 2016, however, is entering the competition less than a month removed from throwing a world-best 64.26 at the Tucson Elite Classic on May 20.

"I feel as strong and as competitive as I've ever been," Blair said. "You watch Tom Brady do his thing at the Super Bowl at the age of 43, and I'm coming to the realization that if you do it right, there's a lot more life in us than we realize, and a lot more ability than we realize. It's one thing to be on the Paralympic team, and another to compete at that level with age as a factor against you, and to show up as a 45-year-old and compete against and even do well against the younger athletes."

Blair, who prefers to average his six throws in a series to gauge his progress as opposed to looking at the furthest throw, has had some of the best series of throws in his entire career this spring.

Yet it has been anything but seamless to get to this point after a perfect Paralympic experience in Rio.

In 2019, Blair broke his foot in training and it took four months to heal. He has worn an exoskeleton brace ever since — he still feels some pain when throwing today — and was able to squeak out a silver-medal performance at the world championships that year in Dubai.

Blair only competed once in 2020 before the world shut down for the COVID-19 pandemic, and when his gym closed, he borrowed a 325-pound tractor tire and sledgehammer to train on the street in front of his house every day.

"I was just trying to do anything to get my training going," he said. "You felt like you couldn't miss your training, but it felt risky to go and train. It was a big conundrum for me."

With funds from the USOPC to help athletes train during the pandemic, Blair spent several thousand dollars constructing a home gym so that he had no excuses not to train. He was not able to meet with his coach in-person, threw at his local park and finished his gym workouts at 1:30 a.m. some days after taking care of his four daughters.

"Things are very busy for me. I have a family and a full-time job, and they have activities they need to go to," he said. "The pandemic most definitely turned me into a more independent athlete. Coming out of the pandemic I feel like I'm in a better situation than I was going into it. It allowed me to have the ability to do all my training within five minutes of my house."

Blair then contracted COVID-19 around Christmas, having to take four weeks off training per his doctor's recommendation, and as soon as he resumed, he contracted appendicitis. Luckily, he was able to avoid having to get surgery on his appendix and the infection cleared up.

Despite the setbacks, he's been able to put in some of the best throws of his career already in 2021, spicing up his rivalry with two-time Paralympic champion and teammate Jeremy Campbell, who threw for a new world record himself at last month's Desert Challenge Games.

"There's definitely a rivalry there, but I don't think there's any aggression," Blair said. "The best way to describe it is we know who we want to go one-two in Tokyo — that's Team USA — and it will be up to us to determine which order we go in."

Blair and Campbell will be the heavy favorites at Trials to secure the two Team USA spots for Tokyo in the men's discus F64, with the team to be announced on Father's Day, a day Blair will certainly be pondering his family and his future.

"When you're a dad and have a family life, you kind of feel like you're sucking more than your fair share of time from the family to do things that you're self-interested in," Blair said. "To be fair, they are very supportive and love that I'm doing it, but it's kind of a selfish thing. So there's a pretty high chance it will be my last Games. It's not for sure, but I've got a lot of living I've got to do."
Stuart Lieberman has covered Paralympic sports for 10 years, including for the International Paralympic Committee at the London 2012, Sochi 2014 and PyeongChang 2018 Games. He is a freelance contributor to TeamUSA.org on behalf of
Red Line Editorial, Inc.