400 IMs: A Veteran & A Rookie Qualify for Olympic Games Tokyo 2020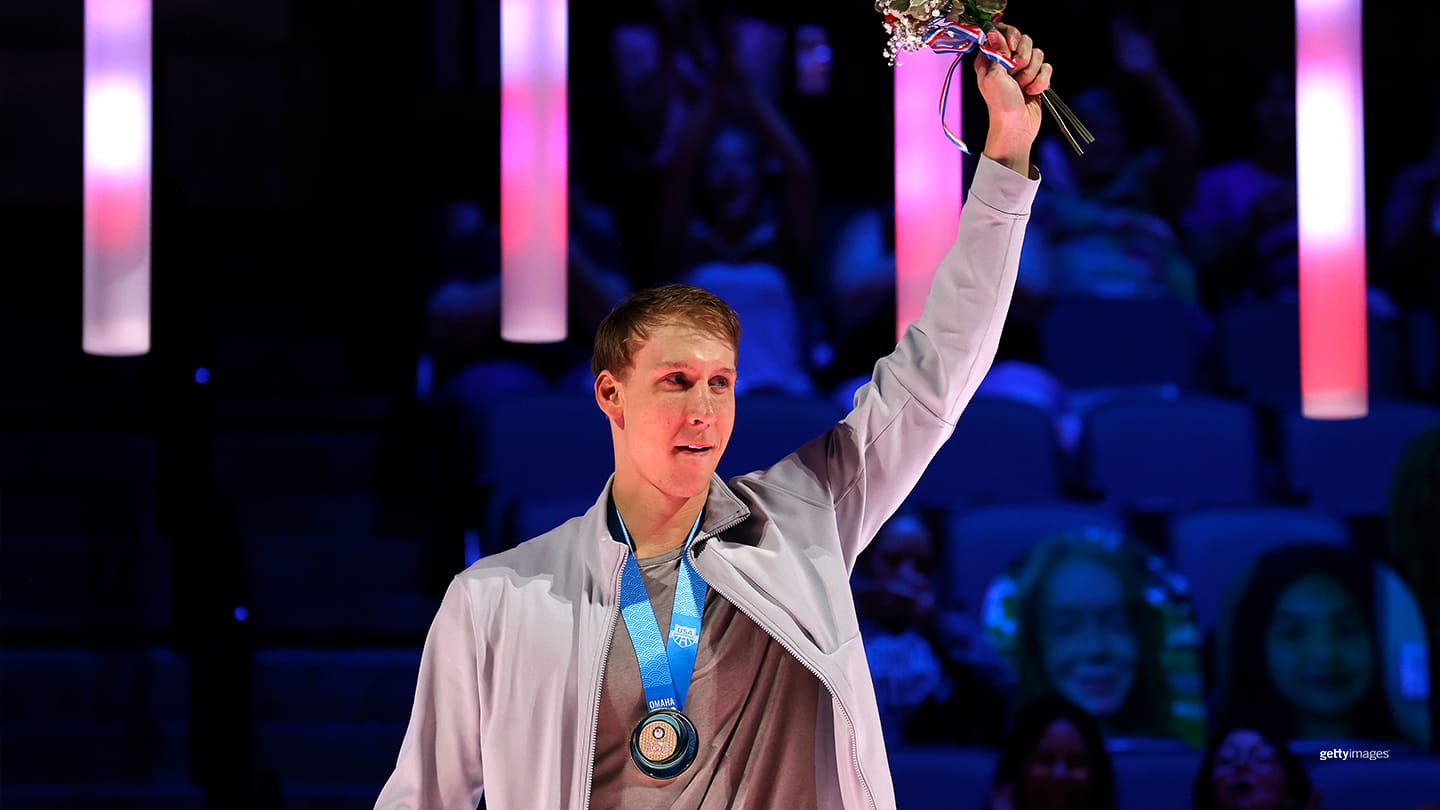 Chase Kalisz reacts during the Men's 400m individual medley medal ceremony during Day One of the 2021 U.S. Olympic Team Swimming Trials at CHI Health Center on June 13, 2021 in Omaha, Neb.
Chase Kalisz kicked off the 2021 U.S. Olympic Team Trials — Swimming by winning the men's 400 individual medley again, just like he did at the 2016 Trials. Back then, he went on to win an Olympic silver medal in the 400 IM in Rio.

This time, the University of Georgia graduate was almost a half-second faster, clocking 4:09.09, the second fastest time in the world so far this year. He had felt stiff since arriving in Omaha—from travel and from tapering.

"I had to mentally put myself in a position just to get it done, I knew my race plan," Kalisz said.

After the race, Michael Phelps, who won the 400 IMs at the 2004 and 2008 Olympic Games, congratulated Kalisz.

"Since I was 13, he has worked with me on strategy with that race," said Kalisz. "It's awesome to see him at trials and awesome to see how well he's doing right now."

Right behind Kalisz—and in another repeat of 2016—Jay Litherland played catch-up in the freestyle leg and finished in 4:10.33, just a hair off his time at 2016 trials. Litherland touched ahead of Carson Foster, who won the prelims and had been a favorite in the men's 400 IM. The 19-year-old from Ohio is one of a wave of talented teens vying to make their first Olympic team here in Omaha.

It was the women's 400 IM where one of those talented teens made her first Olympic team, outswimming three Olympians to get there. Emma Weyant, 19, clocked 4:33.81 — over 1.5 seconds faster than her personal best — and out-touched 2016 Olympian Hali Flickinger, who has been training with Bob Bowman, Phelps's former coach.

"This morning, I was really nervous so I tried to get that out of my system for tonight and really the plan tonight was just to race and have fun," she said.

Weyant caught up in the third (breaststroke) leg of the 400 IM and passed Flickinger, who took a big lead in the butterfly and backstroke before being reeled in by Weyant. Melanie Margalis also almost caught Flickinger too.

Margalis, who recently began focusing on the 400 IM, was a favorite to qualify for her second Olympic team. But she fell behind in the butterfly and backstroke and had too much ground to make up in the final two legs of the race. Margalis won an Olympic gold medal in the 4x200 freestyle relay in Rio and finished fourth in the 200 IM.


Coming to Omaha, Kalisz was listed as an outside favorite. Although he was the 400 IM world champion in 2017 — swimming the third fastest 400 IM time ever in that race — he struggled at 2019 world championships, not making the final. Only those closest to Kalisz knew what was wrong.

After the 2018 Pan Pacific Championships, Kalisz's shoulder began clicking with every stroke. It was his first injury. From August 2018 to February 2019, he could not train.

"We had a feeling that that year [2019] was going to be a little off mentally for me," he said.

But it was more than an off year. It was devastating, confessed Kalisz. Until then, he had enjoyed an injury-free career and did not know how to cope.

"I don't want to say it was bad for my mental aspects of my swimming," he said. "But I rely on my training, I rely on my big training bases. I rely on doing hard, long IM sets, and that's what I've done my entire life. And not even being able to train until February that year, I lost a little bit of myself there."

The past two years have been about "reclaiming all that," said Kalisz. But at the same time, he was reluctant to talk about the injury.

"This was really the first time I've ever brought it up because, you know, this is a sport and things happen," Kalisz said.

The year delay caused by the COVID-19 pandemic actually helped Kalisz, said coach Jack Baurel. He became "more of a professional swimmer, taking care of himself before and after [training and racing]."

"When you get a little bit older, you get more bumps and bruises than you did not before, and we have to adjust a little bit," said Bauerle, "But tough guys figure out a way to be tough when it counts."

Kalisz gave an inkling of what might be in store this year at a couple of TYR Pro Swim Series meets in early 2021, winning the 400 IMs.

Then at Olympic Trials, Kalisz walked to the blocks stone-faced, ear buds in, focused on the task ahead. He knew his race plan, and he executed perfectly, gaining on Foster with long, strong breaststroke pulls. Then he brought it home in the freestyle.

Kalisz admitted he was "a little soft" in that first 200, then heard the crowd during the breaststroke leg and fed off that. It's the first time in over a year that the swimmers have competed in front of a crowd.

Jay Litherland, who finished fifth in the 400 IM at the 2016 Olympic Games, hopes to make his second U.S. Olympic Team. Second place finishers in every race but the 100 and 200 freestyles, where four swimmers are named to the team for the relays in Tokyo, will likely be named to the U.S. Olympic Team later this week. Only 26 men and 26 women total can make the U.S. Olympic swimming team.

After the race, Kalisz embraced Litherland, a Georgia Bulldog teammate. When he looked at the scoreboard and saw Litherland had finished second, he said, "I forgot the entire race. He's one of my best buddies, that's my training partner, and it means the world to go one, two with him."

Then the two men embraced Foster—known as the guy who, at age 10, beat Michael Phelps's 100-meter butterfly national age group record. Foster led the first half of the race and won the 400 IM prelims in 4:10.50, the fastest 400 IM time for an American man so far in 2021.

At least until Kalisz dove into the pool tonight.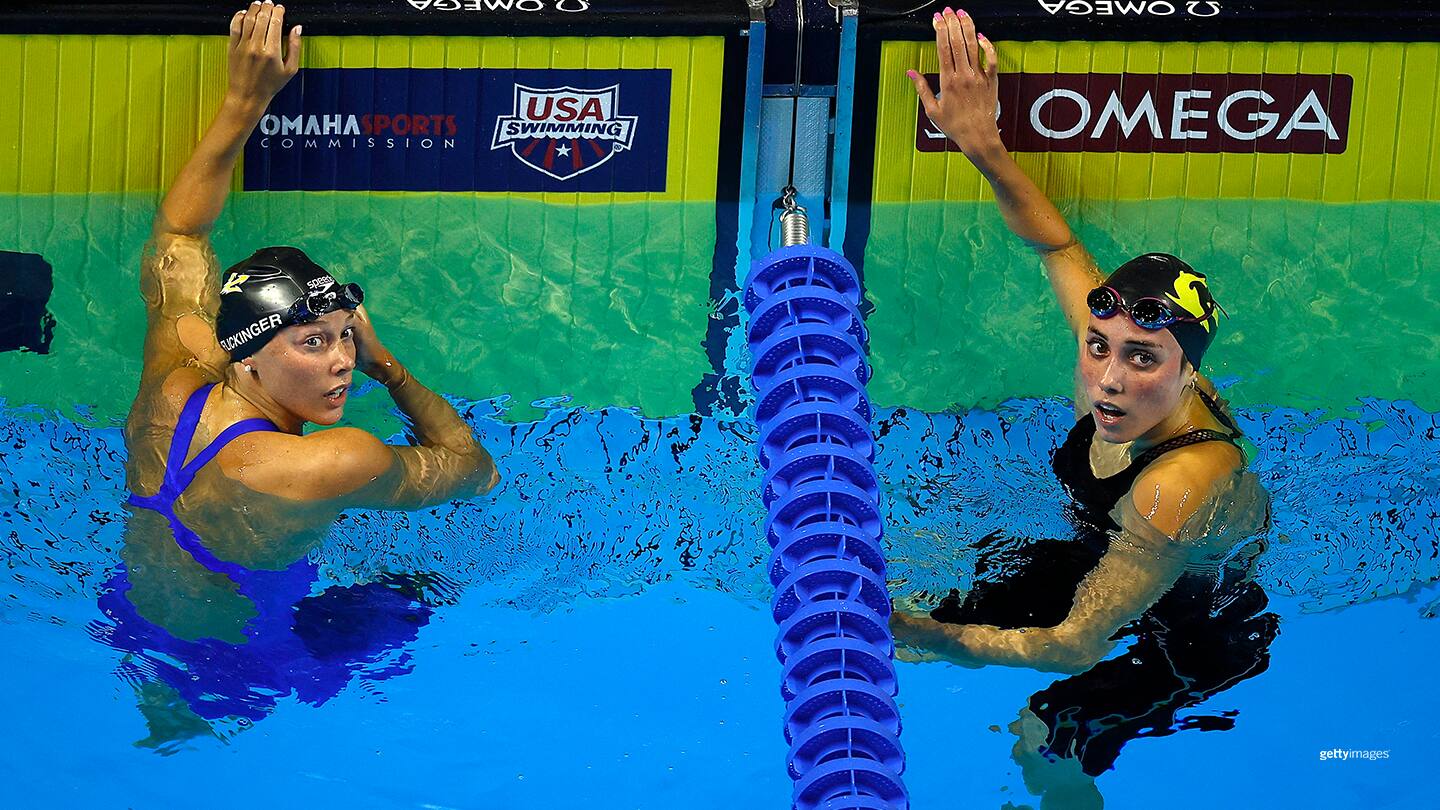 A formidable field walked out to the blocks for the women's 400 IM. Three 2016 Olympians dove in for a chance to compete at another Games, including Olympic gold medalists Margalis and Leah Smith, as well as Flickinger, known more for her 200 butterfly than her medley skills.
But Emma Weyant, a 19-year-old who watched the Rio Games with her Sarasota Sharks teammates at home on TV beat them all. She came to Omaha simply wanting to swim her best in a final deep with talent.
"I had goals going into this meet, of trying to place as high as I could, swim as well as I could," Weyant said. "But this meet was all about racing for me. I get to race with the best and that really pushes me. So it's been a lot of fun to get to race these amazing people."
Weyant is the oldest of four sisters. Younger sister Gracie, 15, won the 200-meter breaststroke during Wave I of the U.S. Olympic Team Trials—Swimming last week and qualified to compete in Wave II. Gracie was the first person Weyant looked at when they announced her winning time in the 400 IM—almost two seconds faster than her personal best. And Gracie was the first person she hugged when she got out of the pool.
"She really helped me keep my nerves in check and, I mean, we're together all the time so I'm so glad she could be here," said Weyant, who graduated from high school last year and plans to attend the University of Virginia.
When asked what her hobbies are outside the pool, Weyant simply responded, "I have three sisters, so we always keep each other busy. It's a house full of girls, so it's always crazy."
Weyant hopes to race with Gracie later this week.
Asked if the 400 IM picked her or she picked the 400 IM—known as the "decathlon of swimming"—Weyant demurred, then said that she always wanted to be a distance swimmer. She also likes to train all four strokes and the strategy involved — knowing her strengths and keeping track of where her competitors are in the pool.
American women have won Olympic medals in the 400 IM in every Olympiad since 2004. Most recently, Maya Dirado took silver at the 2016 Games.
Weyant's time was 0.08 of a second off Dirado's 400 IM winning time at 2016 trials.
As she received her medal tonight, Weyant choked up.
"I've never experienced anything like that," she said. "It's definitely like the biggest crowd I've ever been in front of, hearing everything, seeing everyone. It was really surreal for me."
An award-winning freelance writer based in Vermont, Peggy Shinn has covered five Olympic Games. She has contributed to TeamUSA.org since its inception in 2008.