Chase Kalisz Wins Gold In 400 Individual Medley As U.S. Swimmers Win Six Medals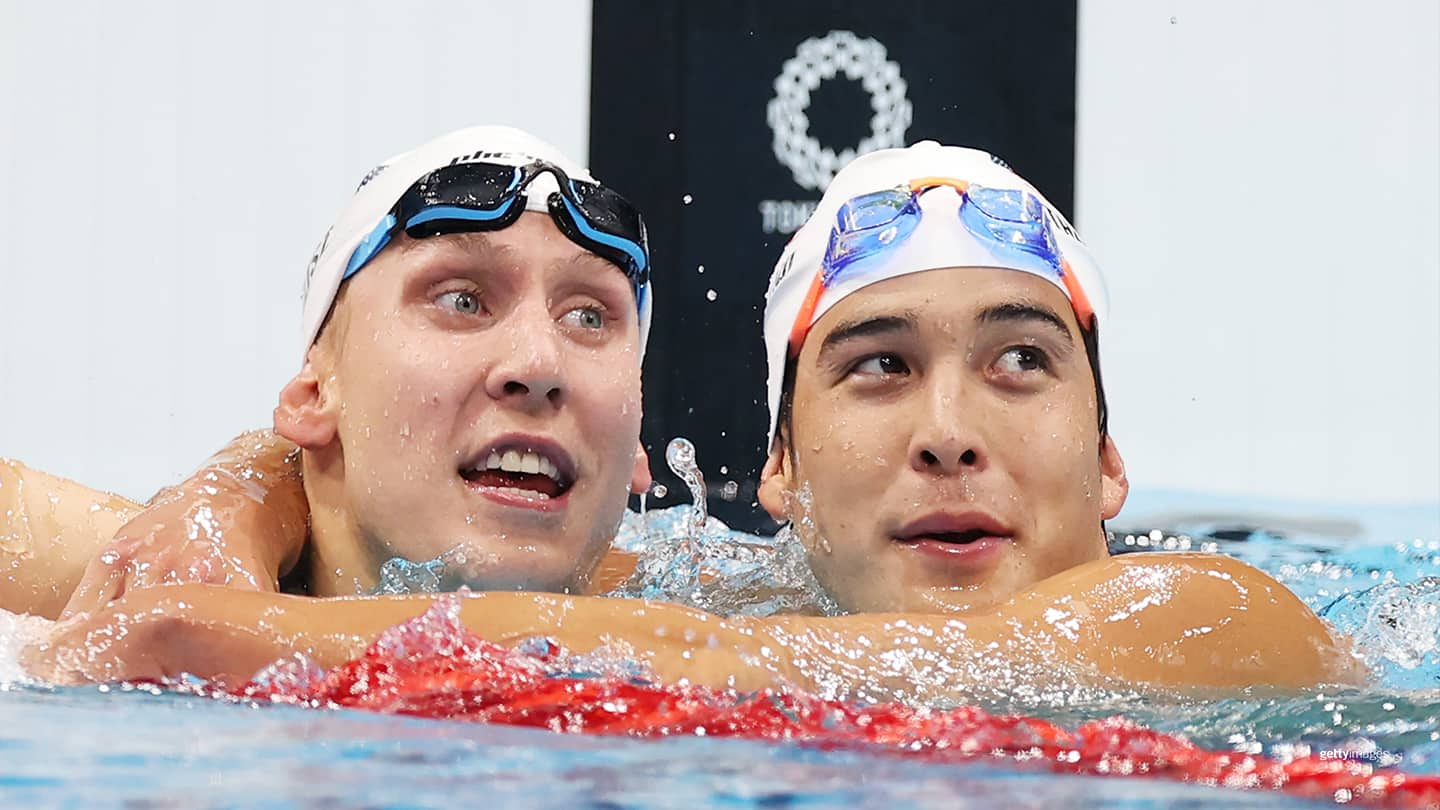 Chase Kalisz (L) and Jay Litherland (R) react after competing in the men's 400-meter individual medley final at the Olympic Games Tokyo 2020 on July 25, 2021 in Tokyo.
TOKYO – After Chase Kalisz draped his Olympic gold medal around his own neck – a Covid-19 stipulation – he held it in his hands to take a good look at it and then closed his eyes.

"This is my lifelong dream," said Kalisz. "I've accomplished everything else in the sport: world titles, NCAA titles, an American record. This is really the last thing that I wanted to check off."

After Team USA was shut out of the medals on the opening day of the Olympic Games Tokyo 2020, Kalisz helped open the floodgates at the Tokyo Aquatics Center with American swimmers winning six of seven possible medals.

Kalisz won the men's 400-meter individual medley with a time of 4 minutes, 9.42 seconds for Team USA's first gold medal of the Games. Teammate Jay Litherland, his training partner since their days at the University of Georgia, came in second.

Kieran Smith won the bronze medal in the men's 400-meter freestyle, then Emma Weyant earned the silver and Hali Flickinger the bronze in the women's 400 IM. Team USA had not won two medals in this event since 1968.

"Seeing Chase and Jay," Weyant said, "Hali and I looked at each other and said, 'OK, we can do this now.'"

Team USA closed out the day with a bronze medal in the women's 4 x 100-meter freestyle relay.

Kalisz, 27, had hoped to tick the gold medal box five years ago at the Rio Olympics when he swam a personal best by 3 seconds, but wound up with the silver

"It was pretty devastating for me in my head," said Kalisz, who was haunted by his inability to close in the final 5 meters. "When you think back at the legacy of the U.S. 400 IMers, I was really the first one that let the U.S. down since at least 2000, and that was pretty hard on me."

Actually, the U.S. won five straight gold medals starting in 1996, with Tom Dolan winning two, Michael Phelps two and Ryan Lochte one.

"When he got the silver in 16, he had one thing in mind after that," said University of Georgia coach Jack Bauerle, who is on the Team USA staff in Tokyo. "And then to do it with his teammate - those guys are connected at the hip every day. They respect each other and I will say this: I don't think either one could have been as good without the other."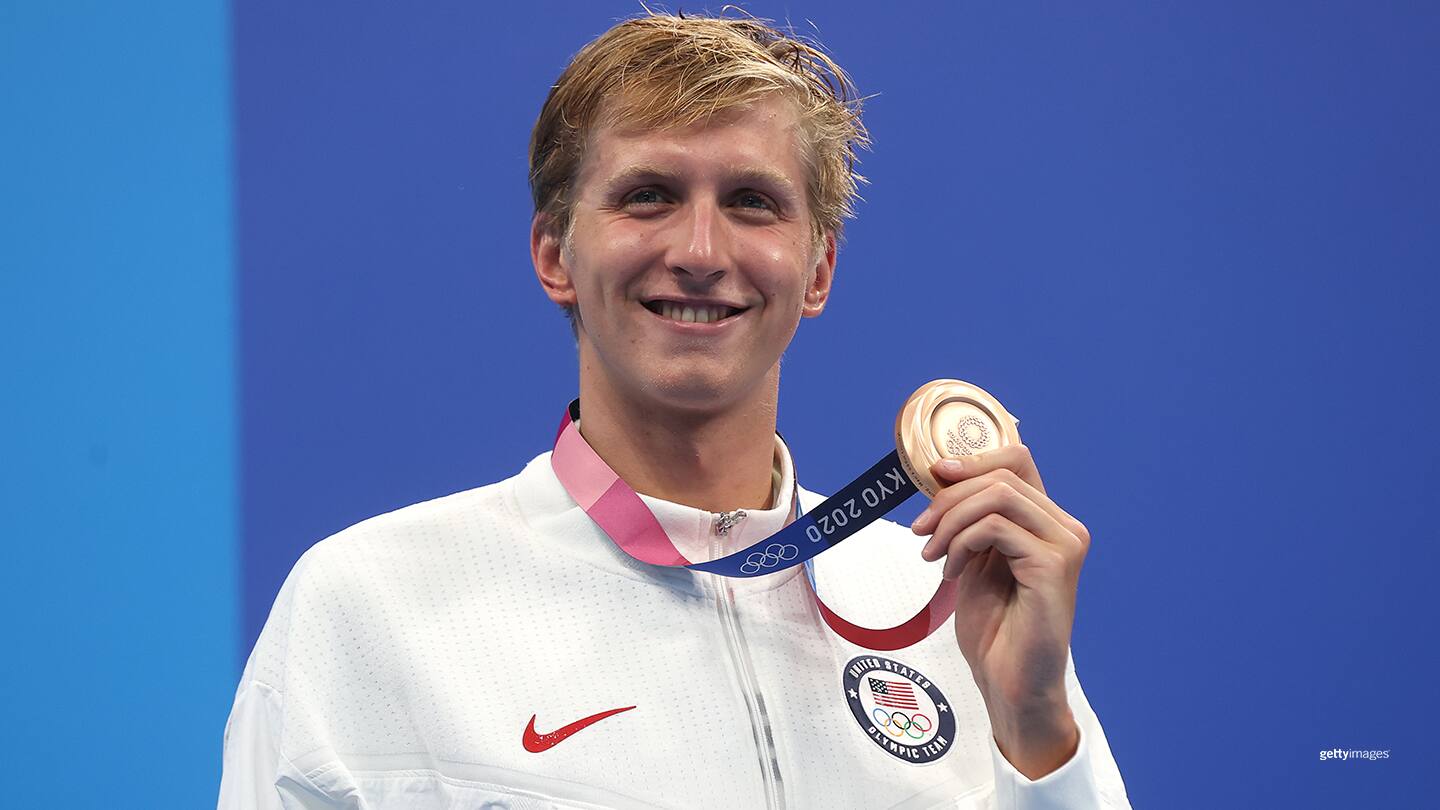 Kieran Smith poses with the bronze medal for the men's 400-meter freestyle final at the Olympic Games Tokyo 2020 on July 25, 2021 in Tokyo.
Kalisz, who has the 200 individual medley starting in three days, said he had not processed the moment of his victory.

"I bent down, the starter beeped and I went," Kalisz said. "Everything else has been a blur. I don't know when it's going to kick in."

The native of Bel Air, Maryland, trained in the same program as Michael Phelps in Baltimore. However, when Kalisz was 8 years old, he contracted Guillain-Barre syndrome, an acute disorder of the nervous system. He could barely move his arms and legs and had to crawl down the hallway to alert his parents.

Kalisz was in a drug-induced coma for about a week, then on a ventilator and a feeding tube for eight months before three months in a rehabilitation hospital. Phelps sent him googles and caps and signed items.

After Kalisz recovered, he went on to win the silver medal in the 400 IM at the 2013 world championships and the bronze in 2015.

He rebounded from his 2016 Olympic disappointment to sweep the gold medals in the 200 IM and 400 IM at the 2017 worlds in Budapest, posting the third-fastest time in history in the longer event.

He then was beset by shoulder problems and did not make the final at the 2019 worlds.

Kalisz said the past four years "have just been brutal, a lot of things to overcome." He is the second-oldest man in history, behind Lochte in 2012, to win the event at the Olympics.
The 400 IM is "not ayoung man's event," Kalisz said. "I definitely have a lot more pain in that race than I'm used to."

He thought his top rival would be Daiyo Seto of Japan, who had the fastest time in the world this year. But in a major blow to the host country's hopes, Seto missed the final by one spot.

Instead, Kalisz's top competitor turned out to be a teammate who was born in Osaka, Japan, and now calls Georgia home.

Kalisz led at 150 meters, in the backstroke portion of the event, then was second at the halfway point. He pulled ahead for good in the breaststroke and had a lead of almost 2.5 seconds at 300 meters.

Because of the 13-hour time difference between Japan and the East Coast of the United States, the swimming finals are held in the morning so they can be aired live in primetime in America.

Kalisz managed the difficult turnaround from the heats Saturday night, which featured the top 10 times in an Olympic preliminary, to the morning final.

"Look at my time, it's pretty terrible," said Kalisz, who said he was awake at 4 a.m. But he did what he had to do..
"I'd like to highlight what Michael (Phelps) did in 2008," Kalisz said. "He swam the 400 at night, and then to break the world record the next morning, it's hard to describe… And he won seven more medals after that. It is a very tough challenge to do."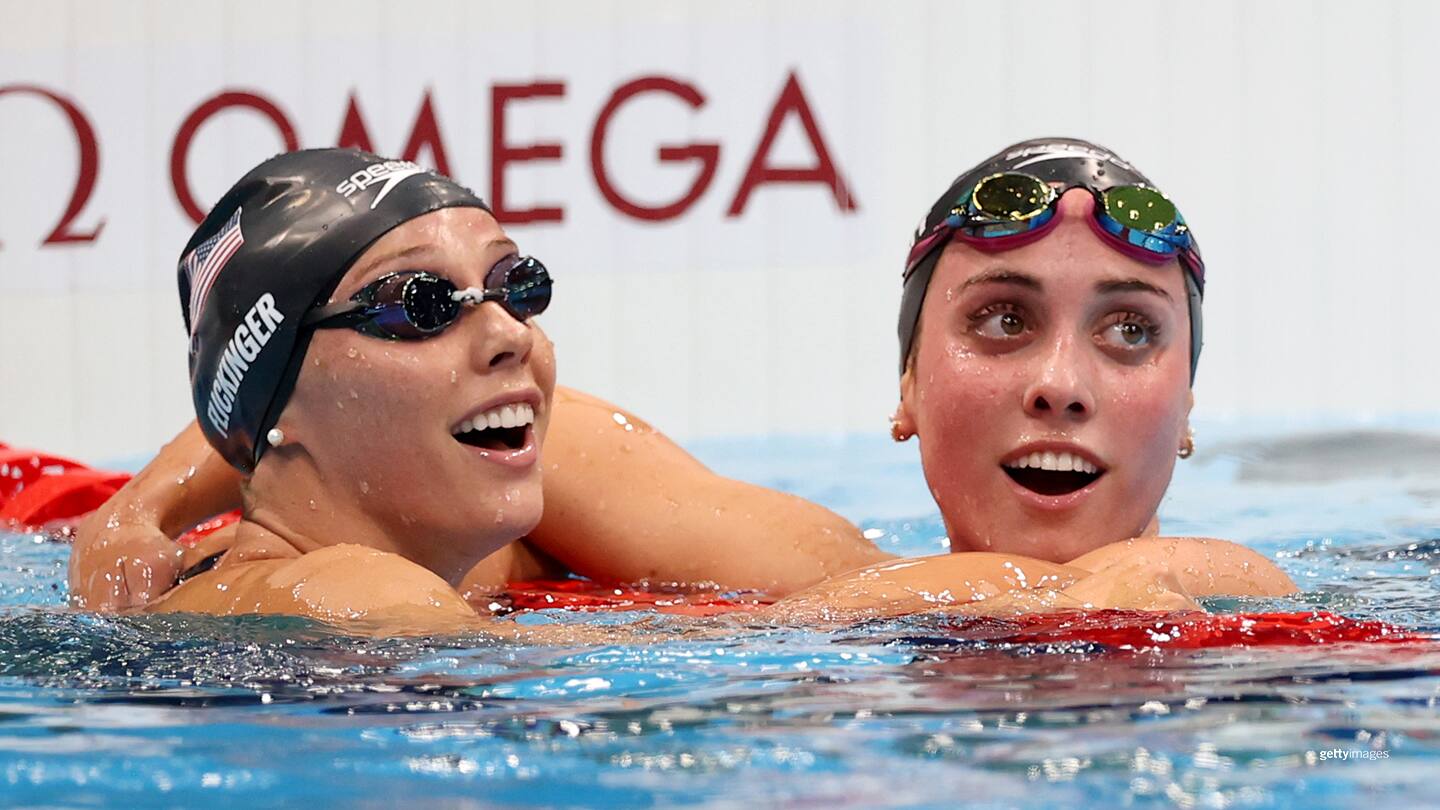 Hali Flickinger (L) and Emma Weyant (R) react after competing in the women's 400-meter individual medley final at the Olympic Games Tokyo 2020 on July 25, 2021 in Tokyo.
Litherland, who was out in Lane 7, had faded from fourth to sixth at 300 meters, but the freestyle is his strong suit and he picked off four swimmers in his final 100.

"He never thinks he's out of a race," Bauerle said of the easy-going Litherland. "His temperament belies his competitiveness."

Litherland, 25, is the youngest of a set of triplets who all swam at the University of Georgia.

"He's the best training partner I could ever ask for," said Litherland, the 2019 world silver medalist. "We go back and forth every single day in practice. In the water, we're rivals. Out of the water, we're good friends."

He said that since he has arrived in Japan "all I've been doing is eating. I think I've gained four or five pounds since I got here."

While Litherland, who answered two media questions in Japanese, said it was a shame that his family members in Japan couldn't watch him compete in person, "I felt their energy and power in that last 100. They brought me home."

Team USA has now won five bronze medals in the men's 400 freestyle in the last six Olympic Games.

Smith said he spoke to Kalisz when they were both in the warm down pool. "He said I have a bright future ahead of me," Smith said.

This was his first major international team. "I was prepared to go last summer and I was better prepared this summer," Smith said.

Kalisz said he can still remember watching his first Olympic Games in 2000 when he and his family were driving back from a vacation. He kept up with the action on a portable television.

"My eyes were fixated," he said. "The athletes basically gave me all of my dreams and motivations to be just like them.

"We hope to be that motivating factor for the younger generation," he added, "and hope to bring the United States a little closer together."
Want to follow Team USA athletes during the Olympic Games Tokyo 2020? Visit TeamUSA.org/Tokyo2020 to view the medal table, results and competition schedule.
Karen Rosen has covered every Summer and Winter Olympic Games since 1992 for newspapers, magazines and websites. Based in Atlanta, she has contributed to TeamUSA.org since 2009.