First-Time Olympian Emma Weyant Posts Fastest Time In Women's 400-Meter IM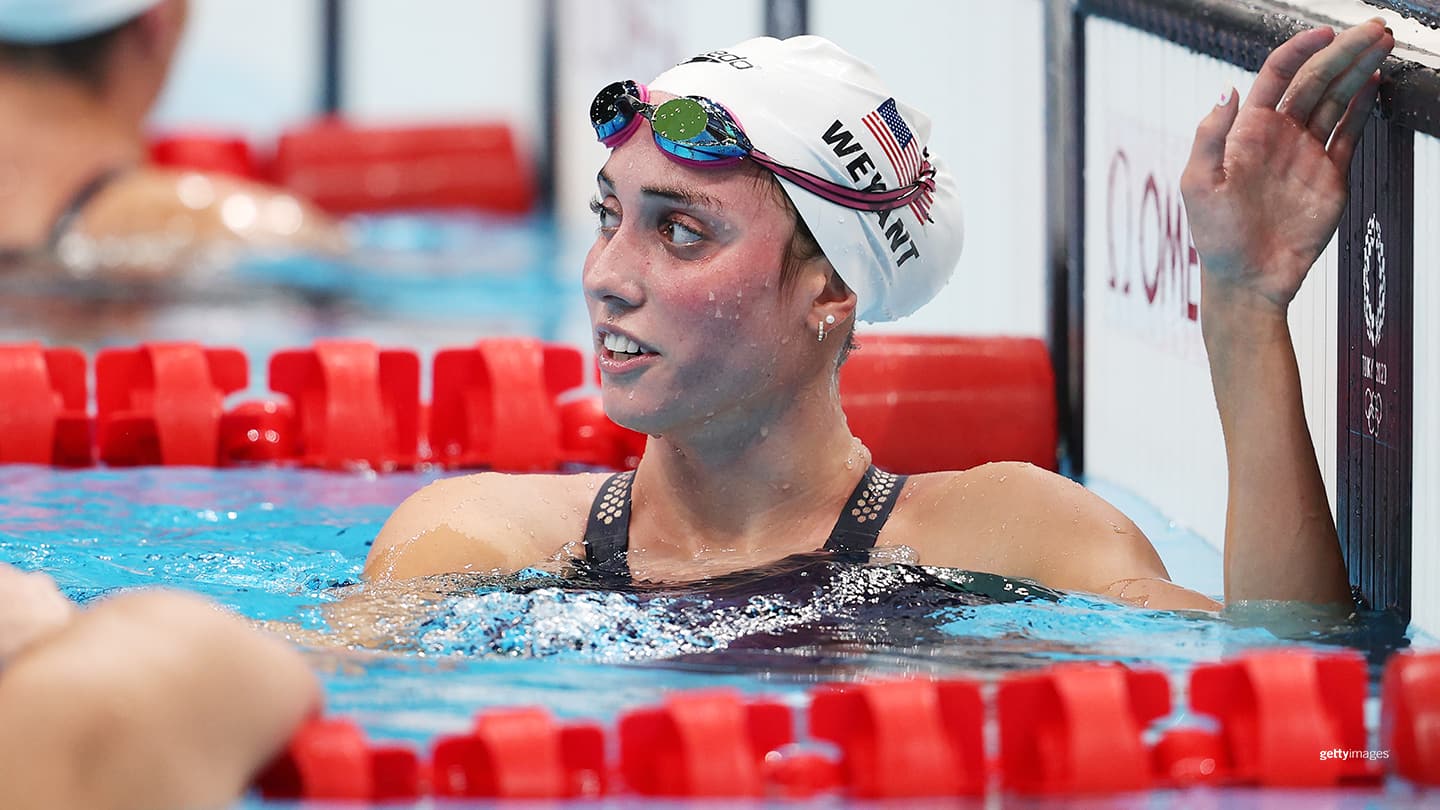 Emma Weyant competes in heat three of the women's 400-meter individual medley at the Olympic Games Tokyo 2020 on July 24, 2021 in Tokyo, Japan.
TOKYO – Emma Weyant went head-to-head with swimming's "Iron Lady" Saturday in the women's 400-meter individual medley for the first time in two years.

When the 19-year-old from Sarasota, Florida, raced against Hungary's Katinka Hosszu, the defending Olympic and world champion, in 2019, they were competing at a European series of meets.

"I was nowhere close," Weyant said.

She was nowhere close again when they met in the preliminaries at the Olympic Games Tokyo 2020.
Weyant was far ahead.

She had the fastest time in her heat, winning by nearly 2 seconds with a personal best of 4 minutes, 33.55 seconds, which bettered her own world-leading time this year from the U.S. Olympic Team Trials – Swimming.

Hosszu, 32, who had not lost at the Olympics or World Championships since the 2012 Olympic Games, was fourth in the heat and seventh overall, clocking 4:36.01, well off her world record time at the Rio Games of 4:26.36.

"This is my first (major) international meet," said Weyant. "It was really cool to be the Olympics. I was really just trying to set myself up well for tomorrow morning and execute my race."

She set herself up very well as the only Team USA swimmer to top the standings as swimming opened its first Olympic session at the Tokyo Aquatics Center.

Weyant called it "an honor" to race Hosszu. "It's really cool," she said. "I've looked up to her for a long time."

The IM begins with the butterfly stroke, and at the first turn of their heat, Hosszu was in first place and Weyant was eighth. Within 50 meters, Weyant had pulled into third position, then took the lead on the backstroke. She eventual won by a body length, flashing a big smile.

Teammate Hali Flickinger, a 2016 Olympian, qualified fifth.

In the final on Sunday morning, Weyant, who won the junior Pan Pacific title in 2018, will try to keep an Olympic streak going. An American woman has won a medal in the 400 IM at every Olympics since 2004, with Maya DiRado winning the silver in 2016.

If Weyant is victorious, she would be the first Team USA gold medalist in the 400 IM since Janet Evans in 1988. Tracy Caulkins (1984), Claudia Kolb (1968) and Donna de Varona (1964) are also Olympic champions in the event.

In the men's 400 IM, Chase Kalisz, the reigning Olympic silver medalist, qualified third for the final. Kalisz swam the event in 4:09.65, placing second in his heat behind Lewis Clareburt of New Zealand. Brendon Smith of Australia had the fastest time of 4:09.27.

In the biggest surprise of the night, Daiya Seto of Japan, who had the leading time in the world this year, did not qualify for the final. Only the top eight advanced since there is no semifinal in this event.

Jay Litherland of Team USA, who finished fifth in Rio, qualified for the final in a tie for fifth place with a time of 4:09.91.

Torri Huske qualified fourth for the semifinals in the women's 100-meter butterfly, clocking 56.29 seconds, while Claire Curzan was 10th in 57.49 to advance.

"It felt not easy, but it felt relaxed," Huske said. "I think all that matters is that I made it back and that I have another chance to swim, so I'm looking forward to it."

While there were no spectators at the pool due to Covid-19 restrictions, the American swimmers were spurred on by their teammates, who sat socially distanced in one section of the stands and made noise with red and blue thundersticks. Although vocal cheering is not allowed, a U-S-A chant was heard.

Huske said it was "definitely different," with no crowd, "but with the Covid year, I feel like I kind of got used to it. Also I feel like just knowing that it's the Olympics and that I'm swimming against so many fast girls made it so exciting."

Michael Andrew, who turned pro at 14, swam like a veteran in his first Olympic Games at age 22.

He was the third-fastest qualifier in the men's 100-meter breaststroke, winning his heat with a time of 58.62 seconds.

If Andrew medals in the 100 breaststroke, he will join Steve Lundquist as the only U.S. swimmer to reach the podium in a breaststroke event while also swimming a different individual non-breaststroke event at the Games. Lundquist won the 100 meter breaststroke in 1984 and was fifth in the 200-meter individual medley.

"It's crazy; I think the whole time we've been preparing for this thinking it's the biggest thing - it's the pinnacle," Andrew said. "Which it is. But after that swim, it felt like any other 100 breaststroke I've ever swum. It felt like any other pool I've ever raced in. Granted, it's a beautiful one. So it's one of those things where I realize we can make it into something bigger than it is in our minds, I don't want to crumble under (those) nerves and that pressure, so I'm just approaching it like any other swim meet. Just there's millions of people watching."

Andrew Wilson of Team USA qualified seventh in 59.03.

World record holder and defending Olympic champion Adam Peaty of Great Britain led all qualifiers with a time of 57.56 while Arno Kamminga of the Netherlands was next at 57.80.

"I know if I have a lane, I've got a chance," Andrew said. "And I think it's important that I don't race the guys in there, just swim my race."

Swimming side by side in their heat, Kieran Smith and Jake Mitchell qualified for the final in the men's 400-meter freestyle. Smith's time was 3:45.25 to qualify sixth and Mitchell was seventh at 3:45.38.

Henning Bennet Muhlleitner of Germany had the top time of 3:43.67.

Team USA qualified fifth in the women's 4 x 100-meter freestyle relay. The team composed of Olivia Smoliga, Catie de Loof, Allison Schmitt and Natalie Hinds clocked 3:34.80. The United States has not won this event at the Olympic Games since 2000.
Want to follow Team USA athletes during the Olympic Games Tokyo 2020? Visit TeamUSA.org/Tokyo2020 to view the medal table, results and competition schedule.
Karen Rosen has covered every Summer and Winter Olympic Games since 1992 for newspapers, magazines and websites. Based in Atlanta, she has contributed to TeamUSA.org since 2009.