Gymnast Jordan Chiles Is Peaking Just In Time For The Olympics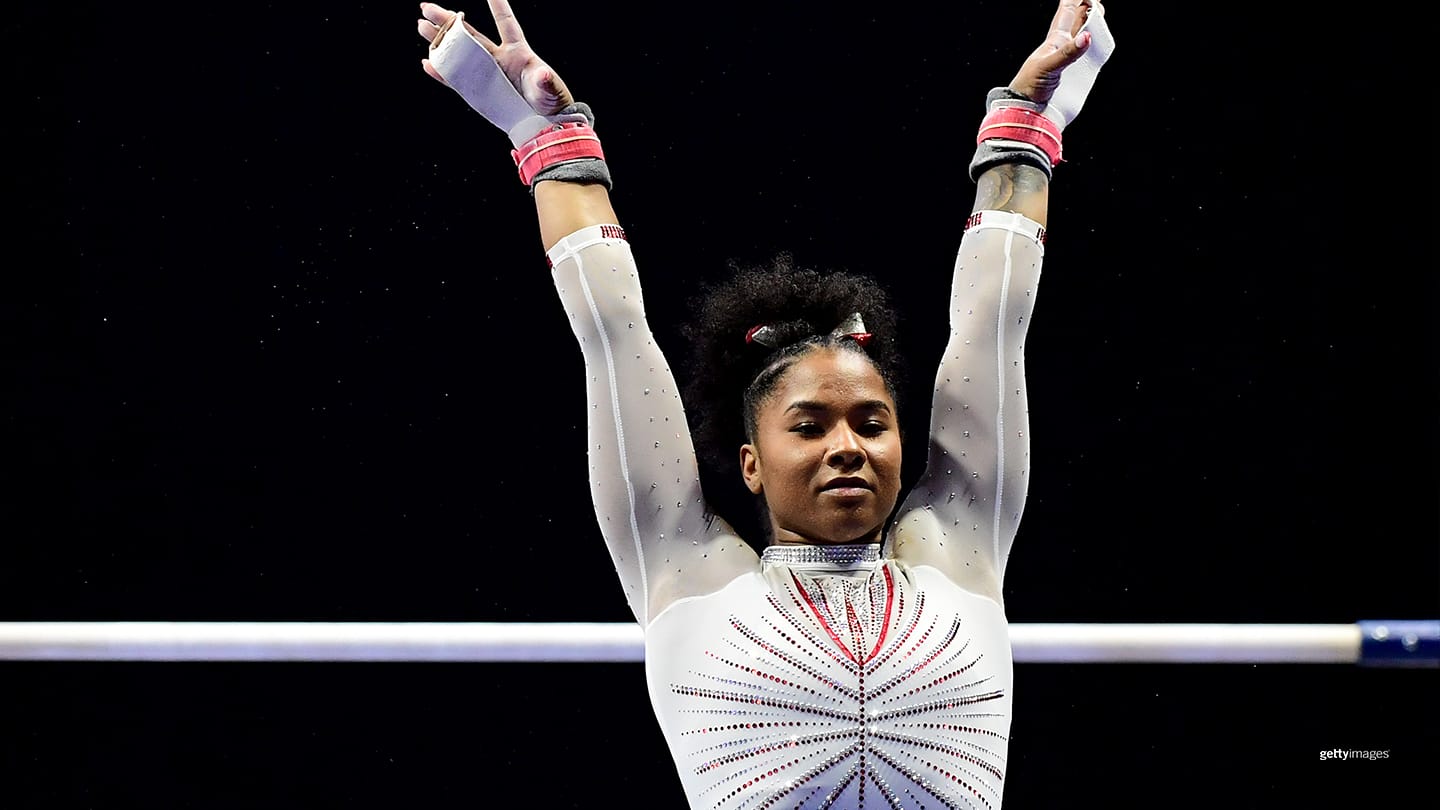 Jordan Chiles poses after competing on the bars during the 2021 GK U.S. Classic gymnastics competition at the Indiana Convention Center on May 22, 2021 in Indianapolis, Indiana.
It was a beginning of sorts, though you can't blame Jordan Chiles for wondering if it was really the end.

It was 2018, and the 17-year-old gymnast hadn't been selected for the world championships team — the most important and prestigious event of the competition season — again. It left Chiles at a loose end: the only elite at her Vancouver, Washington, gym felt lonely and lost. She was not from a region of the country known for producing elite gymnasts, and the road she tread to get onto the national team had been a lonely one.

It seemed to be leading nowhere, too. As a junior elite gymnast, Chiles had been considered a potential successor to Simone Biles, but her transition to the senior ranks hadn't gone as well as anticipated. Though second at the 2017 U.S. Championships, where her save of a wolf turn on balance beam went viral, she was not selected for the four-woman world team. By 2018 Chiles had faded to 11th in the nation.

The Olympic dream seemed to be flickering, and UCLA beckoned with a gymnastics scholarship. In Westwood, Chiles knew she would gain a gym full of sisters and have plenty of fun. There would be dance parties and laughter, new experiences and team camaraderie.

She considered taking it and leaving elite gymnastics behind. But by then Chiles had received another invitation: come train with Biles at World Champions Centre in Texas, the gym her family built and has operated since 2015. The offer had been extended by Biles herself, when they roomed together at the training camp that culminated with Chiles not making yet another team.

Where one dream ended, another took shape.

The world championships wasn't the only goal, Chiles had to remind herself; beyond them lay the Olympics. That was the goal, and had been since seven-year-old Chiles had watched Shawn Johnson catapult herself to four medals at the 2008 Games in Beijing.

It seemed a long shot, but Chiles also had nothing to lose. Her coach in Washington, 1988 Bulgarian Olympian Dimitri Taskov, encouraged Chiles to accept Biles's proposition. UCLA could wait, she decided; she had unfinished business.

So the woman who as a junior level competitor had been touted as a potential successor to Biles became the four-time Olympic gold medalist's training partner in the summer of 2019, and the gymnast who had fallen off the radar after finishing second at the 2017 U.S. Championships began the long climb back to relevancy.

"After I moved to WCC I had the worst lack of confidence," Chiles recalled after finishing third at last weekend's U.S. Championships, by all accounts one of the biggest surprises of the Olympic season. "I have come a long way with myself and also my gymnastics, and seeing all the accomplishments I have done in the past and now has definitely changed me."

"And if I had looked at myself in the past," she added, "I don't think that I would be where I am right now."

At WCC, Chiles found many of the things she had looked forward to at UCLA. Going to Biles' gym meant gaining teammates in not only Biles herself but U.S. hopefuls Sydney Barros, Amari Drayton, Karis German, Olivia Greaves and Zoe Miller. In coach Laurent Landi, Chiles saw a bit of Taskov, which comforted her and helped ease the transition.

"I actually got used to Laurent because I saw Dmitri in him," she said.

The new atmosphere fired something in Chiles. Recovering from wrist surgery at the end of 2019, the pandemic gave her the time she needed to let the injury heal and build herself back up. In the meantime, she fell into the routine of WCC, and let herself be inspired by Biles, who was training a host of envelope-pushing skills every day. Slowly, Chiles's confidence turned around.

So did her gymnastics.

At February's Winter Cup, Chiles was the standout, winning her first major all-around title and debuting a big new full-twisting double tuck dismount on balance beam, the kind of skill that grabs the attention of the U.S. team selection committee.

Now 20, Chiles settled any lingering doubts by finishing second to Biles at the U.S. Classic in Indianapolis a month ago, then third to Biles and Sunisa Lee at last weekend's U.S. Championships in Fort Worth, Texas, dueling with Lee for the runner up position throughout the two-day competition.

Viewers might have been surprised, but Biles wasn't.

"I see her every day in training," Biles said. "She did exactly what she was supposed to out here tonight and at Classics and at Winter Cup, so I have a very good feeling if we keep this going we have a good shot at making the Olympic team together and going to Tokyo."

Chiles' season has singled her out as someone with a strong shot to make the four-woman team, U.S. national team coordinator Tom Forster confirmed.

"Certainly Jordan's shown great consistency this year and has improved tremendously since 2019," Forster said. "She has done an incredible job and she looks like a solid contender."

A top-three finish at the Olympic trials at the end of the month is likely to seal the deal. Should she go to Tokyo, Chiles would be the first U.S. gymnast since 1992 to make the Olympic team despite not having competed at a world championships before the Games where she was of age to do so, adding a unique touch to her story and setting her apart in the ultra-competitive pantheon of Olympic gymnastics.

Chiles' most poignant moments came after she finished her competition in Fort Worth and saw coach Cecile Landi, Laurent's wife, tearing up with pride at her accomplishments. Chiles got emotional too, especially after a congratulatory conversation with Biles.

"Simone was telling me that I deserved what I just did, and that I'm basically gifted and talented and I have the opportunity to make that team," Chiles said. "It just all hit me then. I'm so close."

Her last order of business was leading the 26 women who competed at the national championships in a short two-step following the victory ceremony.

"I feel like in the world of gymnastics there has to be a little fun at the end," she said. "I just wanted to start something off because we're all teammates here in multiple different ways and you know, we all have to encourage each other and support each other 24/7 and so ending it with something that's just a little dance can change perspective on a lot of things. I just wanted everybody to relax and enjoy the rest of the time."

Jordan Chiles got her dance party. She may get her Olympics too.
Blythe Lawrence has covered two Olympic Games and is a freelance contributor to TeamUSA.org on behalf of
Red Line Editorial, Inc.
Follow her on Twitter @rockergymnastix.