Nyjah Huston Clinches Olympic Skateboarding Berth With World Silver Medal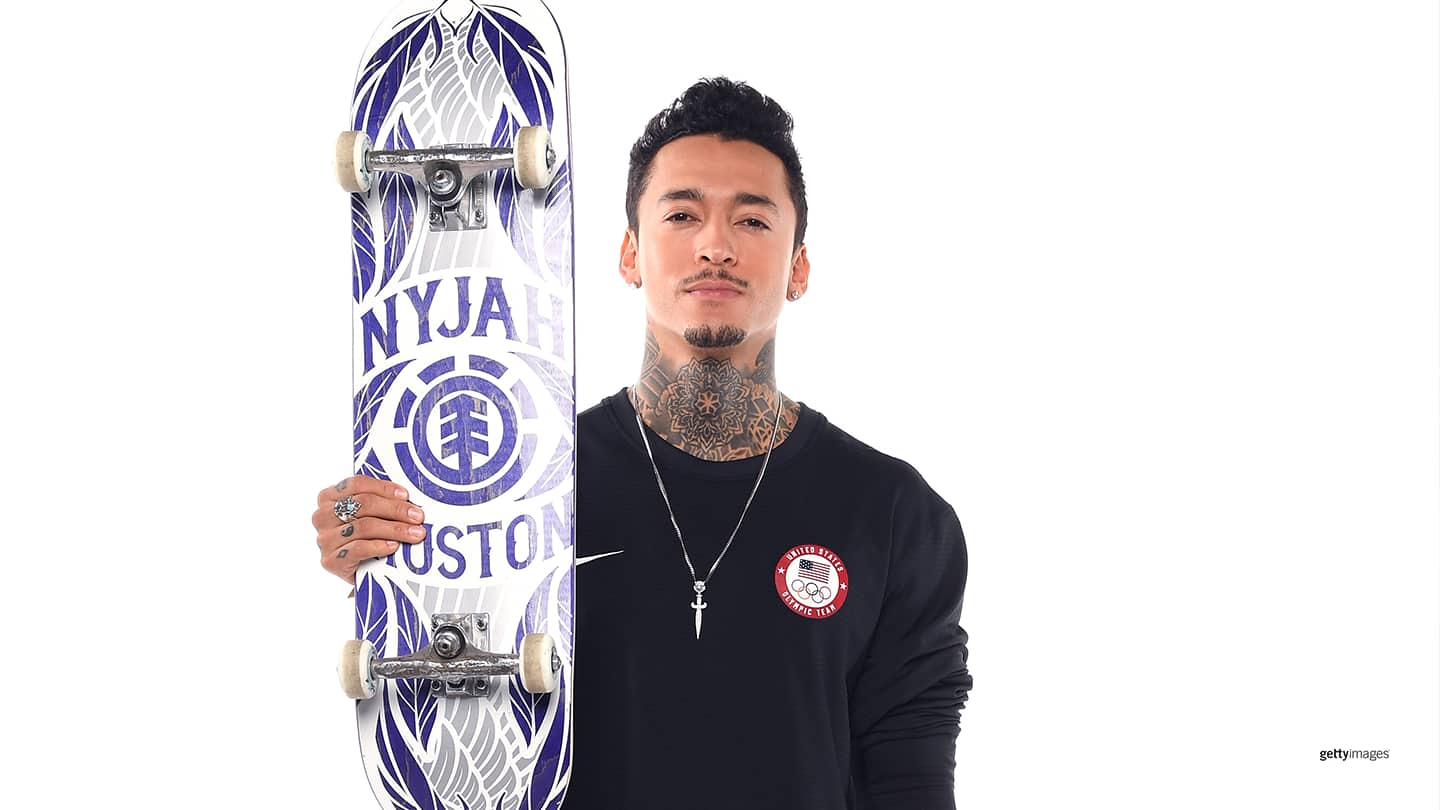 Nyjah Huston poses for a portrait during the Team USA Tokyo 2020 Olympics shoot on Nov. 21, 2019 in West Hollywood, Calif.
The world's top-ranked skateboarder wasn't able to take home the gold medal Sunday at the Street World Championships in Rome, but he did earn a chance to go for another gold.
In a hotly contested men's final, American Nyjah Huston won a silver medal at the worlds and qualified for the Olympic Games Tokyo this summer.

Japan's Yuto Horigome won the gold with a score of 36.75, with Huston a close second at 35.75. Japan's Sora Shirai captured the bronze with a 34.58.

The top three athletes on the men's and women's side automatically qualify for Tokyo. The remainder of the street field will be determined by the Olympic World Skateboarding Rankings on June 30.

Huston, a 26-year-old from Davis, California, overcame an early fall on the second of his two runs and entered the best trick portion of the final in first place. He posted his highest score of the best trick section on the fourth of his five runs with a 9.27.

Jagger Eaton came close to a podium finish but had to settle for fourth place at 34.36 points, while Jake Ilardi was seventh with 30.12.

In a 2019 interview with TeamUSA.org, Huston said competing in the Olympics "is definitely one of my ultimate goals in life."

Known for delivering with the most difficult tricks and best runs whenever the pressure is on, Huston is already a four-time world champion and an icon in street skateboarding.

A skateboarding prodigy, he made his X Games debut at age 11 and has since tallied 10 gold medals and 16 overall medals, both records for street skateboarders. (He also owns three more gold medals in other events.)

Now with 4.6 million Instagram followers, a signature shoe and an acting credit alongside the Rock in an episode of HBO's "Ballers," Huston is also one of the sport's most popular athletes.

On the women's side, none of the Americans gained an automatic trip to Tokyo. The best finish was from Mariah Duran, who finished seventh with a score of 11.64. The 24-year-old from Albuquerque, New Mexico, fell during the first of her two runs, then couldn't complete three of her five best trick runs.

The Olympic debut of skateboarding will feature contests in the street and park disciplines. Street takes place on a course with elements mimicking a regular street, while park is held in a hollowed out course.
Steve Drumwright is a journalist based in Murrieta, California. He is a freelance contributor to TeamUSA.org on behalf of
Red Line Editorial, Inc.