Swimmers Ryan Lochte And Rowdy Gaines Reflect On Their First Olympic Experiences — 20 Years Apart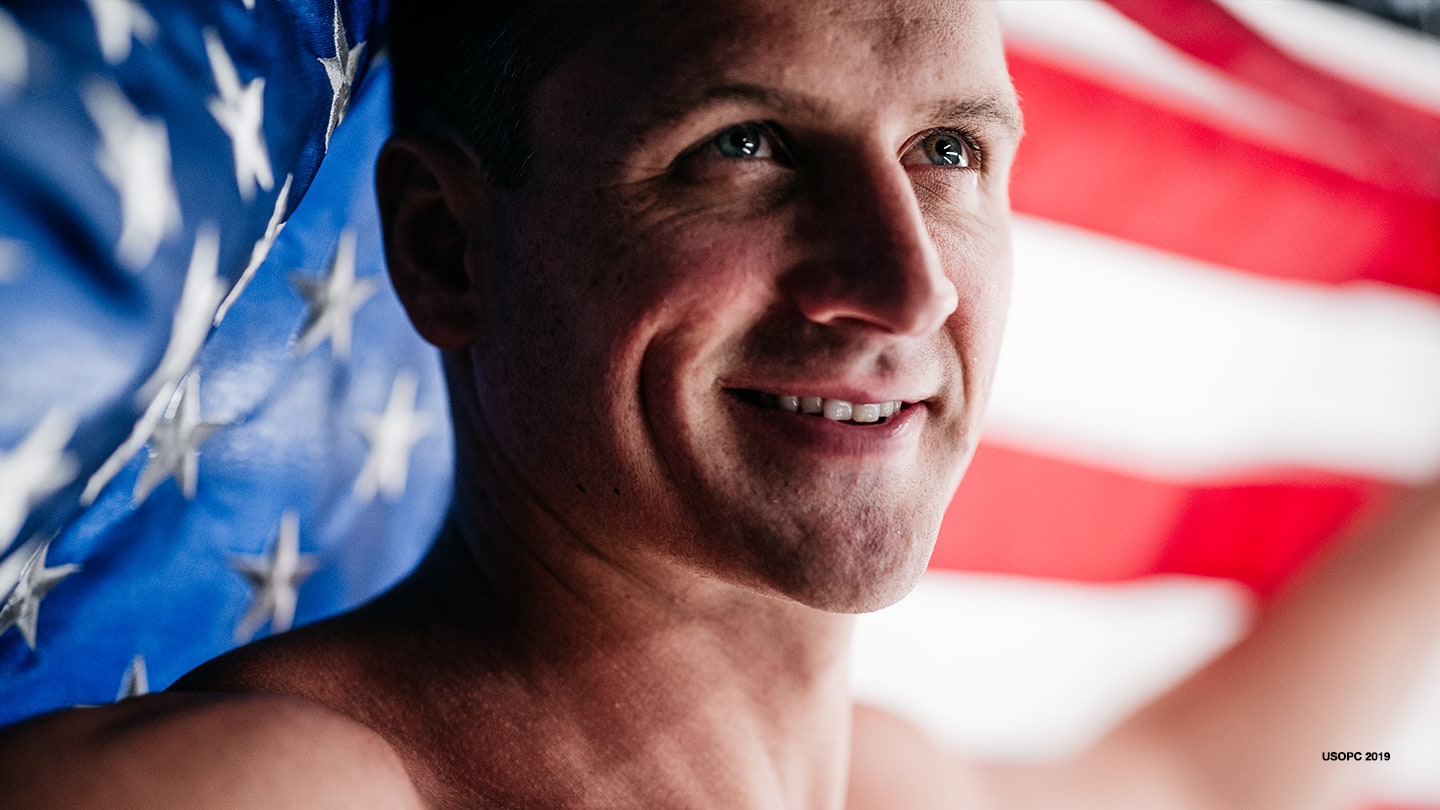 Ryan Lochte poses during the Team USA Tokyo 2020 Olympic shoot on November 23, 2019 in West Hollywood, California.
The day was August 4, 1984, a week into the Olympic Games Los Angeles 1984. A 25-year-old Rowdy Gaines had just won three gold medals at his first-ever Olympics. Despite dominating the sport four years earlier, he was unable to compete at the Moscow Games after the U.S. withdrew in protest of the Soviet invasion of Afghanistan.
The day prior — on the other coast, in Rochester, NY — Ileana Lochte had just given birth to Ryan Steven Lochte.
Fast forward 20 years, and Lochte would go on to compete at his first Olympics in Athens. Sitting in the broadcaster booth narrating Lochte's two medal wins? None other than Gaines, who has been at every Games since 1996 working as a swimming analyst.
Gaines was there in Athens when a 20-year-old Lochte took home his first hardware (a silver individual medal and first in his relay); and he was in the broadcaster booth for Lochte's following three Olympics. Over the course of four Games, Lochte took home a combined record of 12 medals — making him the second most-decorated swimmer, coming in behind Michael Phelps (who has a whopping 28).
We sat down with the two record-breaking swimmers to see how their first Olympic experiences compared.
How much media attention did swimming and you in particular get at your first
Olympics?
Gaines: Right after I won, things got a little crazy. [American swimmer and two-time gold medalist in LA] Steve Lundquist and I did an autograph signing outside the LA Coliseum and people were lined up. They had to escort us outside and everything, because it got too crazy. It had nothing to do with Rowdy Gaines and Steve Lundquist. It was just two Olympians. "Look, two Olympians are over there!"
Lochte: In 2004, the most media you saw was after your race. You had to go through the mix zone and there wasn't as many as you see now.
How long after your first Games do you remember getting
recognized?
Gaines: Fortunately, my Olympics were in the United States, so it was easier to get recognized — which was nice. Plus, as Americans we did not attend the Summer Olympics in 1980, so eight years went by between Summer Games. As a result, the hoopla was pretty high.
Lochte: My first Olympics I was still in college [at the University of Florida] as a sophomore. When I got back, I had like half the school at the airport in Gainesville. Everyone was there with signs, TV crews… I didn't know what was going on, because I wasn't used to that. But I've noticed that every year since then, swimming has gotten bigger. You see more media outlets, more fans, so the growth of swimming has definitely increased. It's amazing!
Did you have any sponsors going into your first Games? How about
afterwards?
Gaines: The first half of 1984 I made about $10 — I swear to God. I made almost zero. But the last six months I made about $50,000, which was more money than I had ever seen in my entire life. And that was because of the Olympics — appearances and things we got to do right afterwards.
Lochte: Because I was a college athlete, I couldn't take any money.
Did you receive money for winning a
medal?
Gaines: There was no medal money. [Medal bonuses from the USOPC started a decade later in 1994.] In fact, you weren't allowed to take any money — for anything — if you were a swimmer in college, or out of college. So those rules have changed dramatically.
Lochte: I was allowed to accept my medal money, [which was $25,000 for gold and $15,000 for the silver], but that went straight to training. It still helped me out.
Do you remember the biggest story out of the Games that
year?
Gaines: The big story for my Games was Mary Lou Retton. She was the gymnast [who won five medals, and the first American woman to win gold in the all-around], and the biggest star of those Olympics.
Lochte: In 2004 the biggest story was our relay team beating the Australians in the 4x200-meter freestyle relay. [It was the Australians first loss in six years. After the U.S. out touched the Aussies by 0.13 of a second, Gaines was heard commentating, "I've seen a lot of relays, but that one took it out of me."]
Did you have time to see many events at your first
Games?
Gaines: Look, when we're at the Olympics I have no idea what's going on. In my Olympics competing — and my Olympics broadcasting — all I know is swimming. Everyone else around the world could be in destruction and all I'd know is about the swimming. In fact, remember the diving pool in Rio got green? I didn't know that until like four or five days after.
Lochte: Swimming is like the first nine days and you're so glued into your own thing that you don't have time.
Did you get any free stuff as a perk of going to the
Olympics?
Gaines: A lot! Well at the time I thought it was a lot because you're just a kid and you've never had this kind of experience. I mean I lived in t-shirts and shorts, the same t-shirt and shorts for years, it seemed. So to be able to have this kind of stuff was pretty cool.
Lochte: Dude, a lot! We went to a warehouse with a shopping cart and you just go around and they throw stuff in there. It was amazing! I had a wardrobe for another month, or two. And we got flip-flops, things for summer, everything.
Lisa Costantini is a freelance writer based in Orlando. She has covered Olympic and Paralympic sports for various publications, and has contributed to TeamUSA.org since 2011.