Gymnast Morgan Hurd Adds Activism To Olympic Enthusiasm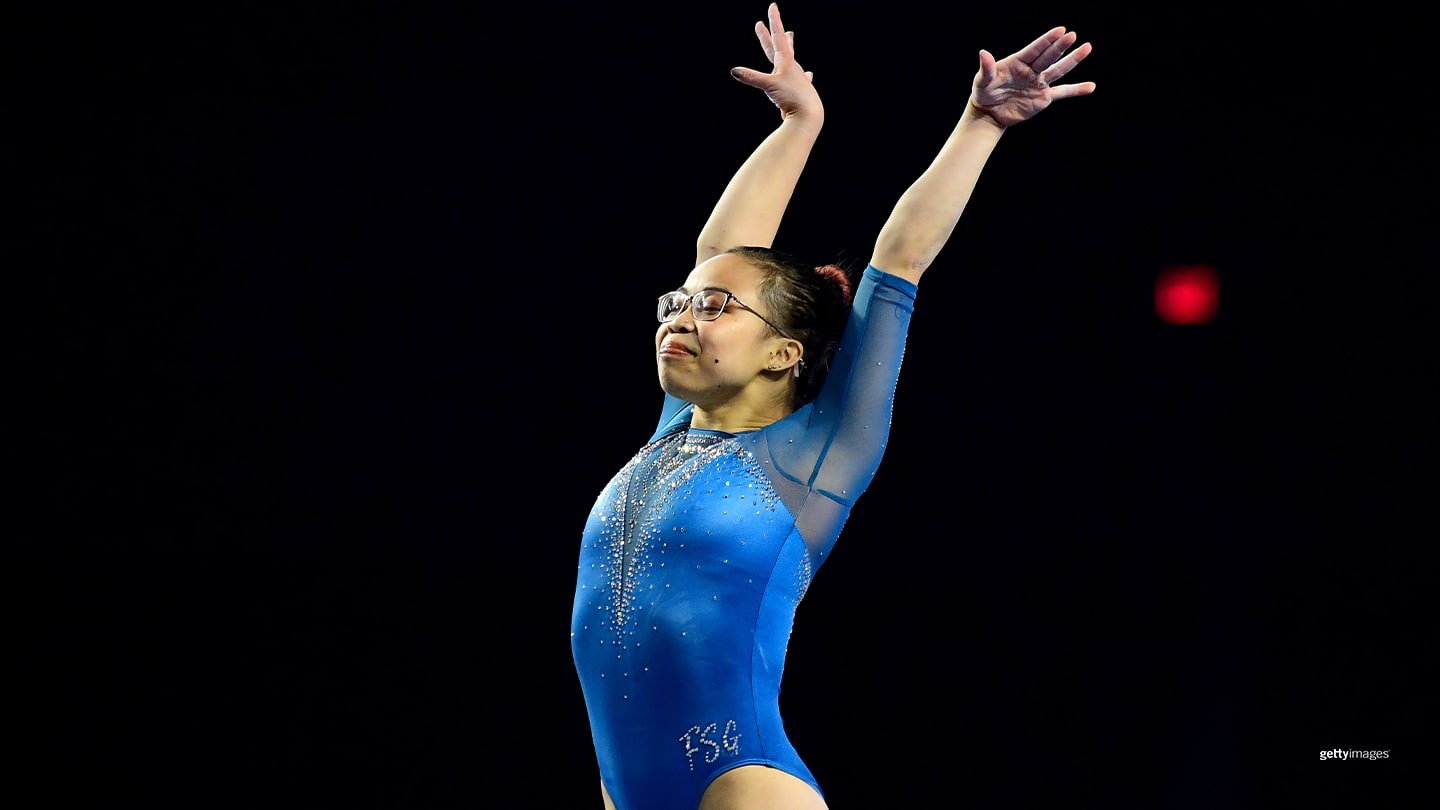 Morgan Hurd smiles after completing her floor routine during the 2021 GK U.S. Classic on May 22, 2021 in Indianapolis.
Morgan Hurd bounced into the Zoom meeting room and plunked herself down on a chair, laughing as she took off the white mask covering most of her face.

"Just caught it on my nose," the gymnast said, giving a thumbs-up sign that she's ready to speak. Ahead of last weekend's U.S. Classic, reporters from around the country were eagerly waiting to hear what she had to say, but Hurd couldn't hear them.

"Wait, can I turn this up? I can't hear this at all," she said, reaching forward to turn up the volume. "Okay, now I'm good."

In another time, the 19-year-old might have strained and made do, but Morgan Hurd's days of being silent and complacent are over.

In a year filled with change and uncertainty both in her sport and the wider world, Hurd has evolved from world champion gymnast to social activist, taking part in demonstrations and using her ample social media following (135,000 on Instagram alone) to advocate for a variety of causes, from Black Lives Matter to encouraging people to vote.

Proudly sporting a "Badass Woman" t-shirt, she attended the Women's March in Washington D.C. in October, and last month, she took the mic during a Times Square Takeover to Stop Asian Hate and delivered a fiery six-minute speech castigating those who perpetuated racism but also those who stood passively aside.

"I really thought to myself too that all of these things are bigger than gymnastics. If gymnastics disappeared tomorrow, then these problems would still be there, and I'm a person first and a gymnast second," said Hurd, who attended the Zoom call wearing a black T-shirt with the letters of her club, Delaware's First State Gymnastics, on the front, "Stop Asian Hate" written on the right sleeve and "BLM" on the left.

George Floyd's death was "the final straw" for Hurd, who was adopted from China as an infant. While a stark illustration of how much change needed to happen, it also empowered her to start working toward it.

"I slowly got more into it and then it just kind of completely consumed me," she said. "I just felt like I had to, and I wanted to do this, to really raise awareness and hopefully educate and inspire other people to educate themselves and speak out as well."

Hurd's other focus remains gymnastics, specifically realizing her longtime dream of making this summer's U.S. Olympic team. Things looked promising in March 2020, the month Hurd won her second American Cup, re-establishing herself as a viable Olympic contender after a less-than-ideal end to her 2019 season.

But yet another elbow surgery this March — the latest of several she's had throughout her career — has left Hurd climbing back toward where she was a year ago. At the U.S. Classic, she hit on balance beam and floor exercise, where she debuted new music and choreography in a routine she describes as "dark academia vibes," but her scores were not what she had hoped for. Landing in a tie for 10th place on floor and 11th place on beam suggests she will have to do better to keep herself in the Olympic conversation heading into next month's U.S. Championships and Olympic Team Trials.

Still, Hurd has done this before. In 2017, coming off a different elbow surgery, she finished sixth at the U.S. Championships and doubted she'd be selected for the world championships team. Two months later, she was world all-around champion.

"I clearly have expectations for myself and I know everyone else does too because of what I've done in the past, but at the same time — I've really had to constantly tell myself this — that that was how many years ago?" she said. "I was a fresh senior and my body was holding up better; I had been an elite a lot less time, so I just have to keep reminding myself that where I am now, I'm doing the best that I can do now."

Confidence in speaking her mind and facing down injustice is here to stay. Confidence on the competition floor is what's lacking.

"I definitely had a lot of anxiety. My gymnastics may not be as up to par as I would like but I have honestly never felt better just being out there," she said during another Zoom call, this one after the U.S. Classic. "Obviously I'm not completely satisfied with my performance today. I was extremely shaky. My landings were kind of all over the place. It was kind of sloppy and just really was not to my standards."

Time has changed her — but, she reflects, it also has the potential to strengthen her.

"It's been over a year since I've competed, and not only that but I've been battling injuries and have been able to put in the amount of work that I like to," she added. "I'm just going to take away the confidence from this leading up to the Championships and come back even better."

Spoken like someone with the power to change the world.
Blythe Lawrence has covered two Olympic Games and is a freelance contributor to TeamUSA.org on behalf of
Red Line Editorial, Inc.
Follow her on Twitter @rockergymnastix.