U.S. Men's Basketball Team Pulls Away From Czech Republic To Finish Group Play 2-1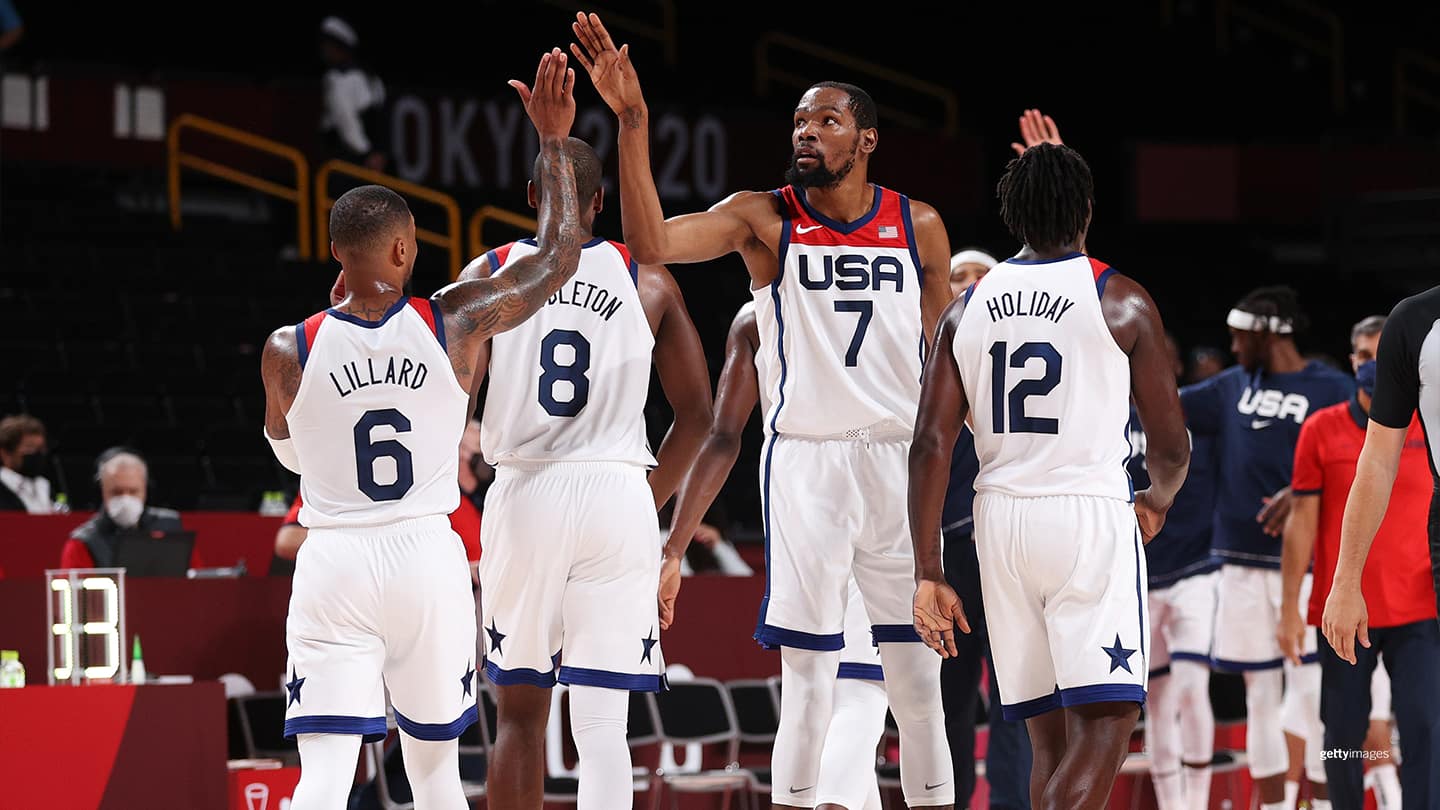 The U.S. Olympic Men's Basketball Team during the second half of a Men's Basketball Preliminary Round Group A game, at the Tokyo Olympic Games in Saitama, Japan on July 31, 2021.
After a rocky start, the U.S. Olympic men's basketball team finished group play strong with two runaway victories to build some confidence heading into the knockout stages, where it will be aiming for a fourth straight Olympic gold medal.

In its final game in Group A preliminary round play Saturday, the Americans overcame early shooting woes by ramping up the defensive pressure to cruise to a 119-84 win over the Czech Republic at Saitama Super Arena.

The U.S. now moves into the knockout quarterfinal round by virtue of its 2-1 record, good for second place in Group A. France, which beat the U.S. in its tournament opener, won the group with a 3-0 record. The Czech Republic slipped to 1-2. Iran, beaten by the U.S. Wednesday, finished fourth.

Jayson Tatum led the Americans Saturday with 27 points. Kevin Durant, who became the all-time leading Olympic scorer in U.S. men's basketball history, contributed 23 points, along with a team-leading eight rebounds and six assists.

Blake Schilb and Ondrej Balvin led the Czechs with 17 and 15 points, respectively.

The U.S. shot 62 percent from the floor, including an impressive 48 percent from behind the three-point arc. Their stellar defensive effort showed in their 27-8 advantage in points off turnovers.

The Americans led 47-43 at halftime. That U.S. extended that to double figures when a Durant layup made it 57-47 with 6:01 left in the third quarter. The Americans were off to the races from that point.

In their first Olympic appearance as an independent nation, the Czech Republic had moved to a 19-9 first quarter lead on the strength of hot shooting and the Americans' inability to find the basket. The U.S. finally began to chip away, though the quarter ended with the Czechs leading, 25-18.

"They're a pretty good team. They were playing good basketball," said U.S. forward Keldon Johnson. "They were up, but we didn't panic. We knew that as long as we keep playing together and doing what we're capable of, eventually we're going to make our runs."

The U.S. found its footing in the second quarter, keying its offense off new intensity at the other end of the court. Durant finally put his team ahead for the first time with a three-pointer that made it 34-33 with 6:19 remaining in the first half.

"I think it was our defense," said guard Jrue Holiday of the U.S. comeback. "We did a really good job of picking up, getting into the ball, and being able to rebound.

"The first quarter they were throwing it into the paint, they were throwing it into their (big men), and they were doing whatever they wanted. And I think that's just attention to detail. Trying to front that post and make it hard for them really worked for us."

Stunned by France, 83-76, in the opening game of preliminary round play, the Americans needed a victory over Iran to remain in contention for the gold. They didn't disappoint.

With a sense of urgency that was apparent on both ends of the court, the U.S. completely overwhelmed Iran and posted a 120-66 win.

"The last two games, we've been playing basketball how we know we can play," Johnson said. "The first game we were a little stagnant, a little hesitant. But the last two games, we've been playing freely and having fun.

"It's no pressure. We just want to win, whether it's by two points or 30 points. Everybody's got expectations for us. It doesn't really matter."
Want to follow Team USA athletes during the Olympic Games Tokyo 2020? Visit TeamUSA.org/Tokyo2020 to view the medal table, results and competition schedule.
Bob Reinert spent 17 years writing sports for The Boston Globe. He also served as a sports information director at Saint Anselm College and Phillips Exeter Academy. He is a contributor to TeamUSA.org on behalf of Red Line Editorial, Inc.