USA Skateboarding's Alexis Sablone Narrowly Misses Podium, Finishes Fourth In Women's Street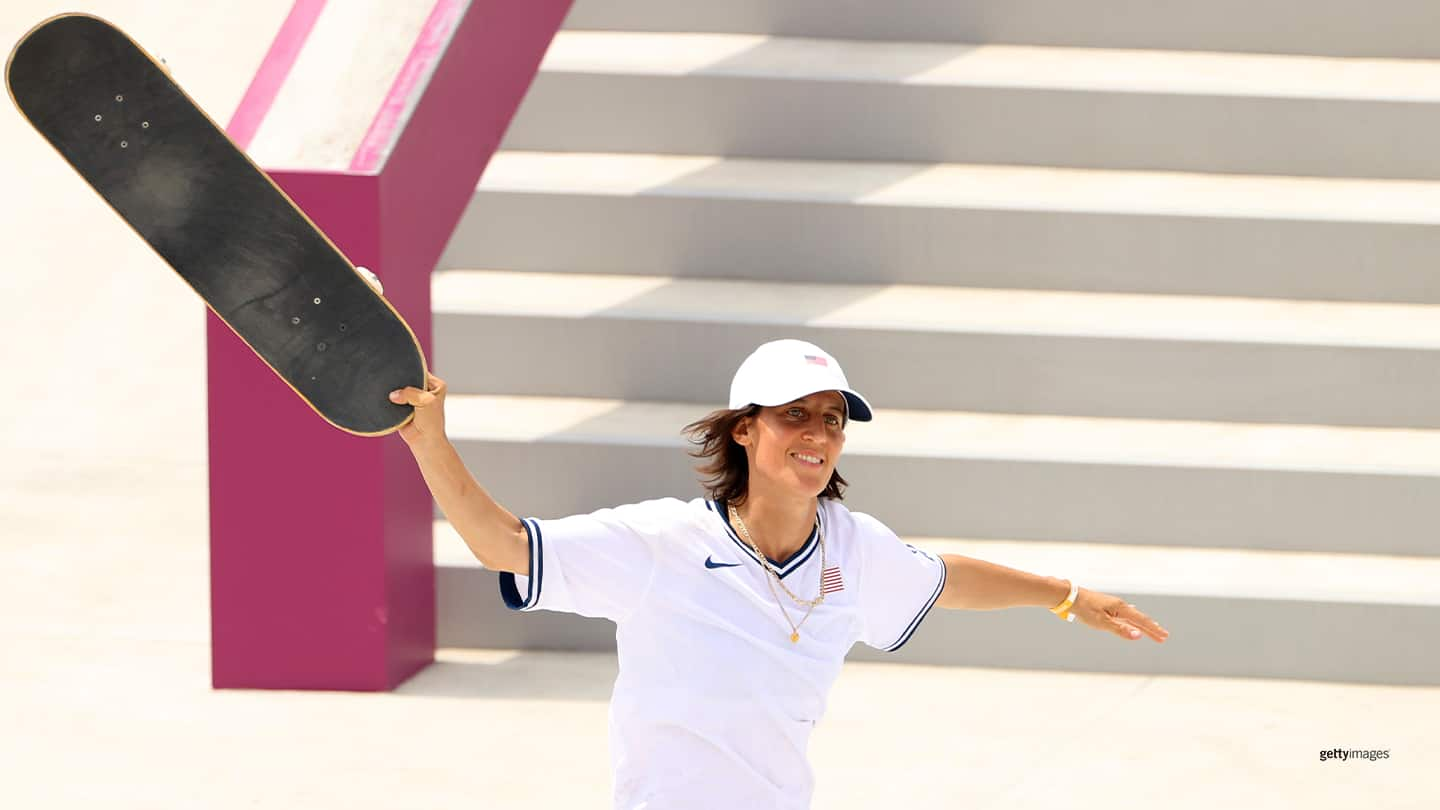 Alexis Sablone of Team United States holds up her skateboard at the Olympic Games Tokyo 2020 on July 26, 2021 in Tokyo.
On day two of Olympic skateboarding competition, Alexis Sablone did not come to mess around.

The 34-year-old hailing from Brooklyn, New York turned pro in 2018 and is currently ranked No. 12 in the world in the women's street event.

As women's street made its debut at the Olympic Games, competition was stiff, but Sablone fought her way into the finals. She ended up in eighth place following the prelims – enough to move on and compete for her chance at an Olympic medal.

"You can practice all day long, and you can still get out there and blow it," said Sablone. "I felt capable of making it into the final, but I wasn't expecting it."
The competitive field proved difficult for fellow Americans Mariah Duran and Alana Smith, who failed to make the finals. Duran, Team USA's No. 1 women's street athlete, finished 13th with Smith in 20th.

As the lone American in the finals, Sablone came out with two strong runs. Her third trick earned her a 5.01, the highest scoring trick of the entire competition, but it wasn't enough to put her on the podium.

Sablone's score of 13.57 was just 0.92 points away from a medal finish.

The youngest competitors were the showstoppers. Nishiya Momiji of Japan and Rayssa Leal of Brazil, both 13, won the gold and silver medals with scores of 15.26 and 14.64. Sixteen-year-old Nakayama Funa of Japan took bronze with 14.49.

"For a longtime there were way fewer females doing this," said Sablone. "It's taken until now to get enough people to pay attention, to get enough eyes on it, to inspire girls around the world to start skating. [Leal] is a prodigy. She's exceptional. It's wild to see. And Momiji too."
As skateboarding makes the transition from not just a lifestyle but to an Olympic sport, Sablone said it's important she stays true to her roots.
"To me, my heart is there first (non-competitive street skateboarding) because I didn't start skateboarding because I wanted to be in the Olympics," said Sablone. "That said, I'm really happy to be here, I worked hard to get here."
To Sablone, competitions are great, but that's not why she loves the sport – for her it's all about the community.
"There's a place for everyone," said Sablone. But it's very important that the heart of skateboarding doesn't die. And I don't think it ever will."
Want to follow Team USA athletes during the Olympic Games Tokyo 2020? Visit TeamUSA.org/Tokyo2020 to view the medal table, results and competition schedule.
Kara Tanner is a sports journalist and creative based in Colorado Springs, Colorado. She is the head digital content manager and editor for TeamUSA.org.