U.S. Women's Water Polo Opens Olympic Three-peat Quest With Record-Setting Win Over Host Japan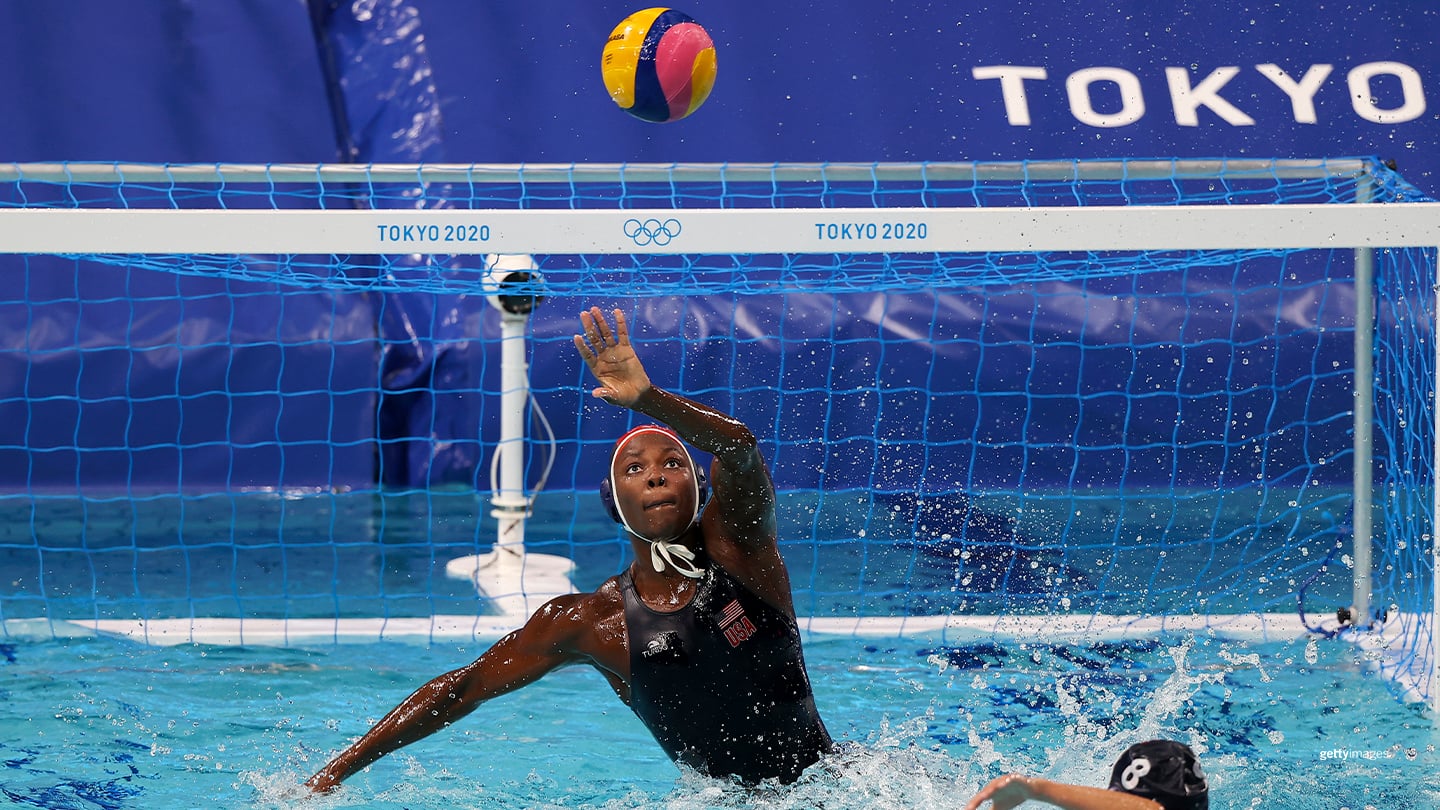 Ashleigh Johnson competes versus Japan at the Olympic Games Tokyo 2020 on July 24, 2021 in Tokyo, Japan.
TOKYO — Talk to the U.S. women's water polo team long enough, and you're sure to hear it.

"As many people have said, pressure is a privilege," U.S. coach Adam Krikorian said earlier this week.

"Pressure is a privilege," Maddie Musselman repeated one day later.

That pressure comes when you're the defending champ in just about everything. It could be applied, too, to opening the Olympic Games Tokyo 2020 against the host country, Japan.

Although Japan isn't quite a power in the sport — the team finished 13th in the most recent world championships, in 2019 — the host country always enjoys a certain Olympic boost, especially in its opener.

That proved to be the case on Saturday, when Japan came back from an early deficit to even things up 3-3 with the top-ranked U.S. team midway through the first quarter. Pressure is a privilege, though, and the two-time defending Olympic champs showed why that privilege was earned in scoring 14 straight goals en route to a record-setting 25-4 win at the Tatsumi Water Polo Centre.

Following a pandemic year in which the U.S. team went long stretches without access to a pool — and 453 days between games — the game was just what the team needed to start off its quest for a third consecutive Olympic gold medal.

"We talked about it before our tournament began and before this game, like this is the host team, and there's a lot of excitement that comes with that and also a lot of nerves," said Musselman, who is competing in her second Olympics. "I was pretty nervous before this game, and I think that's a good thing, to make it feel as real as possible, because it is real, whether theres's fans or not, and I thought we did a really good job of that."

Two-time Olympic MVP Maggie Steffens got things going for Team USA with a one-timer into the net just 21 seconds into the game, then skipped in another a little more than a minute later. She ended with five goals, matching that out Olympic rookie Stephanie Haralabidis. Nine Americans got on the board, with six scoring more than once.
All that offensive output led to multiple records.

With 14 goals in the first half, Team USA notched the most prolific first 16 minutes in Olympic history. The Americans then closed the deal by smashing the total goals record of 16, which both Australia and China achieved in 2012.

For good measure, Team USA's 21-goal margin of victory also eclipsed the previous record of 13, set by Australia over Great Britain in 2012.

Goalie Ashleigh Johnson, meanwhile, was as sturdy as ever in goal, stopping 15 of 19 shots. The MVP at the 2019 world championships, Johnson is widely considered the best goalie in the world.

Not that any of the U.S. players are slouches.

One of the dominant teams in all of sports, the U.S. has long winning streaks in each of the sport's major international competitions — two at the Olympics, three at the world championships, three at the World Cup and seven in the World League Super Finals.

The core of this team also helped the program win 69 consecutive games from April 2018 through January 2020, an unblemished streak believed to be the longest in the sport's history.

For all of the team's success, though, you won't mind them bragging about their success. This is a new team, they insist. This group hasn't won anything yet. And, Musselman made a point to add, Japan was more competitive than the scoreboard might have indicated.

"The energy that they bring when they play is always hard," she said. "And the score doesn't always reflect that."

For the U.S. players, it all comes back to that mantra.

That pressure to win again, they insist, is a privilege.

"It's a comment that we all talk about, and it's something that I think can be a negative," said Musselman, who scored four goals on seven shots against Japan. "A negative word is 'pressure.' The word itself, its definition is something that weighs on you, but I think we've kind of turned it into something that's like, no, this is a positive thing. And it was almost like reverse psychology in a way like, pressure is a good thing, it's something you want to have.

"And that in itself just allows you to play and let go."

Tougher tests are no doubt to come for the U.S. team, with group play games coming against China (July 26), Hungary (July 28) and the Russian Olympic Committee (July 30) still to come. Hungary and the ROC were fourth and fifth at the last world championships, while ROC is the defending Olympic bronze medalists.

Other top teams Australia, Spain and Italy, among others, could be waiting in the knockout round.

For now, though, the U.S. contingent is content to enjoy this win.

"To be honest this is as much fun as I've had in a long time," Krikorian said. "A lot of times I know the closer games are actually more enjoyable, but this is as much fun as I've had in a long time. Just coaching in a game, because you're finally here. And after 15 months of going through so much … this is the time to enjoy it.

"I can't wait for the next six games. I think it's going to be fantastic."
Want to follow Team USA athletes during the Olympic Games Tokyo 2020? Visit TeamUSA.org/Tokyo2020 to view the medal table, results and competition schedule.
Chrös McDougall has covered the Olympic and Paralympic Movement for TeamUSA.org since 2009 on behalf of
Red Line Editorial, Inc.
He is based in Minneapolis-St. Paul.