News
Foluke Akinradewo Gunderson
Return To U.S. Volleyball Team Sweet For Foluke Akinradewo Gunderson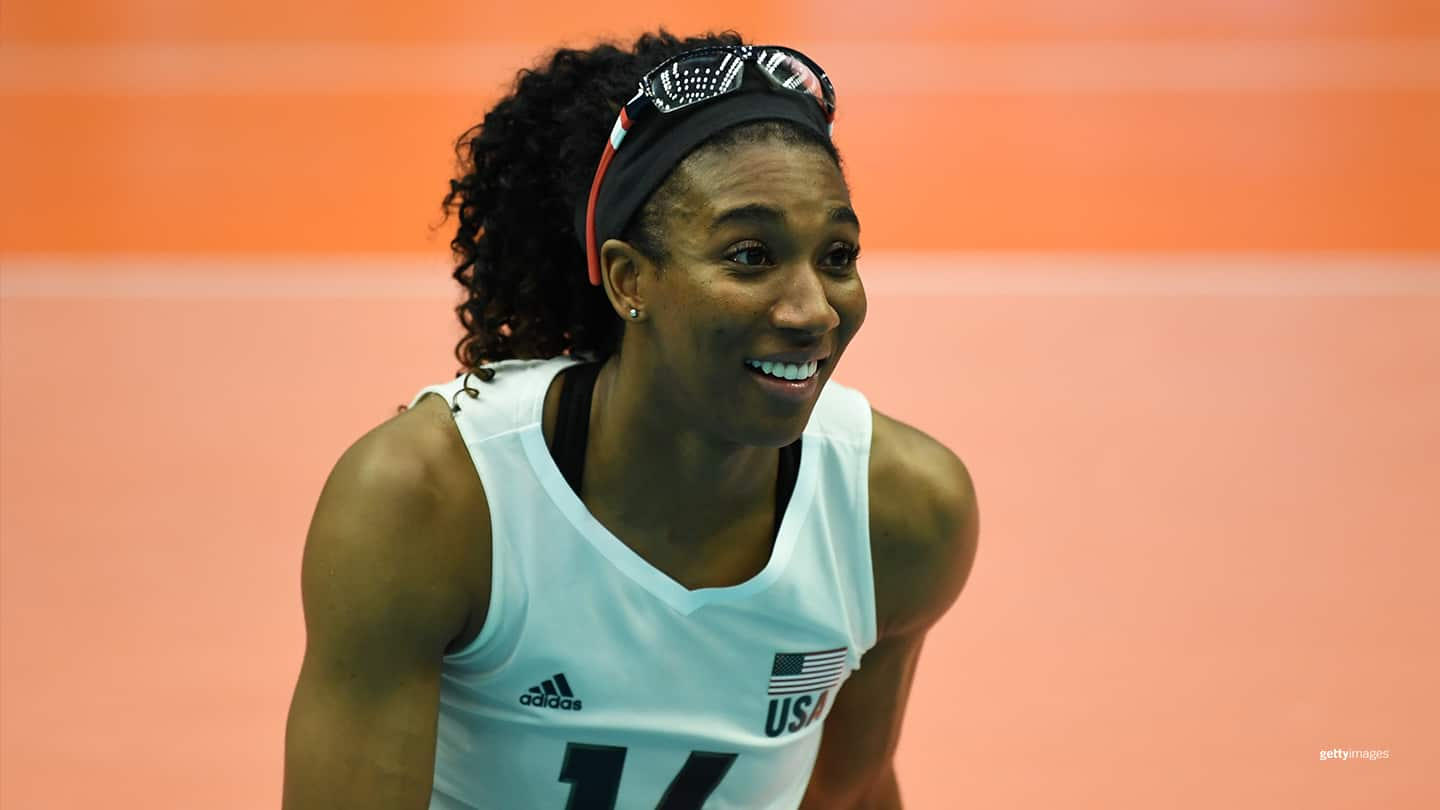 Foluke Akinradewo celebrates after defeating Japan at the FIVB Women's World Championship on Oct. 19, 2018 in Yokohama, Japan.
When is a team photo more than a team photo?
When it's a shot of middle blocker Foluke Akinradewo Gunderson surrounded by her U.S. volleyball teammates on the court for the first time in almost three years.

The soon-to-be three-time Olympian captioned the late May Instagram post, taken during the Volleyball Nations League tournament: "Last night, I got to compete for Team USA for the first time in almost three years. I never truly understood how much weight the USA jersey held until yesterday. It's been a long and arduous journey to get back here and there were many times I debated calling it quits along the way, but I'm so glad I didn't. It was all worth it.

For the longest time, I dreamt of becoming a mom AND a professional athlete. I'm proud to say that I am now both. Thank you to all the badass mothers who came before me and showed me that it was possible, and here's to those who will follow in our footsteps."

She continued to thank her teammates who motivate and inspire her and her husband who "continues to make sacrifices and hold it down at home while I continue chasing my dreams."

She ended it with, "The journey isn't over yet," and now the countdown is on to the opening of her third Olympic volleyball tournament.
Along with Jordan Larson, Akinradewo Gunderson is one of two players who will be competing for the third Games in a row this summer in Tokyo. Unlike Larson, however, Akinradewo Gunderson was working toward her third Olympic appearance while pregnant.
In a video posted to her Instagram in late 2019, she tells of first learning she was pregnant while competing in the playoffs with her club team in Japan.
She FaceTimed U.S. national team head coach Karch Kiraly so that he could plan for putting together the Volleyball Nations League roster. It was nerve-wracking, she said, even though she knew she did nothing wrong because it's difficult for female athletes who want to start a family but have obligations to their teams.
"I was really nervous telling him, but obviously he was really excited and supportive," she said in the video. "In total Karch fashion he was like, 'What's next? Let's come up with a plan. What are your intentions?' 'I want to come back and play in the Olympics.' 'OK, let's come up with a plan with our strength coach and trainers.'"
She was 32 weeks pregnant in the video, and still lifting weights three days a week plus doing yoga, pilates and spin classes. She said her end goal motivated her to keep going even as it got more difficult.
Akinradewo Gunderson and her husband got "the sweetest Thanksgiving blessing of all time" in 2019 when she gave birth to Olukayode Ayodele Gunderson, Olukayode meaning "God brings joy" and Ayodele meaning "joy has come home."
If there were any questions as to whether she'd have enough time to recover and get to where she needed to be to make her third Olympic team, they were moot after the Games were postponed from 2020 to 2021.
Akinradewo Gunderson returned to the Japanese club team for which she played from 2017 to 2019, Hisamitsu Springs, in the fall of 2020. This past spring, she rejoined the national team for the first time since the 2018 FIVB Volleyball World Championships to compete in the 2021 Volleyball Nations League.
At the beginning of June, USA Volleyball announced the
12-player Olympic roster
. Akinradewo Gunderson, who won Olympic silver in 2012 and bronze in 2016, was one of just four veterans to make the squad.
Later on that month, those same 12 players beat Brazil to win gold at the Nations League tournament for the third time in a row. Akinradewo Gunderson was a starter.
After the win, she posted: "Proud and honored to be a part of this sisterhood. A group of strong, badass women. The work continues. #23STRONG #3peat"
The U.S., ranked No. 1 in the world, will open the Olympic tournament against Argentina locally on July 25, which will be 10 p.m. on July 24 EDT. The medal matches will be held Aug. 7/8.
Find the full Olympic schedule on
usavolleyball.org
.
Karen Price is a reporter from Pittsburgh who has covered Olympic and Paralympic sports for various publications. She is a freelance contributor to TeamUSA.org on behalf of
Red Line Editorial, Inc.