Marathon Mom Aliphine Tuliamuk Back In Racing Mode With Daughter Along For The Ride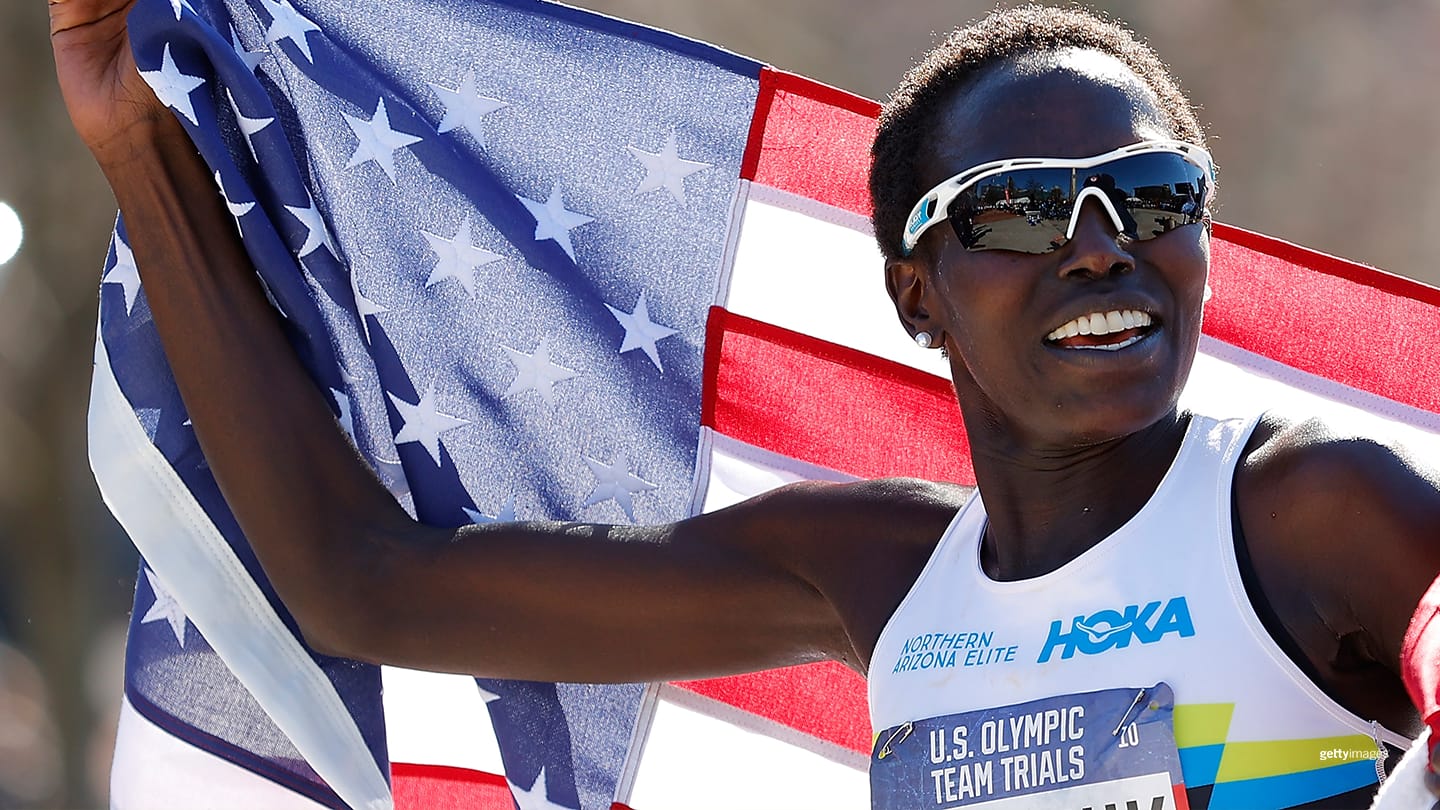 Aliphine Tiliamuk reacts after winning the Women's U.S. Olympic Marathon Team Trials on Feb. 29, 2020 in Atlanta.
ATLANTA - Aliphine Tuliamuk's daughter Zoe slept right through her mother's first race of 2021.

Tuliamuk, who won the U.S. Olympic Team Trials – Marathon on Feb. 29, 2020, took advantage of the Olympic postponement to have Zoe in January. Although Tuliamuk resumed intensive training for the Olympic Games Tokyo 2020, she had not tested herself in a race until lining up for the Peachtree Road Race on July 4.

"Training up until this point, honestly, has been a grind," Tuliamuk said, "I really hope the next race, which is the big one, I can dig in a lot deeper."

Still, she finished a respectable sixth in the prestigious road race, which doubled as the USATF 10K Championships, with a time of 32 minutes, 43 seconds. That was actually faster than Tuliamuk's winning time of 32:49 at Peachtree four years ago, and she hopes her performance answered questions about her fitness going into the Olympic marathon on Aug. 7.

"My daughter is going to be 6 months in 10 days," Tuliamuk said, "so that's a lot to ask of the body. My body has been handling things really, really well. I know there is a lot of skepticism out there that I can't even do it, so I'm really grateful for today because I think I've run times like this before when I'm totally healthy. So I'm happy about today."

She's also grateful and happy that Zoe, whose father, Tim Gannon, held her close in a baby carrier during the race, is expected to be able to accompany her to the Olympics. Although Tuliamuk said the news has not been officially communicated to her by the U.S. Olympic & Paralympic Committee, Tokyo organizers revealed last week that nursing mothers, such as Tuliamuk and Canadian basketball player Kim Gaucher, can bring their babies with them. Other family, friends and international spectators will not be allowed into Japan because of Covid-19 restrictions.

"It means the world," said Tuliamuk, who will stay with her family in an approved hotel in Sapporo, where the marathons were moved since that city is typically cooler than Tokyo.

Gannon, who is Tuliamuk's fiancé, will do double duty as her personal coach as well as take care of Zoe when Tuliamuk is busy.

After Zoe handled the grueling 23-hour journey from Flagstaff, Arizona, to Atlanta like a champ - with flight delays keeping them from arriving until 3:30 a.m. the day before the race - Tuliamuk isn't worried about the trip to Japan.

"She'll be part of the experience," Tuliamuk said. "Today I tried to remember my daughter's here, just so I can get motivation, but I don't think I was getting much out of it."

Neither was Zoe, who was slumbering peacefully. "Hopefully," Gannon said, "she'll be awake for the other one."

Tuliamuk wasn't the only Team USA athlete who was up before the sun to get ready to compete later this summer in the Land of the Rising Sun.

Galen Rupp, Jake Riley and Abdi Abdirahman, who went 1-2-3 in the men's marathon trials, also raced, while 2020 Paralympians Tatyana McFadden and Daniel Romanchuk won the wheelchair events.

Due to Covid-19 policies for spreading out the field, the wheelchair racers and elite women and men were on the course before the sun rose at 6:32 a.m. That meant the temperature for the race, which in previous years has been sweltering, was a very pleasant 64 degrees.

Sara Hall won the women's race with a time of 31:41 and defended her USATF 10K title just eight days after finishing a disappointing sixth at the U.S. Olympic Team Trials – Track & Field in the women's 10,000. Sam Chelanga, who was eighth in the men's 10,000 at the Trials, won the men's race in 28:43.

Rupp was a late addition after he placed sixth in the men's 10,000 at the Trials. Competing in his first 10K on the road, Rupp, the American record holder on the track, was eighth with a time of 29:05.

Rupp, a four-time Olympian who won an Olympic silver medal in the 10,000 in 2012 and the marathon bronze in 2016, said he wanted to run Peachtree "just to get another race."

While the Olympic marathon trials were also held in Atlanta, the courses only overlapped a little and the 10K offered a different set of challenges.

"It was a good effort, a humid race," Rupp said. "It was fun to come here. I'm still in heavy training right now, so it's about getting ready for the Olympics."

Of the famous Cardiac Hill, which has intimidated recreational runners at Peachtree for 52 years, Rupp pronounced, "It wasn't too bad."

Riley placed ninth, clocking 29:07. "It's a good hard effort and it gets the race jitters out," he said, "so in that sense, I think it gets me mentally prepared and back in the mode of things. I would have liked to have a run a little quicker, so I may need to go back and tweak a thing here or there."

Riley's only other race of 2021 was a 5,000 on the track a month ago. "That was a more real rust-buster and it didn't go very well," he said, "so this is better than that. And honestly, my last two marathon build-ups, my race a month to six weeks out has not been particularly good. This is following that theme, so in that sense maybe it's a good omen."

Abdirahman, a five-time Olympian who won Peachtree back in 2007, finished 15th in 29:46. It was his first race since the Trials.

"It was a good tune-up race for me and I'm happy where I am, to be honest," he said. "The first mile kind of felt weird, but I'm glad I'm back to good training now and things are feeling better and heading in the right direction."

McFadden, who will be competing in her sixth Paralympic Games, won her eighth Peachtree, extending her own record. "It's just so great to be back," she said. "This course is really perfect for me ramping up this summer for Tokyo for the Paralympic Games. I'm doing the 400, 800, 1,500, 5,000 and the marathon, so it's going to require a lot of speed, a lot of strength and a lot of endurance."

The cool temperature was a much different experience than McFadden had previously encountered on the Fourth of July in Atlanta. "Usually we're drenched by now," she said, "everyone's sweating. So, it's actually a perfect day."

Tuliamuk is hoping her perfect day will come in Sapporo. She said her performance was "very encouraging, because I still have four weeks of training. So I'm really hoping that those big workouts are really going to get me into the shape I need to be."

But as Tuliamuk, Gannon and their baby left the finish area, she said, " My legs are definitely feeling it."
Karen Rosen has covered every Summer and Winter Olympic Games since 1992 for newspapers, magazines and websites. Based in Atlanta, she has contributed to TeamUSA.org since 2009.