Speedskating Titles Highlight Big Weekend For Americans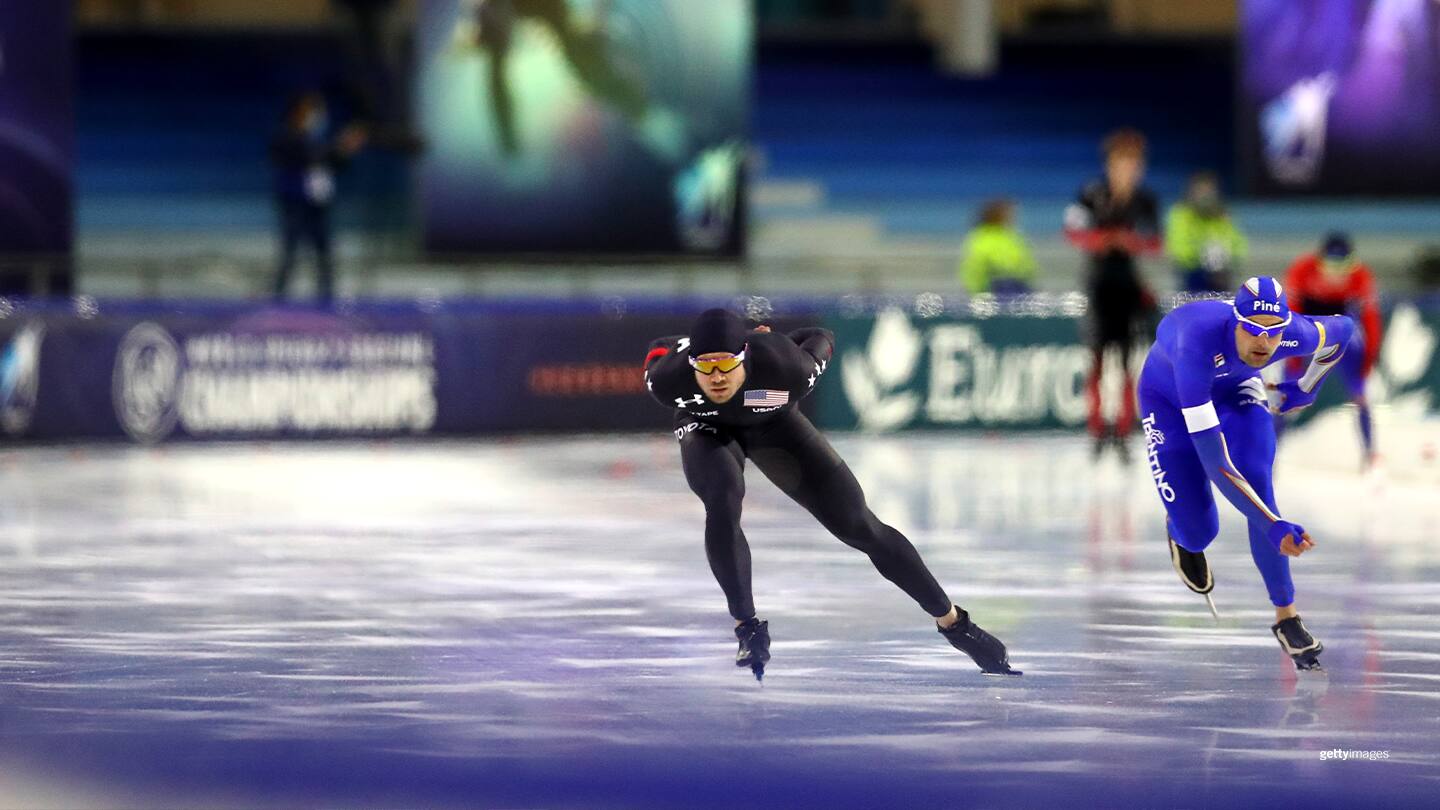 Joey Mantia competes in the 1500m Mens race at the ISU World Speed Skating Championships on Feb. 14, 2021 in Heerenveen, Netherlands.
It was a triumphant weekend for speed skaters Brittany Bowe and Joey Mantia at the ISU Single Distances World Championships in Heerenveen, Netherlands.

On Saturday, Bowe won her third world title in the 1,000 meters with a time of 1:14.128, becoming the winningest U.S. woman in history in the event with her 10th medal overall. On Sunday she nabbed a silver in the 1,500 to bring her total to 11. She is now tied with two other women for the most world titles ever in the 1,000 meters. Bowe also took eighth place in the 500 at Heerenveen.

Fellow two-time Olympian Joey Mantia also captured his third world title in the men's mass start with a time of 7:32.470. He's the first skater, man or woman, to win three world titles in the mass start — in fact, no other man has won it more than once. He followed his victory with a fifth-place finish in the 1,500.

Bobsled
Bobsledder Kaillie Humphries is the first women's monobob world champion ever after a big victory in Altenberg, Germany.

The event, in which women race solo, was making its debut at the world championships and will be contested at the Olympic Winter Games Beijing 2022. Humphries was in second place after the first two runs on Saturday but trailed by only 0.04 seconds. On Sunday she took the lead after the first run of the day and closed things out with her best performance yet, setting a track record with a final run of 59.47 seconds.

Teammate Elana Meyers Taylor also competed but crashed in two of the four runs and finished in 15th place.

Alpine Skiing
Breezy Johnson went into the weekend at the FIS Alpine World Ski Championships hoping for a medal, and although she did not reach the podium, she did race to her best finish ever at the event on Saturday. Competing in Cortina d'Ampezzo, Italy, Johnson got into trouble at the top of the course but with a strong recovery she finished ninth overall. Isabella Wright, competing for the first time at the world championships, finished 21st, while Jackie Wiles was 24th and Laurenne Ross was 26th.

In the men's downhill on Sunday, Bryce Bennett was the top American with a time of 1:38.89, good for 10th place. Rounding out the top 20, Travis Ganong finished 12th and Jared Goldberg was 20th.

Biathlon
Jake Brown went from a career-best 30th-place finish in the men's 10-kilometer sprint in a world cup event earlier this season to a 12th place finish at the biathlon world championships this weekend in Pokljuka, Slovenia. He followed that up with a 25th-place finish in the 12.5K pursuit.

Susan Dunklee was the top U.S. woman in the 7.5K sprint, coming in 18th, and also in the 10K pursuit, where she finished 27th.

Freestyle Skiing
Tyler Wallasch had a top-20 finish in Saturday's men's skicross world championship race in Idre Fjäll, Sweden, placing 19th overall.
Karen Price is a reporter from Pittsburgh who has covered Olympic and Paralympic sports for various publications. She is a freelance contributor to TeamUSA.org on behalf of
Red Line Editorial, Inc.