Brittany Bowe, Joey Mantia Shine At Single Distances World Championships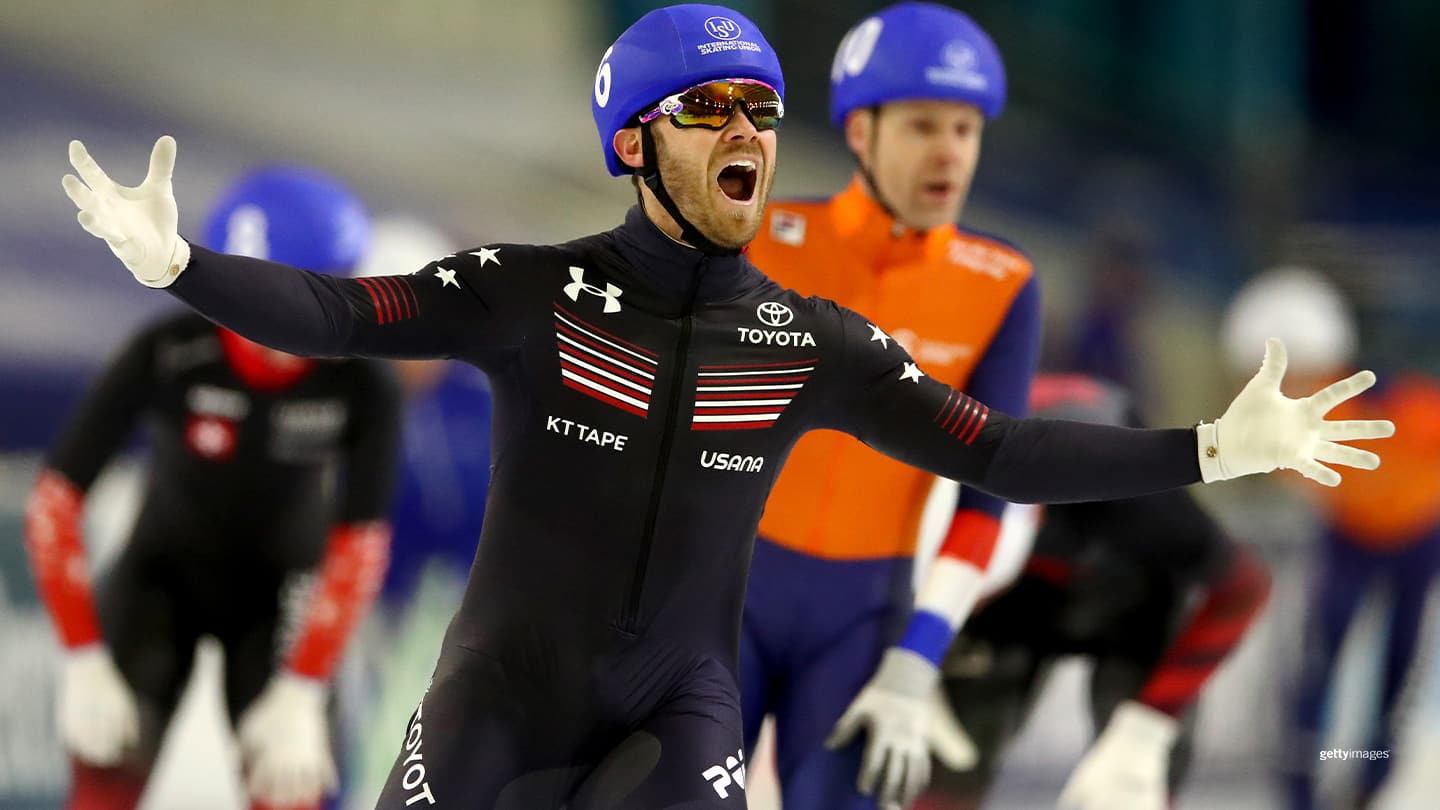 Joey Mantia celebrates victory after he competes in the Mass Start Final Men race at the ISU World Speed Skating Championships on Feb. 13, 2021 in Heerenveen, Netherlands.
Two-time Olympians Brittany Bowe and Joey Mantia will be taking some rather lofty titles into the upcoming Olympic Winter Games Beijing 2022.

Bowe won her third career title in the 1,000 meters and Mantia his third career title in the men's mass start at the ISU World Single Distance Championships in Heerenveen, Netherlands on Saturday.

First up was Bowe.

The 32-year-old from Ocala, Florida, reclaimed the throne after last winning the title in 2019. The victory comes six years to the day after she won her first world title in the 1,000, also at Thialf Arena. Bowe also won gold in the 1,500 in 2015, and she'll go for her second title at that distance on Sunday.

Bowe's gold was the first medal for the U.S. at this year's event and her 10th medal at the single distance world championships overall.

It's been quite a successful — if short — season so far for Bowe. World Cup competition resumed at the end of January, and in her first race in nearly a year, Bowe won at 1,000 meters. She followed it up with her second at world cup No. 2 the following weekend. She also has a pair of victories in the 1,500 meters.

Her success follows a disappointing showing at the 2020 world championships in Kearns, Utah, where she finished eighth in the 1,000 meters and did not reach the podium in any of her events.

Saturday's victory was substantial for Bowe, who is the world and track record holder at that distance. She came up shy of those times with a finish of 1 minute, 14.128 seconds, but that was still .54 seconds faster than the second-place finisher and 2020 world championship victor, Jutta Leerdam, of Netherlands. Russia's Elizaveta Golubeva was third.

Mantia's victory closed out competition for the day, adding to the titles he won both in 2017 and 2019. He's now just the second man to win three world titles in one event, following five-time Olympian Shani Davis who won four titles in the 1,000 meters and three in the 1,500.

The 35-year-old, who also hails from Ocala, finished in 7:32.470 to claim world title No. 3 and will head into Beijing as a favorite to win his first Olympic medal after competing in both 2014 and 2018. Mantia finished in fourth place in the mass start in the second world cup of the season. He was fifth at the 2020 world championships.

Arjan Stroetinga of Netherlands was second in 7:32.770 and Bart Swings, of Belgium, took third.

Conor McDermott-Mostowy, who earned a spot on the U.S. national long track team for the first time this season and is making his world championship debut this weekend, was 17th in the men's 1,000 meters.
Karen Price is a reporter from Pittsburgh who has covered Olympic and Paralympic sports for various publications. She is a freelance contributor to TeamUSA.org on behalf of
Red Line Editorial, Inc.