USA Luge's Slider Search Goes Full Circle For National Team Member Zack Digregorio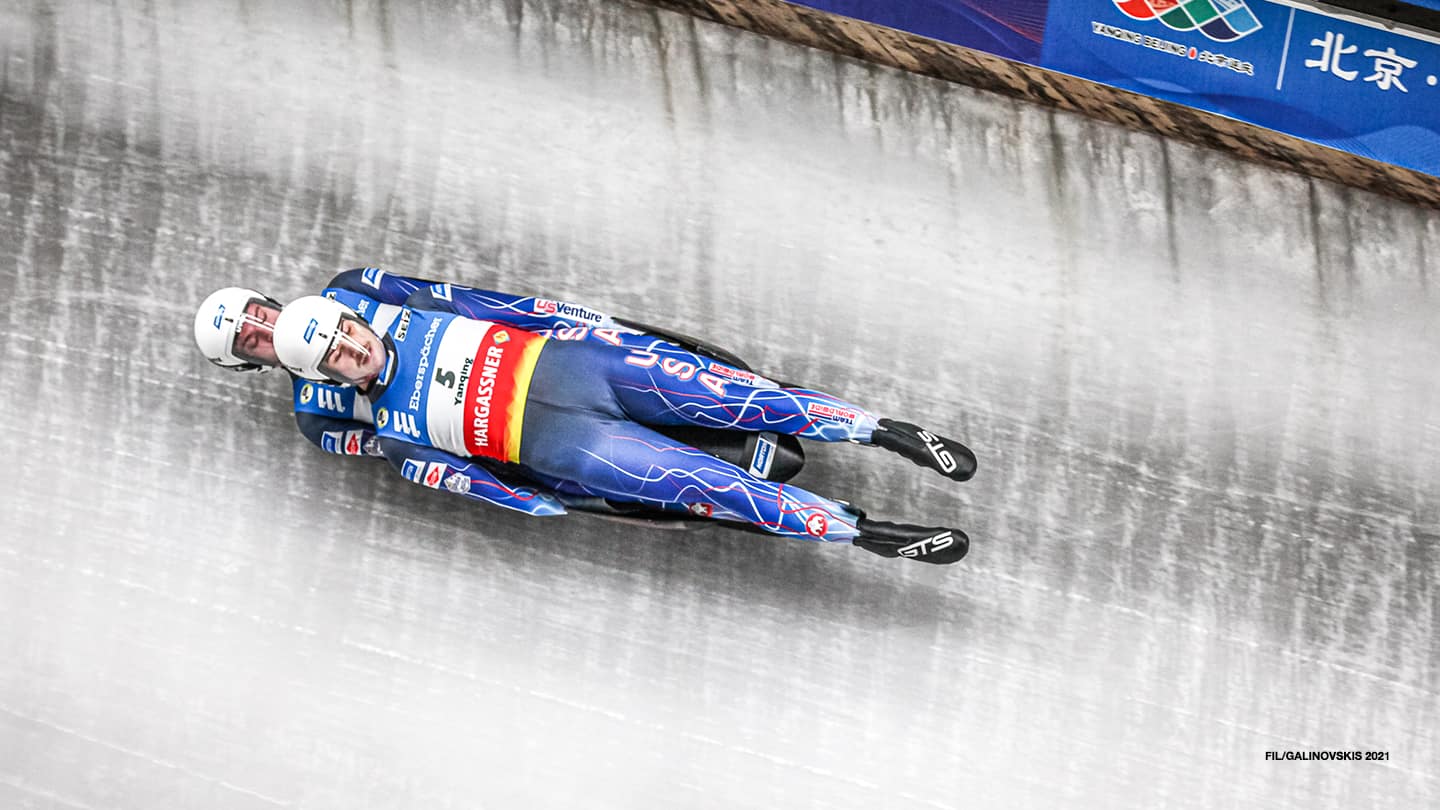 Zack Digregorio and his doubles partner Sean Hollander compete at the Beijing FIL Luge World Cup on Nov. 21, 2021 in Beijing.
When Zack Digregorio helped with a USA Luge Slider Search event a few months back in his hometown of Medway, Massachusetts, on the sloped driveway at his old elementary school, it brought back memories.

"This was a great event, and it was the way I got into the sport," Digregorio said. "The whole town of Medway has shown so much support, and it was very cool to have the event at the place I went to school as a kid and next to the hill my friends and I grew up sledding on."

Now 20 and a member of the U.S. national team, Digregorio was discovered at a similar Slider Search event less than an hour away in Carlisle, Massachusetts, when he was 10 years old.

"I remember it was an adrenaline rush and was very fun to compete against my brother throughout the day, even without there being any timing but just giving each other a hard time if one of us hit a cone going down," Digregorio recalled. "Nobody in my family, except my mom, knew what luge was at the time. And she told us we were going to get ice cream from a great local place called Kimball Farm, so my whole family came for the trip."

The luge portion of the trip wasn't particularly consequential, Digregorio recalled. His tryout went well, but he also wasn't going to be devastated if that was the start and end of his journey in the sport.

Eventually, he learned it was the beginning.

"A few months later, I remember getting the letter in the mail saying I was invited to come try out again in Lake Placid and was very excited," he said, "but at the time most of the excitement was from getting to miss a couple days of school."

Digregorio has been in the sport ever since.

"Overall, I had a love for the sport at a young age and that has never left," he said, "which pushes me through all the ups and downs and makes it so in 10 years I can be competing with all the best athletes in the world."
Digregorio, who won a silver medal at a junior world cup singles race at Altenburg, Germany, in 2019, is currently competing in doubles with new partner Sean Hollander. The duo placed 22nd in last weekend's world cup race in Igls, Austria.
"I feel like my progress in the sport has been a very long roller coaster," Digregorio said, "with some weeks and months feeling like I learn something and get better every second I'm doing luge, and other days where I can't get out of my own way, which has shown more than ever in my recent switch to doubles."
Digregorio was pleased with slider search event in his hometown, which drew about 60 kids.
"I thought it was a really good turnout," he said. "Almost all the groups were full, and the kids all were having fun and, most importantly, no one got hurt."
What advice would Digregorio give to kids who might want to try the sport?
"I would tell them to get out to a local Slider Search, or if you are close to Lake Placid, go up for a weekend and do a club session that (USA Luge Head of Development) Aidan Kelly coaches and see if you like it," Digregorio said. "The first couple of years are not too much of a commitment, and I kept playing other sports like lacrosse all the way through high school. If they enjoy it on pavement, they will love it when they get to try it on ice."
USA Luge began holding Slider Searches for ages 9-13 in 1985. The intent is to "identify, train and qualify young athletes for the USA Luge Development Team." Over those 36 years, the program has traveled more than a quarter-million miles and introduced luge to more than 25,000 youngsters.
At the events, athletes are taught the basics and take several runs down a paved course on wheeled sleds. They are also put through fitness tests. Promising candidates are then invited to try luge on ice at a sanctioned training site.
Most of the junior national team was recruited through the program. Erin Hamlin, 2014 Olympic bronze medalist and 2009 world champion, came from a 1999 search. Brian Martin, 1998 Olympic bronze medalist and 2002 Olympic silver medalist, was identified at one in 1987. Some 70 percent of Olympic teams since 2002 were developed through the program, according to USA Luge.
For more information on the slider search, email info@usaluge.org, or call 1-800-USA-LUGE.
Bob Reinert spent 17 years writing sports for The Boston Globe. He also served as a sports information director at Saint Anselm College and Phillips Exeter Academy. He is a contributor to TeamUSA.org on behalf of
Red Line Editorial, Inc.