Breezy Johnson's Hot Streak Continues In Val d'Isere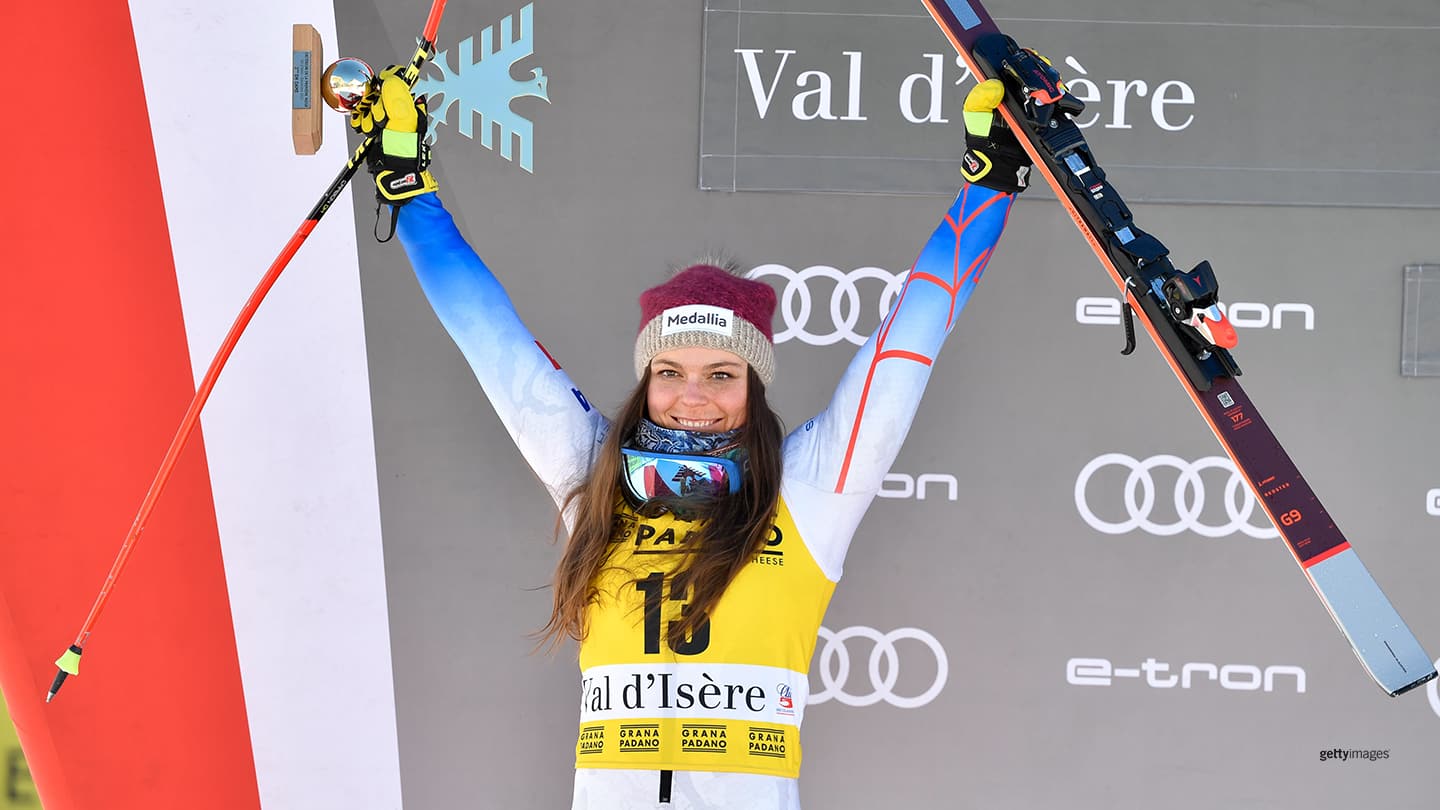 Breezy Johnson celebrates after the women's downhill race at the FIS Alpine Ski World Cup on Dec. 18, 2021 in Val d'Isere, France.
Breezy Johnson recorded her third podium of the alpine skiing world cup season on Saturday, while Mikaela Shiffrin was just off it on Sunday in Val d'Isere, France.

Johnson, who reached her first world cup podium exactly one year ago in Val d'Isere, raced to a second-place finish in Saturday's downhill. The 25-year-old flew down the speedy course in the French Alps to finish with a time of 1:41.98. That was .27 seconds behind Sofia Goggia of Italy, who now has seven downhill wins in a row dating back to December 2020 in Val d'Isere.

Goggia and Johnson also finished 1-2 in consecutive downhills earlier this month at Lake Louise, Alberta.

Johnson, who has now accumulated seven world cup podiums, all in the downhill, is seeking to make her second Olympic Winter Games next year in Beijing.

"I'm happy with my skiing today," Johnson told U.S. Ski & Snowboard. "Sofia I'm sure had a great race. I didn't watch her run because I didn't want it to get in my head, but she has been incredible."

Shiffrin skipped the downhill to prepare for Sunday's super-G, where she finished fifth while coming within a quarter-second of the podium.

Goggia won this race as well, finishing with a time of 1:19.23. Shiffrin was .75 behind Goggia, but only .24 behind Italy's Elena Curtoni (1:19.74) for the final podium spot. Norway's Ragnhild Mowinckel (1:19.56) was second. Johnson (1:20.31) finished ninth.

The result kept Shiffrin in second place in the world cup overall leaderboard, 65 points behind Goggia but 230 ahead of Slovenia's Petra Vlhova. Johnson ranks fourth, just 18 points behind Vlhova.

Shiffrin, a two-time Olympic gold medalist and three-time world cup overall champion, has recorded two wins and six podium finishes so far this season. She will have ample opportunity to close the gap on Goggia in the coming weeks as the world cup heads into a stretch of eight consecutive technical races, in which Shiffrin has traditionally thrived.
Chrös McDougall has covered the Olympic and Paralympic Movement for TeamUSA.org since 2009 on behalf of
Red Line Editorial, Inc.
He is based in Minneapolis-St. Paul.