Breezy Johnson Snares Two Silvers in Alpine Skiing at Lake Louise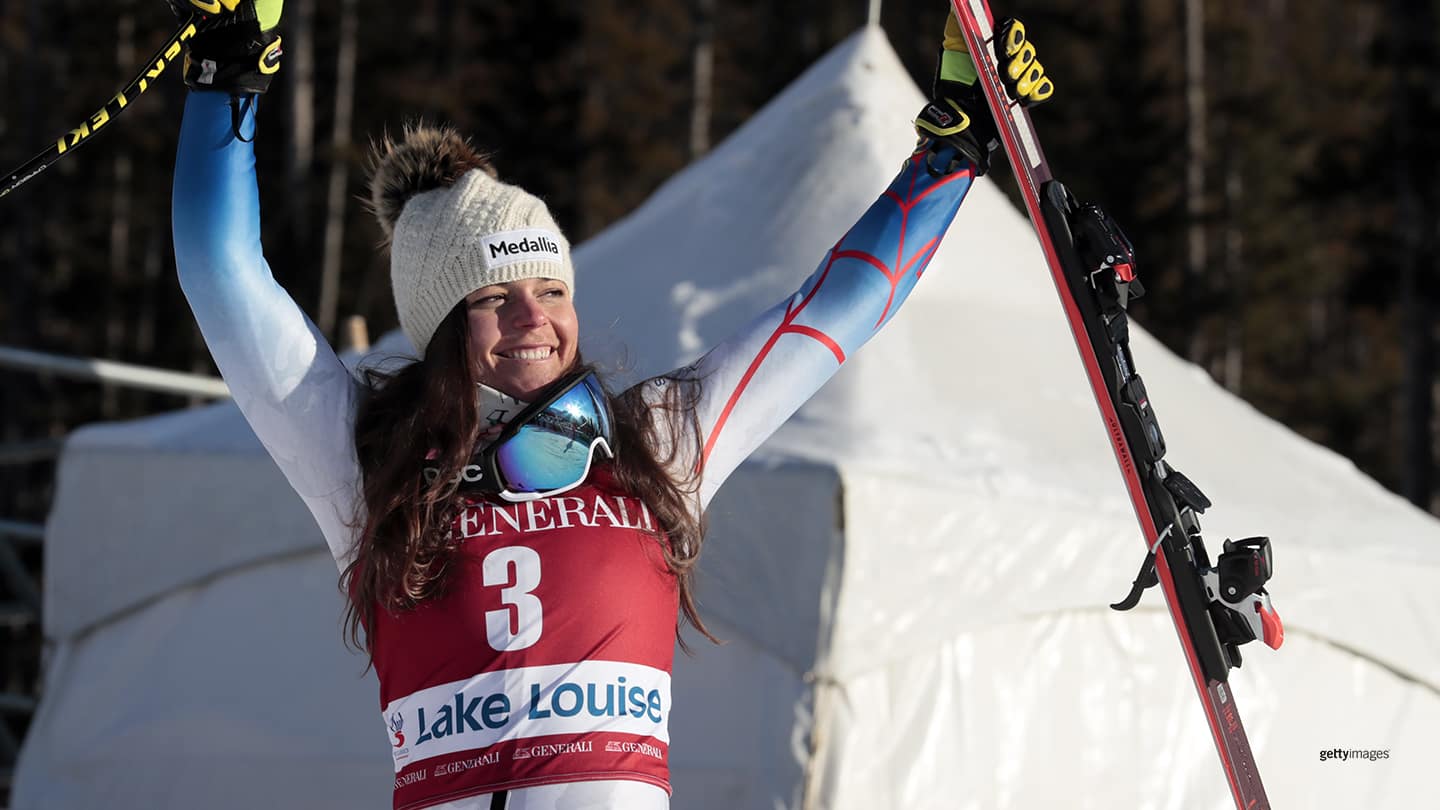 Breezy Johnson takes 2nd place in the women's downhill during the Audi FIS Alpine Ski World Cup on Dec. 3, 2021 in Lake Louise, Canada.
Breezy Johnson admitted she has visualized the alpine skiing course in Lake Louise, Alberta, hundreds of times over the past four years.

When she finally got the chance to ski it this week, the course was much different than she expected.

Johnson overcame heavy snow and low visibility to earn a pair of silver medals at the women's downhill skiing world cup in Lake Louise.

The 2018 Olympian challenged Italy's Sofia Goggia, the reigning Olympic downhill gold medalist, for the top spot on the podium throughout the weekend.

"I tried my best, and I was happy with my run," Johnson said. "I wanted to ski well, and I feel like I did. Two years ago, I wasn't here because I was injured, which was really hard for me. So I'm just really happy to be back here racing."
In the first @fisalpine downhill race of the season, @_BreezyJohnson finishes in second place! 🥈@usskiteam | #WorldCupLakeLouise pic.twitter.com/gxiPTxAp31


— NBC Olympics (@NBCOlympics) December 3, 2021
Johnson picked up her first silver medal of the world cup Friday, finishing the women's downhill race in 1 minute, 48.42 seconds. She was 1.47 seconds behind Goggia, who took the gold at 1:46.95.
The two top skiers went back and forth again the following day, this time with the ski conditions more difficult than Friday.
Johnson earned her second silver in Lake Louise with a time of 1:49.26 on Saturday, just .84 seconds behind Goggia's winning time of 1:48.42.
"Consistency is not something that every downhill skier is blessed with, but based on my four podiums last year and these two, I hope that maybe I have that," Johnson said.
Goggia earned a sweep with her third gold medal of the weekend Sunday, winning the super G in 1:18.28. Johnson was 11th in 1:19.36.
American Mikaela Shiffrin, a two-time Olympic gold medalist and three-time world cup overall champion, missed out on medaling in Lake Louise. She finished 26th Friday with a time of 1:50.55 and 38th Saturday at 1:51.86. Shiffrin earned her best finish of the weekend in Sunday's super G, placing sixth at 1:18.66.
Alex Abrams has written about Olympic and Paralympic sports for more than 15 years, including as a reporter for major newspapers in Florida, Arkansas and Oklahoma. He is a freelance contributor to TeamUSA.org on behalf of
Red Line Editorial, Inc.