U.S. Women's Hockey Team Comes Up Short In Another Tough OT Battle With Canada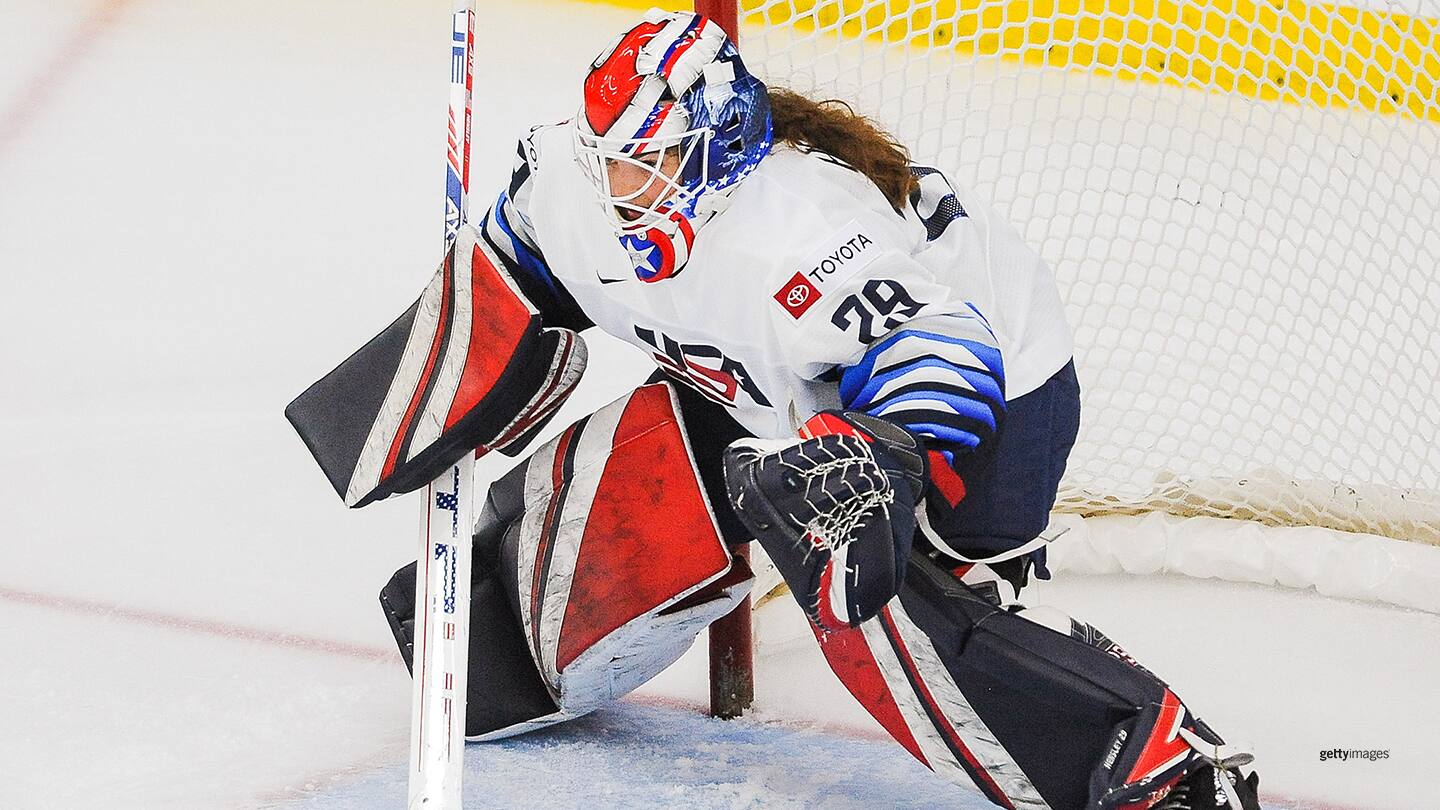 Nicole Hensley competes during the gold-medal game at the 2021 IIHF Women's World Championship on Aug. 31, 2021 in Calgary, Canada.
MARYLAND HEIGHTS, Mo. — Just like Wednesday night, the U.S. women's hockey team went into the third period Friday night needing a tying goal.

Again, they got one. And when they needed another one, they got that one too.

But for all that resilience, it was again an overtime goal that went missing as Canada skated off as extra-frame winners at Centene Community Ice Center in the sixth game of the My Why Tour between the rivals. Frequent U.S. tormenter Marie-Philip Poulin got the winner for the second game in a row 3:31 into overtime to spoil another third-period comeback for the United States. Kendall Coyne Schofield and Savannah Harmon scored their first goals of the My Why Tour to draw the U.S. even in another back-and-forth physical game typical of the rivalry.

"I think every time you get the chance to play them it's going to be like that and it's going to be intense I think," said U.S. goalie Nicole Hensley, who saved 28 of 31 shots. "When you first start with this program and you come in you learn pretty quick from the veterans how much it means to win these games, whether it's in October, November, December and February, we always want to beat them, especially when we're on home soil. It stings a little bit more today but we had an awesome crowd and it was incredible to play in front of today."

After a scoreless first period in which the U.S. outshot Canada 13-6, Canada tallied first with a goal in the second period. Sarah Fillier scored just one minute into a second period that Canada dominated, shot-wise. The second period also saw a skirmish following a boarding major assessed to Team USA's Abbey Murphy that saw an additional minor given to Murphy and two minors to Canada with a lengthy delay to sort out the penalties.

"I thought it was real messy early on, just kind of back and forth but on either side not a lot of crisp passing or receiving," said U.S. head coach Joel Johnson. "And then as the game kind of went to the second period it felt like the second period lasted the month of December. Just felt like the Twilight Zone for a bit."

But any sluggishness in the first two periods was gone by the third, which featured back-and-forth action and a goal for Team USA just 1:53 in. On the power play, Coyne Schofield was in perfect position to stuff home a pass from Hilary Knight. Canada would respond just over a minute later, but then came the chance for Harmon that came at the end of a good spell of U.S. pressure. The tough angle shot ricocheted in and out of the goal causing several on the ice to keep playing, but Harmon knew right away.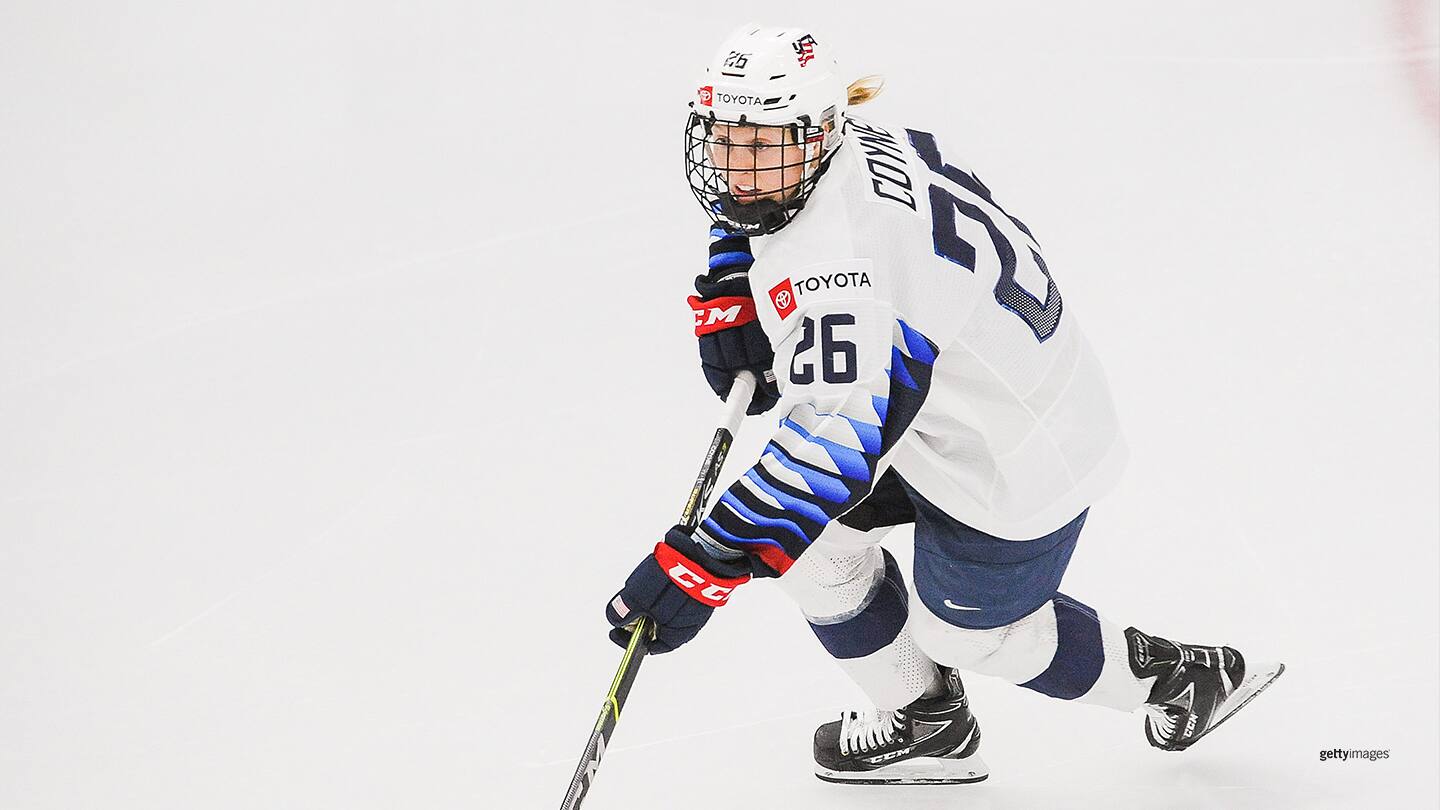 Kendall Coyne Schofield competes during the gold-medal game at the 2021 IIHF Women's World Championship on Aug. 31, 2021 in Calgary, Canada.
"It was awesome," Harmon said. "I think our forwards did a really good job of having sustained pressure and I was able to just creep in a little bit, I got a nice pass from the zone and shot my shot and right away I thought it went in and celebrated, and then when the play kept going got a little nervous but then I looked over and saw the ref so was relieved a little bit."

The U.S. was able to kill off a late power play that straddled the end of regulation and overtime, with Hensley making several big stops. But she wasn't able to stop Poulin, who was one-on-one with her choice of spots to pick out. She rifled hers top shelf to the delight of the few maple leaf-clad fans among the near-capacity crowd.

In addition to getting the start for the first time since the Nov. 21 game on tour, Hensley received a special honor before the game. In January she'll be inducted into nearby Lindenwood University's Sports Hall of Fame for her contributions to the Lions program as a player and coach. Team USA's No. 29 racked up more saves at Lindenwood than any goalie in women's college hockey history.

"This was incredible, this was one of the most exciting and also most nervous I've been for a game in a long time. There were so many signs and so many 29 jerseys in the crowd I really wasn't expecting that. But St. Louis has always had a special place in my heart and to get to play in front of all these little girls that I've coached over the years was pretty special."

The St. Louis leg of the My Why Tour is now complete as the U.S. will head to St. Paul, Minnesota, for the final American game of the tour. They'll be looking for their first home win, as, oddly, the road team has won every game of the tour so far. The "State of Hockey" is where the Olympic team roster will be unveiled, during the second intermission of the NHL's Winter Classic at Target Field in Minneapolis.

With the Olympics drawing ever closer, games against top competition like Canada are going to prove valuable as the U.S. looks to defend its gold medal. Three of the six games on tour so far have gone to overtime, and no other game was decided by more than two goals. The U.S. and Canada are so evenly matched that it is the little things coaches will be watching.

"I think it helps us identify what we need to pay attention to," said Johnson. "We were talking here postgame, a lot of frustration that we couldn't find a way to score. But at the same time, when you lose you have to look at the tape and you look yourself in the mirror as a coach and say what could I have done differently? … It's one of those things that I'll never say, 'Well this'll help us because we lost.' Losing doesn't help. You can learn though, from every game you play."

Coming off two difficult overtime losses, the players can see some positives in the process and believe the payoff is coming.

"I think we're heading in the right direction," Hensley said. "I think throughout residency there's been a ton of improvement and our group's gotten closer and closer on and off the ice as it's gone along and I think that's all you can ask for. We feel like we've had a lot of small victories as we're going forward but we want to start showing it on the scoreboard."
Todd Kortemeier is a sportswriter, editor and children's book author from Minneapolis. He is a contributor to TeamUSA.org on behalf of
Red Line Editorial, Inc.