Oksana Masters, Kendall Gretsch Open Para Nordic World Cup Season Strong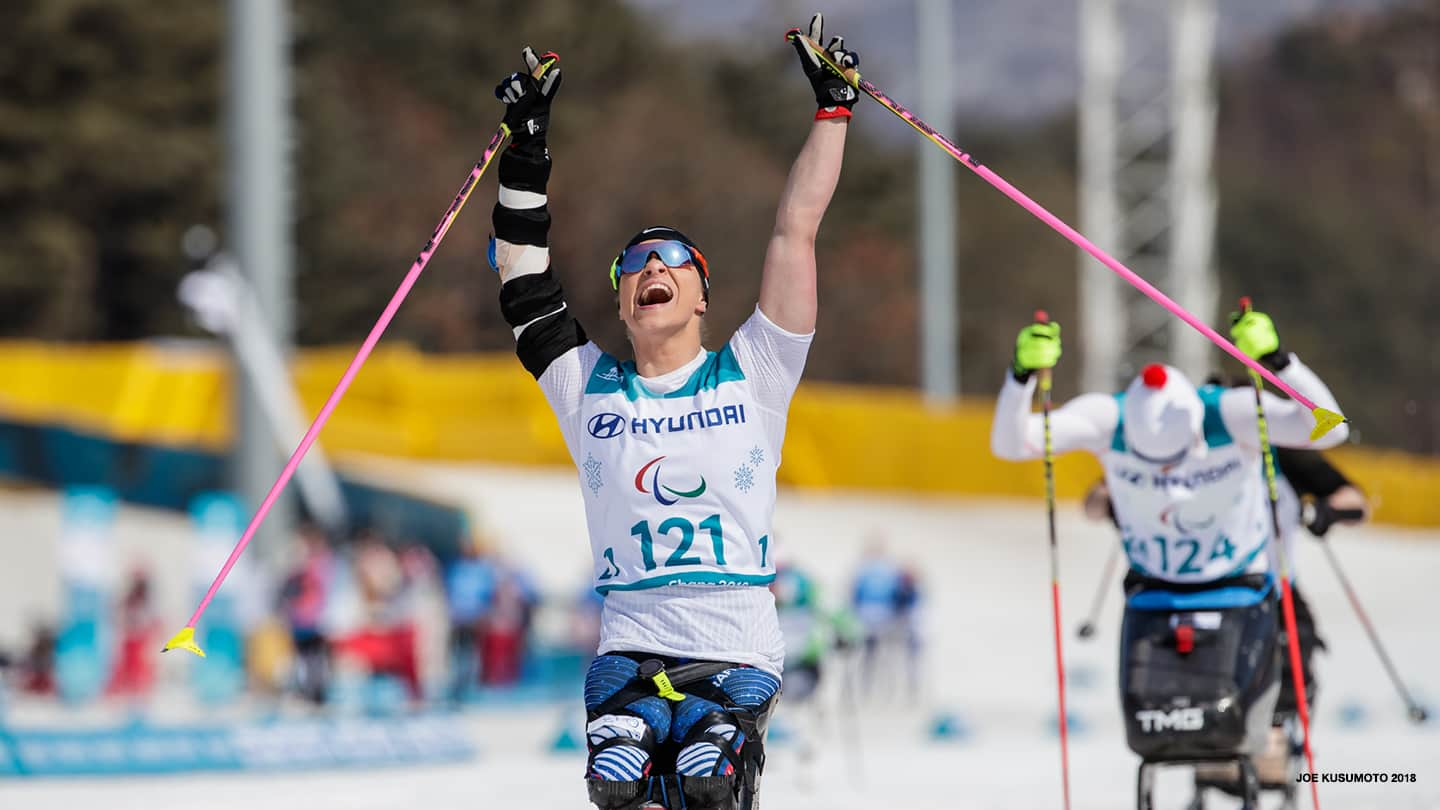 Oksana Masters celebrates after crossing the finish line in the women's sitting cross-country 1.1-kilometer sprint at the Paralympic Winter Games PyeongChang 2018 on March 14, 2018 in Pyeongchang-gun, South Korea.
Oksana Masters and Kendall Gretsch stood on the podium wearing cowboy hats, face masks and medals around their necks.

By now, they know the routine after a race.

Masters and Gretsch have started the new Para Nordic skiing season in their usual fashion by dominating the women's sit ski class and collecting medals as the world cup season got underway this week in Canmore, Alberta.

Masters won three gold medals during the cross-country skiing portion of the world cup, claiming the top spot in the short distance and middle distance races over the weekend, then adding the sprint title on Tuesday. Gretsch was right behind her American teammate, earning the silver in both of last weekend's races before winning bronze in the sprint.

"You almost forget how painful sprints are and ski racing is when you have teammates like this to laugh with along the way with," Masters wrote on Instagram.
Following a rest day on Wednesday, the world cup opener resumes Thursday for the biathlon portion of the event, which runs through Sunday.
Masters and Gretsch each won a pair of gold medals at the Paralympic Winter Games PyeongChang 2018, and they're again considered medal contenders at the Beijing Winter Paralympics in March.
In late August, Masters and Gretsch joined a select group of American athletes to win a gold medal in both the Summer and Winter Paralympics.
Masters won two golds in cycling at the Tokyo Paralympics, giving her a total of 10 medals in cycling, Nordic skiing and rowing since she made her Paralympic debut in 2012.
Gretsch, meanwhile, rallied down the stretch in Tokyo to win a gold in the triathlon.
Jake Adicoff, a 2018 Paralympic silver medalist who has returned to Para Nordic skiing following a three-year hiatus, earned Team USA's other medal during the opening days in Canmore.
Adicoff, along with his guide Simi Hamilton, finished third in the middle-distance race for visually impaired athletes on Sunday. He narrowly missed out on earning another medal when he finished fourth in the sprint race on Saturday.
The entire U.S. Paralympics Nordic Skiing national team and most of the development team were expected to compete in Canmore.
Eileen Carey, director of U.S. Paralympics Nordic Skiing, said the U.S. coaches weren't too concerned with how many medals the team earned at the first world cup of the season.
"As a program, we focus on the elements that create a great performance rather than the results, especially at this point in the season," Carey said last week. "We will take performances from this event (in Canmore) to help us identify where each athlete can focus their energies in preparation for Beijing or wherever their season may lead."
Alex Abrams has written about Olympic sports for more than 15 years, including as a reporter for major newspapers in Florida, Arkansas and Oklahoma. He is a freelance contributor to TeamUSA.org on behalf of
Red Line Editorial, Inc.