Uniquely Herself, Anastasia Pagonis Is Now Also A Paralympic Gold Medalist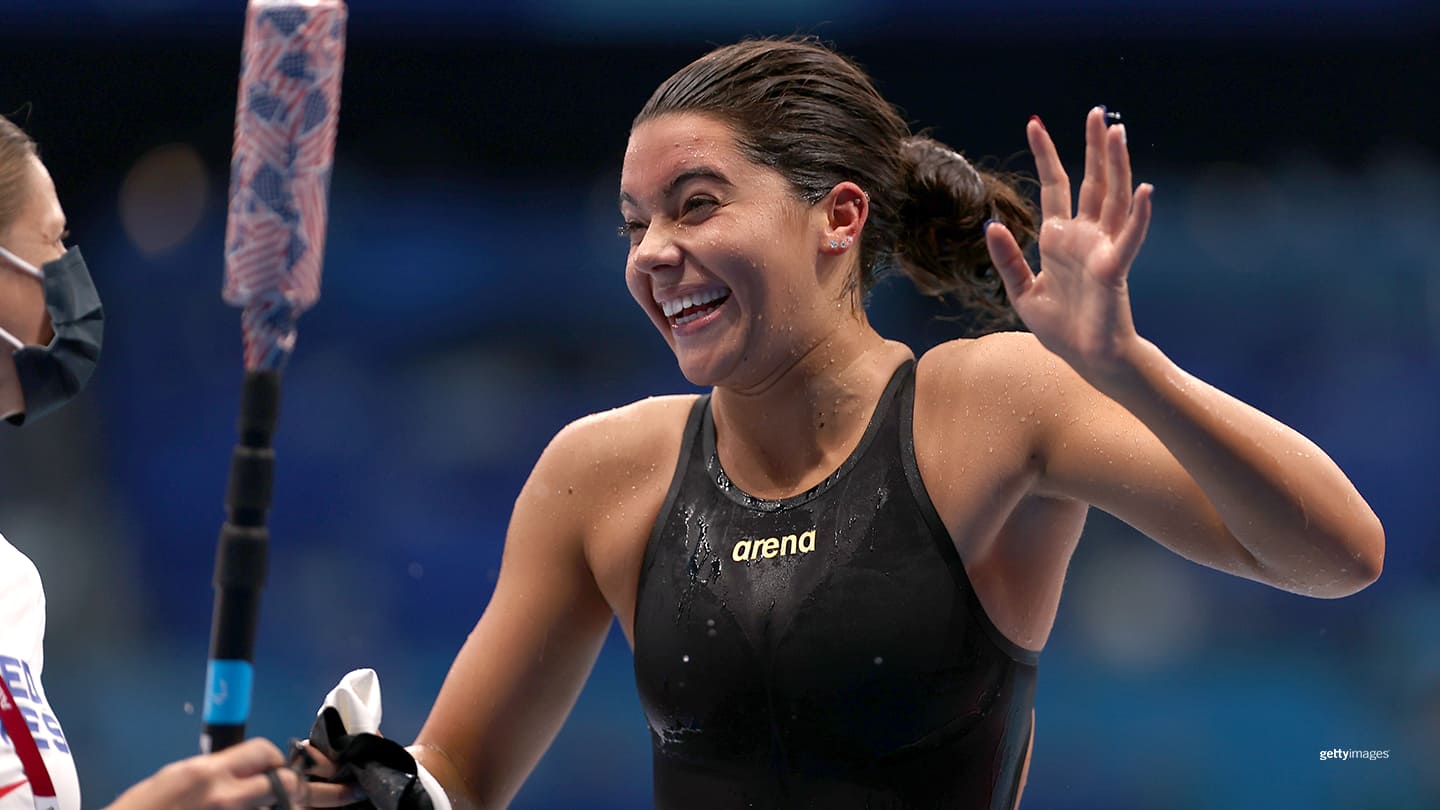 Anastasia Pagonis reacts after setting a new world record in the women's 400-meter freestyle S11 heat at the Paralympic Games Tokyo 2020 on Aug. 26, 2021 in Tokyo.
Anastasia Pagonis knows what lots of people think blindness looks like, and what they think blindness means.

Those stereotypes have existed for a long time.

And the 17-year-old from Long Island, New York, wants everyone to know that's not her.

"I'm not going to be what people think blindness is where they can't do anything, they can't dress nice, they can't wear makeup," she said. "I'm not going to be that person. So I was like, hmmm, let me make me as badass as possible."

As of Thursday, that now includes being a Paralympic champion swimmer.

Pagonis made her major international debut in the S11 400-meter freestyle, her favorite event, and left everyone else in the field fighting for silver and bronze as she broke away and finished more than 10 seconds faster than her closest competitor. Her time of four minutes, 54.49 seconds broke her own record set at the U.S. Paralympic Team Trials back in June.

Afterward, she treated her two million TikTok followers to a video of her dancing with the medal around her neck, captioned "My back hurt from carrying my gold medal." A video posted five days earlier of her jumping on one of the infamous cardboard beds at the Olympic & Paralympic Village has already racked up nearly five million views.

Pagonis is bubbly, endearing and highly personable in real life and her social media posts reflect that. Like most teenagers on the platforms, she lip syncs, laughs, dances and tells funny stories about things that happened to her. She also lets people into the world of being blind with posts such as "things people think I can't do blind," "as a blind girl top things I miss seeing."

Some of her videos are just plain informative. She did one a few weeks before Tokyo explaining how she travels on a plane (she pre-boards, then has the flight attendant take her to the bathroom so she can count the rows there and learn where everything is, including the lock).

"I decided that, let me start TikTok, let me start Instagram, and show people that this is blindness, and show people how the visually impaired and blind are and show people how I do things," she said. "How I do my hair, how I do my makeup, how I dress nice."

It wasn't always this way for Pagonis.

She wasn't always blind, for starters.

In fact, Pagonis was fully sighted until her vision started to go around age 11. She was originally diagnosed with Stargardt macular degeneration but was later diagnosed with a genetic condition and autoimmune retinopathy, which means her immune system attacks her retinas. By 14, her vision had almost completely deteriorated and taken Pagonis into the dark with it both mentally and emotionally.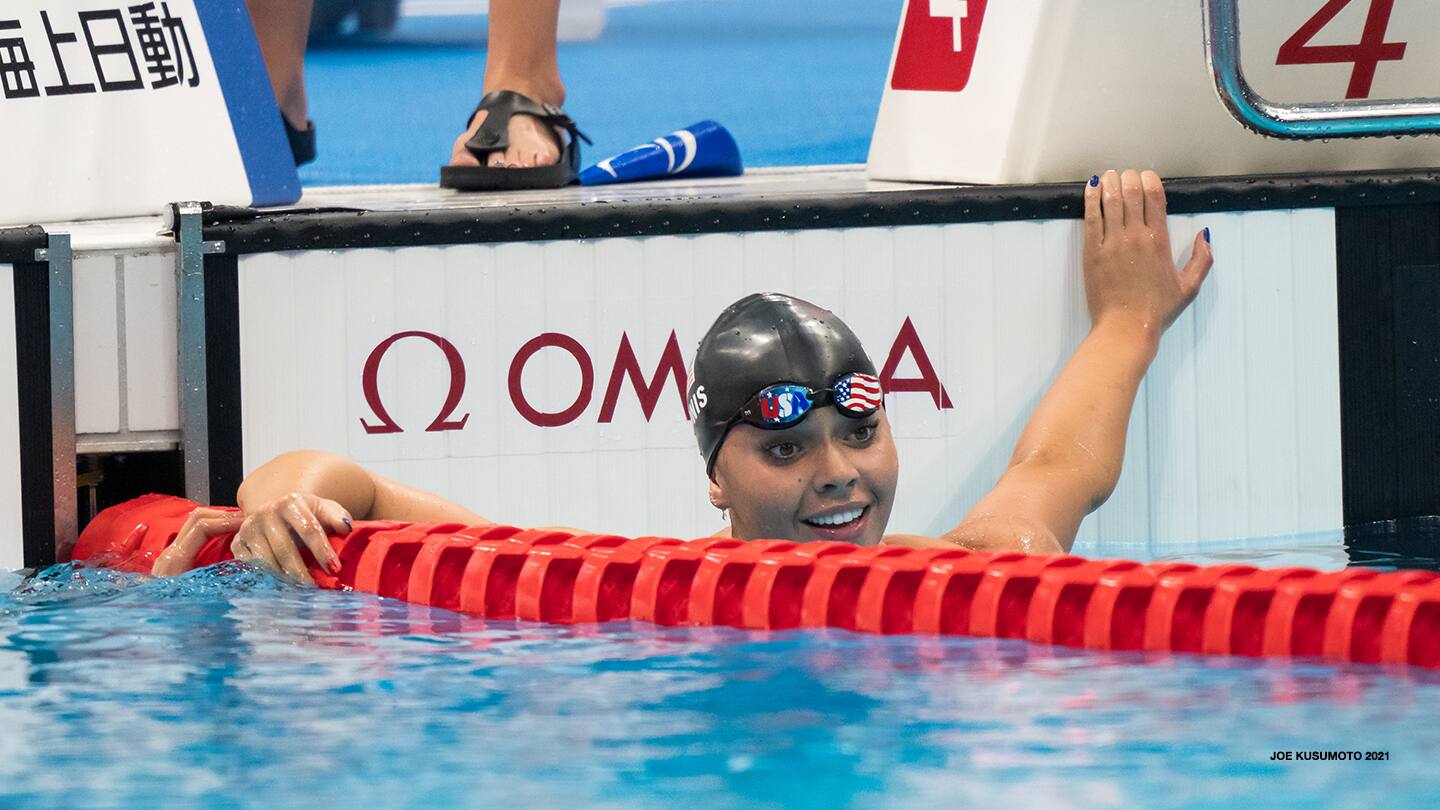 Anastasia Pagonis reacts after winning the gold after competing in the women's 400-meter freestyle S11 final at the Paralympic Games Tokyo 2020 on Aug. 26, 2021 in Tokyo.
Pagonis suffered from depression, anxiety and PTSD. She stopped eating, said her mom, Stacey, and slept all day. Her parents were afraid to leave her alone for a while, even while she slept.

"It was a daily struggle just to get her to drink one smoothie a day," said her mom, Stacey. "That was our goal for months, was just to get her to drink one smoothie a day. And she knew if she didn't drink a smoothie she was going to the hospital. We didn't want to put her in the hospital, but we were on the verge. The doctor was checking in every morning with us. We were on the verge."

Getting through it was a difficult process that included traditional therapy, yoga therapy and other medical attention. One day, Stacey said, her daughter said she wanted to try to swim.

It didn't go well.

"She was hysterically crying in the pool and couldn't make it two feet without smashing into the lane line," Stacey said. "She couldn't get across the pool one time."

They reached out to Paralympian Brad Snyder, who gave her some tips for getting started, and soon began looking for a team where Pagonis could swim regularly and get back to the competition she enjoyed prior to losing her vision. That was also a struggle. Stacey called teams all over Long Island, she said, looking for someone who'd coach her daughter, but most didn't respond. Those who did said no.

Then they found Islanders Aquatics and coach Marc Danin, who said yes. He'd never coached a blind swimmer before, but he put on blackout goggles and learned how so he could teach her. The family began driving an hour and a half each way, twice a day, for practice.

Pagonis started as an S13 but is now an S11, which is the classification for athletes with the greatest amount of vision loss. This past April at a World Series meet in Lewisville, Texas, Pagonis won a handful of medals and set a few national records.

While the results were great, Stacey said, that still wasn't the most important thing about Pagonis being in the pool.

"It was more a thing that makes her happy and a thing that brought her joy every day rather than the medals," she said. "And she still feels that way."

At the Paralympic trials in June she set the world record in the 400-meter freestyle once in the preliminaries then again in the final with a time of 4:56.16. That set the stage for what happened in Tokyo on Thursday, lowering the record once again and showing, once again, a different side of what it means to be blind.

Social media being what it is, of course, not everyone's on board with Pagonis' message.

But that's OK, too.

"The hate that I get is unbelievable, which makes me want to do it more," she said. "OMG, people are so rude. But then I have my true supporters that are always backing me up and I'm like, 'Oh, I love you guys.' And I just want to teach people that this is blind, not just what you think is blind where you have to wear sunglasses and you can't do anything. This is blind."

Want to follow Team USA athletes during the Paralympic Games Tokyo 2020? Visit TeamUSA.org/Tokyo-2020-Paralympic-Games to view the medal table and results.
Karen Price is a reporter from Pittsburgh who has covered Olympic and Paralympic sports for various publications. She is a freelance contributor to TeamUSA.org on behalf of
Red Line Editorial, Inc.