Ariel Torres' Journey To Karate Bronze Checked All The Boxes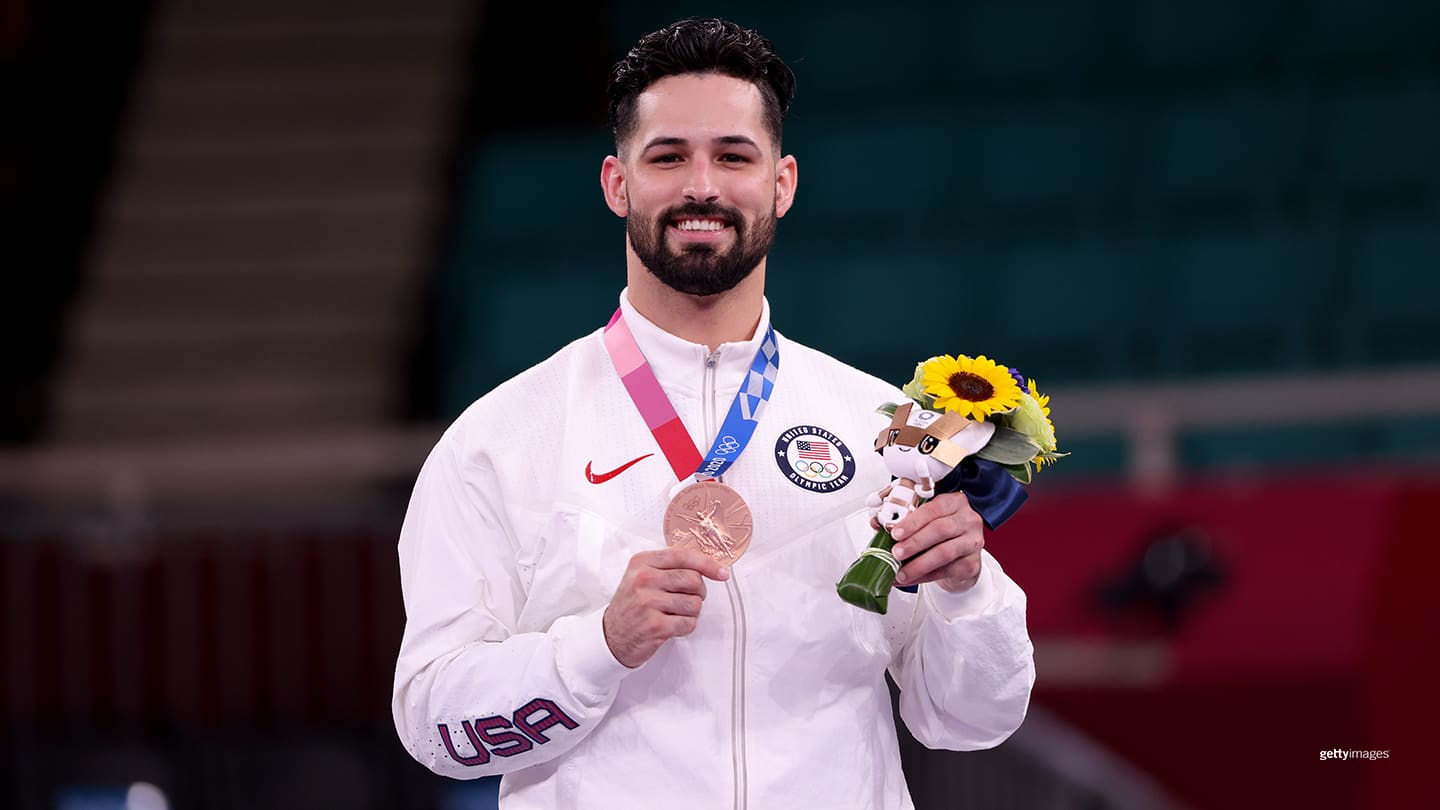 Ariel Torres poses with the bronze medal for men's karate kata at the Olympic Games Tokyo 2020 on Aug. 6, 2021 in Tokyo.
Ariel Torres' path to Olympic glory is in many ways the quintessential American story.

Born in Cuba and coming to the United States at 4 years old, Torres and his family settled for two years in the basement of a friend's house in Newark, New Jersey, before moving down to Hialeah, Florida, a community on the northwest side of Miami that has a heavy Cuban population.

Torres was a bundle of energy, perhaps a little too much from his parents' perspective. A doctor diagnosed him as being hyperactive at 6 years old and suggested he take up an activity where he could express his bountiful supply of exuberance in a productive manner while also learning discipline.

Without access to a car, his parents found a karate dojo about a 15-minute walk away from home. The rest is history. Literally.

In the Olympic debut of karate, the 23-year-old Torres won the bronze medal in the men's kata discipline on Aug. 6 at the Olympic Games Tokyo 2020. Torres, ranked 10th in the world and the top American, edged Venezuela's Antonio Diaz, the retiring kata legend. It was the only karate medal for the Americans in Tokyo.

"I did the best I could, and I feel like my opponent, he's my inspiration," Torres, who won 26.72-26.34, said in a USA Today story. "He's been my inspiration for more years than I can count. I feel like we both did our best in the biggest stage in the world of karate."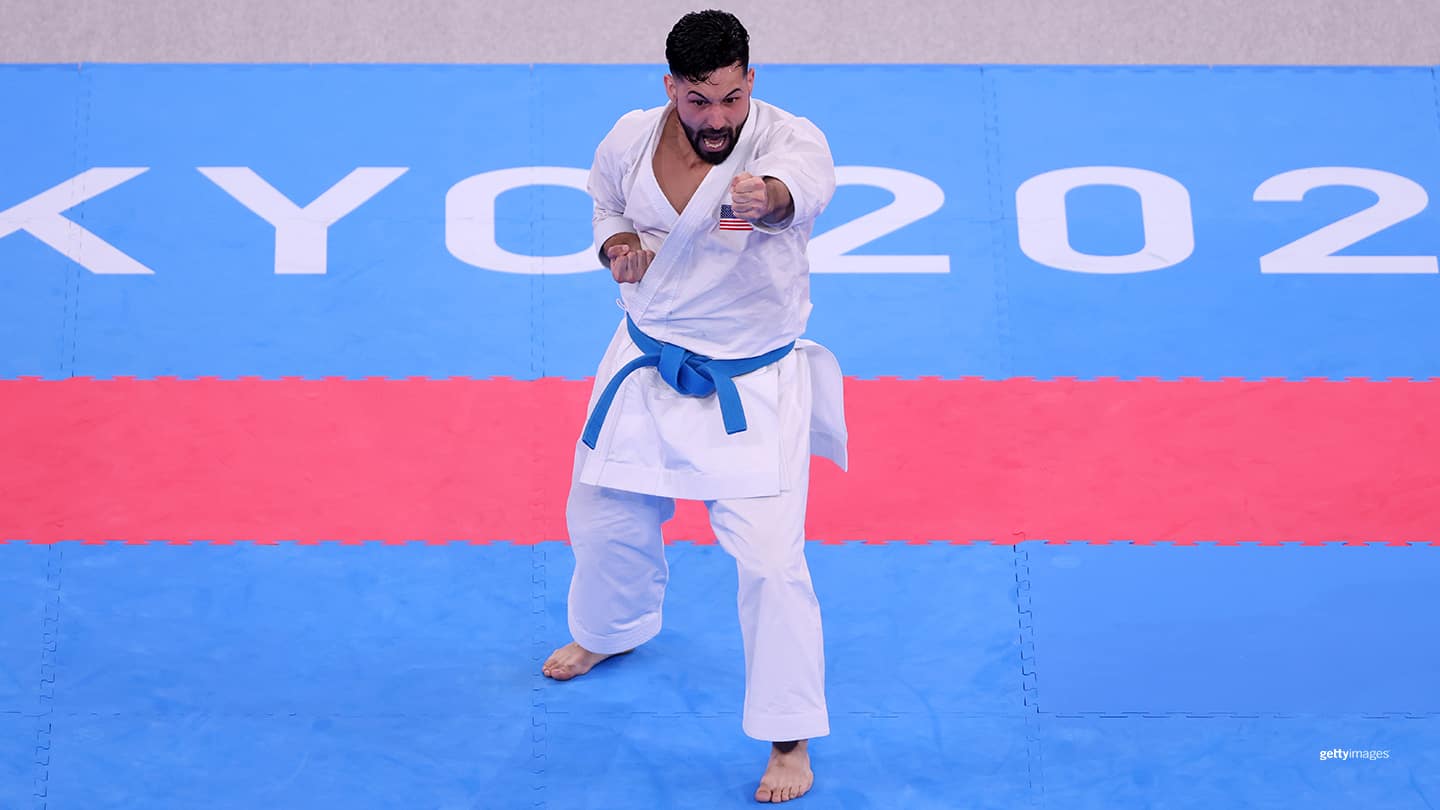 Ariel Torres competes during the men's karate kata bronze-medal bout at the Olympic Games Tokyo 2020 on Aug. 6, 2021 in Tokyo.
Kata is sometimes compared to a gymnastics floor exercise, with the athlete judged based on how they perform a routine. The Olympic competition also featured kumite, when athletes face off in head-to-head combat.

Torres reached the bronze-medal match after finishing second in his three-person pool.

"I woke up this morning and, it wasn't a dream!" Torres posted to his Instagram account (@arielkarate1) on Aug. 7, along with a photo of him on the podium flashing his bronze medal.
The experience very well might have been a literal once-in-a-lifetime opportunity, as karate was included on the Olympic program for Tokyo but not at the Olympic Games Paris 2024.

Torres, a two-time U.S. champion, not only worked hard at his skills on the mat — he competed in kata and kumite until an injury made him focus on kata — he often was his own fundraiser. At 11 years old and good enough to compete in a regional competition in North Carolina, he crafted his own sign and stood on the side of the road asking passersby for any amount. He raised enough to rent a van to transport his family, while eating only ramen during the trip. Torres said he took first in kata and kumite.

Later, when he was good enough to teach others, he was paid to give lessons that offset the cost of international travel.

With the Olympics being delayed a year due to the Covid-19 pandemic, Torres benefited from the extra training time. In March, he won his first Karate 1-Premier League medal, a bronze, at an event in Istanbul. He treasures that over his Pan American Games Lima 2019 gold medal in which he also beat Diaz, the 2010 and 2012 world champion and holder of a record eight world championship medals.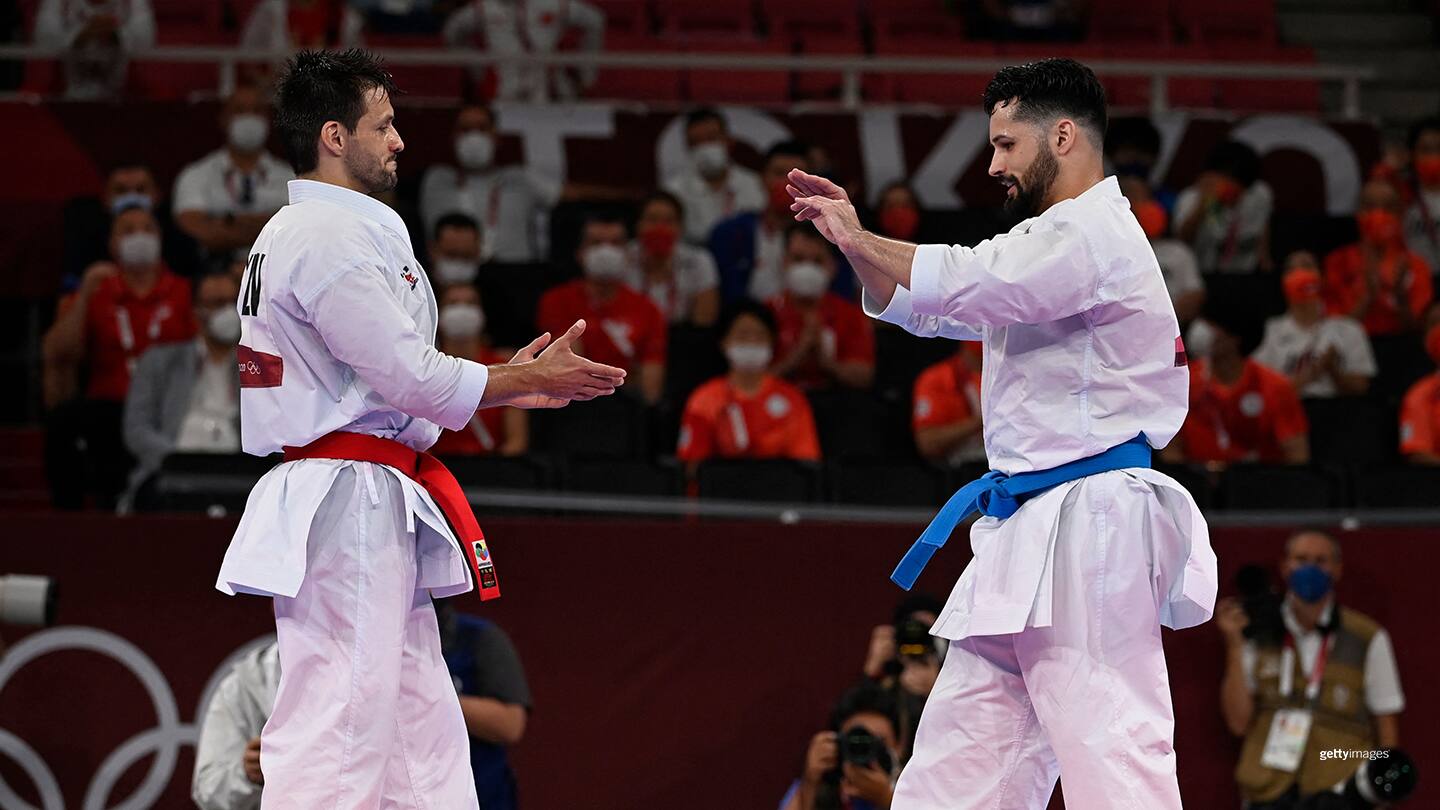 Ariel Torres (R) greets Venezuela's Antonio Diaz after winning their men's kata bronze-medal bout at the Olympic Games Tokyo 2020 on Aug. 6, 2021 in Tokyo.
"If it wasn't for the Olympics being postponed," he said, "I don't think I would be where I am today, honestly."

During the pandemic, he was able to work more on the mental side of kata, while also improving his nutrition and learning to cook. For the first time in his life, he also started weight training. Even so, the results were rocky at first.

"Whoa, my karate really sucks right now, because I'm getting bigger,'" Torres said. "But then it's like, 'OK, let me just keep pushing through it. I'm sure it'll get better at the end,' and little did I know — boom, boom — I improved. I got better, I got stronger."

Another benefit was his training partner, Hong Kong's Grace Lau, who won bronze at the 2018 world championships and was ranked fourth in the world. She also won a bronze medal in Tokyo.

Of course, no story on Torres is complete without meaning his lucky pair of underwear.

In 2016, Torres was in his high school journalism class when his karate instructor, Richard Young, called to tell him the sport would be in the Olympics. Torres initially set his sights on Paris in 2024, but when Young told him Tokyo would likely be his only shot, Torres did the first thing that sprang into his mind.

He ran to the bathroom, where he removed his pants and underwear. He took a Sharpie and wrote on his briefs: "Olympics 2020!"

While it was an odd move, it provided him with inspiration — and some awkward moments. He only wears the underwear when competing, which sometimes means multiple rounds a day. Yes, the underwear is washed often, but he also hangs them in his room while traveling, which makes for strange moments when sharing a room.

"I feel bad for my roommates because they had to stare at them all day," Torres said.
Steve Drumwright is a journalist based in Murrieta, California. He is a freelance contributor to TeamUSA.org on behalf of
Red Line Editorial, Inc.