U.S. Men's 470 Posts Top-10 Finish To Close Out Sailing Competition From Tokyo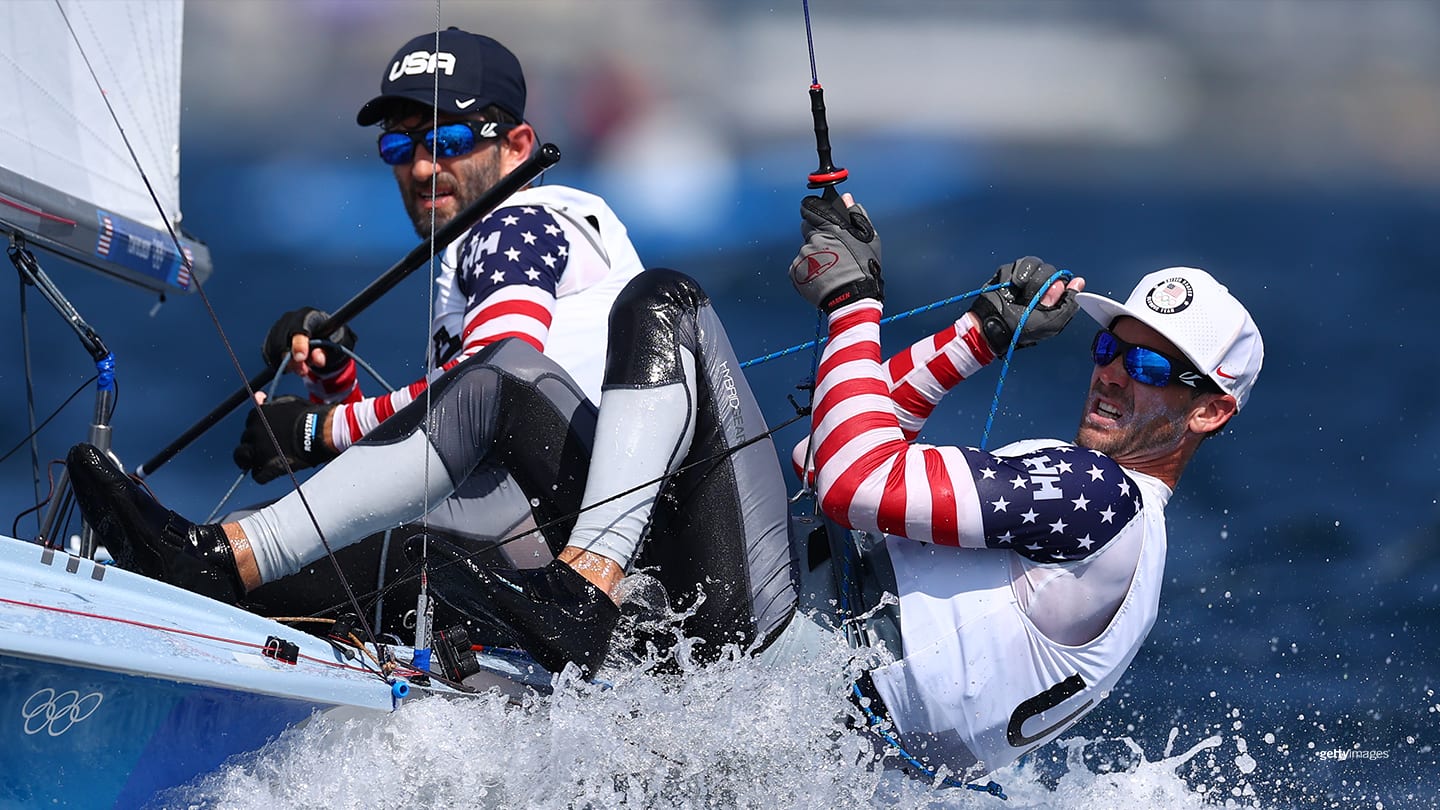 Stu McNay and David Hughes compete at the Olympic Games Tokyo 2020 on Aug. 1, 2021 in Fujisawa, Japan.
On the last day of the Olympic sailing competition in which the U.S. wasn't able to bring home a medal, Stu McNay and Dave Hughes provided an uplifting final performance.

Competing in the Men's 470 medal race Wednesday on the Enoshima course, McNay (Providence, Rhode Island) and Hughes (Miami, Florida) finished in fourth place. It was a valiant effort by the Americans, who had entered the finale in 10th place overall and boosted themselves up to a ninth-place finish, one of three top-10 finishes in Tokyo for the U.S. sailing team.

"At the at the end of the day, we're happy to have made the medal race," Hughes said prior to the final. "This regatta has been a knife fight, and the standard that this 470 fleet has shown is impressive.

"Our class has really grown during this five-year period since the last Olympics, and it is amazing to see what people have done to build their performance, ourselves included. It is just so inspiring to sail at this level against competitors who we've known for years, and who we really respect."

The men's and women's medal races were the last at the Olympic Games in this class. Going forward, 470 will be a mixed-gender event.

"It's absolutely an honor to be part of that," Hughes said.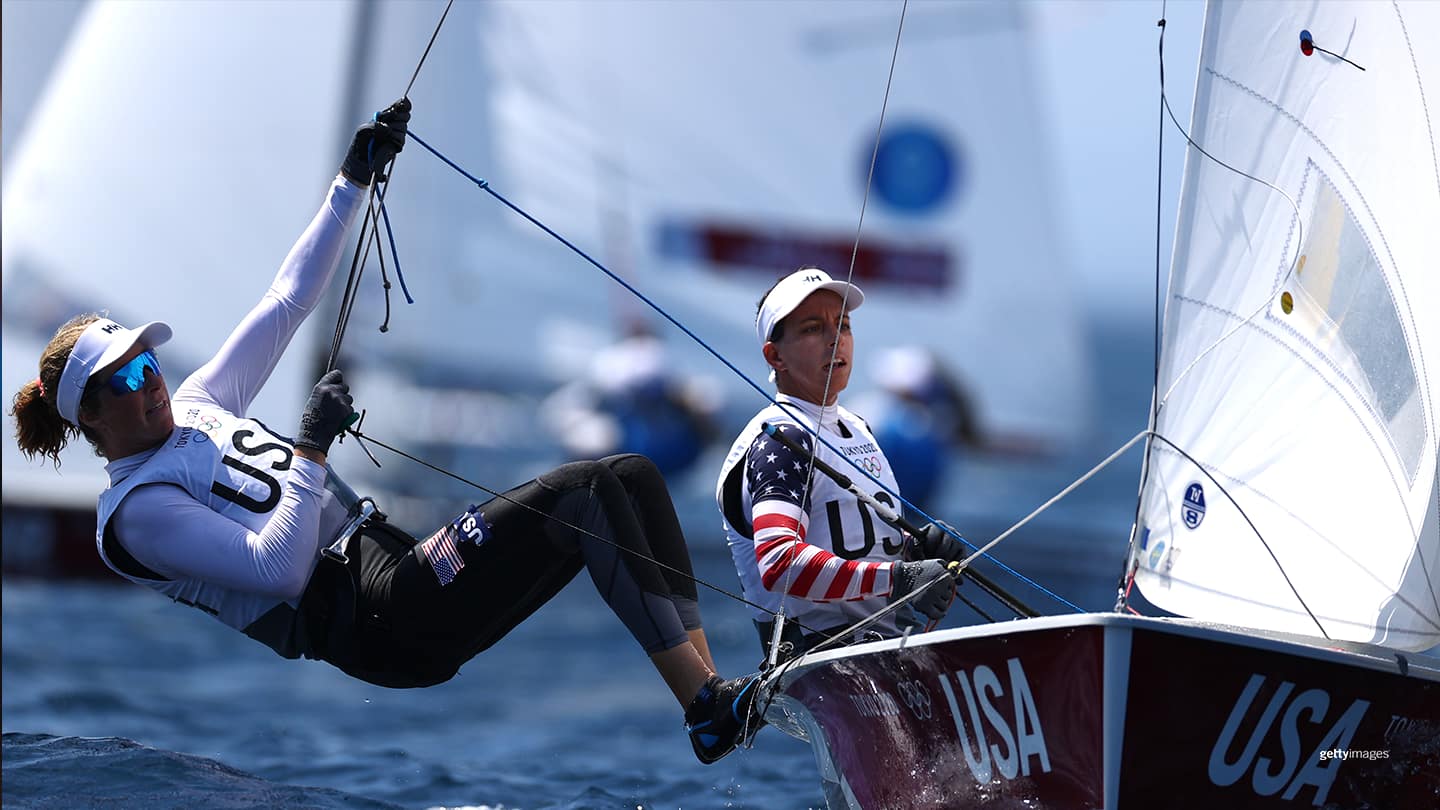 Nikole Barnes and Lara Dallman-Weiss compete at the Olympic Games Tokyo 2020 on Aug. 1, 2021 in Fujisawa, Japan.
The U.S. women's 470 team of Nikole Barnes (St. Thomas, U.S. Virgin Islands) and Lara Dallman-Weiss (Shoreview, Minnesota) just missed qualifying for the medal race, placing 12th on Tuesday.
"Throughout the regatta we saw that the first beat was just so important, and on this last day, we wanted to fight for a great spot (on the starting line), and it just didn't work out," Dallman-Weiss said. "Olympic sailing is all about fighting until the last race."
Nonetheless, the team was happy with their progress over the three years since they joined forces.
"The numbers (from Tokyo) don't show the full story of our team and all the hard work that has gone into it," said Barnes, an active-duty officer in the U.S. Coast Guard. "Of course, we wanted to make the medal race and to be in medal contention. But I guess this is the universe's way of saying, 'Not this time, nice job, but keep pushing.' So, it's heartbreaking, but we also learned a ton, and we left it all out on the water."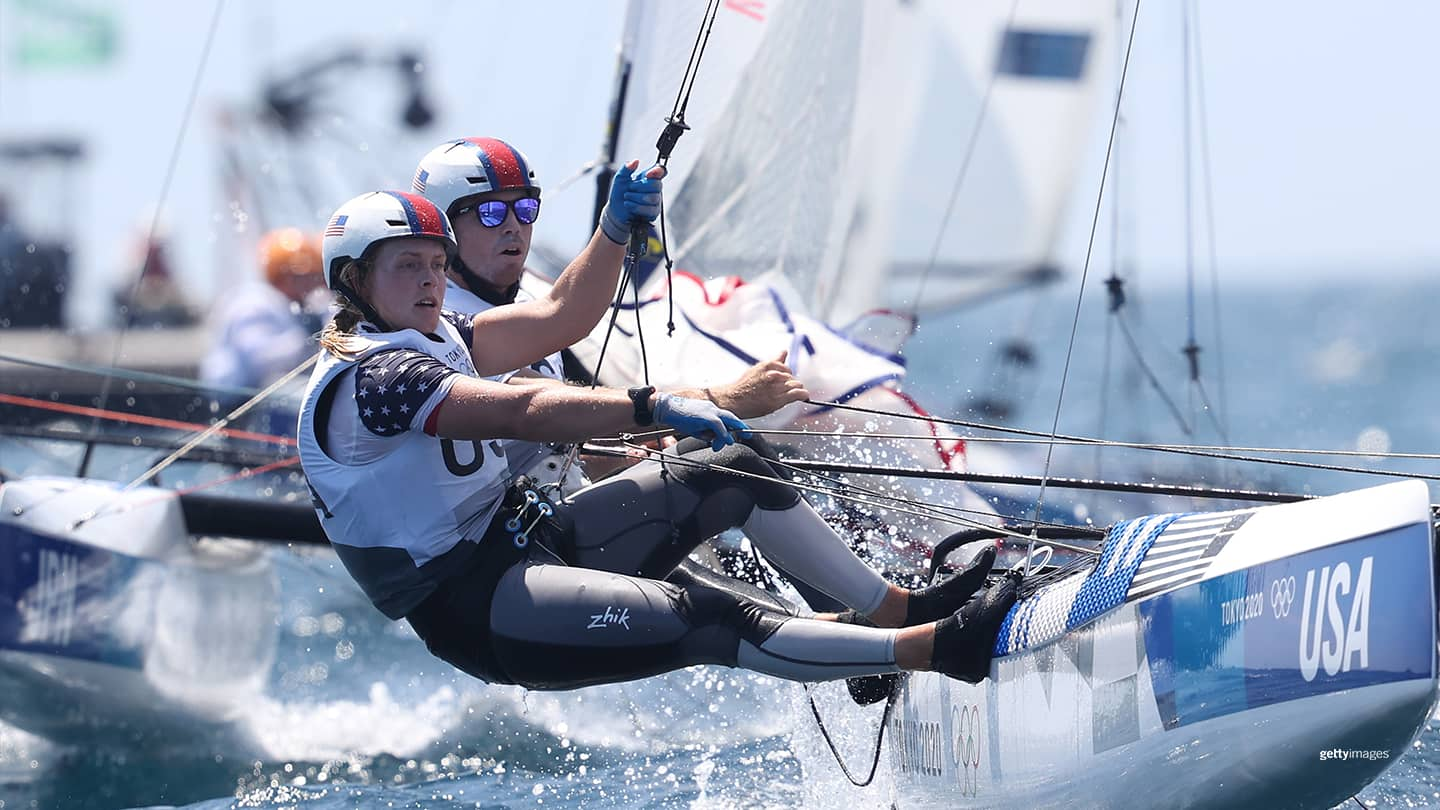 Riley Gibbs and Anna Weis compete at the Olympic Games Tokyo 2020 on Aug. 1, 2021 in Fujisawa, Japan.
In Tuesday's Nacra 17 medal race, the U.S. team of Riley Gibbs (Long Beach, Calif.) and Anna Weis (Fort Lauderdale, Fla.) finished third to place ninth overall.
"I think our strength of the week was our ability to rally and reset after having a bad race or errors," Weis said. "Having that in our back pocket and being able to reset and really move forward and focus on one race at a time really helped us out and allowed us to compete in each moment."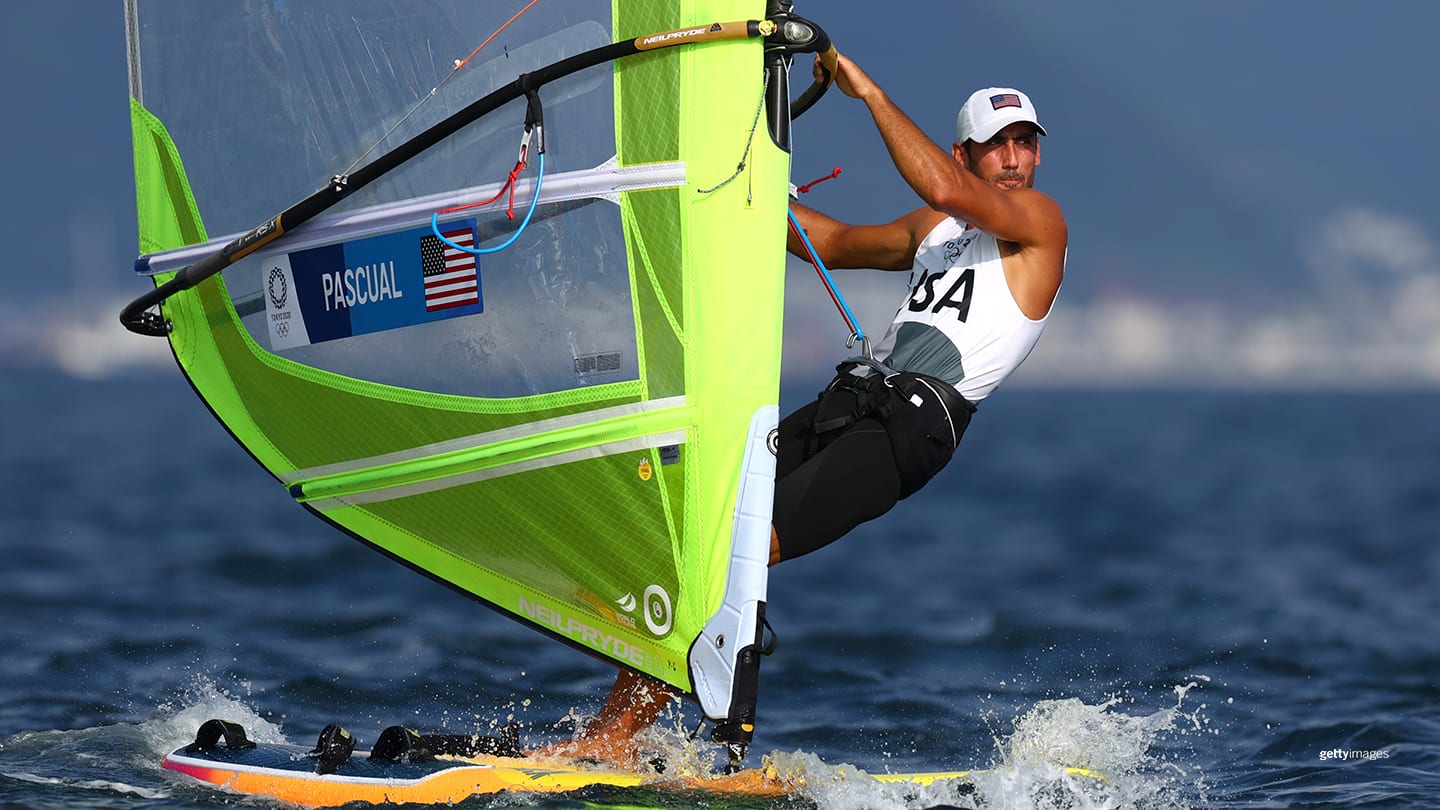 Pedro Pascual competes during at the Olympic Games Tokyo 2020 on July 31, 2021 in Fujisawa, Japan.
The other U.S. top-10 finish came from Pedro Pascual (Miami, Florida), who placed ninth in men's RS:X.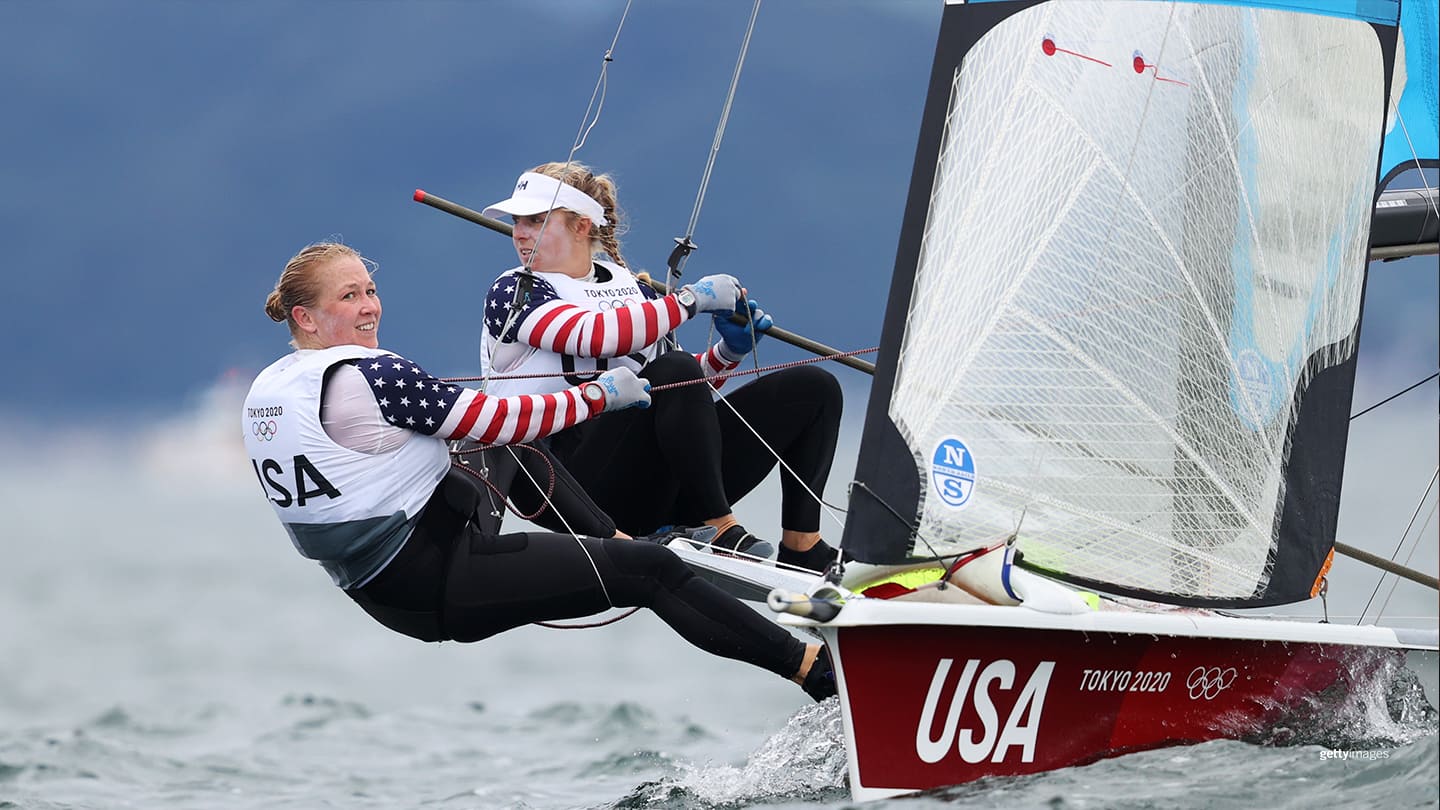 Stephanie Roble and Maggie Shea compete at the Olympic Games Tokyo 2020 on July 27, 2021 in Fujisawa, Japan.
Other U.S. sailing results included: women's 49erFX – Stephanie Roble (East Troy, Wisconsin) and Maggie Shea (Wilmette, Illinois) – 11th overall; women's Laser Radial – Paige Railey (Clearwater, Florida) – 37th overall; men's Laser – Charlie Buckingham (Newport Beach, California) – 13th overall; women's RS:X – Farrah Hall (Annapolis, Maryland) – 15th overall; men's Finn – Luke Muller (Ft. Pierce, Florida) – 13th overall.
Want to follow Team USA athletes during the Olympic Games Tokyo 2020? Visit TeamUSA.org/Tokyo2020 to view the medal table, results and competition schedule.
Bob Reinert spent 17 years writing sports for The Boston Globe. He also served as a sports information director at Saint Anselm College and Phillips Exeter Academy. He is a contributor to TeamUSA.org on behalf of
Red Line Editorial, Inc.