Figure Skaters Make Special Delivery To Paralympian Tatyana McFadden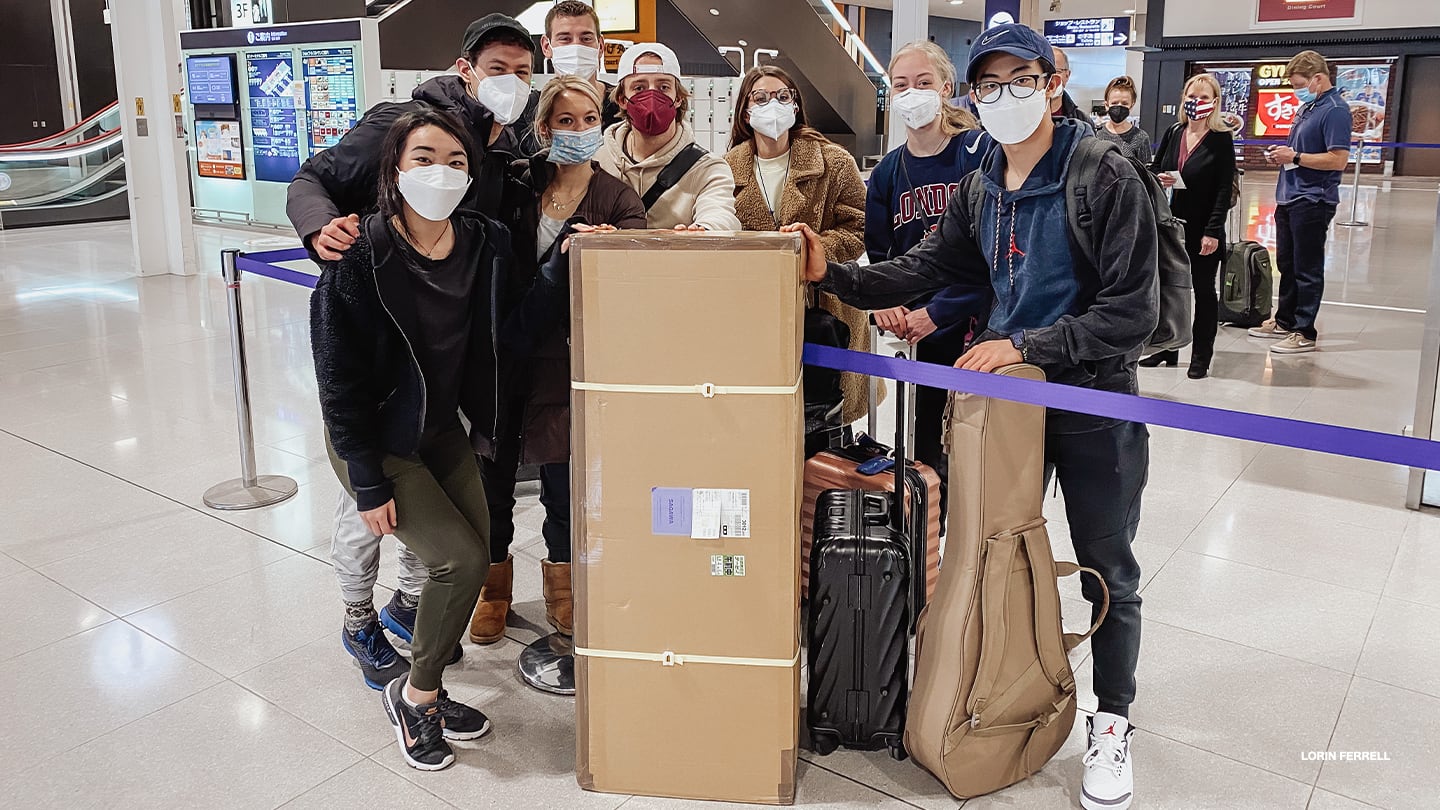 The U.S. figure skating team poses with a photo of Tatyana McFadden's new carbon racing frame at an airport.
Tatyana McFadden was getting anxious. Her racing chair was broken and a replacement was stuck in Japan for six months because of pandemic restrictions on international shipping.

Finally, her chair arrived via FigEx.

That's U.S. Figure Skating Express.

The American team flew home from the World Team Trophy in Japan last week with silver medals and a cardboard box containing McFadden's new carbon racing frame.

"We all felt like we were a part of bringing some precious cargo home," said team captain Jason Brown.

They posed for a photo with the box at Tokyo's Narita Airport, beaming behind their masks.

"I was like, 'Please get a picture of everybody,'" said McFadden, "because I'm so grateful for them, that they took this in and they're going to be bringing it back to the U.S. - because I'm out of options and I need this wheelchair."

McFadden posted the photo on Instagram, writing, "When we say we are one team we are really one team." She thanked the U.S. Figure Skating team and each of the athletes, adding, "International shipping has been tough during this time but you all made it happen."

Brown said when their flight arrived in San Francisco and they went to baggage claim, "The thing we all were waiting for was this box. 'OK, is it going to come out?'"

It did, and then team leader Lorin Ferrell made sure it was shipped to McFadden in Florida, where she is training for the Paralympic Games Tokyo 2020, which begin in August.

It was a belated birthday present for McFadden, who turned 32 on April 21.

The winner of 17 Paralympic medals – seven of them gold – averages about 115 miles a week in training, or as her mother, Deborah said, "The distance she runs is equivalent to running back and forth across the United States twice at least in a year. And that's just the training; that doesn't count her competitions."

The wear and tear puts a lot of stress on the frame and weakens it in the middle. "So that's why you really should get a new frame within eight months to a year," McFadden said. "I've been long overdue. You want to have the perfect chair going into the Games."

McFadden, who runs distances on the track from 100 meters to 5,000 meters in the T54 category and also competes in marathons on the road, expected to pick up a new chair in February 2020 after competing in one of the marathon majors in Japan. Then covid hit and the race was cancelled.

As the calendar turned from 2020 to 2021, McFadden had to do some emergency repair with epoxy glue. She also was forced to switch to an aluminum frame, which is not as light as the carbon frame.

Deborah worked the phones, trying all the angles. Even though the whole package weighed only about 15 pounds, that was still more than the shipping restrictions allowed.

"I said to the wheelchair company, 'Can you break it down into little teeny tiny parts?'" she said. "Which of course, they can't."

"There's nobody to blame," said her daughter, who won six medals in Rio, including four golds. "I'm running out of options. We're four months away from the Games. We just went to Plan B."

The U.S. figure skating team to the rescue.

McFadden reached out to Sherrice Fox, the director of U.S. Paralympic Track and Field, and said, "I need help. What can we do? Is there anybody that's going over – like, anybody?"

The USA diving team was scheduled to compete in a world cup in Tokyo starting April 18, but that was postponed.

Another dead end.

Then Fox told McFadden that the U.S. figure skating team was not only heading to Japan, they were already on the plane.

However, with quarantines tight and sporting events held in a bubble, McFadden worried there might be problems.

U.S. Figure Skating enlisted the help of the Japanese figure skating association. After the box holding the frame was shipped from the manufacturer to Osaka, it was allowed to come into the athletes' hotel. The team carried it to the airport and, and, as a bonus, Deborah said the $200 excess baggage fee was the lowest amount she'd ever paid getting the chair into the U.S.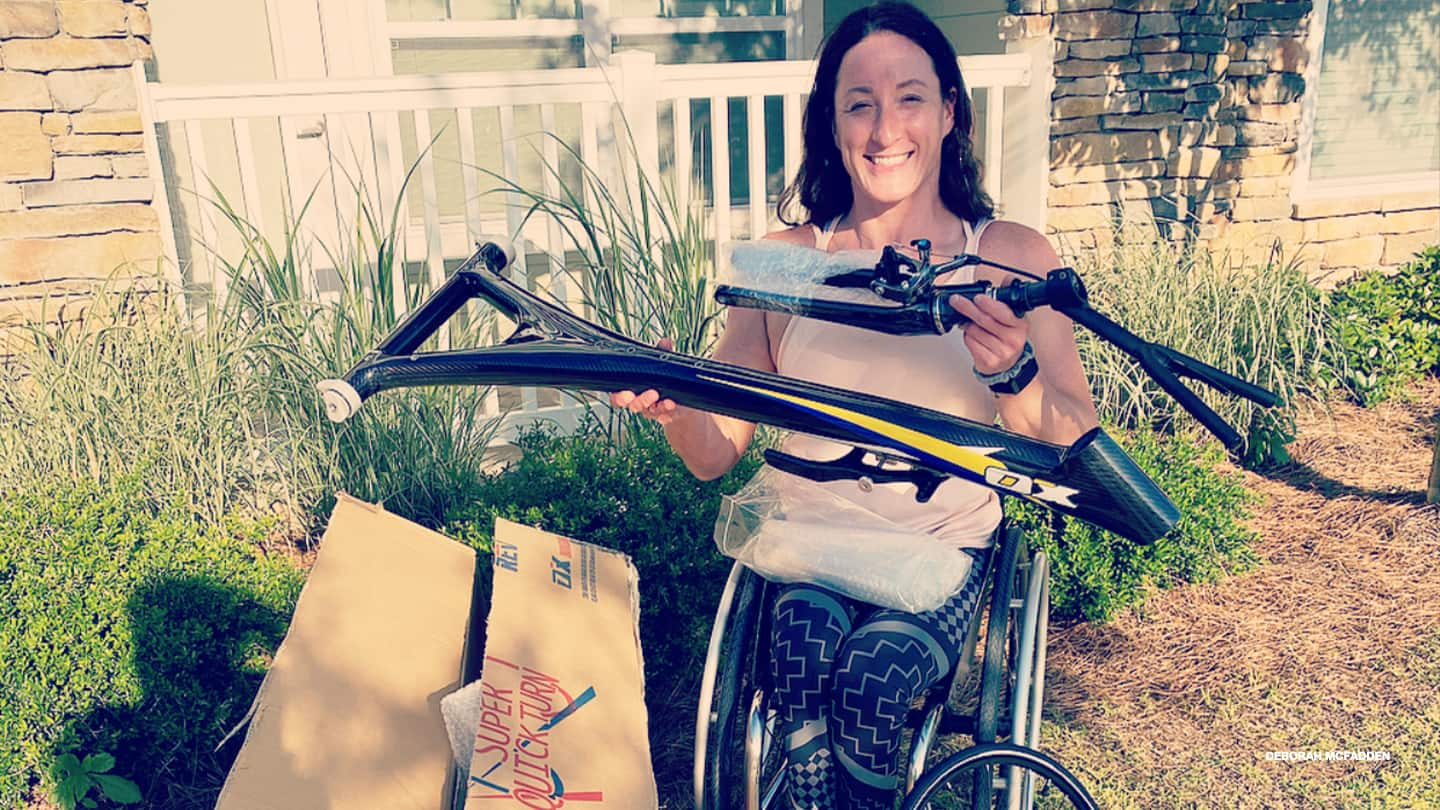 Tatyana McFadden poses with her new carbon racing frame.
Brown said that he and his teammates – Nathan Chen, Bradie Tennell, Karen Chen, Alexa Knierim, Brandon Frazier, Kaitlin Hawayek and Jean-Luc Baker – were honored to take on the mission.

"The U.S. skating team was so fortunate to have the opportunity to compete in Japan last week," Brown said. "We know how rare travel is right now – and competition. We all struggled this year in a different way.

"We are so thrilled, so excited, that we could be a very small part of getting her equipment. There are so many things that we take for granted, so it was really, really cool to help each other out in this moment."

Brown won a bronze medal in Sochi in 2014 in the team figure skating event while McFadden won a silver in cross-country skiing.

And while McFadden kept up with figure skaters during the World Team Trophy, they now feel a connection to her.

Said Brown, "We will all be cheering on Tatyana so loudly and proudly in Tokyo."

In this case, everybody wins.

"We all have one goal – we want to be on Team USA," McFadden said. "We want to compete for ourselves; we want to compete for our country, for our family and the world, and there's no difference between Olympians and Paralympians. We're trying to win medals and we are just one large team."

Thanks to the new chair, McFadden can focus on training for her fifth straight summer Paralympic team and her quest to win six gold medals. Her mother said that when she arrives in Tokyo, the manufacturer has promised to have another racing chair waiting that she can use as a backup and then take home.

But for now, Deborah said, "Figure skating – they are the heroes."
Karen Rosen has covered every Summer and Winter Olympic Games since 1992 for newspapers, magazines and websites. Based in Atlanta, she has contributed to TeamUSA.org since 2009.