Late Penalty Kick Saves USWNT In Sweden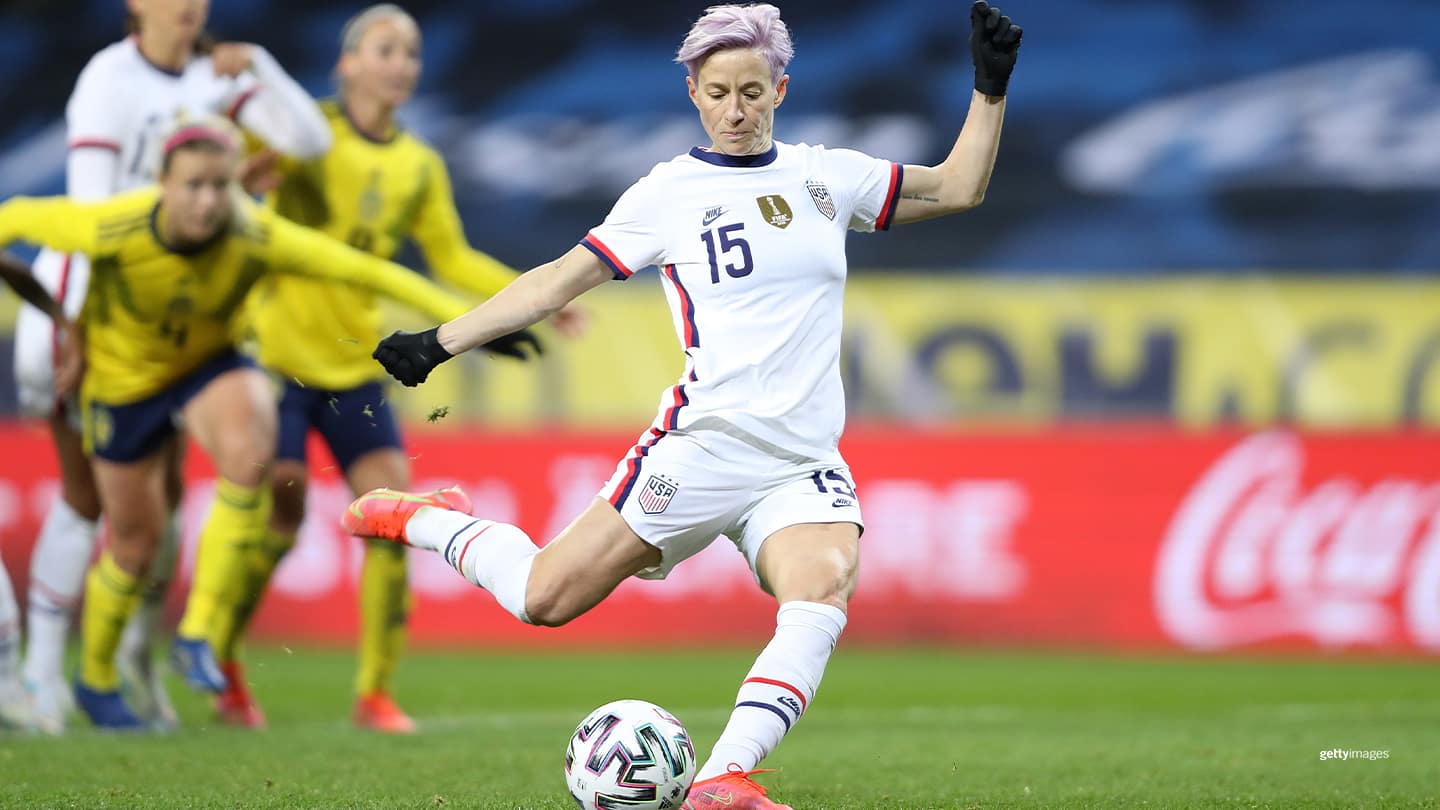 Megan Rapinoe scores during the Women's International Friendly against Sweden on April 10, 2021 in Solna, Sweden.
Good competition is exactly what the U.S. women's soccer team is looking for right now, and that's what they found against Sweden during a friendly match in Stockholm on Saturday.

Until the 87th minute, it looked like they might also get their first loss in 38 games. Megan Rapinoe had other ideas, though.

Sweden's Sofia Jakobsson fouled Kelley O'Hara in the penalty area and the referee signaled for a penalty kick. Rapinoe took the shot at the equalizer. As usual, she was spot on. She kept the shot low and to her left, and she put enough power behind the shot to beat Jennifer Falk, tying the score 1-1. It was Rapinoe's team-leading sixth goal this season.

While Team USA's unbeaten streak remains intact, its winning streak is over at 16. Its last draw came in Jill Ellis' last game as head coach in October 2019.

With the Olympic Games Tokyo 2020 fast approaching, both squads are trying to gauge where they're at. Having "Olympics" and "Sweden" in the same sentence may bring back some ugly memories, as it was Sweden that knocked the U.S. out of the Rio Games in the quarterfinals. It was Team USA's earliest exit ever from the Olympic tournament.

Now the U.S. is a two-time reigning World Cup champion and the top-ranked team in the world, looking to become the first team to win gold at the Olympics after winning the World Cup.

Sweden, ranked No. 5 in the world, struck first off a set piece. Kosovare Asllani served a corner kick into the box, where Lina Hurtig's header sent it clanging against the far post and into the net in the 38th minute. That's how things stood until Rapinoe scored the equalizer in the final minutes.

Carli Lloyd played in her 300th international game, joining Kristine Lilly (354) and Christie Pearce Rampone (311) as the only U.S. players — male or female — to reach 300 caps. The lead-up to Tokyo continues for the Americans with a friendly against No. 3 France on Tuesday.
Karen Price is a reporter from Pittsburgh who has covered Olympic and Paralympic sports for various publications. She is a freelance contributor to TeamUSA.org on behalf of
Red Line Editorial, Inc.