Team USA Athletes Rave About Lessons Learned At Post-Games Athlete Career And Education Summit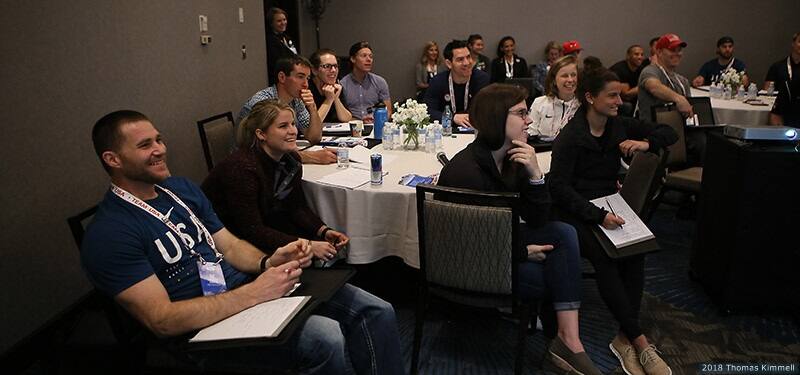 Athletes attend a session at the 2018 ACE Olympic and Paralympic Summit on April 25, 2018 in Arlington, Va.
ARLINGTON, Va. -- For Katie Uhlaender it's not just about attaining the jacket. The four-time Olympic skeleton racer always remembers what her coach would remind her about being an athlete:
"There are jacket people and there are podium people. Athletes who just show up to the Olympics to say they went and get the jacket. And then there's the athletes who wake up every day and think, 'How am I going to be the best and get the most out of this day?'"
Uhlaender has been getting the most out of the United States Olympic Committee's Athlete Career and Education – or ACE – program since her days living at the U.S. Olympic Training Center in Colorado Springs, Colorado. ACE works to provide Team USA athletes with career, education and life skills resources, both during and after competition.
"The biggest benefit that I've gotten from it is through the people in the program," she said. "For me personally, I need someone to bounce my ideas off of — and they are able to navigate the system for me."
ACE held a two-day Olympic and Paralympic Summit during Team USA Week – which included Team USA Awards and the White House visit – where roughly 90 members of the 2018 Olympic and Paralympic teams participated in workshops, sat in on roundtables and networked with a large group of business professionals and retired athletes who were there to advise on life outside the Games and post-Games.
Lauryn Williams — who started a financial company, Worth Winning, to help young professionals — was one of the legend Olympians who spoke on an athlete-only panel.
"I know what it was like for me going through transition, how lost I felt, not feeling like I had anyone," said the first American woman to medal in both the summer (track and field) and winter Games (bobsled). "The ACE program came around shortly after I retired, so I know firsthand how good they are and what they can actually do for you to help you in the transition from sport to life after sport."
The summit wasn't just for athletes thinking about retiring. Before going into the event, 22-year-old luger Tucker West said he was under the impression, "ACE is mainly for athletes transitioning out of their sport. I'm not transitioning out of the sport."
But after attending the two-day workshop he felt "it was nice to get the game plan going and set that in motion, and interesting to see all these athletes' takes on how they made that transition."
Want to learn to curl like the pros? Looking for breaking news, videos, Olympic and Paralympic team bios all at your fingertips? Download the Team USA app today.
Attending before he was ready to retire was how bobsledder Nic Taylor came to an important decision.
"Last April at a workshop was my first introduction to ACE. And one of the things it provided me with was a clear path of what I want to do after sport," he said. "They asked everyone, hey, what do you want to do after sport? No pressure, but just start thinking about it. And then they gave us really cool classes and drills to help us to know what would be a good next fit."
Thanks to ACE, Taylor realized what his next move would be.
"I decided to become a chiropractor," Taylor revealed. "So for the next quad I'll still be competing a bit, but I'll be going to chiropractic school full-time. And that decision was 100 percent because I went to the ACE program."
Four-time Olympic luger Erin Hamlin is another one who has past experience with the program, and while she said she's still unsure what she's going to be doing now that she's retired, ACE helped her feel prepared for the next chapter.
"I feel more comfortable with the decision to retire, because even though there are so many questions marks, I know where to look to find the answers," Hamlin said.
In addition to the summit — which is now held after every Olympic and Paralympic Games — ACE also works to help athletes land jobs, get help with their tuition costs and make one-on-one mentoring available.
Elana Meyers Taylor, a three-time Olympic medalist bobsledder, has taken full advantage of all ACE has to offer.
"I got assistance with a scholarship from DeVry University and got my MBA, I got my first job through them when they had a program with GE, and now I work for another partner, InstaViser," she said.
One of the things she'd like to tell athletes who have yet to work with ACE — or even know what it is — is that "there are so many resources available for you, and there are so many people who care about your life, not only on the field of play, but also off."
That's something that five-time Olympic snowboarder Kelly Clark just learned while at her first ACE summit.
"One thing I've taken away is that what we've done as athletes whenever we do decide to transition and retire, we've acquired so much from our athlete careers that does transfer to the next adventure in life — whatever that might be," Clark explained. "It was just good to do some self-reflection and start to pay attention to what you are passionate about. What's helped you be successful already will carry over into the next stage of life and help you be successful in that as well."
Another first-time attendee, wheelchair curler Steve Emt, was quick to encourage fellow athletes to attend the post-Games summit and engage with all that ACE has to offer.
"You need to be here, without a doubt," Emt said. "It's beneficial not only to those who are retiring, which I'm not, but even for the athletes who are going to come back for one, two, three more Games. You learn skills that go beyond the Games that you're going to need in order to be successful in life."
And apparently you learn the lessons fast. Just ask his Team USA Week roommate and Paralympic teammate Kirk Black.
"Steve and I were at the networking event and we both forgot our room keys, so we went downstairs to the lobby. As we were heading back up we got talking with two guys who deal with a wheelchair company. We probably talked to them for 30 minutes, and might have landed a job. So, yeah, it works well," Black laughed. "It works fast!"