Riding High, Para-Cycling Sam Bosco Is Aiming To Stay There In 2023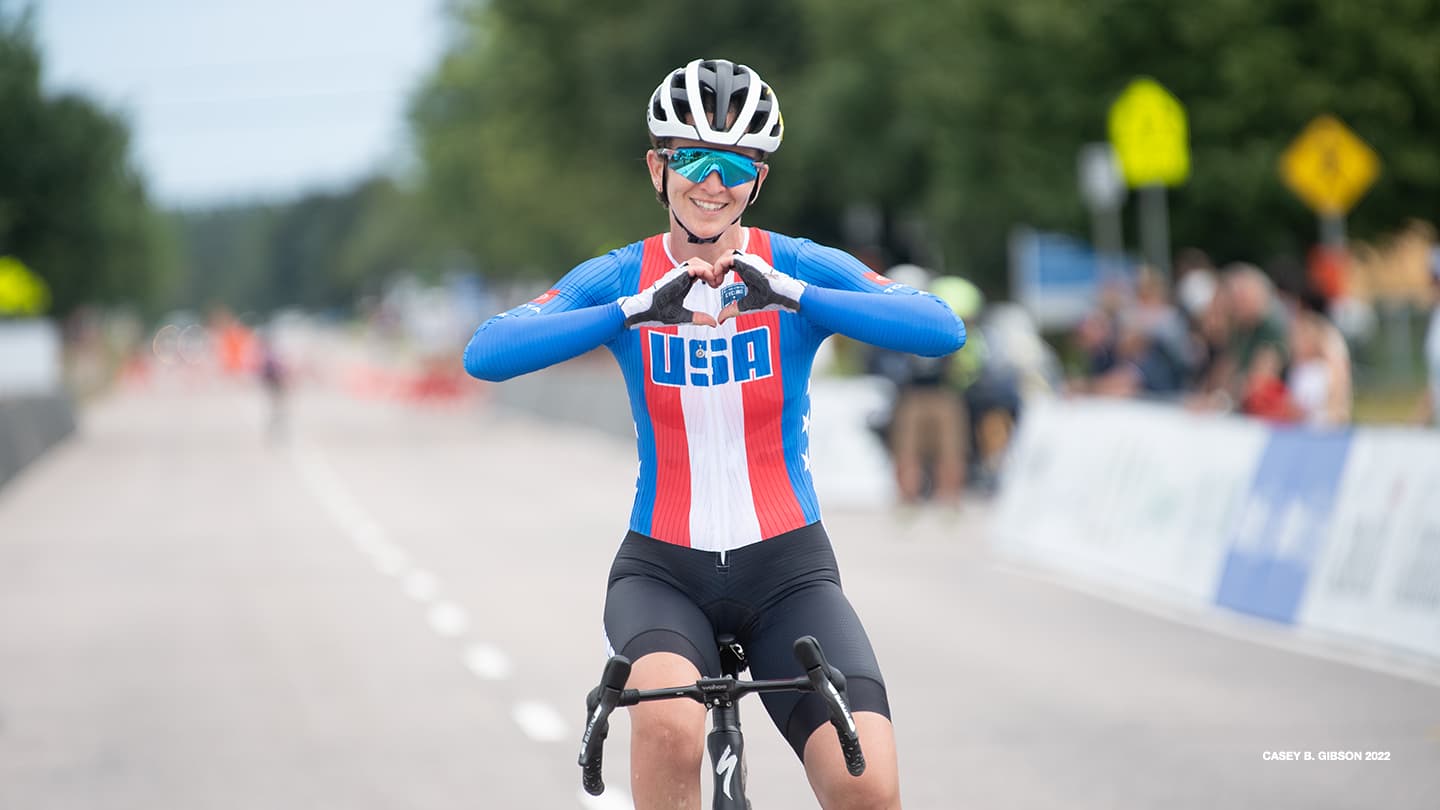 Sam Bosco celebrates after crossing the finish line in the women's C4 road race at the 2022 UCI Para-Cycling World Championships on Aug. 14, 2022 in Baie-Comeau, Quebec.
Para-cyclist Samantha Bosco always has some nerves before her first big race of the season.

You spend the offseason training, working hard and doing everything you can to prepare, but you never really know what that's going to amount to until you're on your first starting line. That feeling was intensified for Bosco this year following a season in which she returned from a major injury to win a pair of world championships on the road and three world championships silver medals on the track.

"There was that little bit of not wanting last year to be, I don't want to say a fluke, but it was so amazing to come from such a low moment to such a high moment and I don't want it to stop," said Bosco, 36, of Claremont, California. "Like I had one good year and that was it. So there was a little bit of build-up in my training just trying to make sure last year wasn't a one-year wonder, for lack of a better word."

Bosco had no reason to be nervous.

She started this road world cup season the same way she finished the last, with wins in both the C4 road race and time trial in Italy in April to kick off a unique year in the cycling world. In August, for the first time ever, all of the sport's disciplines — including both able-bodied and Para events — will be held together during the same 11-day period at the UCI Cycling World Championships in Glasgow, Scotland.

For cyclists such as Bosco, who competes in both track and road, it's a change from years past when they had anywhere from two to five months between world championships. Last year, the road world championships were in August and the track world championships were in October.

This year's event will more closely resemble the Paralympic Games and Parapan American Games, both of which Bosco has competed in.

"Last year I went to quite a few track camps and spent time on the track throughout the year while I was in road race season," Bosco said. "So I think that the two really translate well for me. I'm planning on sticking primarily on the road and doing the workouts needed for that, but also incorporating days on the track and track-specific workouts throughout the season because I want to be ready for both."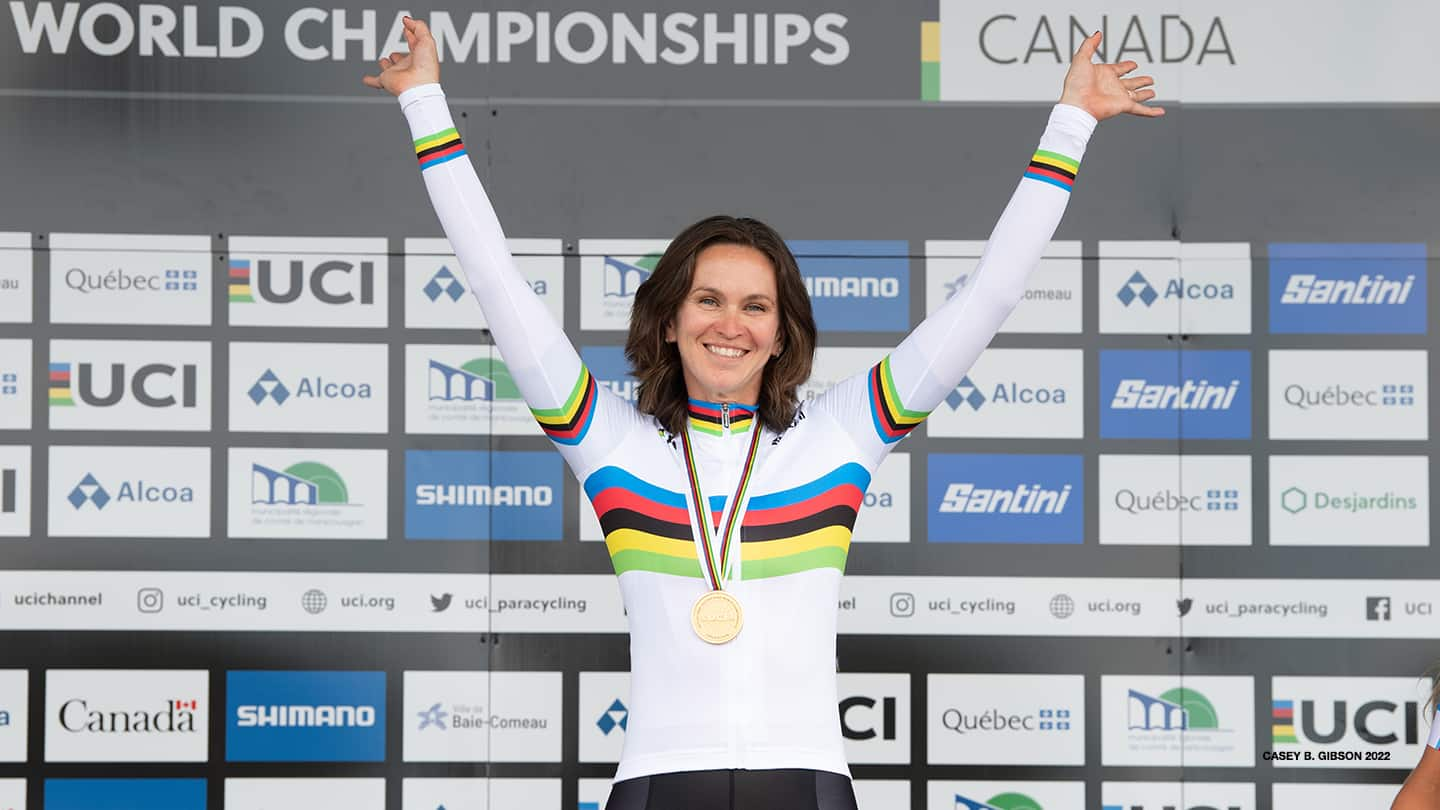 Sam Bosco celebrates on the podium after winning gold in the women's C4 road race at the 2022 UCI Para-Cycling World Championships on Aug. 14, 2022 in Baie-Comeau, Quebec.
Having a combined format will bring increased visibility to Para-cycling and give people a look at another side of the sport, Bosco said. She's also looking forward not only to being able to race in front of more spectators than Para races generally draw, but also cheering on her husband, Andrew, and nephew in the BMX races.

Then there's the opportunity to defend her road titles. To date, Bosco has won 15 medals at the world championships: three gold, five silver and seven bronze. Her other gold medal came in 2017 on the track in the individual pursuit. And while she's a contender in both categories and loves to do it all, she said, it's hard not to have a specialization in the world of cycling.

"And I want to be the best in the world in the time trial, and hope to win the road race again," she said. "For me, the time trial isn't where I started, but it's quickly become my favorite.

"It's about me. It's about my power and what I put into it, the work leading up to the race, how I execute the race, how I start, my warmup, how I calm myself down before and during the race. It's not about strategy or thinking about what other people are doing during the race. It's solely me, and it makes me feel the strongest I've ever felt every time I get on my time trial bike and put myself into it."

Bosco made her Paralympic debut at the Paralympic Games Rio 2016, winning bronze in the time trial and track pursuit, but not long after making her second Paralympic team during the summer of 2021 she was seriously injured in a training crash. She ended up in the ICU with a skull fracture and the 10-month recovery meant she had to miss the Paralympic Games Tokyo 2020. She couldn't bear to watch the Olympics or Paralympics on TV that summer. She couldn't even watch the Winter Games months later. It was still too raw.

Having another shot at achieving more of her dreams at the Paralympic Games Paris 2024 next year, she said, motivates her every day.

"Knowing how significant my injuries were, what I decide to give my energy to and who I give my energy to and being able to put myself first with a lot of things has gotten easier because I can see the fragility of life and the fragility of time and I don't want to waste it," she said. "I've gotten to the point now — whether or not my friends and family like me saying it this way — where I had to have some sense truly knocked into me. But I definitely feel like my injury changed me for the better.

"Yes, there are things I would have changed if I had that control, but how much control do we have of life? And if I can't make the most of it then I'm doing myself a disservice."
Karen Price is a reporter from Pittsburgh who has covered Olympic and Paralympic sports for various publications. She is a freelance contributor to TeamUSA.org on behalf of
Red Line Editorial, Inc.