What Jessie Diggins' World Championship Medals & World Cup Wins Mean To Her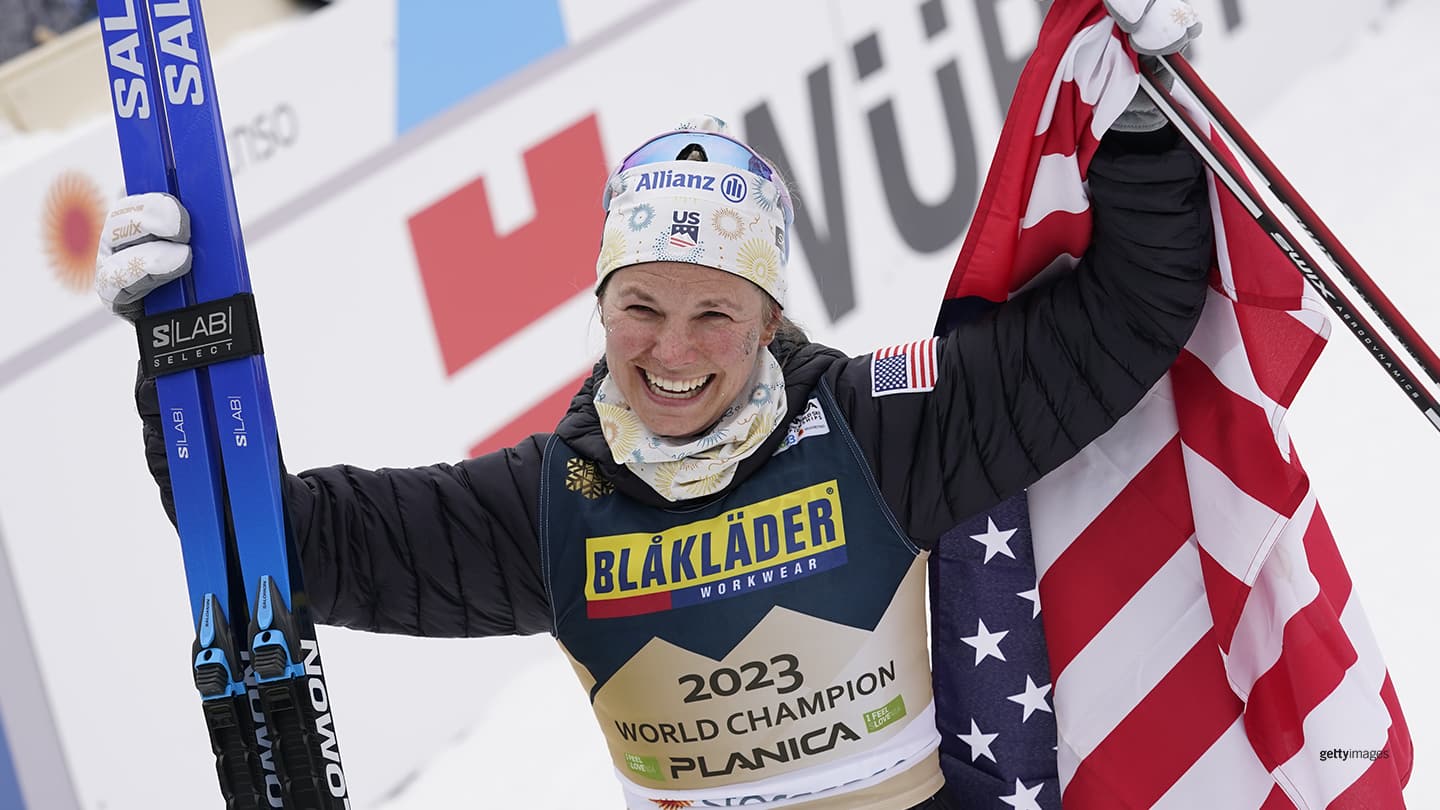 Jessie Diggins celebrates after the women's 10-kilometer free individual at the 2023 FIS Nordic World Ski Championships on Feb. 28, 2023 in Planica, Slovenia.
Jessie Diggins often refers to herself as the "Energizer Bunny" — a bubbly cross-country skier with seemingly limitless reserves. But the three-time Olympic medalist is more like a cross-country skiing superhero, able to put herself deeper into the pain cave than most mortals have ever dared venture.

In her latest feat, Diggins captured two medals at the 2023 FIS Nordic World Ski Championships, adding to her record medal haul with six total (more than any other American skier). One of them was gold. She led the 10-kilometer freestyle start to finish and became the first U.S. skier to ever win a world title in an individual event.

It was, she said, one of the best races of her life.

The 31-year-old Minnesotan also won her 14th world cup race earlier this season, becoming the winningest cross-country skier in U.S. history (breaking Kikkan Randall's previous record of 13 wins). With seven world cup podium finishes this season, Diggins is currently ranked second overall in the standings, just 152 points behind Norway's Tiril Udnes Weng.

The 2022-23 season is not over yet. On Saturday, Diggins will compete in the first 50-kilometer world cup race held for women (FIS equalized distances for men and women on the world cup tour this year). Part of the Holmenkollen Ski Festival, held outside Oslo, Norway, every year since 1892, the 50K is considered the Super Bowl of cross-country skiing.

Here's a look at Diggins's 2022/2023 season and what it means to her.


Two More World Championship Medals
Going to Planica, Slovenia, for her seventh world championship, Diggins and her coach, Jason Cork, worked hard to peak at the right time. After winning an Olympic bronze medal in the freestyle sprint last year, then silver after a heroic ski in the women's 30-kilometer freestyle, Diggins felt the usual pressure to perform at worlds.

Focused on the team sprint (in the freestyle technique at this year's world championship) and the 10-kilometer freestyle, another of her signature events, Diggins came through in both races. She and Julia Kern, 25, won bronze in the team sprint, and then Diggins skied a near perfect 10K for gold.

Asked which of her six world championships medals stands out, Diggins said that her three medals from team sprints "mean so much more." She won a gold medal in the team sprint with Randall in 2013 (back when Diggins was a relative newcomer), bronze with Sadie Bjornsen in 2017 (as "dark horses"), and bronze again with Kern.

"Getting to race it with Julia was so special, I cried at the finish," said Diggins.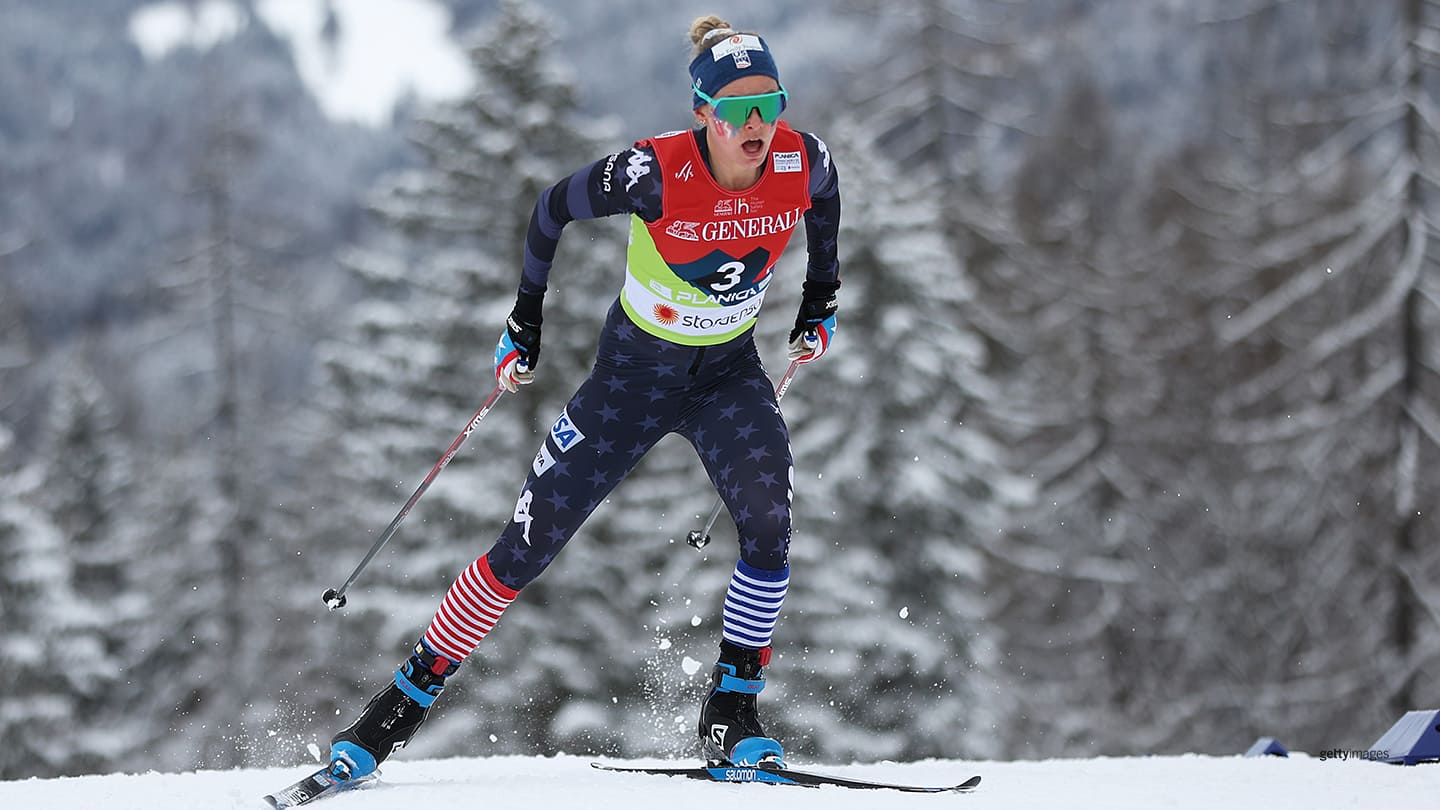 Jessie Diggins competes during the women's team sprint at the 2023 FIS Nordic World Ski Championships on Feb. 26, 2023 in Planica, Slovenia.
Kern is her teammate both on the national team and their club team, Stratton Mountain School Elite Team, in Vermont. The two are often roommates on the road, and Kern was a bridesmaid in Diggins' wedding last May.

The 10K gold medal also holds a special place in Diggins' heart. It came after a difficult training block that had left her doubting her ability.

"I sometimes give off a vibe of a happy-go-lucky-unicorn, it's always great and glittery," said Diggins. "But it was actually a really challenging time [leading into the world championships] and I had a lot of self-doubt. Two weeks before worlds, I was like, 'Wow, this is either going to be the best peak of my entire life, and I'll be in incredible fitness, or it might blow up in my face.' We were riding a fine line there."

It turned out to be the best peak of her life, and she admits that she should always trust Coach Cork's training plan.

"I think that's why the medals from this championship are so meaningful and special, because there was a certain amount of relief like, 'Wow, this worked,'" said Diggins.


Super Bowl of Cross-Country Skiing
Diggins is hoping to ride her peak to another win on Saturday — this one in the first women's world cup 50K. Even better, it's at Holmenkollen where tens of thousands of Scandinavians have come to cheer on their heroes very winter for the past 131 years.

"I've wanted to this race my entire career," said Diggins, meaning the full 50k, not the 30k that the women used to race. "I always thought it was not right that the men got to do this iconic 50."

Diggins last raced the 30K at Holmenkollen in 2018, finishing second to Norwegian legend Marit Bjoergen. Now, five years later, Diggins is again considered a contender, along with reigning 30K world champion Ebba Andersson from Sweden, who pulled away from the field for that world title (but in a classic, not freestyle event).

Although the women have never raced a 50K world cup, Diggins has competed in a couple marathon cross-country ski races, and last summer, she did two 50K rollerski sessions, working on the timing of her feeds and a sprint finish.

The American, however, does not consider herself a favorite this weekend. She never does. But the facts show that she should. Diggins has won the most individual world cup freestyle distance races (11) among active female cross-country skiers, and since December 2020, U.S. women have won seven of the 19 world cup distance freestyle races — more than women from any other country. Sweden has six, Norway five wins.

And Diggins herself? She owns six of those wins (Rosie Brennan won the other distance race in December 2020).

"I would love to try to hang with Ebba [in the 50k] and work with her," contended Diggins. "That would be really cool. And I'm definitely going to give it my all and see what happens."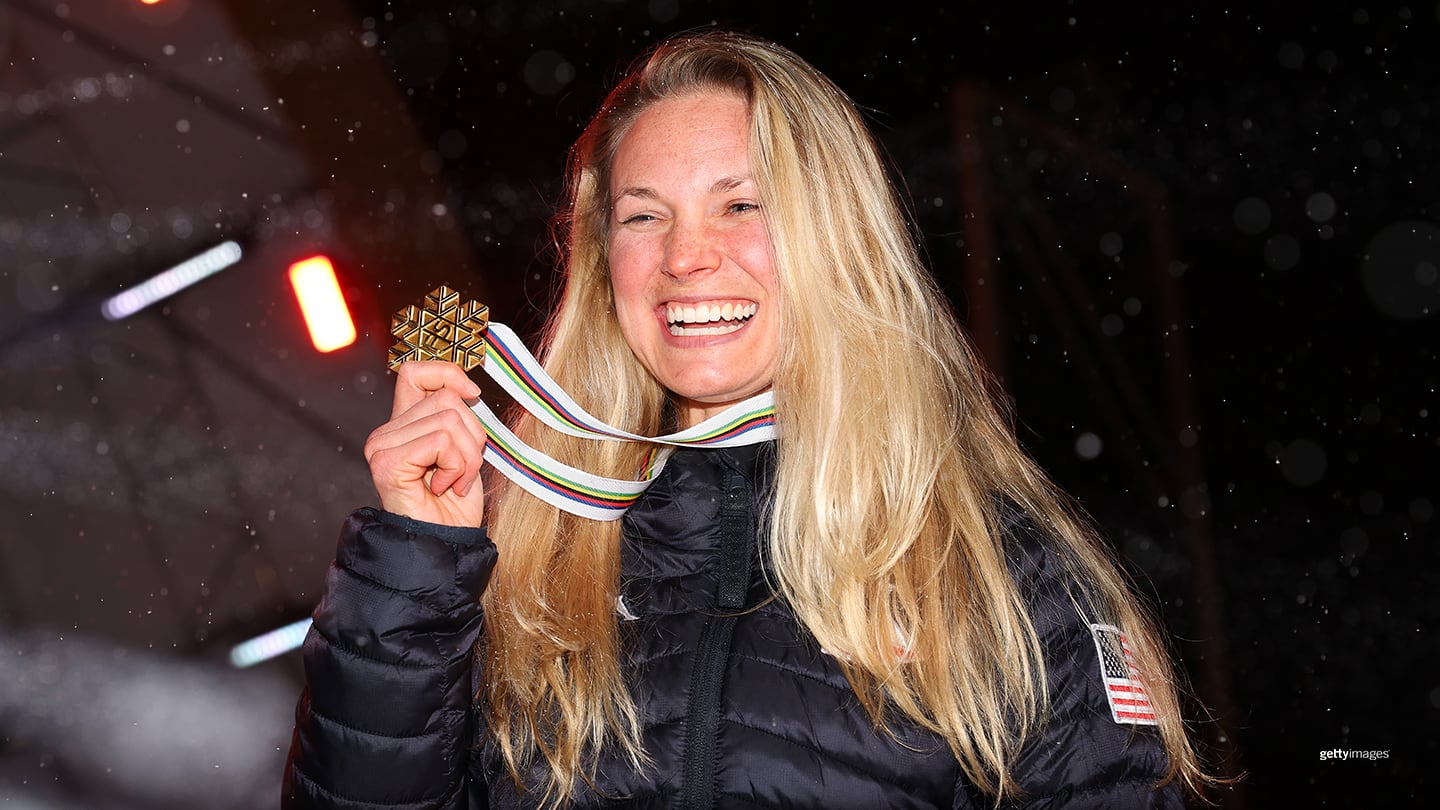 Jessie Diggins during the medal ceremony for the women's 10-kilometer free individual at the 2023 FIS Nordic World Ski Championships on March 1, 2023 in Kranjska Gora, Slovenia.
Another Overall World Cup Title?
In 2021, Diggins won the first overall world cup title for a female American cross-country skier. She also won the Tour de Ski title that year (the first U.S. skier to take that title, as well), which gave her 400 points toward the overall title.

This season, with nine world cup races still on the calendar, Diggins sits in second place, tantalizingly close to Weng from Norway. And Diggins earned her current 1,371 points after finishing 11th in the 2023 Tour de Ski (due to wax struggles in a few of the stages).

Interesting to note, Diggins won the overall title in 2021 with 1,347 points.

While Weng's results have fallen off as the season has progressed, Diggins is soaring. Should she surpass Weng, and hold off Finland's Kerttu Niskanan, who lurks just 18 points behind Diggins in the overall rankings, Diggins would shush the naysayers who claim that she won the 2021 title because the Norwegians sat out much of the world cup tour that year because of COVID-19.

No matter where she finishes in the overall ranking, Diggins's results — and point total — speak volumes.


What It All Means
With all the medals, trophies, and titles, Diggins is America's most decorated cross-country skier. But she is not in it for the awards. In fact, all of her medals are "getting super scratched," she said. "And it's awesome!"

She frequently lets fans hold (and throw around!) her medals — thus leading to the dings and scratches. Most of her awards are in her parents' basement in Afton, Minnesota, where they held a meet-and-greet last year. And she thinks her three Olympic medals are home in Stratton, Vermont.

"It is good to keep track of them because it's fun to bring them out when there's a kids' camp," said Diggins. "You want them to see a cool example of where hard work might lead them."

Diggins loves seeing young skiers with glitter on their cheeks in races back home and how much the sport has grown since she and Randall won Olympic gold in 2018.

Mostly, though, Diggins is inspired by the platform her superhero feats have provided. When people tell Diggins how much her book, Brave Enough, helped them face an eating disorder, she is brought to tears.

"It's something I've been working very hard on is trying to change the culture of sport in a healthier way and trying to remove the stigma and taboo around such a tough topic to talk about," she said. "That was the thing that really hit hard, that made me feel really proud of what I do. Hard times and challenging moments on the road, or being gone from home, it just makes it feel a little more worth it, when you feel like there's something a little bit bigger at stake than just trying to win races."
An award-winning freelance writer based in Vermont, Peggy Shinn has covered seven Olympic Games. She has contributed to TeamUSA.org since its inception in 2008.