No Rivalry: How Wheelchair Basketball's Bailey Moody Honors Her Fallen Friend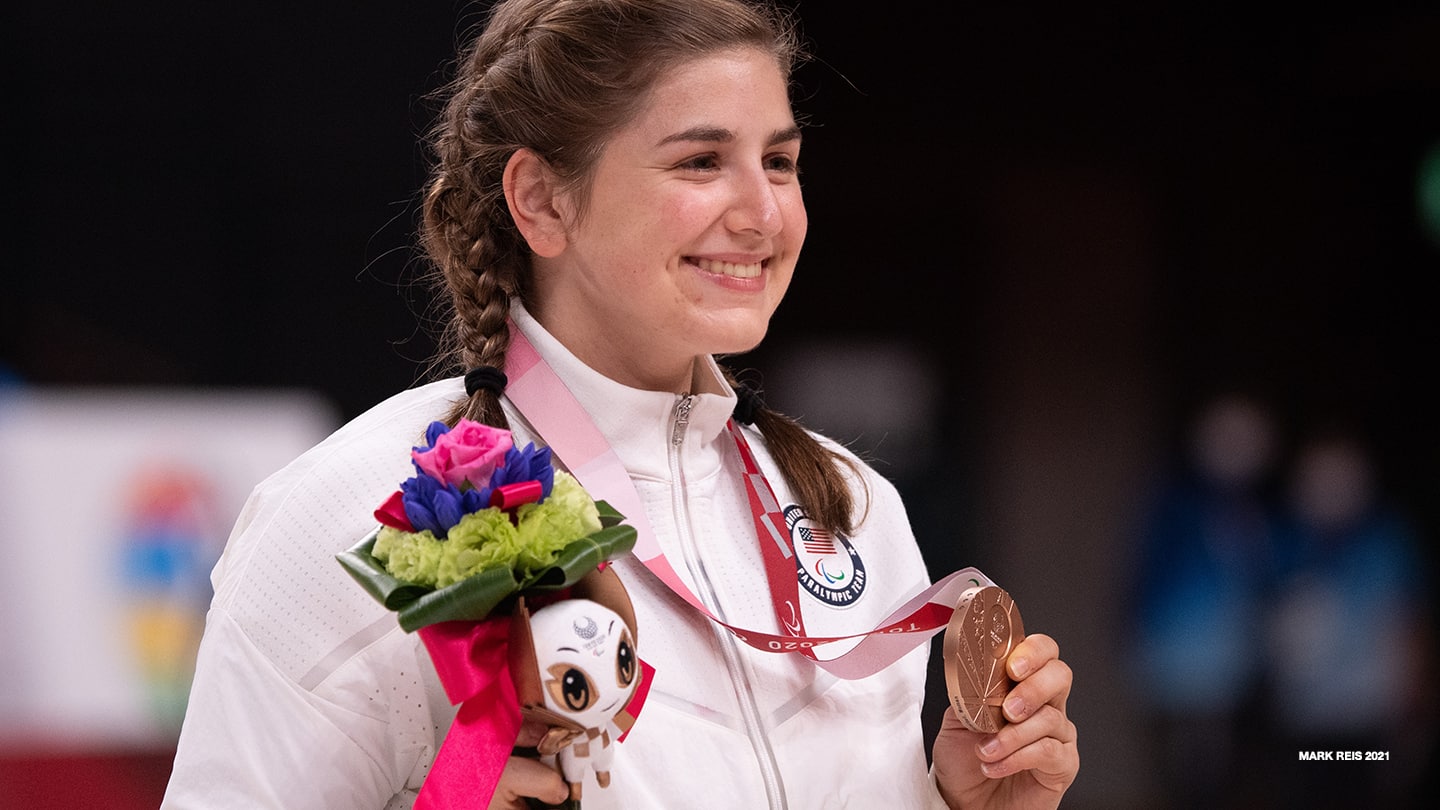 Bailey Moody celebrates with her medal after the women's wheelchair basketball bronze-medal match against Team Germany at the Paralympic Games Tokyo 2020 on Sept. 4, 2021 in Tokyo.
Though born and raised in Atlanta, Bailey Moody confirms she "grew up bleeding orange and blue, basically." Those, to be sure, are Auburn colors. No one in her family is a Georgia fan, she says.

Her mom, Tiffany, was on the first women's soccer teams at Auburn from 1993-96, even leading the team leading in scoring her first year with 12 goals. Bailey's aunt was on the equestrian team. Her parents met when her dad, Patrick, went to graduate school there.

And when it comes to Auburn, even less appreciated than Georgia is the University of Alabama.

That's a rivalry dating back to 1893 when the two universities first met on the football field in what's become the legendary Iron Bowl.

And yet Alabama is where Moody — currently in Dubai with the U.S. women's wheelchair basketball team for the world championships — went to school, winning three NWBA collegiate national titles with the Crimson Tide in three years. Auburn has a good team, but Bama has been one of the best adaptive sports programs in the country.

A precocious young athlete herself, Moody, now 21, might well have been on the path to Auburn herself when a diagnosis of osteosarcoma, a rare form of bone cancer, changed everything. She was just 10 years old and soon faced with a choice on whether to try and save her right leg or not. She chose to lose it but regain her active lifestyle, and soon started back in sports on middle school basketball and volleyball teams.

Supporting her during this difficult time was an Auburn football player whom she had the opportunity to meet through family connections. Also from the Atlanta area, Philip Lutzenkirchen was the top scoring tight end in Auburn history at the time, a big deal in college football-mad Alabama. But he made time for Bailey, visiting her in the hospital with his parents. She would send him photos of her wearing her Auburn jersey, and he would send back pictures of him in uniform as well.

"It meant so much to me," said Moody. It gave her validation as an athlete. "I've always been a sportsman. And so having somebody from the college that I cheered for, that my parents love and that my parents taught me to love, having somebody like that who looked at me like an athlete, was a really cool thing."

"Football is football," Lutzenkirchen told WBRC in 2012. "At some point, it's going to end for me. I'd much rather be known for what I've done off of the field and impacting people's lives than how many touchdowns or catches I've had."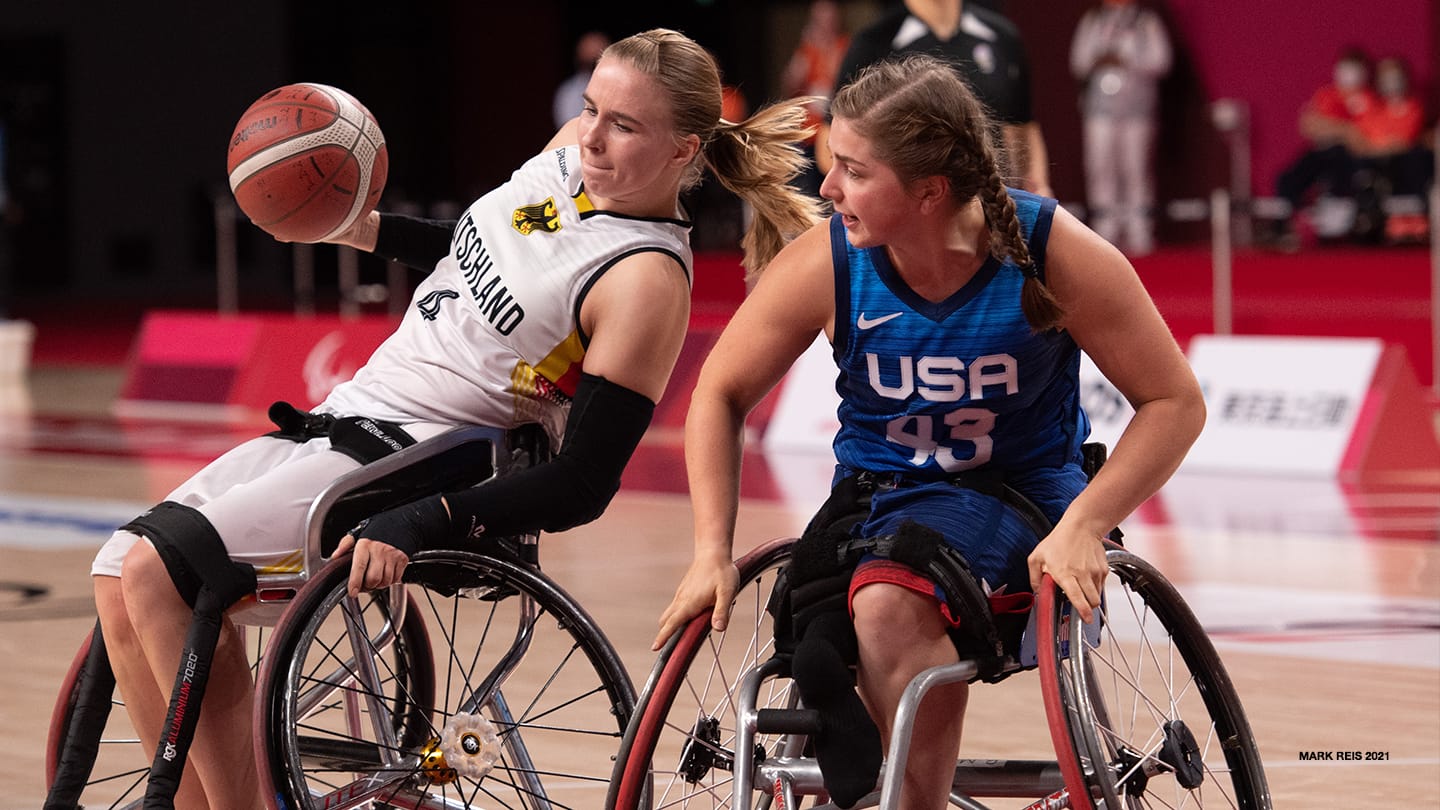 Bailey Moody competes during the women's wheelchair basketball bronze-medal match against Team Germany at the Paralympic Games Tokyo 2020 on Sept. 4, 2021 in Tokyo.
Lutzenkirchen wore No. 43 in college. That's the number Moody wears now to remember and honor her friend who died in an automobile accident in 2014.

Inspired by Lutzenkirchen, Moody is passionate about paying it forward, mentoring and encouraging young athletes, and also raising awareness and funding for childhood cancer research. She understands how her story can encourage others to deal with adversity — the loss of a leg, the loss of a friend — and move forward.

For Moody, that meant transitioning from being OK playing able-bodied basketball with her prosthetic leg to learning how to play a different version of the game. At 14, she was introduced to wheelchair basketball.

Not using a chair on a regular basis, it took time and hard work to get up to speed, but she became a standout player for the BlazeSports Jr. Hawks and also played with the adult Charlotte Rollin' Hornets women's team before heading to college.

She also attended an NWBA developmental camp in 2017 as a way to get her name in the mix, meet the coaches and see what a national team camp might be like without the actual pressure of a tryout.

"At the end of the camp," Moody told BVM Sports, "the coach asked me to try out for the national team in January, and I ended up making the team for the 2018 world championship that was going to be in Hamburg, Germany, that next summer. It was surreal."

Moody was just 16, and two years into her wheelchair basketball career, when she competed in Hamburg. Three years later, she won a bronze medal with Team USA at the Paralympic Games Tokyo 2020.

"Because of my amputation, I have been able to compete at a level of athletics that I probably would never have been able to do on two legs," she told Authority Magazine. "I have been a member of Team USA since 2018, a Paralympic bronze medalist, and an Under-25 world champion.

"I love to share my story and hear from others. It is important to talk about difficult things and recognize where we have been and where we are now. I love to use the avenue of athletics to do this, along with teaching people about the sport of wheelchair basketball."

A psychology major, she plans to further her education at Alabama by pursuing a master's in clinical counseling, and possibly go into sports psychology as a career.

"It's just so fun," she said, "to see how things have come full circle, and how now I kind of have some degree of influence in other people's lives, and the level of play that my career is now at, that I can then use the opportunities and remember the impact that Philip had on me and then turn around and try and have that on somebody else and try and bring somebody else along with me."
The chief press officer for the 1996 Atlanta Paralympic Games, Steve Goldberg covered every summer Paralympic Games from Sydney 2000 through Rio 2016 for various newspapers, magazines and online media. He is a freelance contributor to TeamUSA.org on behalf of
Red Line Editorial, Inc.