At Home In Paris, Coco Gauff Is Aiming For More Red Clay Magic At Roland-Garros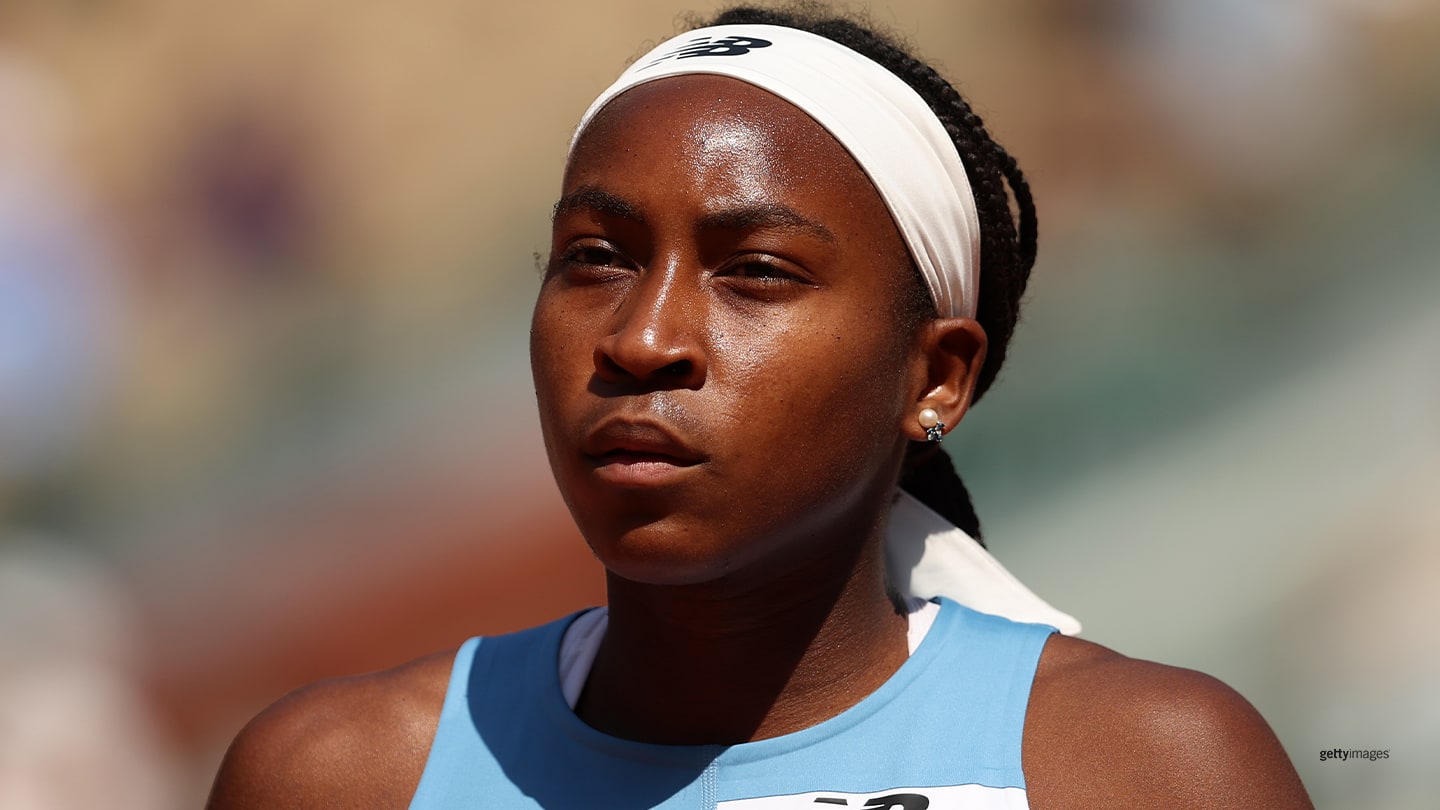 Coco Gauff looks on during her women's singles fourth round match at the 2023 French Open on June 05, 2023 in Paris.
There's something magical about the unique red clay of Roland-Garros for rising American superstar Coco Gauff.
The Delray Beach, Florida, native is only 19 but has already amassed two French Open finals appearances — singles and doubles in 2022. And that's on top of winning the French Open junior girls tournament in 2018.
Now the No. 6-seeded Gauff takes on the top-ranked Iga Swiatek of Poland in Wednesday's quarterfinals. The two played in last year's final, with Swiatek decisively winning her second French Open title in straight sets. Gauff is 0-6 in matches against Swiatek, having never won a set.
This year, Gauff is the last American — male or female — remaining in the singles draw. On the doubles side, Gauff and fellow American Jessica Pegula, the No. 2 seeds, have reached the semifinals again.
"Yeah, definitely Roland-Garros has the best clay," Gauff told reporters in Paris. "I always play good tennis here. I feel comfortable here."
The French capital is a special place for Gauff, holding memories like celebrating her high school graduation last year by posing in cap and gown in front of the Eiffel Tower. She's constantly creating new memories, stemming from her powerful game on the court, and her fun and smart personality off it. Her social media and interviews are entertaining and thoughtful, as she is quite open about her opinions on social justice, and her love for the Miami Heat, croissants and Marvel superheroes.
"On the court I try to present myself the best I can in that moment," she said. "Obviously I'm not going to be perfect. I mean, Roger (Federer), he's probably the closest to that when it comes to that. I'm not going to be like that, but I think I try to be authentically myself.
"Off the court with the responsibilities, I'm pretty aware of my presence in sports, and the media is something that I don't take for granted. The reason why I do speak out on all these causes, and I do feel a responsibility to do that because I do feel like I'm in a privileged position to be where I am. Maybe that can be taken tomorrow, but I want to make sure everything that I wanted to say was said in that moment."
She's been on the pro tour since she was 15, steadily turning her power and speed game into a reliable force. Gauff has trained extensively on European red clay, thanks to living at Patrick Mouratoglou's academy in the south of France on and off since 2014. Her comfort level shows, as she smoothly slides into shots and consistently generates tricky spins on clay. Her quick feet and soft hands, which she reveals more in doubles play, make her hard to beat.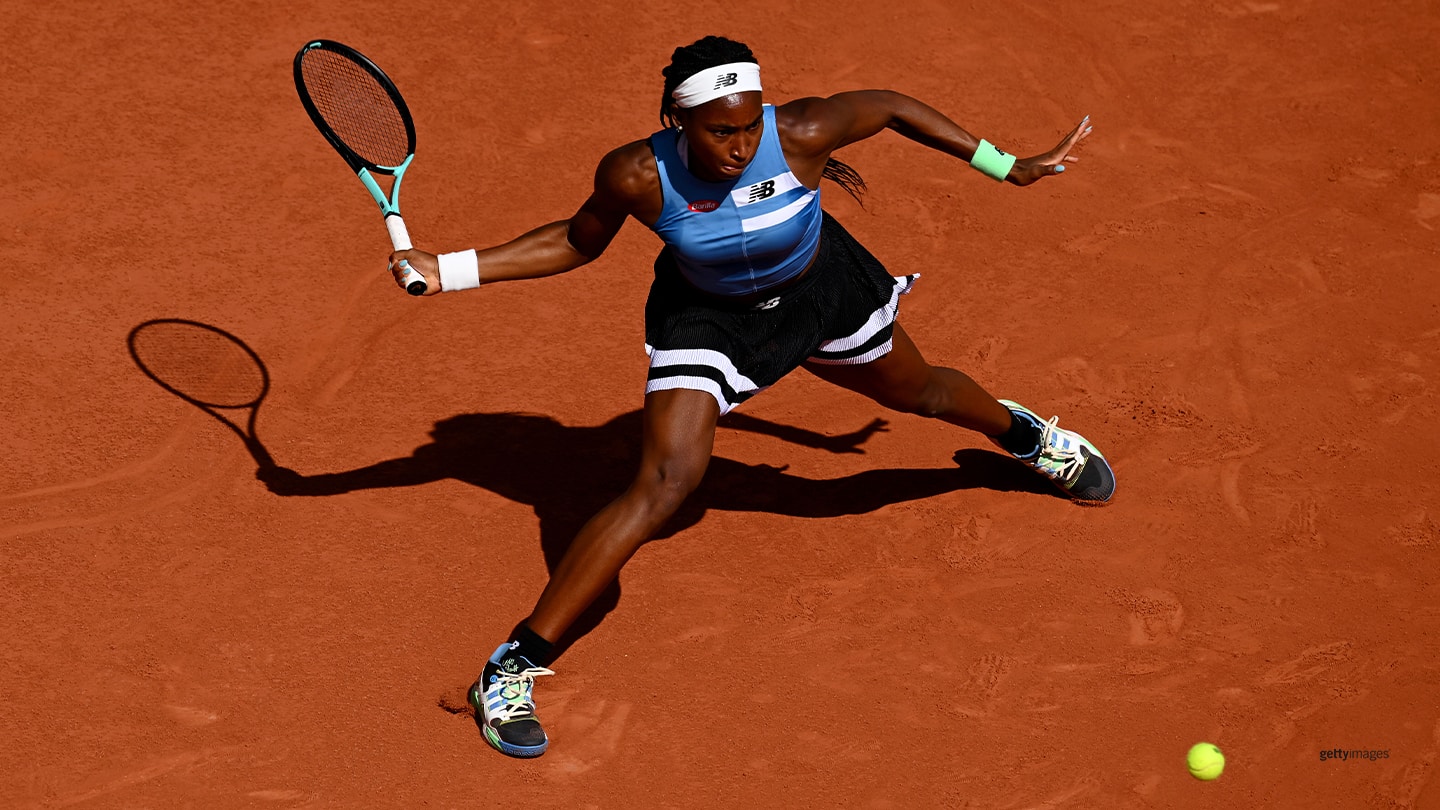 Coco Gauff plays a forehand during her women's singles fourth round match at the 2023 French Open on June 05, 2023 in Paris.
The Olympic Games Paris 2024 tennis tournament will be held at Roland-Garros, and after Gauff had to withdraw from the 2020 U.S. Olympic Team due to a positive COVID test, she's a favorite for Team USA next year. But first, winning her first Grand Slam is her goal.
"I'm not a ranking person at all," she said. "So when I made top 10, it was a cool accomplishment. But for me, it was never about staying there. I only want to go upwards. The goal is No. 1, and I think that's when I would care about the ranking, to be honest.
"But every other number there, it is, I guess, pedestals along the way, so I think it is critiquing in a way. But I feel like for me it's not a goal to stay top 10. I mean, the goal would be to be No. 1, and anything in between 2 and 10, I mean, I'm going to be honest, it's not that important to me. The biggest goal is to win Grand Slams, and I think the ranking will come with the Grand Slams."
Gauff has been the emerging star in American tennis for a while, and now she finds herself among eight U.S. women in the top 50 coming into Roland-Garros. Being labeled the next big thing, stepping into the void left by the retired Serena Williams and a scaled-back Venus Williams, is not easy while still being a teen.
People are watching her every move, and she is learning how to handle all forms of the spotlight as she matures.
"I think just transitioning into adulthood really," Gauff said, when asked where she is right now as a person. "Last year I was 18. Now I'm 19. I think just transitioning into that, you know, and I also just feel like every year I just feel like a new person. I mean, it's cliché to say, but looking at myself then and now, I get the memories on my Snapchat or whatever from a year ago, and sometimes you look at yourself and you just see a different person.
"Yeah, I think I've grown a lot in that year. Yeah, I think there's always things I would like to keep from I guess myself a year ago and things I would like to get rid of. I think I have to figure out what things I want to keep and what things I don't want to keep. I think that's just learning about yourself."
Joanne C. Gerstner has covered two Olympic Games and writes about sports regularly for the New York Times and other outlets. She has written for TeamUSA.org since 2009 as a freelance contributor on behalf of
Red Line Editorial, Inc.