A Look Back At Tara Lipinski And Michelle Kwan In Nagano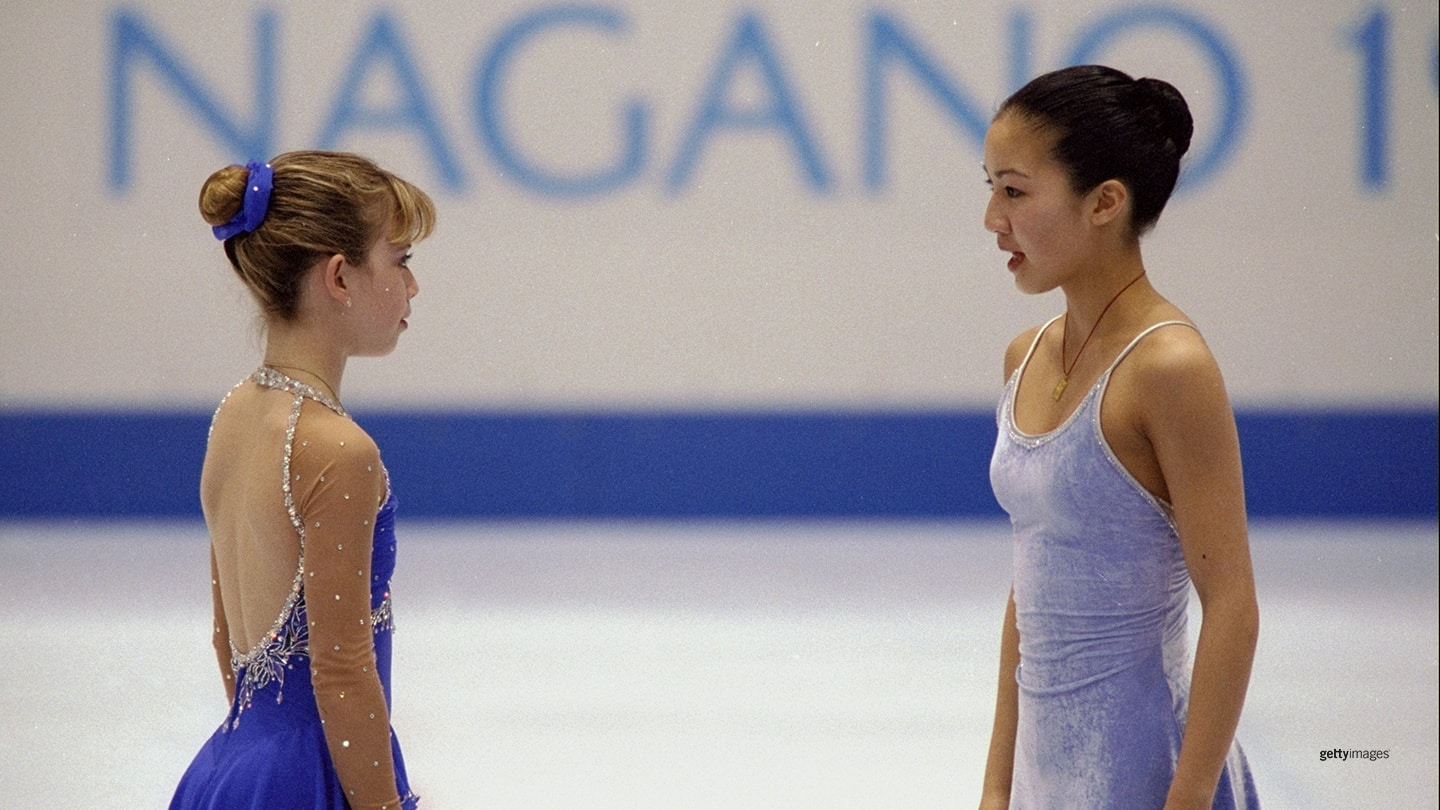 (L-R): Tara Lipinski and Michelle Kwan chat during the ladies free skate competition of the Olympic Winter Games Nagano 1998 on Feb. 20, 1998 in Nagano, Japan.
Looking back, Ashley Wagner remembers February 20, 1998, as the day everything changed.
That's when a 7-year-old military brat, sitting in her family's living room in Fort Leavenworth, Kansas, watched Michelle Kwan and Tara Lipinski perform their Olympic free skates from the White Ring in Nagano, Japan.
"It is the first Olympics I remember watching, and it made me dead set on getting to the Olympics myself," Wagner, now 31, said.
"Watching Tara win, she really didn't look that much older than I was at the time. She was so young. That helped me kind of connect with the Olympic movement, the Olympic dream, in a very special way. I looked at her and thought, 'She's not that much older than I am. If she can do it, I can do it.'"
At 15 years and 255 days, Lipinski held off Kwan to become the youngest athlete ever to win an individual gold medal at the Winter Games, and she remains so to this day. But it wasn't just the act of winning, it was how Lipinski won — her exuberant performance, her sheer joy — that so enamored Wagner.
"Her famous reaction in the kiss-and-cry — to a 7-year-old, watching someone jump up and down, screaming, it's something that was really relatable," she said. "She just looked so excited. My first impression was, 'That looks fun. I want to be able to do that one day.'"
Wagner, a three-time U.S. champion in 2012, '13 and '15, achieved her goal in 2014 at the Sochi Games, where she won a team bronze medal and placed seventh in the individual event. She's not sure it all would have happened for her, if not for Nagano.
"I was in the thralls of my little kid figure skating obsession, so the timing of these Olympics, I think, sealed it for me," she said. "I was always freakishly hyper-focused and driven for someone so young, and (Nagano) gave me something to home in on and put all my energy to work towards."
Wagner is far from the only Olympian to be inspired by the showdown in Nagano. Her Sochi teammate, Polina Edmunds; two-time Olympian Mirai Nagasu; and others cite Lipinski, Kwan or both as idols.
And why not? The women's figure skating event in Nagano promised excitement, and it delivered — big-time.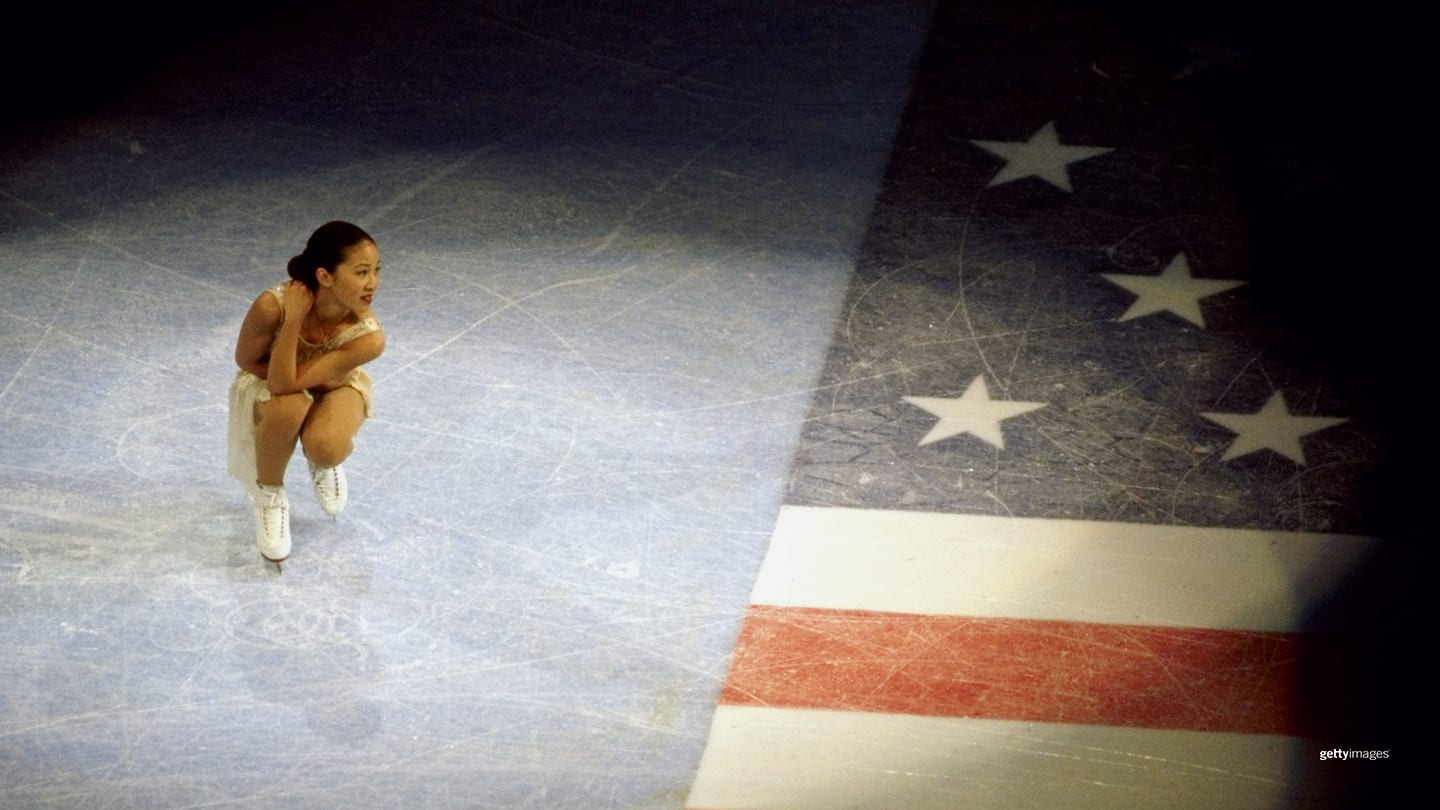 Michelle Kwan in action during the U.S. Figure Skating Championships on Jan. 11, 1998 in Philadelphia.
The scene was set at the 1998 U.S. Figure Skating Championships, held in Philadelphia. There, a 17-year-old Kwan — winner of the world and U.S. titles in 1996 — performed what is generally considered the finest free skate of her career, a magical program to William Alwyn's ethereal "Lyra Angelica." This writer was in the arena that evening; many were moved to tears, and it seemed the ovation would never stop. The program earned eight perfect "6.0" marks for artistic impression.
Lipinski, the reigning U.S. and world champion, had fallen in the short program, and could not match Kwan that night. But her determination was intact.
"To find a way to compete with (Kwan), my coaches and I needed to come up with a plan," she wrote in a February 2018 New York Times opinion piece, "It's Time to Take Risks in the Rink Again."
"My best chance, we decided, would be to add technical difficulty," Lipinski continued. "We added a triple loop, triple loop combination to my program, and I became the first woman to land one in competition."
Lipinski's triple loop, triple loop was slightly flawed in Philadelphia, as was her second triple-triple combination, a triple toe loop, half loop, triple salchow. But she stuck with the challenging elements in Nagano, and it was that content — together with the energy and freedom of her free skate to Carl Davis's "The Rainbow" — that won her gold.
Kwan was also near-perfect in Nagano, but her performance was more subdued than it had been in Philadelphia, and it did not include a triple-triple combination, leaving her with the silver medal.
Craig Maurizi, a member of Lipinski's coaching team at Detroit Skating Club for several seasons, including the 1997-98 Olympic campaign, thinks technical innovation is Lipinski's strongest legacy.
"Tara skated with effervescence, and joy, and freedom that you don't always see, but she won on the technical content," Maurizi said. "She had been training the triple-triples for a long time. There was never a doubt that she was going to do them. She needed more technical content because Michelle was such a beautiful, lyrical skater."
Women — including 1992 Olympic champion Kristi Yamaguchi, and 1994 Olympic silver medalist Nancy Kerrigan — had done triple-triple combinations before Nagano, but they were still a relative rarity. Lipinski upped the technical ante.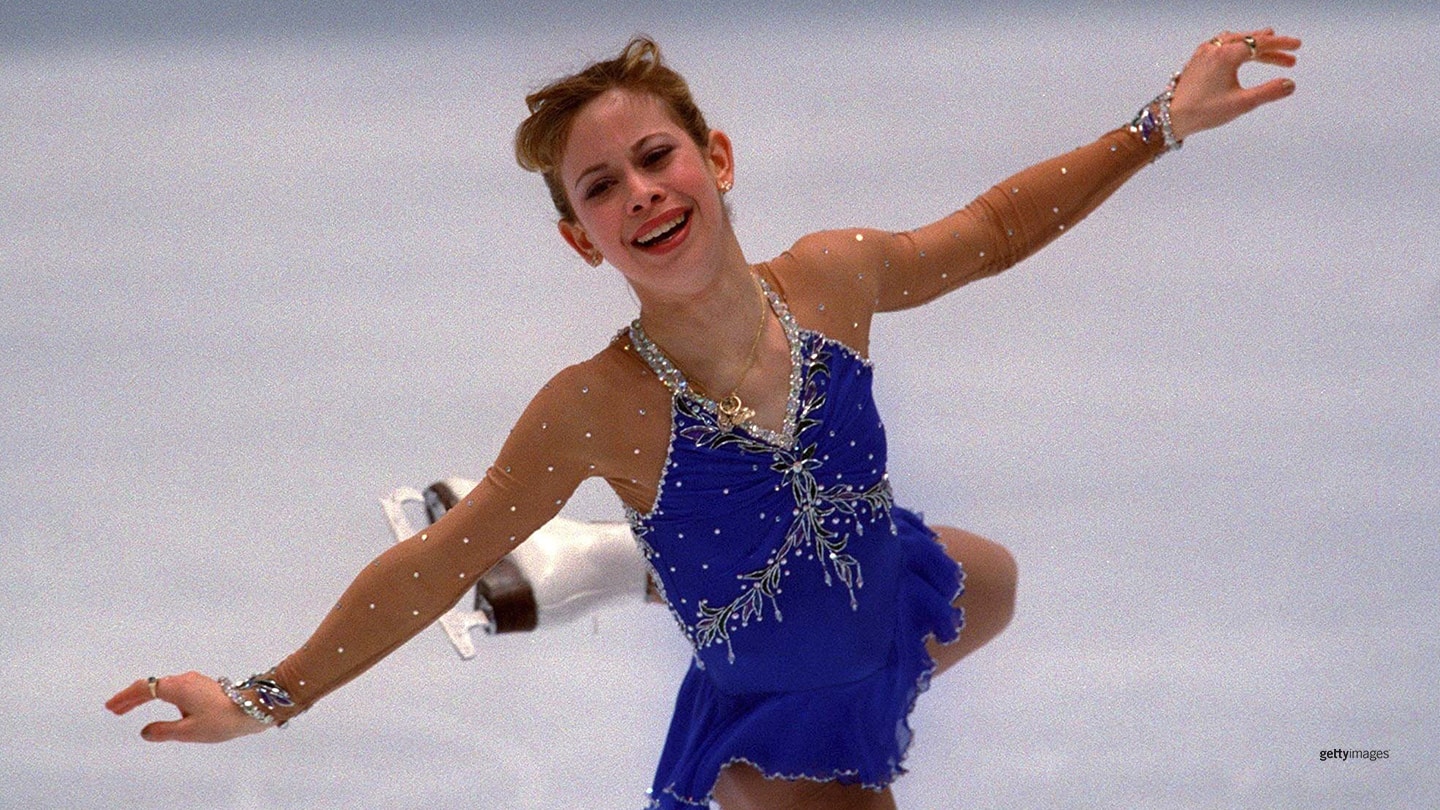 Tara Lipinski competes in the women's individual figure skating event during the Olympic Winter Games Nagano 1998 on Feb. 20, 1998 in Nagano, Japan.
"In my mind, multiple triple-triples for women are like quad jumps for men," Maurizi said. "When one or two men starting landing quads on a regular basis, the next year, and the year after that, ten people were doing them. (Tara) helped expand female skaters' minds as to what was possible."
Equally important, the judges in Nagano rewarded Lipinski's technical feats.
"If you were to ask all of us that were around Tara to place a bet (on who would win), it probably would have gone against her," Maurizi said. "We knew she could, we knew she might even skate better technically than Michelle, but we didn't think she would get the marks."
Damon Allen, who competed for Team USA during the same period as Lipinski and Kwan, began his coaching career in the early 2000s. He thinks Lipinski's upset win in Nagano inspired many young girls.
"Almost everyone expected Michelle to win, so when she skated well — but Tara still beat her — it showed that underdogs could win," he said. "That made a lasting impression."
Lipinski retired from Olympic-eligible competition after Nagano, touring professionally for four years in Stars on Ice. Today, she and three-time U.S. champion Johnny Weir form a popular commentating duo for NBC Sports.
Kwan's career gained momentum after Nagano, with four more world titles and seven additional U.S. crowns. She placed third at the 2002 Salt Lake City Games to 16-year-old Sarah Hughes, who like Lipinski included two triple-triple combinations in her Olympic free skate. She won her final U.S. title in 2005 and is now U.S. ambassador to Belize.
Lack of Olympic gold did not lessen Kwan's legacy. Countless skaters, including 2010 Olympic champion Yuna Kim of South Korea, cite her as an idol. And, ironically, Wagner's career trajectory — she reached her height at the 2016 world championships in Boston, where she won a silver medal at age 24 — turned out to be similar to Kwan's.
"Tara's win inspired me, but Michelle's longevity, for the kind of athlete I was, was also a huge inspiration to me," Wagner said. "I grew up watching Michelle. Seeing her maintain that athletic prowess, for the amount of time she did, was inspirational in the later portion of my career."
Lynn Rutherford has covered five Olympic Games, including the 2022 Winter Games in Beijing for TeamUSA.org. Based in New York, she is a freelance contributor to TeamUSA.org on behalf of
Red Line Editorial, Inc.